Off to the Races Radio features Kate Tweedy
Nick Hahn will host with support from Frank Vespe. Derby Bill Watson will join each week to provide his handicapping insights and special brand of humor.
Tweedy, whose grandfather, Chris Chenery, founded Meadow Stud and Meadow Stable, is the daughter of Penny Chenery, who took charge of The Meadow when her father fell ill. She was the boss when Secretariat came along. These days Kate Tweedy is spearheading an effort to make Ashland, VA the permanent home of a Secretariat statue.
Feustle, Laurel's linemaker, is also an astute handicapper. Laurel is hosting five stakes Saturday, including a pair for sophomores that are on the raod to the Grade 2 Black-Eyed Susan, for fillies, and the Grade 1 Preakness.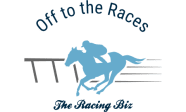 Sponsors of Off to the Races include the Virginia Thoroughbred Association, Virginia Equine Alliance, Virginia Harness Horse Association, and others. The program will air each Saturday through early November's Breeders' Cup.
"We appreciate our sponsors who support Off to the Races," Vespe said. "And we especially appreciate all of our listeners."
Each week's show will be archived on TheRacingBiz.com.
LATEST NEWS