BackTracks: Little Bold John's "heart of a lion"
Bred by one of the state's elder statesmen, Little Bold John's nine-season career was a lesson in durability, which trainer Jerry Robb attributed to his physique.
"He was just put together great in front. I remember I used to x-ray him every time he ran," Robb remembered in an interview with The Racing Biz Feb. 14. "The vet, Dr. Brandon, commented that his ankles looked better at eight than a two-year-old's do. Clean as a whistle."
His breeder Henry Contee Bowie (Hal) Clagett II, had roots dating back to Maryland's colonial era and boasted Oden Bowie, the governor who founded Pimlico Race Course and the Dinner Party Stakes, in his family tree. The family's estate Weston was passed down through multiple generations of Clagetts and was primarily a tobacco farm when Hal inherited the property upon his father's death in 1948.
The younger Clagett then converted the fields of tobacco into paddocks that nurtured generations of Thoroughbreds. At Weston, he bred the horses he raced, mostly around the Mid-Atlantic circuit, and authored the legislation creating the Maryland-bred Fund, the nation's first state-bred fund of its kind. Because of his deep investment in the sport, he understood the sporting as well as the business sides of racing.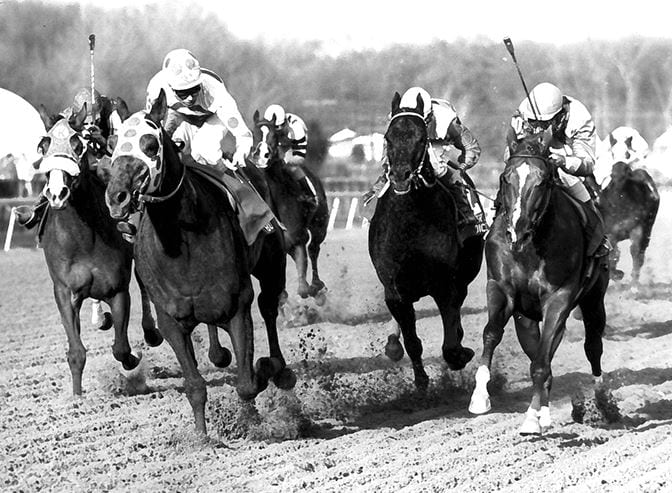 To get Little Bold John, Clagett bred his unraced mare Little Bold Sphinx, a daughter of Bold Ambition, a representative of the Bold Ruler line in Maryland, with John Alden, who boasted both Princequillo and Nashua in his pedigree.
Debuting as a two-year-old in the autumn of 1984, Little Bold John broke his maiden in his second start at Laurel Park and then tried stakes company in his fourth start in the Tri-State Futurity at Charles Town. Though the gelding finished first, he was disqualified to fourth, which left Clagett with a difficult decision.
His racing operation was not doing well, and the Marylander was looking for an infusion of cash to help balance his books. Clagett decided to sell Little Bold John, his most valuable horse at the time, but kept the information to himself until a potential buyer showed up at Robb's barn in late 1984.
"He actually had sold him to someone that I didn't know, and they showed up in the barn to look at him," Robb remembered. "Luckily, the guy was from New Jersey, so I called Clagett and I said, if I'd have known him for sale, I would have bought him or had one of my other clients buying, and that way he could stay in Maryland. So that's what happened. He changed that deal and told me to find a client, and I found Jack Owens and myself to buy him."
Though the gelding had changed hands away from the breeder that put so much into creating him, Little Bold John remained in Robb's barn and went on demonstrate a distinct combination of durability and dauntlessness.
RESOLUTE, TENACIOUS, AND A LITTLE BIT MEAN
From his earliest days, Little Bold John showed the abundance of personality that had prompted Clagett to geld him. He disliked being crowded, so much so that he would often kick at anything that moved behind him.
That showed up in a stakes race at Pimlico.
"He had a horse to the inside and a horse to the outside, and he's right between them, bumping around," Robb remembered. "He reached over and bit the neck of the one on the inside and kicked the one on the outside at the same time."
Of course, Robb said, the two competitors gave Little Bold John the lead and he won the race with ease.
That tenacity coupled with his resilience allowed Little Bold John to outlast many of his generation, logging 105 starts over his nine seasons. For his conditioner, the best of those starts was his turn in 1987 Donn Handicap at Gulfstream.
At age five, the gelding was at the peak of his powers, fully matured and experienced. Robb sent him to the post to face Lady's Secret, 1986's Horse of the Year, and Skip Trial, two-time winner of the Gulfstream Park Handicap. The public wasn't interested in the Maryland-bred, sending him off at 55-1.
Sitting third behind Lady's Secret and a longshot rival early, Little Bold John came through inside and passed the mare as she faded. But within moments, Skip Trial came up to join the Maryland-bred.
[VIDEO: Watch Little Bold John edge Skip Trial in the 1987 Donn Handicap]
"They went nose-to-nose from the half-mile pole to the wire, taking turns, taking the lead back and forth from each other," Robb recalled. "I mean, that's some race to watch."
The gelding would follow up his stellar five-year-old season, where his eight wins were all in stakes, with five more seasons on the racetrack. He continued to make the rounds of Mid-Atlantic racetracks and won enough to become a millionaire in 1988.
He also added three consecutive Jennings Handicap wins to his resume, as well as graded stakes like the John B. Campbell, Riggs, and Baltimore Budweiser Breeders' Cup Handicaps. Little Bold John won on both dirt and turf, at sprint distances and longer, with Robb keeping his charge on a regular schedule of running every two weeks depending on the races offered.
In 1989, Little Bold John's last great season, he won four of 13 starts, earning more than $380,000. That included a three-race win streak from February-April, with wins in the General George, Jennings, and John B. Campbell, then a Grade 3 event.
The General George and Campbell, now contested on the same day, are scheduled for Saturday, Feb. 18. It will be the 48th renewal of the General George and the 67th edition of the Campbell.
All good things must come to an end, though, and his conditioner finally saw in the gelding's tenth year that it was time to say goodbye to the racetrack. Little Bold John won his final start, a hard-fought nose victory, at Laurel on Halloween 1992.
He stayed with Robb as a stable pony for a couple of years, but, Robb said, kicked a horse when she got too close to him, ending his days in that job. Years after he had sold this son of John Alden, Hal Clagett bought him back for a dollar and retired Little Bold John to Weston, the farm where he had been foaled.
LASTING MEMORIES
Twenty years after Little Bold John's passing, the gelding remains a symbol of Maryland's rich history of breeding great horses. In addition to his two state-bred championships, he still leads Maryland-breds in number of stakes wins and was inducted into the Maryland Thoroughbred Hall of Fame in 2015.
Robb's trained plenty of good horses over the subsequent years, including recent stars like Anna's Bandit and Fille d'Esprit. But it's safe to say that Little Bold John retains a special place in the trainer's memory.
Perhaps one story illustrates why.
On Maryland Million Day in 1987, the gelding was set to run in the Classic, one of the state's biggest races. That morning, Robb found him with a nick on his leg from where he had kicked the back wall of his stall.
"His leg was stovepiped so we hosed it. Jogged him, hosed it, jogged him, and then took him to the track," the trainer recalled. "By noon, I had it halfway down. Then, when I got to Pimlico, we iced him and jogged him, and we finally got it almost all the way down, and we took him over there knowing there was nothing dangerous to him, but still it might bother him."
Little Bold John won by four lengths.
"He just had the heart of a lion," Robb observed. "He was just determined."
Sources
PRINT SOURCES
Dolch, Craig, "Longshot Little Bold John Wins Donn," Miami Herald, March 15, 1987.
Keyser, Tom, "Wealth of Love, Rich Tradition," Baltimore Sun, December 25, 1996.
Perrone, Vinnie, "Hal C.B. Clagett: a Pillar of Maryland Racing," Baltimore Sun, October 14, 1999.
Rasmussen, Frederick N., "Henry 'Hal' Clagett II," Baltimore Sun, February 5, 2010.
LATEST NEWS