BACKTRACKS: RUN THE GANTLET'S CHAMPIONSHIP YEAR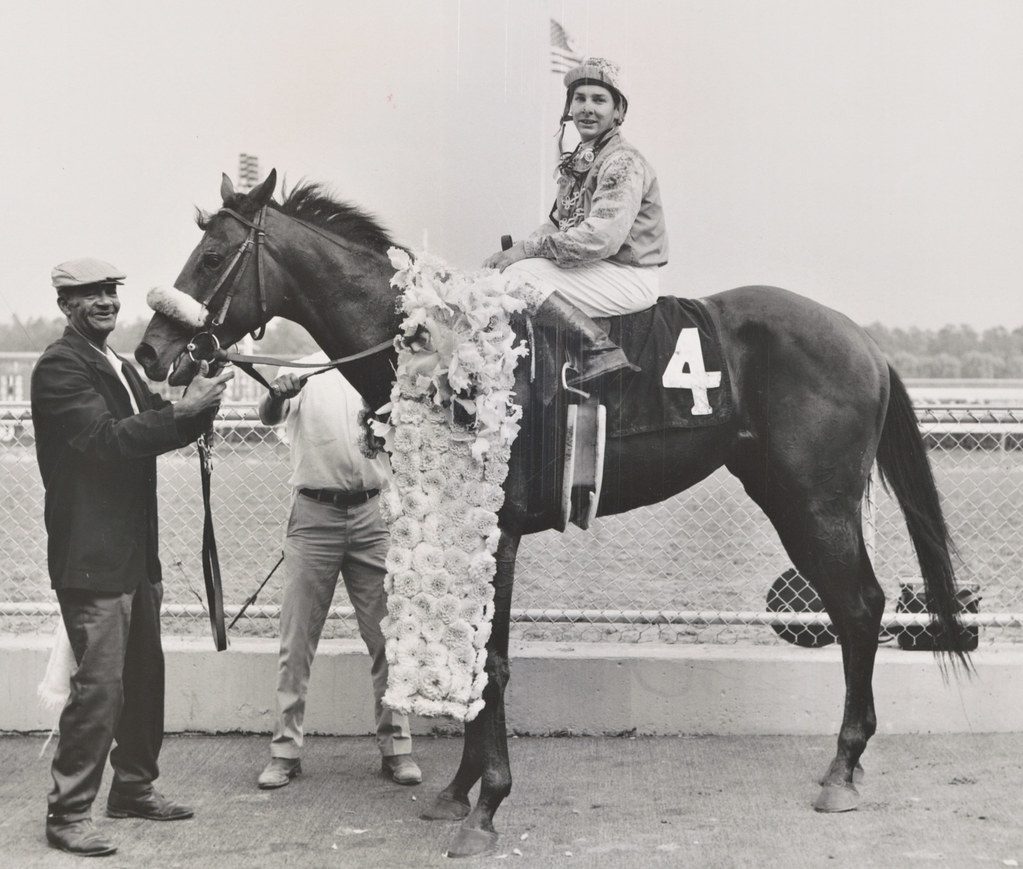 A strong foundation
In 1964, Paul Mellon, whose Rokeby silks had been seen on Belmont Stakes and Travers winner Quadrangle, paid $90,000, a world record sum, for a yearling filly he would name First Feather. By First Landing, who would go on to sire 1972 Kentucky Derby and Belmont winner Riva Ridge, First Feather was out of the Princequillo mare Quill, winner of six stakes races including the Acorn and Mother Goose Stakes. Before she even saw the racetrack, the filly's purple pedigree added another excellent broodmare prospect to Mellon's Upperville, Virginia breeding operation. Though not a stakes winner, First Feather was in the money in more of her starts than not, but it was in the breeding shed where the daughter of First Landing made her mark.
For her first season as a broodmare, Mellon sent First Feather to Tom Rolfe, 1965 Preakness winner and son of famed Italian sire Ribot, also in his first season at stud. On April 10, 1968, First Feather foaled a plain bay colt the famed philanthropist named Run the Gantlet. A form of corporal punishment with origins in European militaries, to run the gantlet (or gauntlet, colloquially) involved an accused party running between two lines of soldiers armed with sticks or other weapons who strike the person as they run. Reportedly inheriting some of the challenging behaviors his grandsire Ribot was famous for, Run the Gantlet may have lived up to his name.
To prepare the colt for racing, Mellon sent him to Rokeby trainer Elliott Burch. By May 1970, when Run the Gantlet made his debut, Burch was already a classic winner, having saddled Quadrangle, Sword Dancer, and Arts and Letters in their Belmont Stakes victories and topping the list of American trainers by earnings in 1969. In Burch's Hall of Fame hands, the son of Tom Rolfe ran six times as a two-year-old, winning twice, including a narrow victory in the Garden State Stakes at Garden State Park just days after Fort Marcy's second Washington, D.C. International victory.
Despite winning only two races in seven starts at two, Run the Gantlet was rated behind only Hoist the Flag and Limit to Reason in the Experimental Free Handicap, a prediction of the top three-year-olds of 1971.
Grass is greener
Despite being rated toward the top of his division, a bruised foot in the spring kept Run the Gantlet out of training and off the track until mid-May, when he won an allowance race at Aqueduct.
With Canonero II on the precipice of a Triple Crown after winning the Kentucky Derby and Preakness Stakes, it seemed like history might repeat itself with a Burch trained horse in the Belmont Stakes as a possible spoiler, after both Quadrangle and Arts and Letters did the same in their three-year-old seasons. However, a poor showing in a preparatory race in late May meant that Run the Gantlet would skip the Belmont.
Run the Gantlet competed in an allowance race on the Belmont undercard, finishing second in his first try on the turf on the same day that Pass Catcher denied Canonero II's Triple Crown bid. After a lackluster performance in his next dirt start, lingering leg issues compromising the colt's chances, Burch tried the son of Tom Rolfe on the turf again, with another second-place finish.
With two seconds in two starts on the grass, Run the Gantlet tried stakes company for the first time in the Tidal Handicap at Aqueduct. In front of a closing day crowd of nearly 45,000, he handled the boggy course with aplomb, breaking sharply before being taken back by jockey Robert Woodhouse. In the stretch, Run the Gantlet showed impressive turn of foot on the soft grass, exploding in the final furlong to win by four lengths.
"He just ate up that other horse [Royal Harmony] when we straightened out for that stretch run," Woodhouse said after the race.
Buoyed by the performance, Burch sent Run the Gantlet along with Fort Marcy to Atlantic City for the Kelly-Olympic Handicap. Carrying 115 pounds versus Fort Marcy's 126 pounds, the younger Rokeby horse, the only three-year-old in the field, split horses in the stretch to win the 1 1/8-mile handicap by three-quarters of a length. Fort Marcy, still seeking his first victory of the year after winning Horse of the Year in 1970, was third. Was this a signal that the son of Tom Rolfe was ready to pick up the mantle of champion turf horse from his illustrious stablemate?
"Run the Gantlet has been racing well and under the respective weight assignments, I am not shocked to see him beat Fort Marcy," Burch explained.
Burch continued to demonstrate confidence in his nascent three-year-old turf star, sending him in more prestigious grass races as 1971 wore on.
Going no concern
In the United Nations at Atlantic City, Run the Gantlet faced Chompion, 1968 Travers winner, and Cougar II, Chilean champion who shipped in from California. Boldly moving for the lead on the far turn, Run the Gantlet held off challengers in the stretch to win by 1 ½ lengths on a soggy grass course.
He followed that with a victory in the Man o' War Stakes at Belmont Park, beating older horses like Chompion again to win by 2 ½ lengths. That win practically sealed his turf horse championship. One more and he might succeed Fort Marcy as Rokeby's second Horse of the Year.
The Washington, D.C. International Turf Cup at Laurel Park was an invitation-only event. Only two American horses represented the event's home country, Chompion and Run the Gantlet. The field also featured Ortis, an Italian-owned colt raced primarily in England; Quiludi, one of two from England; and Irish Ball, who had finished third behind Rokeby star Mill Reef and Ortis in the King George and Queen Elizabeth Stakes at Ascot.
In all nine contested, the International, and, over a rain-soaked swamp of a turf course, Run the Gantlet made them all look average. He broke fast, lingered behind pace-setter Minsky in third, and then took over the lead more than a half-mile from the finish line. The margin of victory was six lengths, the son of Tom Rolfe powered down well before the wire, completing the 1 ½-miles in a pedestrian 2:50 3/5.
It was Run the Gantlet's last start of 1971. The colt was turned out on Mellon's Upperville, Virginia farm soon after, not expected to see the racetrack again until late spring 1972. His five wins on the grass earned him the first Eclipse Award for Champion Turf Horse, another Rokeby homebred leading his division just like Fort Marcy and Arts and Letters had.
Passing It On
Run the Gantlet's four-year-old season did not have nearly the luster of his previous year, finishing out of the money in his first three starts of 1972 before finding the winner's circle again in the Bowling Green Handicap at Belmont Park in June. That race would be his last start. Later that year, Virginia breeder and owner Bert Firestone purchased Run the Gantlet for stud service at his Gilltown Stud in Ireland, his second Thoroughbred breeding operation. The stallion stood there until 1981, when Run the Gantlet was purchased by Jerry Hoffberger and returned to stand in the United States at Sunset Hill Farm in Maryland.
At stud, the 1971 turf champion would produce another Washington, D.C. International Cup winner, Providential; Comanche Run, winner of the 1984 St. Leger; two-time Ascot Gold Cup winner Ardross; and April Run, who won what is now known the Joe Hirsch Turf Classic twice (1981 and 1982) and was third in the Prix de l'Arc de Triomphe in 1981. He also was a good broodmare sire, his daughter Becky Branch producing Honor Glide, who won the Bowling Green Handicap in 1999, nearly three decades after his damsire.
Clad in the Rokeby gray and yellow, Run the Gantlet continued the tradition of champions produced at Paul Mellon's Upperville, Virginia estate. Trained by a Hall of Famer and owned by a Pillar of the Turf, the son of Tom Rolfe found that the grass was indeed greener on the turf tracks of the East and passed on that talent to his foals.
Sources
PRINT SOURCES
"$311,392 Not Bad for 4 Days' Pay." Sunday Press (Binghamton, NY). November 15, 1970.
Austin, Dale. "Mellon Colt Favored In International." Baltimore Sun. October 25, 1971.
Boniface, William. "Canonero II Closer to Triple Triumph." Evening Sun (Baltimore, MD). May 24, 1971.
Boniface, William. "Mellon's Horses Own Top Honors." Evening Sun (Baltimore, MD). November 22, 1971.
Boniface, William. "Preakness Scores In Weekend Races." Evening Sun (Baltimore, MD). April 19, 1971.
Cavanagh, Tom. "Run the Gantlet Wins By 4." Daily News (New York, NY). August 1, 1971.
Gaffer, Wes. "Hoist the Flag Topweighted In '71 Ratings." Daily News (New York, NY). January 13, 1971.
Gaffer, Wes. "Run the Gantlet a $10 Winner." Daily News (New York, NY). May 11, 1971.
Harris, Russ. "Entrymate Wins At Shore As Favored Marcy Runs 3d." Philadelphia Inquirer. September 5, 1971.
Harris, Russ. "Run the Gantlet Takes United Nations 'Cap By 1 ½." Philadelphia Inquirer. September 19, 1972.
"John Campo Has Jim French Flying Into Derby Forefront." Miami News. April 5, 1971.
Maisel, Bob. "Hoffberger Shares International Win." Baltimore Sun. November 8, 1981.
McCulley, Jim. "Hoist the Flag's Out; Who's No. 1 Now?" Daily News (New York, NY). April 2, 1971.
McCulley, Jim. "$17 Solo Mio Wins; Will Go In Belmont" Daily News (New York, NY). May 21, 1971.
McCulley, Jim. "Gantlet's Man o' War by 2 ¼." Daily News (New York, NY). October 17, 1971.
Meier, Ted. "Run the Gantlet Wins Tidal 'Cap." Lexington Leader. August 1, 1971.
Nibali, Ellen. "The Biggest Winner at Laurel Race May Be a Horse Who Wasn't There." Baltimore Sun. December 31, 1981.
Phelps, Frank T. "Last Year's Horse Champs That Raced Proved 'Class.'" Lexington Herald. December 25, 1972.
LATEST NEWS