BackTracks: Fort Marcy, from reject to record-setter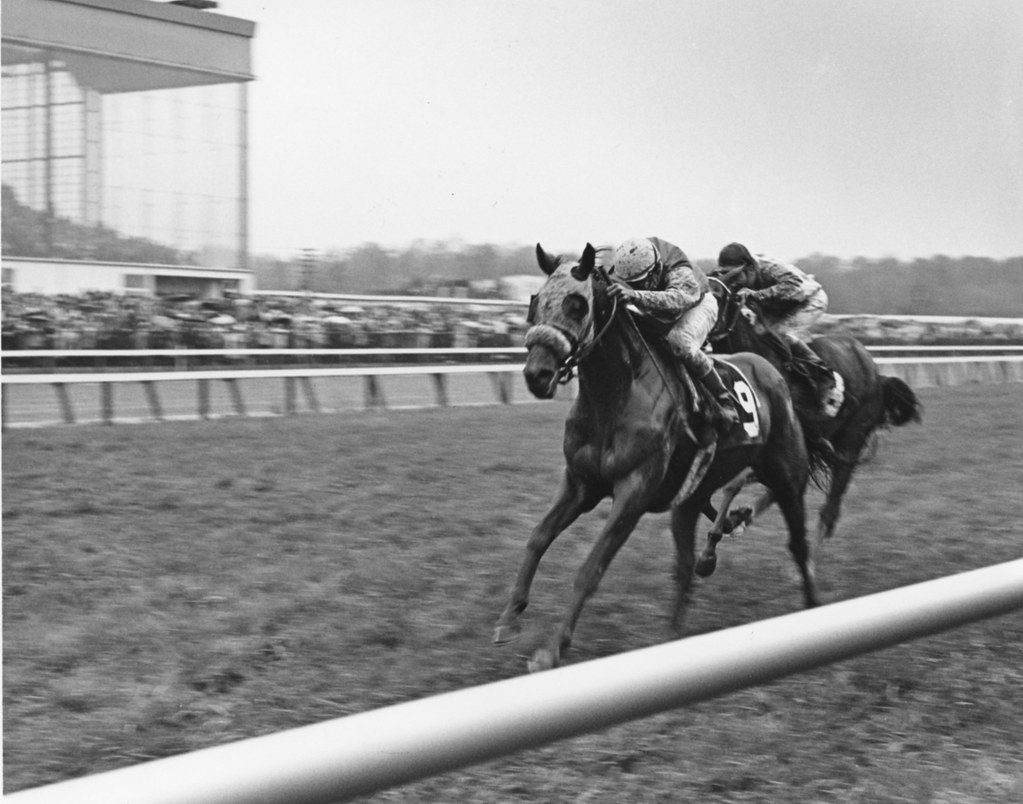 Paul Mellon came from incredible wealth and was able to pursue the passions that moved him. In addition to his sizable philanthropy, the son of former Secretary of the Treasury Andrew Mellon also fought as part of a cavalry division of the Office of Strategic Services in the European theatre in World War II, service that earned him four battle stars and the rank of Major. He was an avid art collector as well, donating many of the works he acquired to museums at Yale University and the National Gallery of Art.
Perhaps, though, this Mellon heir is best known for the horses that his Upperville, VA-based Rokeby Stables campaigned over nearly five decades.
One of his earliest was a filly named Blue Banner, whom Mellon purchased at the 1953 Keeneland Summer Yearling Sale for $14,500. A winner of three stakes, including the Test at Saratoga, she later became a broodmare for Rokeby, foaling a filly by Princequillo named Key Bridge.
SHAKY START
Named for the Francis Scott Key Bridge connecting Georgetown to Arlington County, VA, she did not race, but instead became one of Mellon's foundational mares. Paired with Amerigo, a turf specialist by Nearco, Key Bridge produced a tall plain bay colt that Mellon would name Fort Marcy, foaled at Rokeby Farm in Virginia.
By 1966, when Fort Marcy debuted at Aqueduct in May, Rokeby had already won the Belmont and Travers with Quadrangle and had nearly two decades of success on the racetrack. To come were more classic winners, like Arts and Letters and Mill Reef, so much was expected of Fort Marcy. However, in ten starts at age two, he could manage only one win. The first part of his three-year-old season was not much better, with the gelded son of Amerigo managing only two more wins by early June 1967.
Trainer Elliott Burch had switched Fort Marcy from dirt to turf at Hialeah Park in late February. Ninth in his first start over the grass, he improved to second in his next try, demonstrating that perhaps a permanent surface switch was necessary. On a new surface, the gelding was a different horse, but would it be enough for him to stay a Rokeby horse?
GRASS IS GREENER
In early June, Fort Marcy notched his third win and first over turf at Aqueduct before trying stakes company for the first time in the Spring Handicap at Monmouth Park. He finished out of the money, prompting Mellon to enter the gelding in the Belmont Horses of Racing Age sale on June 26.
The gelding did not reach the reserve price that Mellon wanted, so he bought back Fort Marcy for $77,000. Two days later, he would win the Long Branch Handicap at Monmouth and then the Nashua, the Tidal, and the Bernard Baruch, reeling off a total of seven wins in eighteen starts in 1967. Included among those was a win in the Washington, D.C. International at Laurel. There, he faced dual Triple Crown classic winner Damascus and a field of international horses and beat them all, outlasting Damascus in a stretch duel to the wire.
[See Fort Marcy's 1970 Washington, DC International victory]
Burch did return the gelding to the dirt a few times over the next four seasons, but it was clear that Fort Marcy was a far superior turf horse. That showed in his track record performance in the 1968 Sunset Handicap at Hollywood Park, where he ran 1 ½ miles in 2:26 3/5. That year, he also won the Stars and Stripes Handicap at Arlington Park and then won the Bougainvillea, Hollywood Turf Invitational, Kelly-Olympic Handicaps at age five.
In his seasons since Mellon almost let him go in 1967, Fort Marcy had proven to be worth every penny of the price tag that brought him back to Rokeby. In 1970, he would seal his place among the greats to wear the dark gray and gold braids of Paul Mellon's champion stable.
CHAMPIONSHIP SEASON
An injury forced 1969 Belmont Stakes winner Arts and Letters into retirement, leaving Fort Marcy as the stable's leading performer. He won the Dixie Handicap, now known as the Dinner Party Stakes, at Pimlico in track record time. Fort Marcy followed that up with another victory and another track record in the Bowling Green at Belmont Park.
By the end of the year, the gelding added the United Nations, the Man o' War and another edition of the Washington D.C. Invitational to his resume. With the latter win, he joined Bald Eagle as the only two-time International winners. It also made Fort Marcy a millionaire.
"He ran a, fine race. He is a fine horse," Mellon told the New York Times. "We have not yet decided whether this is his last race or not, but it certainly will be his last of the year."
At year's end, he earned the Daily Racing Form's honors as top turf horse, champion older male, and Horse of the Year. It was his third champion turf horse award, coming over four racing seasons. That made for back-to-back Horse of the Year honors for Rokeby, who had won the honor the previous year with Arts and Letters.
At age seven, Fort Marcy concluded his career with in-the-money finishes in races like the Bowling Green and the Hollywood Turf Invitational. A wrenched ankle took him out of another try at the Washington, D.C. Invitational, prompting Mellon to retire his stalwart turf champion for good. Fort Marcy spent his days at Rokeby Farm in Upperville, Virginia.
Racing from coast to coast, Fort Marcy set records and was victorious in many of the era's biggest turf events, earning him a spot in the National Museum of Racing and Hall of Fame alongside stablemate Arts and Letters, trainer Elliott Burch, and owner Paul Mellon. He also set three track records, all at 1 1/2 miles on the turf.
In a time when turf racing was becoming a bigger part of the American racing scene, Fort Marcy was the star that brought grass specialists into the same league as their dirt counterparts.
Sources
PRINT SOURCES
Austin, Dale, "Fort Marcy Takes Dixie in Track Record Time," Baltimore Sun, May 10, 1970.
"Blasting Charge, Fort Marcy Share Feature," Asbury Park Press, June 29, 1967.
Boniface, William, "Fort Marcy Outlasts Damascus Down D.C. International Stretch," Baltimore Sun, November 12, 1967.
"Fort Marcy Injured, Out of International," Evening Sun, September 30, 1971.
"Fort Marcy Nips Damascus," Richmond Times-Dispatch. November 12, 1967.
"Fort Marcy Retired," Leader Telegram, October 2, 1971.
"Fort Marcy's Record 'Inspired' By Filly," Press and Sun Bulletin, June 14, 1970.
"Fort Marcy Sets Belmont Turf Mark," Philadelphia Inquirer, June 14, 1970.
"Veitch Buys Fort Marcy for $77,000," Lexington Herald, June 27, 1967.
Whittington, Gene, "Ailing Bold Reason May Not Run in D.C. International," Baltimore Sun, October 1, 1971.
LATEST NEWS