O'Sullivan Farms to be well represented at Funkhouser Memorial Stakes
He's lined at 3-5 despite breaking from post eight in the field of that size and may go off even shorter. The five-year-old son of Fiber Sonde, a full-brother to multiple graded stakes winner Late Night Pow Wow, has won 12 of 13 lifetime starts for trainer Jeff Runco and owner David Raim and has nearly $700,000 in career earnings.
"You know, Jungle Beast has run some really good races this year and we figured this might be the time to see how well he'll do stretching out to three turns," John Funkhouser said. "He's been second in each of the last two stakes for three-year-olds behind Free Sailin, who looks like a really nice horse, so we thought this would be a good time to take a shot with him. There are still a few conditions left for him."
Bubba Grump has eight wins in 17 career starts but has not won a stake.
"Bubba Grump tried three turns one other time, but he wasn't really fit enough at the time," Funkhouser said. "He ran okay in the Onion Juice, but he came right back to run a bang-up race against allowance company last time out. He's got plenty of speed, so hopefully he can carry it a long way and keep Muad'dib off of him as long as he can."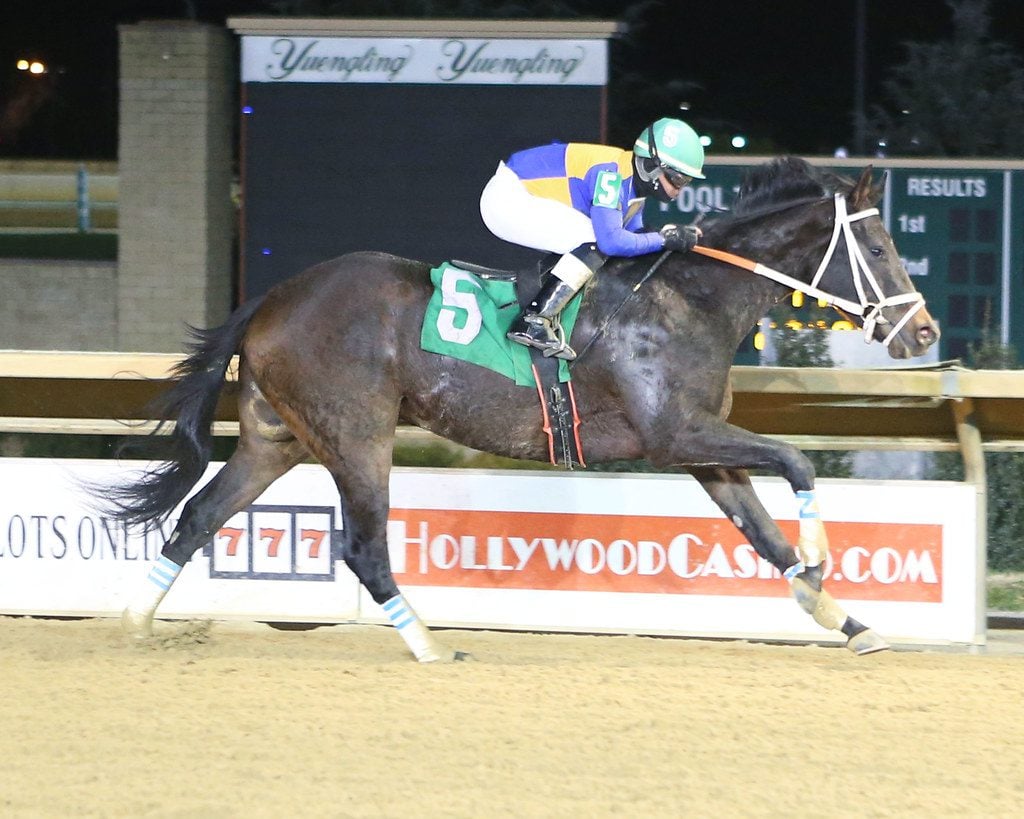 Speaking of Free Sailin, the WV Lottery Breeders' Classic winner, he and John A. Casey homebred Candy Invasion (9-2) will be viewed as the most likely upset threats to Muad'dib, the reigning West Virginia-bred champion. Free Sailin, a five-length winner last out, is 5-1 on the morning line. Candy Invasion ran poorly last out in the WV Breeders' Classic but previously had run very well in three-turn races.
While both Muad'dib and Free Sailin recorded formful victories on WVBC night, C.R's Mandate rallied for a 23-1 shocker in the Onion Juice for trainer Raimondo Schiano-Dicola, and he will try to notch his second straight stakes score and perhaps at a similar price. No Change, who seemed a budding star in the spring for owner-trainer John McKee, will look to regain his winning ways, while longshot Allen Can Do It (30-1) gives Casey an outside chance of perhaps seeing two of his trainees hit the board in Saturday's feature.
Regardless, John Funkhouser is hoping his two charges, both trained by Javier Contreras, can outrun their odds and make their presence known in the inaugural memorial event for his late father.
It has been an emotional month or so for the Funkhousers. On Breeders' Classics night, they watched their homebred Seneca Rocks win the WV Department of Tourism and then saw Confucius Say, an O'Sullivan homebred, inducted into the first class of six horses to enter the West Virginia-bred Hall of Fame.
Now Saturday they'll watch – and root – as a pair of their runners run in the race named for Randy Funkhouser.
Confucius Say, who earned over $1 million in his career on the strength of 19 wins in 42 lifetime starts, won the Breeders' Classic three times and the Charles Town Dash and Onion Juice once each. He and Penguin Power are the only runners with four WVBC wins to their credit.
"My dad would have been very happy to hear that Confucius Say was one of the first class of West Virginia-bred Hall of Fame inductees," John Funkhouser said. "I think my dad knew early on that Confucius Say was going to turn out to be a very talented horse. My dad started O'Sullivan Farms really for the betterment of everybody in racing. He was always looking out for the little guys. He always wanted anyone involved in racing to have a fair chance to make a decent living. Everything we have today is because of what my dad built and we want to continue that tradition."
LATEST NEWS