Randy Funkhouser, WV breeder and owner, passes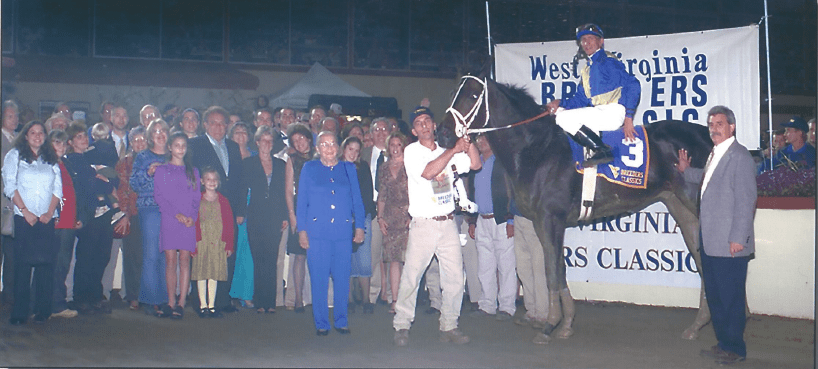 Ted Black

February 7, 2022
Longtime West Virginia owner and breeder Randy Funkhouser, whose O'Sullivan Farms has been among the most prominent and influential breeding farms in the state for five decades, passed away suddenly February 4 at the age of 70, less than one month before he would have turned 71 on March 1.
Funkhouser oversaw O'Sullivan Farms through the racing industry's peaks and valleys. Horses O'Sullivan bred and/or owned often major players on the West Virginia Breeders Classics night card.
Funkhouser and O'Sullivan Farms bred hundreds of horses over the last 40 years, collecting nearly 250 winners with combined earnings of $6.6 million. He will forever be linked with a pair of WVBC champions trained by George Yetsook: Confucius Say, a son of Eastover Court who won 19 of 42 races and just over $1 million, and Julie B, a daughter of Eastover Court who won 15 of 33 starts and earned nearly $900,000.
Confucius Say won a remarkable four WVBC races, including the Classic three times, in 2001, 2002, and 2007. Julie B won the Cavada twice, in 2006 and 2008.

Funkhouser's oldest son, John Funkhouser, believes his father will be equally remembered for his character in addition to his passion for horses.
"My father was always honest and humble and viewed horse racing as a chance for everyone in the community to make a living," John Funkhouser said in a phone interview on Sunday evening. "He always wanted the best for his family, and he and my mom raised me, Kate and Joe the right way. We were always partners in everything related to the horses. Now everyone in the family has some big shoes to fill."
Funkhouser is survived by his wife, Catherine "Clissy" Funkhouser, daughter Kate [Funkhouser] Brown, sons John Funkhouser and Joe Funkhouser, and grandson Clyde Brown.
Funkhouser, a graduate of Stanford University, was also deeply involved in horsemen's issues over the years. He served on the board of directors of the Charles Town Horsemen's Benevolent and Protective Association for most of the last 40 years, including stints as president for 16 of those years.
Randy Funkhouser had recently completed Shenandoah Valley Sketches, a book of poems "celebrating the beauty of the Shenandoah Valley." He also was in the process of writing upwards of 20 short stories with the help of a ghost writer.
"I hear water gurgling/ over rapids below/ chanting talismanic words:/ Senedo, Sherando, Shenandoah/ 'daughter of valley of stars,'" Funkhouser wrote in his poem Maryland Heights.
Funkhouser's last stakes winner came when he attended the races last fall. One of their homebreds, Jungle Beast, captured the $75,000 West Virginia Futurity at Charles Town for trainer Javier Contreras.
"He leaves a legacy to honor," said son Joe Funkhouser.
Funkhouser's passing marks the third death in recent months of an influential West Virginia horseman. WVBC cofounder Sam Huff passed away in November, and former Charles Town racing secretary Mearl Sowers died in January.
"Dad had diabetes, so the past few years offered a lot of ups and downs," John Funkhouser said. "But every time something came up he always found a way to beat it. None of his doctors thought he was in poor health. This really was all of a sudden. Last Friday he didn't wake up, so we called an ambulance and they transported him to the hospital where he was still alive but his kidneys and liver had basically stopped working."
Funeral arrangements are pending and expected to take place the weekend of Feb. 26-27.
LATEST NEWS