D. Wayne Lukas: "A good horse makes you look good"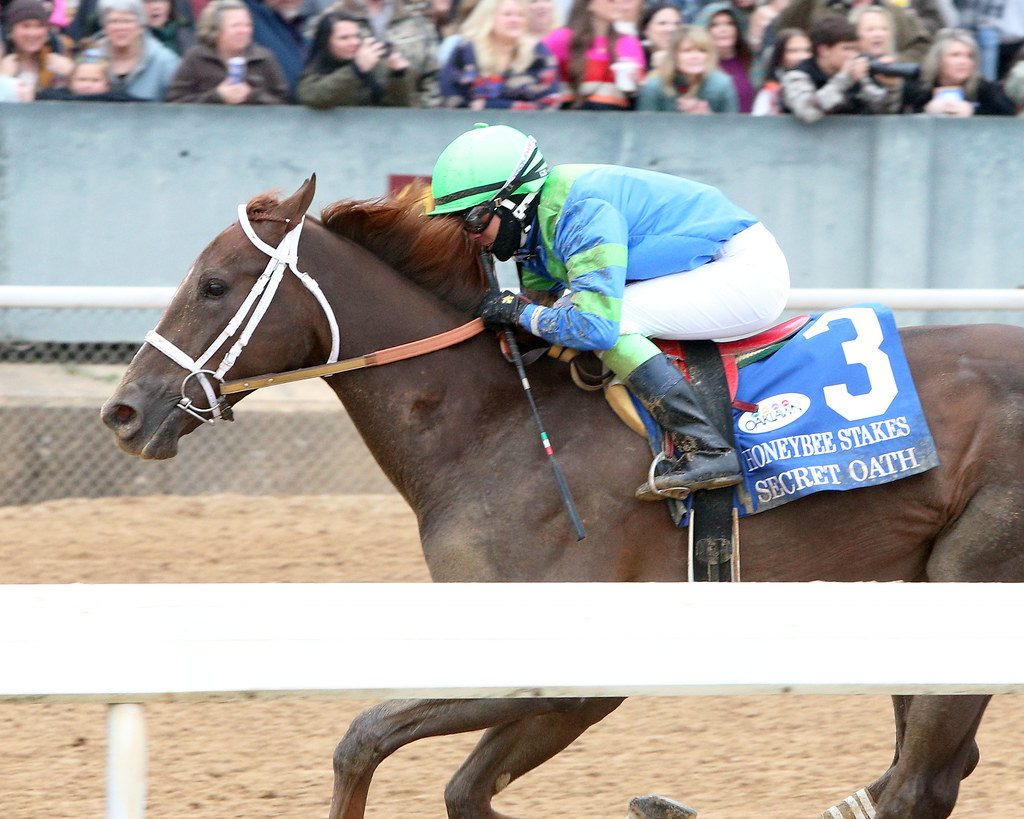 Nick Hahn

March 17, 2022
Upsets are common on the hardwood in March, less so on the three-year-old dirt where winning favorites are forging their Triple Crown paths. In recent weeks, formful races have seen horses like Morello, Forbidden Kingdom, Classic Causeway and Epicenter deliver as likely contenders.
Looking, perhaps, to play spoiler is trainer D. Wayne Lukas, a onetime college basketball coach, who is conditioning two among the class leaders, filly Secret Oath and colt Ethereal Road.
Secret Oath is Lukas' bucket-getter in the lady's bracket, earning her oats at Oaklawn Park. Secret Oath hasn't lost since football season, winning three straight. Last time out she cruised home seven lengths clear as the 3-10 favorite in the Grade 3 Honey Bee.
"We had her in a progression of races that we mapped it out, and then she's gotten so damn good lately, that kind of changed our thinking a little bit," remarked Lukas on the March 12 edition of Off to the Races Radio. "If you're a handicapping purist, and you just look at handicap numbers, her numbers are every bit as good as any of the colts in the country."
Lukas confirmed later March 12 that he intends to jump brackets with Secret Oath by running her against the boys in the Arkansas Derby. Ethereal Road, meanwhile, will point to the Bluegrass Stakes at Keeneland.
Secret Oath is owned by Robert and Stacy Mitchell and stands atop the Kentucky Oaks point standings with 60 – enough to ensure her a spot in the starting gate. But Oaks points can't be Derby points, so she'll enter the Arkansas Derby starting gate with zero Derby points.
Lukas has won a Derby with a filly, Winning Colors (1988), and raced three others. Life's Magic finished eighth and Althea, 19th in 1984. Serena's Song was 16th in 1995. He hasn't started a filly in the Derby since.
"I've got the Oaks, anyhow," Lukas said in a release. "That's where I'm going. We have no plan to run in the Derby now. That's not chiseled in stone, either, but that's the way the Mitchells feel. They don't want to run in a 20-horse field. They feel like the Oaks is every bit as prestigious."
Taking it a stride further, Lukas could think of Baltimore as "upset city" in the Preakness.
"That's a much better program," Lukas said on Off to the Races of running in the Preakness. "If we were to get a run very impressive in the Oaks, it's not totally out of the question that we would drop into the Preakness."
Lukas, who's won the Preakness six times – only trainer Bob Baffert, with seven Middle Jewels, has won more – likes the configuration of the Preakness for his star filly, a daughter of Arrogate.
"The Preakness is shorter. It is usually a smaller field," he said. "One of the concerns you have to be concerned about if you do run a filly, which I have, in the Kentucky Derby… is the 20-horse field. You just hate to subject a filly to a 20-horse field."
Over in the men's bracket, Lukas likes the development of Ethereal Road. The Quality Road colt, owned by Aaron Sones, took four cracks to break his maiden and then turned around to be a near-miss second, at 15-1 odds, in the Grade 2 Rebel Stakes. That netted him 20 Derby points.
"The thing with him is that he stands 16.3 and he weighs right close to 1300 pounds," observed Lukas. "He is a tank of a horse and carries a lot of weight. I would like to see him a little bit lighter going forward, but he has responded to tough love. I think he's getting a little fitter in his muscle tone. His weight is coming in our direction. He's improved every single time and he's got a great running style for the Derby."
The April 9 Bluegrass, one of three 100-point Derby preps that day, will give Ethereal Road one last crack to add to his resume. A top-four finish could be enough to secure him a spot in the Kentucky Derby, which would give Lukas his first Derby starter since Bravazo in 2018.
It's not the first time Lukas has had to manage multiple contenders into the Triple Crown. In fact, he's started multiple horses in the Kentucky Derby a dozen times. In 1996, he sent out five Derby starters, finishing first with Grindstone and third with Prince of Thieves.
He draws back to basketball coaching days where, as an assistant, he learned how valuable assistants could be. He carried his organization skills and adaptative talents from the court to the track. Nearly overwhelmed with early success in training thoroughbreds, Lukas branched out.
"So, I got good assistants, had them buy into the program and we were very, very successful," recalled Lukas, who mentored numerous assistants. "The thing about it is, again, if you're coaching, I think you've got to do a little bit of work nowadays with especially these kids that have had a little bit of recognition and think that they're all Michael Jordan, you have to spend a little time with them off and on the court both, so I would say that being dependent on good, good assistants is important."
Another lesson Lukas learned on the hardwood is one he said he's taken to heart on the racetrack: good players make good coaches.
"The other thing is I found out when thoroughbred racing that the horse is the most important thing. A good horse makes you look good," the trainer said. "A good player will win in spite of you. You're better off leaving them alone and letting them do what they do than probably trying to (over)coach them. One of the biggest faults I did when I first came out in coaching is that I tried to program them into my offense. I had this offense in mind, and I tried to adapt them. As soon as I figured out that I should get my offense geared to what they could do best, we were very successful."
Lukas spent two seasons as an assistant at the University of Wisconsin under John Erickson. On the staff with Lukas was Johnny Orr, who would later coach at UMass, Michigan and Iowa State. Erickson, along with Orr, put Lukas in charge of the freshmen, who at the time weren't eligible to play varsity.
"I had the freshmen team, and I was able to experiment a little bit," Lukas said. "Being the youngest one on the staff, I did a lot of recruiting. If they had somebody they wanted to see in Iowa, Johnny Orr didn't want to drive down there. So he'd say, 'Send Lukas.'"
Basketball, of course, has changed since Lukas drove around the Midwest. For one thing, recruiting is a lot more than sending the youngest coach down the road to a nearby high school.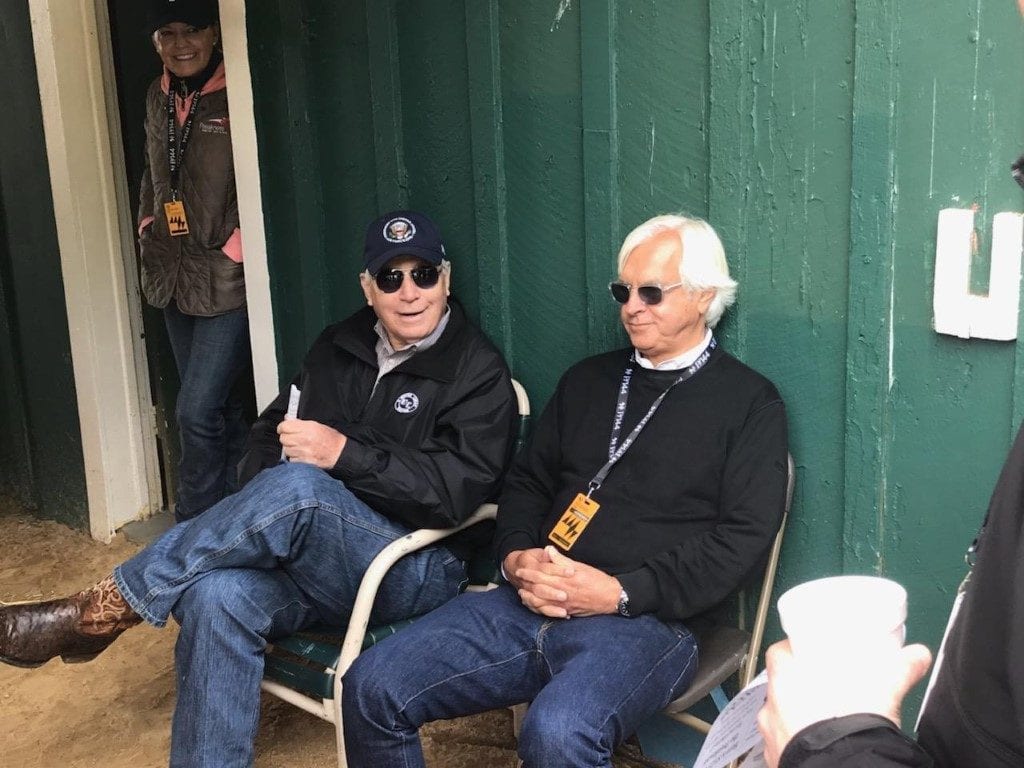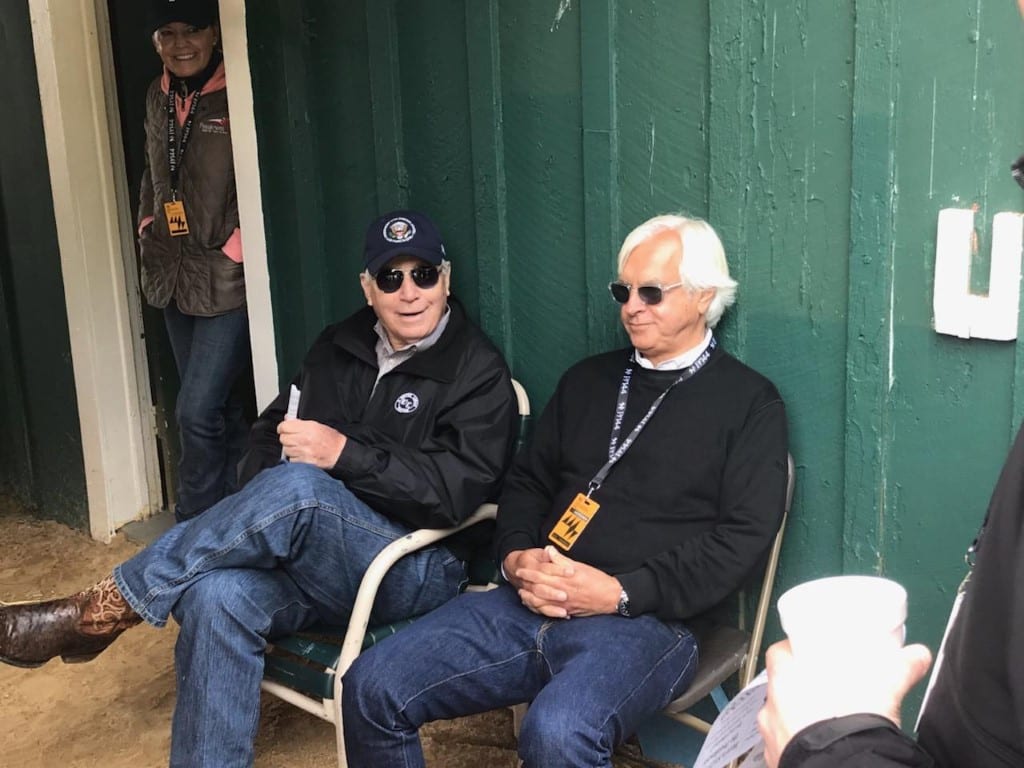 "Nowadays, if you talk to head coaches around the country, most of them will tell you that the thing that is the hardest and the most unpleasant is the recruiting," Lukas said. "I can understand that. I think that it is so competitive on these better players that the recruiting thing is very difficult."
While March Madness kicked off this week – Wisconsin, his old haunt, will play Colgate March 18 at 9:50 – it's in May Madness where Lukas has made his name, winning 14 Triple Crown races, including the Kentucky Derby four times.
Among Lukas's competition, something will be missing from this May Madness, though. Lukas and Bob Baffert have squared off in 29 Triple Crown races since 1996 when Baffert started Cavonnier in his first Derby.
"First of all, he's, he's a good friend," emphasized Lukas about his biggest Triple Crown rival.
"Secondly, he's an excellent horse trainer," he added. "His success doesn't just happen, he is very good at what he does."
Of course, there's a "but" that hangs in the air. Baffert won what would have been his seventh Derby last year with Medina Spirit. But that runner was found to have a betamethasone positive eight days after the Run for the Roses; and after a monthslong delay, the Kentucky Horse Racing Commission stewards disqualified him from purse money Feb. 21.
The long pause between finding and ruling irks Lukas.
"The situation that has developed with him has totally been overkill and gotten out of hand," the veteran trainer said. "That should have been handled in three days. when the positive came in picograms, which had no effect, none, on the outcome of that race, those stewards should have ruled at Churchill right away.
"Dragging that through the media for eight months, I think is very, very, very unforgiving. I really think that that did hurt racing. Bob could have taken any stand he wanted after they ruled on him, he had the option of appeals and so forth, but to drag it through eight months, and have it be the news of the day almost every week, I think was very, very unjust. Now, he has a ruling in front of him and he'll have to address it one way or another."
Baffert didn't just face discipline from the state stewards. Almost as soon as the positive came back, Churchill Downs ruled Baffert off for two years. That means no Kentucky Derby for a man who won it in 2015, 2018, and 2020. Lukas called Churchill's ruling "unfair."
"I think Bob will try to address that, and hopefully they'll maybe reconsider it because he is an excellent trainer and he's sitting there with two or three really nice Derby horses. We don't need that in the news every day," Lukas added.
As all coaches do, Lukas can spin a Cinderella yarn. Back in 1978 Lukas bought a filly named Great Lady M for owner Bob Spreen for $65,000 – just a few months earlier she'd been available for a $35,000 claiming tag. He went on to win a few secondary stakes with her.
Upon her retirement, Spreen and Lukas bred her to Secretariat. The resulting foal – by the great champion and out of a multiple stakes winner — was greatly anticipated. Until they laid eyes on her.
"When I first saw her, I was sick," recalled Lukas. "I got this little, ratty, nothing. I mean, just so small, and really nothing-to-brag-about filly. Of course, we raised her up, and I eventually sold her to Gene Klein in a package deal."
Staying on as trainer, Lukas puzzled over how to handle her. With her bloodlines, she was valuable already; a bit of success would make her moreso.
"I remember saying to my son [Jeff] at the time, that we've got to do something to make her at least a little bit successful," Lukas said. "You know, let's run her up [against easier company] at Bay Meadows, not at Santa Anita or Hollywood Park, but see if we can make her successful."
That turned out to be unnecessary. Although she did run twice at Bay Meadows, the filly also experienced copious success at many more racetracks en route to earning more than $3 million.
"Little did I know that she was going to be the one of the all-time greats in the Hall of Fame and one of the great fillies to run," Lukas said. "Her name, of course, was Lady's Secret."
Lukas, who himself benefited from mentoring, encourages others to seek mentors, as well. At 86, he's still elbows-out, looking for good advice.
"I will say this to the young trainers. You're not born great. You're not born with greatness. You are influenced by others," the veteran trainer said. "So, if you can surround yourself with people that are successful and 'rub elbows' with the most successful people that you can possibly get to meet or know, and become close to them, I think it really will send your career in the right direction. I always made it a point to reach out to any of any successful businessmen, athletes."
Music in the above podcast: Whiskey on the Mississippi, 
Link: Whiskey on the Mississippi by Kevin MacLeod (Royalty free music) (filmmusic.io)
License: https://filmmusic.io/standard-license
LATEST NEWS