Medina Spirit finally disqualified from '21 Derby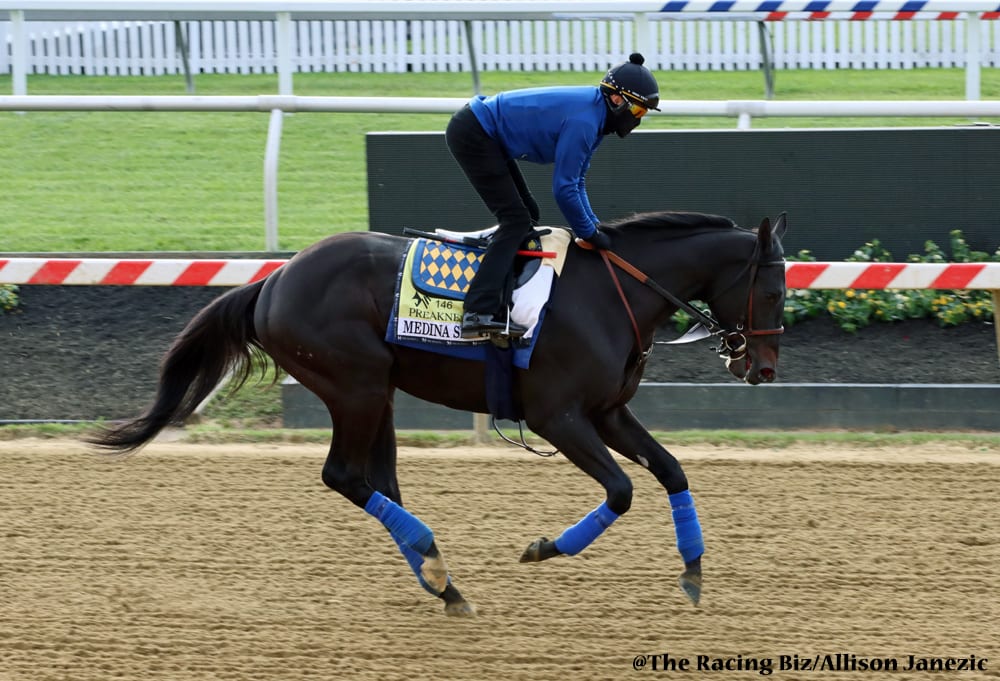 Frank Vespe

February 21, 2022
In a ruling issued Feb. 21, 2022, the Kentucky Horse Racing Commissions stewards have – for the moment – put to rest the controversy over the 2021 Kentucky Derby.
The stewards voted to disqualify first-past-the-post Medina Spirit after he tested positive for the corticosteroid betamethasone. In addition, they suspended trainer Bob Baffert for 90 days and fined him $7,500.
It's an unusually strong penalty for an offense that most often results in a disqualification and fine without suspension. While the ruling does not specify the reasons for the enhanced penalty, presumably Baffert's record – which included Gamine's betamethasone positive in the Kentucky Oaks just eight months prior – weighed into it.
Baffert, of course, has the right to appeal the decision, and it's a near-certainty the issue will end up in court.
The decision, if upheld, will elevate Mandaloun, trained by Brad Cox for Juddmonte, to first place.
Churchill Downs was quick to respond, issuing a statement that read:
"Today Churchill Downs recognizes Mandaloun as the winner of the 147th running of the Kentucky Derby and extends our congratulations to owner/breeder Juddmonte, trainer Brad Cox and jockey Florent Geroux. Winning the Kentucky Derby is one of the most exciting achievements in sports and we look forward to celebrating Mandaloun on a future date in a way that is fitting of this rare distinction."
Animal Wellness Action, an animal rights group that pushed for passage of the federal Horseracing Integrity and Safety Act, welcomed the ruling.
"We applaud the Kentucky Horse Racing Commission for taking action against American horse racing's most infamous violator, Bob Baffert, and are pleased to see some justice brought to the tragic life and death of Medina Spirit," Marty Irby, the group's executive director, said.
Following the Kentucky Derby, Medina Spirit finished third in the Grade 1 Preakness and later won the Grade 1 Awesome Again before finishing second to Knicks Go in the Breeders' Cup Classic. He subsequently died of a heart attack following a workout in December.
Medina Spirit scored a 12-1 upset in the May 1, 2021 Kentucky Derby. But within eight days, he was found to have carried betamethasone in his system during the race. Kentucky's rules prohibit a horse from carrying any measurable amount of that drug during a race.
While the facts seemed clear, the route to arrive at a decision proved anything but straightforward. Amid legal wrangling, it took the KHRC months to hold an actual hearing.
Meanwhile, Baffert's shifting explanations for what might have happened – which ranged as far afield as "cancel culture" – prompted Association of Racing Commissioners International president Ed Martin to issue a statement saying, in part, "I have no idea what the hell he is talking about."
Ultimately, Baffert and his legal team claimed that the drug must have gotten into Medina Spirit's system via a topical lotion applied in response to a skin rash and that the rules did not contemplate penalizing trainers and owners for the type of betamethasone contained in the lotion. Today's stewards ruling, while certainly not the last word, suggests they were not convinced by that argument.
Baffert's 90-day suspension is scheduled to begin March 8 and continue through June 5. If it commences on time, it would preclude his participation in both the Kentucky Derby and the Preakness.
LATEST NEWS