MEDINA SPIRIT POSITIVE FOR BETAMETHASONE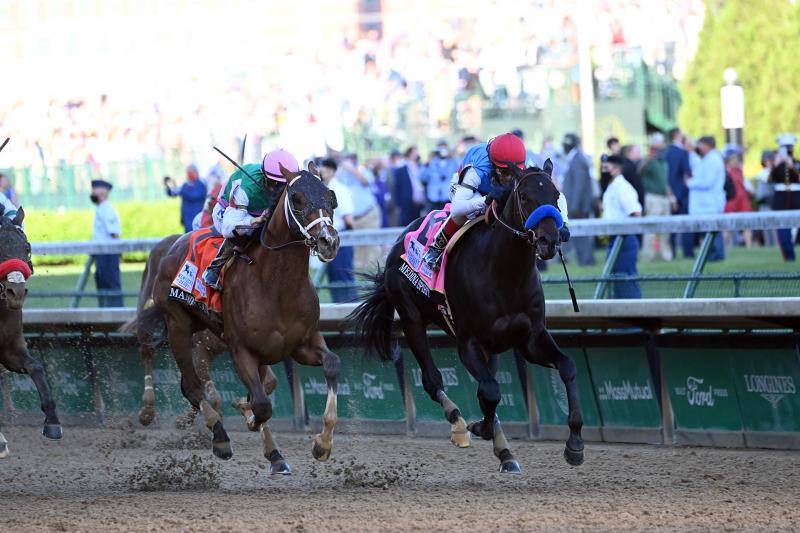 Frank Vespe

May 9, 2021
For the first time since 1968, a Kentucky Derby winner is in danger of being disqualified from the win as a result of a post-race drug test.
Medina Spirit, gallant winner of last Saturday's Run for the Roses, tested positive for betamethasone, a corticosteroid often given to horses via intra-articular injection, trainer Bob Baffert said Sunday. Betamethasone is considered a Class 4 drug under the Association of Racing Commissioners International scheme, a class of medications considered "primarily therapeutic" with a "limited ability" to enhance performance.
Baffert said he learned of the positive –21 picograms, he said (a picogram is equivalent to one-trillionth of one gram) — via a phone call from top assistant Jimmy Barnes, who learned of it Saturday morning from the stewards of the Kentucky Horse Racing Commission.
Baffert denied that he or his team had used betamethasone.
"Medina Spirit has never been treated with betamethasone," Baffert said at a hastily assembled press conference on the Churchill Downs backstretch.
He continued, "I just got the biggest gut punch in racing for something that I didn't do… It's an injustice to the horse."
Baffert said that he would fight the ruling, indicating he would call for a split sample, as well as DNA testing to confirm that the initial sample actually came from his horse.
In Kentucky, the penalty for such an offense includes disqualification and loss of purse money. The penalties for a trainer in such a case range as high as a 60-day suspension and $5,000 fine, depending on the trainer's record and other factors.
Baffert has had several high-profile brushes with regulators in recent years. Justify, his 2018 Triple Crown winner, tested positive for scopolamine, a bronchodilator, after his win in that year's Santa Anita Derby — the victory that earned him a spot in the Kentucky Derby. That positive eventually was dismissed by state regulators as environmental contamination.
Last year two top-level Baffert runners — Gamine, the champion filly sprinter, and Charlatan — tested positive for lidocaine on the same day at Oaklawn Park. That would normally have resulted in DQs for both runners, but the Arkansas Racing Commission eventually changed course and fined Baffert instead.
Subsequently, Gamine had a betamethasone positive after her third-place finish in the September 4 Kentucky Oaks. That positive resulted in her disqualification.
Baffert said his two potential Preakness starters — Medina Spirit and Concert Tour — both remain on track for the Middle Jewel and will leave Kentucky for Baltimore May 10.
May 9, 2021
LATEST NEWS