BackTracks: Safely Kept, stone-cold runner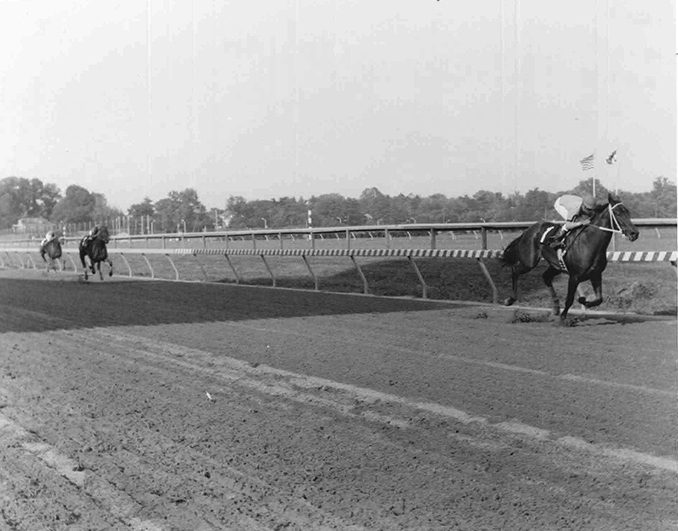 Jennifer Kelly

February 23, 2022
Some sprinters shoot out of the gate and take the lead in the blink of an eye, needing only a handful of strides to show their head in front. Others stalk and wait, pouring on the speed in the stretch to steal the win in the race's final strides.
Three decades ago, a Maryland-bred filly brought her turn of foot to racing's biggest stages and showed just what the right combination of a Free State sire and a consistent mare can produce.
Auspicious arrival
Horatius was a durable and hard-knocking racehorse, but, as a sire, he truly excelled, becoming one of Maryland's best and producing ten winners of Maryland Million stakes. He also sired Oliver's Twist, second to Timber Country in the 1995 Preakness Stakes.
He also sired an Eclipse champion and Hall of Famer in Safely Kept, bred by David and JoAnn Hayden.
The Haydens started out with showhorses but, after watching Secretariat's Triple Crown run, decided to get into breeding thoroughbreds, setting up their Dark Hollow Farm in northern Baltimore County. They built their operation on the strength of their love of horses and broodmares like Safely Home. Claimed by the Haydens for $11,500 in 1980, Safely Home raced one more time for her new owners before an injury ended her racing career. As one of Dark Hollow's first broodmares, she produced the stakes-placed Safe At the Plate and two other foals.
The Haydens also had a share in one of Maryland's most prolific sires, Horatius; they originally had tapped another mare for Horatius in 1985, but that mare kept kicking out. Instead, they sent Safely Home to the Maryland sire and, in 1986, she foaled a bay filly with a wee star in the center of her forehead. A filly with an excellent shoulder and a big rump who was light on her feet and fast out of the gate, she was named Safely Kept.
Trained by Carlos Garcia, the filly broke her maiden in her second start, moving up to stakes company in her next start, taking the Playpen Stakes by seven lengths.
Her wins caught the attention of Barry Weisbord, a businessman-turned-breeder-owner-horseman. Weisbord purchased Safely Kept from the Haydens for $300,000.
The filly rounded out her two-year-old season with a nine-length win in the Smart Angle Stakes and a third-place effort behind Ms. Gold Pole and fellow future Hall of Famer Open Mind in a stacked edition of the Maryland Million Lassie Stakes.
With the ownership change came a trainer change, Safely Kept joining the barn of Weisbord's friend Alan Goldberg as she transitioned to her three-year-old season.
Consistently Excellent
Safely Kept started her three-year-old season in the Politely Stakes at Pimlico, winning by four lengths, a hint of what was to come in 1989. She ran her seasonal record to four-for-four with follow-up wins in the Garden State Park Budweiser Breeders' Cup Handicap, Genuine Risk at Belmont Park, and Monmouth's Regret before setting her sights on bigger game.
In the Grade 2 Prioress Stakes, the filly did not get out to her usual front-running trip but no matter: she bided her time to take the lead on the far turn and went on to win by 3¾ lengths. A month later, she again started a step slow in the Grade 1 Test Stakes, but jockey Craig Perret hustled her to the lead, holding on to win by a length-and-a-half.
Years later, Alan Goldberg reflected on the win: "She colicked the day before the Test S. [at Saratoga in 1989] and she still galloped. She was just something very special."
By Breeders' Cup time, Safely Kept had won all eight of her starts, all over fillies and mares. At the time, there was only one sprint on the Breeders' Cup menu, open to all comers. So Weisbord and his new partner Richard Santulli decided to try open company in the Breeders' Cup Sprint.
The filly faced a field of twelve others, including Mr. Nickerson and Black Tie Affair. She had the lead entering the stretch, but Dancing Spree surprised everyone by coming up on the filly's inside, passing her in the race's final strides to win by a neck.
It was her first defeat of the year, but Goldberg was not upset. "There's no shame in getting beat by the boys in the Breeders' Cup," he said after the Sprint.
With an 8-for-9 ledger, Safely Kept earned the Eclipse Award for Champion Sprinter in 1989 and then set her sights on trying the Breeders' Cup Sprint again in 1990.
Try, try again
At four, Safely Kept continued her winning ways, taking seven of her nine starts leading up to Breeders' Cup Sprint at Belmont Park. The Breeders' Cup Sprint would be another test against the boys, again facing Mr. Nickerson and Black Tie Affair among the field of fourteen, with the English champion Dayjur shipping in to contest the six-furlong championship stakes.
In the Sprint, the filly broke fastest, jetting to the lead while Dayjur got off a step slow. The English challenger caught up to her within strides, sitting a half-length behind after the first quarter. The two dueled, heads apart, for the final three-eighths of a mile.
Inside the sixteenth pole, Dayjur forged to a short lead and appeared to be on the brink of victory. But in the final yards, Dayjur jumped a shadow, ceding ground to Safely Kept. She took advantage, retaking the lead and going on to win by a neck.
"Dayjur might have jumped a shadow," David Hayden observed about the 1990 Sprint, "but that shadow was in front of Safely Kept, too. She was tenacious enough to run through it. She was a stone-cold runner."
The owners agreed that the filly would return for her five-year-old season, but, when asked about her potential date cover once she became a broodmare, they answered, "Dayjur." While that would not happen, the battle between the English sprinter and the American filly would remain a highlight of the filly's time on the racetrack.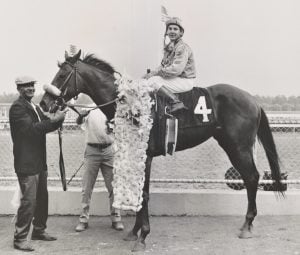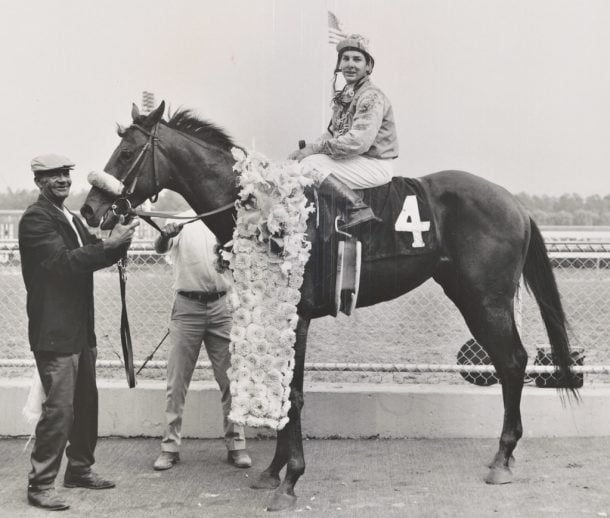 In today's BackTracks, Run the Gantlet finds new life on the turf, and fills major shoes in trainer Elliott Burch's powerful stable.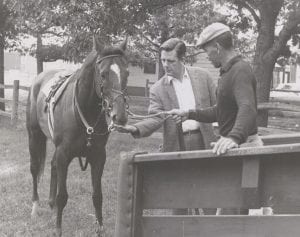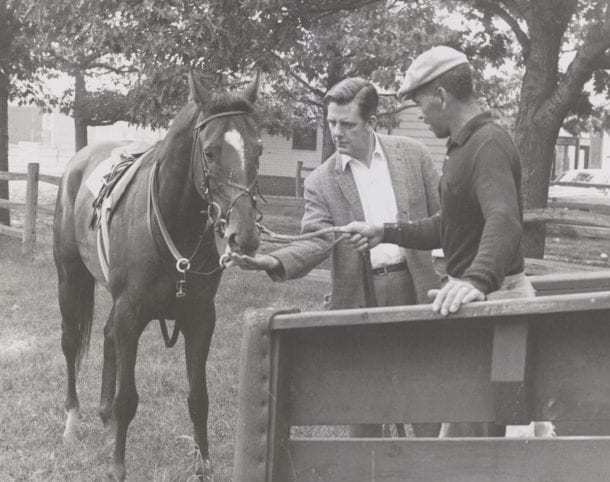 BackTracks focuses on Midlantic racing history. Today, Hall of Famer Elliott Burch, who, three times in a decade, pulled off an extraordinary training feat.
Legendary lady
At five, Safely Kept got her third wins in the Genuine Risk, the Garden State Park Budweiser Breeders' Cup Handicap, and the State of Maryland Distaff Handicap. That last win – the race is now known as the Maryland Million Distaff – made her one of what are now just seven runners with three Maryland Million victories.
While preparing for the 1991 Breeders' Cup Sprint at Churchill Downs, Safely Kept injured a suspensory ligament in her right foreleg. Weisbord, Santulli, and Goldberg decided to retire her, ending an extraordinary career in which Safely Kept had 24 wins in 31 starts. She was the first sprinter to retire with more than $2 million in career earnings and was Maryland's Horse of the Year twice.
As a racehorse, Safely Kept was tremendous, a multiple graded stakes winner who ran at eleven different racetracks in her career. As a broodmare, she continued that excellence, producing eight winners from her ten foals, including stakes winners Peace Chant and Contrast. She was inducted into the National Museum of Racing and Hall of Fame in 2011 and then was part of the inaugural class of the Maryland Thoroughbred Hall of Fame in 2013.
When Safely Kept passed in 2014, Weisbord reflected on her legacy in The BloodHorse: "She was life altering…She changed our lives. Besides all the thrills she gave us, the fact she brought all of us together is the gift that will keep on giving."
For the Haydens, the filly made their dreams possible. "She made our life," David Hayden says of their champion sprinter.
"She put us on the map and gave us legitimacy," JoAnn Hayden observed in a recent interview. "She laid the groundwork for everything we have. Safely Kept opened so many doors for us."
With all of the durability her sire Horatius gave her, Safely Kept shot to the top of her game and stayed there for four seasons, leaving behind thrilling performances that highlight her Hall of Fame career. She remains another example of the excellent that Mid-Atlantic breeding and racing has brought to the sport over the last century.
Sources
PRINT SOURCES
Austin, Dale. "Safely Kept Fast Winner in Smart Angle." Baltimore Sun. August 15, 1988.
Burrows, Walt. "Safely Kept Puts Away Cup Field." Courier-Post (Cherry Hill, NJ). May 7, 1989.
Christine, Bill. "Injury Ends Racing Career of Safely Kept." Los Angeles Times. October 25, 1991.
Finley, Bill. "Safely Kept Keeps It Up, Taking Test." Daily News (New York, NY). August 4, 1989.
Finley, Bill. "Safely Kept Keeps It Up." Daily News (New York, NY). July 17, 1989.
Keyser, Tom. "All's Well in Horatius's Kingdom." Baltimore Sun. March 21, 2004.
Keyser, Tom. "Senior Gentleman Take Bows." Baltimore Sun. October 20, 2000.
McGee, Marty. "Safely Kept Wins By 4 Lengths in Laurel's Politely Stakes." Baltimore Sun. April 10, 1989.
Milbert, Nathan. "Safely Kept Spoils Trainer with Triumphs." Chicago Tribune. July 1, 1991.
Rees, Jennie. "Safely Kept Wins by Neck; Mr. Nickerson Dies." Louisville Courier-Journal. October 28, 1990.
"Safely Kept Romps in Playpen." Louisville Courier-Journal. July 25, 1988.
Wall, Maryjean. "Dancing Spree Stuns Field, Maybe His Owner." Lexington Herald-Leader. November 5, 1989.
LATEST NEWS