BACKTRACKS: OPEN MIND RUNS THE TABLE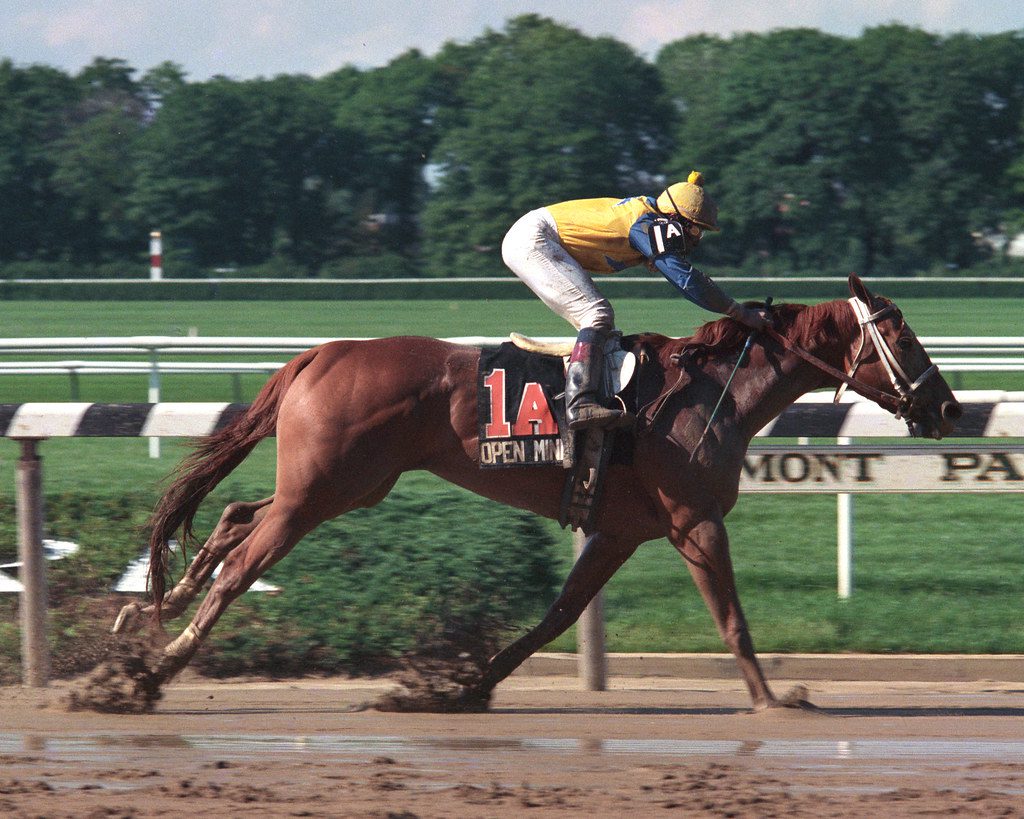 Jennifer Kelly

November 9, 2021
Solid chestnut with the tiniest wisp of a blaze, this unassuming filly was not as big or flashy as her roan stablemate, the one who wore roses. Clad in the same yellow and blue, though, Open Mind ran like the lightning bolts on her owner's silks, sweeping in at the last to hit the wire in front.
At her best, she won ten in a row, a ten-month winning streak that came with a crown and a place in the Hall of Fame. From New Jersey beginnings and precocious performances to a blanket of lilies and a Triple Tiara, Open Mind showed that neither distance nor track mattered.
Winning was all she wanted to do.
First, Jersey
As a racehorse, Stage Luck "had a tremendous kick," as her trainer John R. S. Fisher described her, doing all of her running at race's end. As a broodmare, the daughter of Stage Door Johnny attracted the attention of Robert Brennan, a New Jersey CPA and stockbroker whose International Thoroughbred Breeders bought Stage Luck at the 1982 Fasig-Tipton February Sale for $200,000. He brought her to his Colts Neck area farm, where she remained until Brennan dispersed his breeding stock in early 1989.
The wealth he had built with his First Jersey Securities had allowed Brennan to invest heavily in horse racing in the mid-Atlantic. In addition to his New Jersey farm, Brennan owned the stallion Deputy Minister, who stood at Windfields Farm in Maryland, the same farm where his grandsire Northern Dancer had stood until 1987.
The financier also rebuilt Garden State Park years after a fire had destroyed its grandstand. Brennan supplied $2 million for the purse for the first Jersey Derby in 1985, which attracted Kentucky Derby winner Spend a Buck, who bypassed the Preakness Stakes to go after a bonus Garden State Park offered to any horse who won the race's two preps, the Cherry Hill Mile and the Garden State Stakes plus the two Derbies.
It would all fall apart for Brennan. In 1987, under scrutiny from the Securities and Exchange Commission for its alleged "pump and dump" scheme, First Jersey went bankrupt. Brennan himself was convicted of securities fraud in 1994.
As a breeder, Brennan sent Stage Luck to Deputy Minister, pairing his stakes-winning daughter of a classic winner with the grandson of a dual classic winner. Bred in the name of his Due Process Stables, he consigned the filly to the Fasig-Tipton Saratoga Yearling Sale in 1987, where she sold for $150,000 to Hall of Fame trainer D. Wayne Lukas, purchasing on behalf of owner Eugene Klein. When asked about the unusual move of buying a New Jersey-bred, Lukas said, "You've got to keep an open mind."
With that, the daughter of Deputy Minister and Stage Luck had a name: Open Mind.
Top of the pops
Eugene Klein's distinctive yellow and blue silks had quite a year in 1988. The former owner of the San Diego Chargers had established his Del Rayo Racing Stables in 1982, hiring D. Wayne Lukas to train his horses, including 1985 Preakness winner Tank's Prospect and 1986 Horse of the Year Lady's Secret. In 1988, Klein realized many an owner's dream with the filly Winning Colors bringing home roses in the Kentucky Derby.
Three months later, Open Mind made her debut.
In her first start, she faced a field of ten colts, easily besting them by five lengths. She followed that up with her first stakes win in the New Jersey Breeders' Stakes at Monmouth Park, which led to a stakes appearance at Laurel, where she finished second in the Maryland Million Lassie, finishing ahead of another future Hall of Famer, Safely Kept.
She then put on a late stretch run reminiscent of her dam Stage Luck to finish a nose behind stablemate Some Romance in the Frizette at Belmont Park. All of this was enough to earn Open Mind a trip to Churchill Downs and the 1988 Breeders' Cup Juvenile Fillies.
The field for the Juvenile Fillies was maxed out at twelve, five of which were trained by Lukas and three owned by Klein. Early in the race, it was two of Lukas's five, One of a Klein and Some Romance, who battled with Eloquent Minister, with Open Mind toward the back of the pack.
In the stretch, though, the race was wide open, jockey Angel Cordero, Jr. weaving Open Mind through traffic to find a clear running lane in late stretch. Like her dam, the filly accelerated and took the Juvenile Fillies by 1¾ lengths. Two weeks later, she took the Demoiselle at Aqueduct to seal the Eclipse Award for two-year-old filly.
Those two victories were the beginning of something extraordinary.
My, how she can fly
At three, the plain chestnut filly started her sophomore season with two wins at Gulfstream Park, taking the Forward Gal and the Bonnie Miss with ease. From there, she returned to the mid-Atlantic, winning the Pimlico Oaks at Laurel. Following Winning Colors' win in the 1988 Kentucky Derby, the question became, would Lukas and Klein try for a second Derby with the daughter of Deputy Minister? How would she fare against the powerful Easy Goer, dominant in the East, and the determined Sunday Silence, ascendant in the West?
Ultimately, the tough competition from the boys prompted Lukas to keep Open Mind in her division, which she continued to dominate.
"She's capable of winning the Kentucky Oaks and the New York Triple Crown for fillies," regular jockey Cordero said after the Pimlico Oaks.
That was the path that her team kept her on, winning the Kentucky Oaks by 2¼ lengths and the Acorn at Belmont by 4 ½ lengths before she eked out a victory in the Mother Goose by a head over Gorgeous. To complete the Triple Tiara, the filly version of the Triple Crown won by horses like Shuvee and Ruffian, all Open Mind needed was the Coaching Club American Oaks.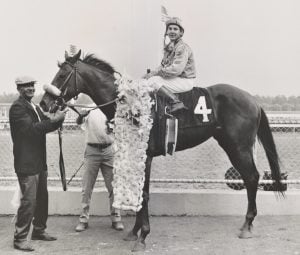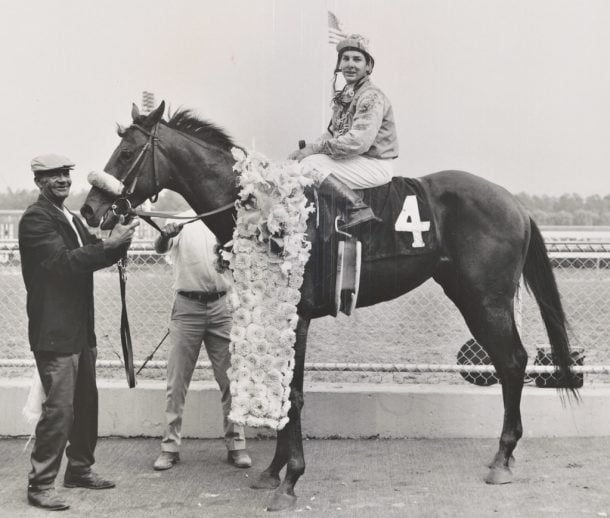 In today's BackTracks, Run the Gantlet finds new life on the turf, and fills major shoes in trainer Elliott Burch's powerful stable.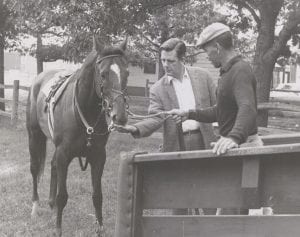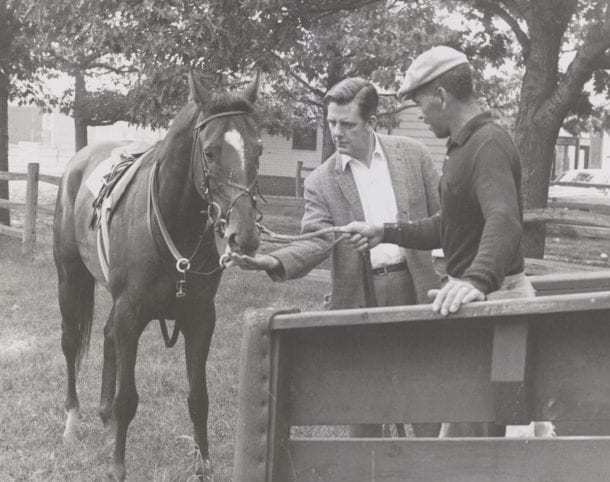 BackTracks focuses on Midlantic racing history. Today, Hall of Famer Elliott Burch, who, three times in a decade, pulled off an extraordinary training feat.
A bump and a crown
At the time, the Coaching Club American Oaks, like the Belmont Stakes, was a twelve-furlong challenge of a horse's staying power. Created to emulate the Oaks at Epsom, the Coaching Club American Oaks has its share of champion fillies on its roster of past winners: Vagrancy, Bowl of Flowers, Shuvee, and Chris Evert. For Open Mind, all that stood between her and history was twelve furlongs and five other fillies. What seemed like a simple task turned titanic in the long stretch run at Belmont Park.
With three furlongs to go, Cordero and Open Mind had taken the lead a bit earlier than usual, with Nite of Fun and Chris Antley making their bid. Rather than putting space between them, Open Mind waited for Nite of Fun, who came up on her outside. Open Mind started to rally, but Nite of Fun bumped her, knocking her off stride. Cordero took Open Mind to Nite of Fun's outside and made up ground in those final yards, but it was not enough.
At the wire, Nite of Fun had a nose on Open Mind, the Triple Tiara seemingly denied. Cordero lodged an objection against Antley for the bump, and Nite of Fun came down, Open Mind winning the Coaching Club American Oaks by disqualification.
"She was going to win if she didn't have to alter course," Jeff Lukas, D. Wayne's son, said after the race.
The bump was clear and Open Mind's bid for the Triple Tiara was successful. She joined a rarefied group of fillies, one of eight since 1968.
Keeping an open mind
With that goal realized, Open Mind headed to Saratoga to try the Alabama Stakes, which she won by a neck. That was to be her last win. She finished third in the Ruffian and the Breeders' Cup Distaff behind Bayakoa, the Argentinian filly who won the Eclipse for Champion Older Female Horse in 1989 and 1990. By the end of 1989, Eugene Klein was in poor health and dispersed his horses at the Keeneland November Sale, selling Lady's Secret, Winning Colors, and Open Mind, who topped the sale at $4.6 million.
Her new owner, Japanese breeder Kazuo Nakamura, opted to bring the filly back at age four, but, after lackluster performances in the Ballerina and the Maskette, Open Mind was retired, visiting Easy Goer for her first two foals. Both raced and both were winners, but neither were standouts like their sire and dam. The Triple Tiara champion died in Japan in 1998. She was inducted into the National Museum of Racing and Hall of Fame in 2011 and the New Jersey-Bred Hall of Fame in 2012.
This daughter of Deputy Minister is best remembered for that closing kick that enabled her to win ten straight stakes races, including the iconic Kentucky Oaks and the Triple Tiara of the Acorn, the Mother Goose, and the Coaching Club American Oaks. In the same silks as Lady's Secret and Winning Colors, Open Mind brought Gene Klein another champion, taking home Eclipse Awards for both her two- and three-year-old seasons. A wee powerhouse in a plain chestnut package, Open Mind brought New Jersey its first Breeders' Cup champion and, much like Regret nearly seventy-five years earlier, showed just what a Garden State girl could do.
Sometimes, you have to keep an open mind because you never know what a New Jersey bred might do.
Sources
PRINT SOURCES
Bailey, Rick. "Open Mind Dashes Through Mud To Bring Victory to Armada." Lexington Herald Leader (Lexington, KY). November 6, 1988.
Bass, Howard. "In Breeding, Always Keep an Open Mind." Asbury Park Press. May 23, 2003.
"Due Process Stable to Sell Breeding Stock" Lexington Herald Leader (Lexington, KY). December 9, 1988.
Edelson, Stephen. "N.J.-Bred Open Mind Wins Breeders' Cup Juvenile." Asbury Park Press. November 6, 1988.
Finley, Bill. "Lukas' Mind Made Up For Derby?" Daily News (New York, NY). April 2, 1989.
Finley, Bill "Open Mind Wears Tiara Thanks to DQ." Daily News (New York, NY). July 4, 1989.
Hintelmann, Joe. "Fillies Dominate Breeders Stakes with 1-2 Finish." Daily Register. August 31, 1988.
McIntyre, Christy. "Open Mind Outruns Stablemate to Win Oaks." Lexington Herald Leader (Lexington, KY). May 6, 1989.
Moon, Wes. "Edwards Rides Two Winners In Split Eatontown Feature." Asbury Park Press. August 5, 1976.
Moran, Paul. "Open Mind Looks Close to a Cinch." Newsday. July 3, 1989. "Open Mind Wins Filly Triple Crown on Disqualification After Bump." Louisville Courier Journal. July 4, 1989.

LATEST NEWS