Luna Bella impresses in Wide Country score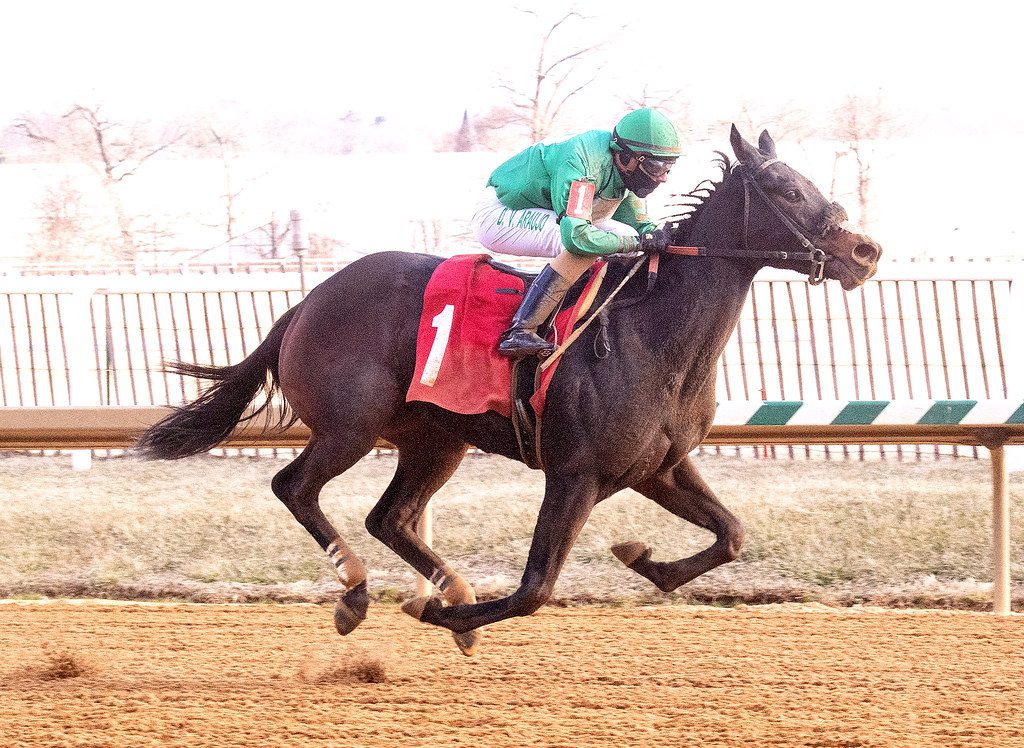 Heading into the latest edition $100,000 Wide Country Stakes for three-year-old fillies, much of the attention was focused on Luna Belle, who was riding a two-race win streak and went off the 2-5 favorite from the rail. The sophomore daughter of Great Notion trained by Hamilton Smith and co-owned by Smith and breeder Deborah Greene, had already posted sharp scores in both the Xtra Heat Stakes and Maryland Juvenile Filly Championship.
Those were surely no flukes.
But through the first half-mile of the Wide Country Stakes, little would go according to plan for the odds-on choice. Second choice Sandy's Garden (Dylan Davis up) led the way down the backside with Beneath The Stars (Jevian Toledo) and Buff My Boots (J.D. Acosta) both in close pursuit.
That group set a fast early pace – 46.24 seconds for the opening half-mile in the seven-furlong affair. Luna Belle, meanwhile, with Denis Araujo in the irons, trailed the field early and then was steadied while attempting to commence her rally.
She appeared hopelessly beaten while launching another rally with three-eighths of a mile to run.
"Well, the early part of the race didn't go as I expected," trainer Hamilton Smith said of Luna Belle, a homebred, sophomore daughter of Great Notion who has now won four of nine career outings and earned nearly $250,000 along the way. "She was a lot further back than I expected. She really didn't get a chance to run until the top of the lane. When she straightened away she finished up really well."
"She broke a lot sharper in her previous race than she did today," said Araujo, who has won all three of his mounts about Luna Belle. "She was a little further back than I thought we would be early. But when I finally got room turning for home and got clear sailing, she was really good. She really knows how to finish. I think she's going to be even better going longer. When she stretches out she's really going to be tough to beat."
She likely will get the opportunity to stretch out soon enough. While Smith indicated his star pupil might skip the next local stake, the one-mile Beyond the Wire, two-turn races – the Weber CIty Miss April 16 and nine-furlong Grade 2 Black-Eyed Susan May 20 – loom.
"She's had some hard races lately," Smith said. "I might skip the next leg and bring her back in April and go for some of the bigger stakes [such as the Black-Eyed Susan] in May."
Luna Belle paid $2.80 to win. With 52-1 outsider She Is Wisky underneath, the one-dollar exacta returned $19.50.
Roughly 30 minutes later when the three-year-old boys had their chance to perhaps make early auditions for some of the bigger stakes this spring, Local Motive (J.D. Acosta up) forged a mild upset in a compact field — scratches shaved the field from nine to six — in the $100,000 Miracle Wood Stakes. 
A sophomore son of Divining Rod trained by John Salzman,Jr. for owner Bird Mobberly LLC, Local Motive now boasts three stakes tallies and owns four wins and nearly $235,000 banked in nine lifetime outings. With a stiff win facing the runners in the stretch, Local Motive ran the one-turn mile in 1:39.14. Local Motive paid $9.20 to win.
Local Motive won at first asking and then scored in the Hickory Tree at Colonial Downs in his next start. But he was pulled up and out of the Timonium Juvenile. Three starts later he won the James F. Lewis, III, but in his last two starts, he'd been well beaten, most recently by the promising Witty in the Spectacular Bid.
"We lost to a really good horse [Witty] last time, but today he still beat some nice horses," Salzman said.
Part of the challenge, Salzman said, has been maturity.
"This horse continues to mature, but he's still a little green," said Salzman, who indicated that the Private Terms Stakes would likely be the next stop for Local Motive. "We put blinkers on him in the morning, but that only made things worse. He just would not go between horses. I think he's going to get better going longer. He's gotten better with having dirt kicked back in his face, but he's still got a lot to learn. J.D. has ridden him every start and he knows him now and he's been able to put him in a good spot."
"I keep telling John he's going to be better with blinkers but then they tried them on him in the morning and he got worse," said Acosta, who has ridden Local Motive in all nine of his starts. "He's still green, but I think he's learning and maturing. Today the wind was a big factor. When we were turning for home, the wind hit him in the face and it really affected him. But he's still learning. He was able to relax a little bit early and that helped. Before he would break really sharp and not want to relax, but today he broke well and relaxed early and saved himself for the lane."
LATEST NEWS