LUNA BELLe ECLIPSES RIVALS IN MD JUVY FILLIES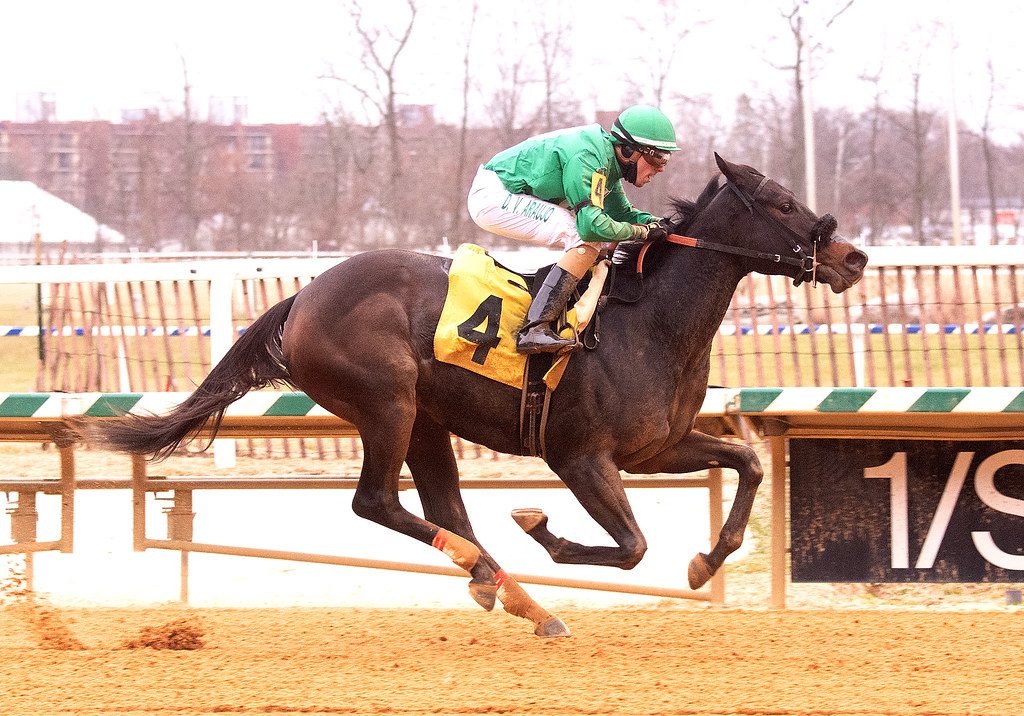 Frank Vespe

December 18, 2021
Jockey Denis Araujo has already made a name for himself at Charles Town Races. Now he's looking to take his show on the road.
The 35-year-old, a native of Uruguay, took a step in the right direction Dec. 18 when he piloted Luna Belle to a worst-to-first victory in the $100,000 Maryland Juvenile Filly Championship for two-year-old fillies bred or sired in Maryland. It was Araujo's first stakes victory in Maryland.
"This is a beautiful place to be: nice horses, nice people," Araujo said. "This is so good for me. I really like it."
It was Araujo's first mount aboard the Hamilton Smith-trained Luna Belle, and on a track on which the outside was the place to be, he gave his mount her best chance. Luna Belle began to move up while five wide on the turn, continued wide through the stretch while taking aim at leader Jester Calls Nojoy, and drew away to win by nearly three lengths in 1:25.31 for seven furlongs over a fast main track.
Jester Calls Nojoy, a Maclean's Music filly trained in New York by Todd Pletcher, took all the wagering action, getting bet down to 7-10 at post time. Under Jevian Toledo, she established the front early and controlled the pace.
But she was no match for Luna Belle, while remaining well clear of the rest. Luna Belle paid $11.60 to win and topped an exacta that returned $12.90 on a one-dollar wager.
It was Araujo's first mount aboard Luna Belle; he has lately been doing a lot of the work for Smith's barn.
"So we started in Colonial Downs, and the deal for me was helping him Monday, Tuesday when he's down there," the rider said. "And he started putting me in second calls. Now I'm riding [most of Smith's horses]."
By the end of Sunday, Araujo will have ridden eight of Smith's last 10 starters. Look to see more of him in Maryland in 2022.
"I will try to stay here next year almost full time, trying to help people's racehorses" Araujo said.
Luna Belle has now won two of seven career starts, and the winner's share pushed her earnings past $125,000.
Whether a win in the Juvenile Filly Championship will be enough to win a championship remains to be seen, however. Among the runners who've made a case for themselves is Buff My Boots, the John Salzman-trained winner of the Maryland Million Lassie who did not run in this contest.
Still, that's a problem for a different day. For now, the connections will be happy to enjoy a stakes win with their daughter of Great Notion. She's a homebred for Deborah Greene and Smith.
"Everything went her way today and she showed what she's worth," Smith said. "She's a real smart filly. I think the further she goes, the better she'll be."
LATEST NEWS