Cordmaker makes the grade in General George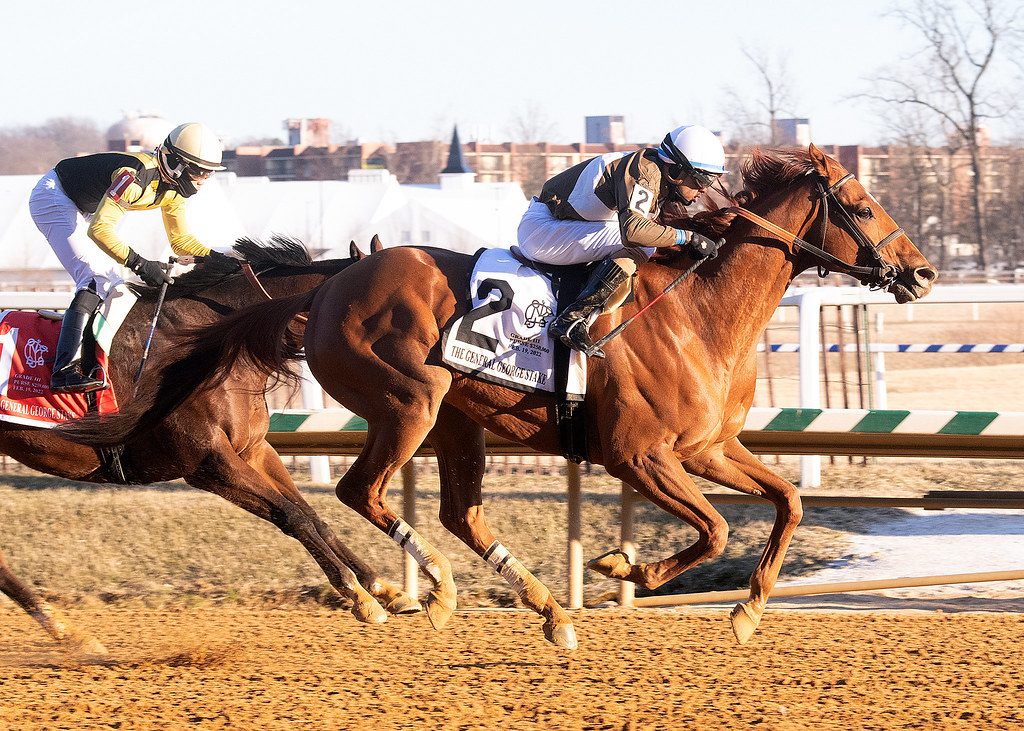 "It's very special, very special," said Ellen Charles, whose Hillwood Stable LLC has owned the Curlin gelding throughout his career. "We did it [win a graded stake] once before, with Bandbox, and it was a cold day just like today."
It continued a remarkable run for Cordmaker. He has won four consecutive stakes and five of his last six at distances from seven furlongs to nine. He posted a career-high Beyer speed figure of 102 two back in the Robert T. Manfuso Stakes. And now this.
"He's a horse that, with age, he doesn't seem to want to stop doing this," Charles said. "He gets better with age."
Regular pilot Victor Carrasco was in the irons for the 11th consecutive time and 25th time overall. He kept Cordmaker in striking distance throughout; he was four lengths off the pace of 48-1 longshot War Tocsin, who ran a monster race, after an opening quarter-mile in 22.77 seconds.
He was just a length back and in second while hugging the inner rail after the half zipped by in 45.33 seconds.
"I was patient, patient, and when we passed the five-sixteenths pole, I saw the one-horse drifting out a little bit," the rider said. "I said it's either now or never, and I took advantage of that. And when I said go, he responded."
In the lane, running into a stiff wind that affected numerous horses during the afternoon, Cordmaker wandered out in front of War Tocsin, who remained game to the wire. Dexter Haddock, on the runner-up, filed an objection, but that was denied.
"That horse never got near him except to his tail," Jenkins said. "I don't blame the guy."
"It's a stake and people are watching, so you want to be sure," Charles added. "It was a little hard on my blood pressure."
Cordmaker stopped the timer in 1:23.58 for seven furlongs over a fast main track and paid $4.20 to win. War Tocsin held second in a huge effort, and Sir Alfred James was a troubled third. Cordmaker paid $4.20 to win. The one-dollar exacta returned $48.50.
With his 14th career win, Cordmaker pushed his career earnings to the doorstep of $1 million. He'll get a bit of a well-deserved break now, Jenkins said, after a period in which he's made seven starts since the beginning of last July.
He was bred in Maryland by Katy Voss and the late Bob Manfuso. And he's become a local fan favorite. He returned to the winner's circle to a good round of applause from the railbirds gathered on a cold February day at Laurel.
"This is amazing. I don't even know how to describe how I feel," Carrasco said. "He's very special, and I'm very thankful to [Jenkins and Charles], as they have always been loyal to me. And, yeah, I'm out of words."
LATEST NEWS