Before Russell Road, there was Confucius Say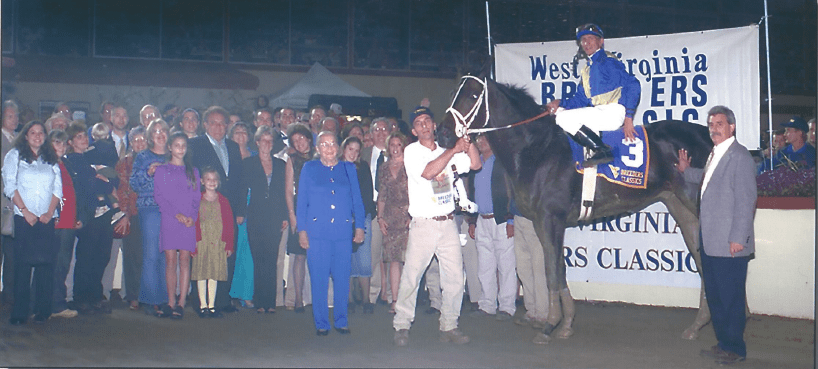 Happy winner's circle after the 2002 West Virginia Breeders Classic. Photo courtesy of West Virginia Breeders Classic.
by Ted Black
Among the list of winners of the West Virginia Breeders Classics' most coveted event, the Classic at the three-turn distance of nine furlongs over the historic Jefferson County oval, are very few repeat winners and only two three-time winners, Confucius Say and Russell Road. The latter will be honored in a special retirement ceremony prior to Saturday's nine-race WVBC card, while the former is enjoying life on the farm where he was born and raised.
Confucius Say, now 18-years old, is a son of Eastover Court out of the Feel The Power mare, Mo Chun.  He won consecutive editions of the Classic in 2001 and 2002 at ages three and four, respectively.  Then, after an extended hiatus in which he was recovering from a tendon injury, he returned, at age eight, to win the Onion Juice Breeders Classic in 2006 before taking the big race one more time – via the disqualification of Eastern Delite for a medication violation – to become the first three-time winner of the event. Russell Road, who retired last month with career earnings in excess of $2 million, would later win the Classic three times as well in 2009, 2011 and 2014.
"I think both Confucius Say and Russell Road were two of the most popular West Virginia-bred horses around here," said Randy Funkhouser, whose O'Sullivan Farms owned and bred Confucius Say. "They both had a lot in common. They were both big, strong horses that loved to race. Confucius Say probably had a little more speed and he could go a long way on the front end. It would have been interesting to see them in the same race. At a mile, I think Confucius Say would have won, but at a mile and an-eighth or a mile and one-quarter, I think Russell Road might have been able to get him."
Confucius Say is among a trio of talented O'Sullivan Farms homebreds who enjoyed success in the West Virginia Breeders Classics and are now pensioned on the farm. Raggedy Andy and Earth Power, who thrived in the two-turn, seven-furlong races over the Charles Town strip, are on the farm with Confucius Say, who won 19 of 42 races and just over $1 million in his career. He is one of only four horses to win the Classic in consecutive years, one of only six runners to win the race at age three, and one of only two three-time winners of the race.  And he is the lone horse that falls into all three rare categories.
"He was one of the nicest looking horses that we ever produced," Funkhouser said. "He was a really big, handsome horse. I heard a lot of compliments about his appearance every time he was in the paddock and came out onto the track. He was always a mischievous sort when he was younger. When we started breaking him, he was always feisty. He lunged at my foreman one day and took a chunk out of his arm and he bit me in the chest another time, and the doctor who examined me thought that an alien had popped out."
Confucius Say finished second in each of the first two starts of his career against maiden special weight company at Charles Town, but he immediately made up for those setbacks by winning his third start and then taking the West Virginia Futurity, the first of 12 stakes triumphs in his career. Like Russell Road, Confucius Say was not entirely confined to success against state-bred company on the local oval.
At age three in 2001, Confucius Say won both the Bill Hartack Stakes, named for the late, great Hall of Fame jockey who began his career at Charles Town, and the Strike the Gold Handicap, named for the 1991 Kentucky Derby winner, races that Charles Town no longer offers. He then finished a solid third in the Virginia Derby on the turf at Colonial Downs, was second in the Vincent Moscarelli Memorial at Delaware Park and was third in the Labor Day Handicap at Mountaineer Park before returning home to capture the Classic for the first time.
"We always knew he had plenty of ability, and we weren't afraid to send him on the road for open stakes," Funkhouser said. "I thought he ran a tremendous race in the Virginia Derby. We wanted to see how well he would fare on the turf and he led most of the way before getting passed by two horses in the stretch. I think the crowd noise there bothered him. He was on the lead turning for home then he heard that big crowd cheering and he eased up a little. After those other two horses passed him, he started to fight back."
Confucius Say appeared to be even better at age four, winning five of eight starts with a pair of second-place finishes. He won the Blue Ridge Handicap at Charles Town, was second in the Appointment Stakes at Delaware, and then was second in the HBPA Jefferson County Stakes at Charles Town before taking the Red Dog Stakes at Delaware. After running third in the Owners Day Handicap at Delaware, he returned to win the Classic for a second time, covering the distance in 1:50.93 while never being asked by jockey Larry Reynolds.  He won that edition by nearly a dozen lengths.
"When I looked over the field for the Red Dog, I thought he might be racing for third in there," Funkhouser said. "There were a couple of real tough horses in there, including one that ran in the Kentucky Derby. Larry sent him to the front and he shook off a couple of challengers early and then drew clear. It was a tremendous effort. When he came back for the Classic, it had rained and the track was sloppy, but those nights often come up really speed favoring. When he made the front and drew off, he could have erased the track record if Larry had pushed him at all. He never moved on him."
Unfortunately, Confucius Say emerged from the Classic victory with a tendon injury and Funkhouser instructed trainer George Yetsook to give him ample time to recover. Yetsook took Funkhouser at his word; nearly four years later, at the age of eight in the spring of 2006, Confucius Say returned to win a one-turn allowance at Charles Town and after starts at Colonial Downs, Delaware and Kentucky Downs, he captured the Onion Juice. At the time, Confucius Say did not have enough recent earnings to qualify for the Classic field. But the following year he would make amends.
Confucius Say won an allowance race at Charles Town on May 20, 2007 and then romped home 12 lengths clear in the Charles Town Dash, an open stakes that had been run at the one-turn dash distance of 4 1/2-furlongs from 1999-2006 before being converted – for that one year only – to a two-turn event. After running fourth in the Formal Gold at the Meadowlands, Confucius Say finished second in the Classic behind Eastern Delite, who was subsequently disqualified for a post-race medication violation. It took more than 18 months, however, for the purse to finally get redistributed.
At the ripe age of 10 in 2008, Confucius Say enjoyed his final two stakes scores. He made his belated seasonal debut in the Frank Gall Memorial Handicap on August 23 and won that then followed that score with a victory in the Robert R. Hilton Memorial before running fourth in the Classic. He made two starts at age 11 in 2009 but finished fifth in both of them and was finally retired.
"George did a tremendous job letting him heal and bringing him back," Funkhouser said. "He would not have brought him back unless he was completely sound again. He was such a beautiful horse and I always loved the fact that he could trace his breeding back to the Nasrullah line. I love studying old breeding families and we thought Eastover Court was the ideal cross for his dam. Besides, Two Punch was standing for $25,000 at the time, and we didn't really think we could afford that."