REMEMBRANCE: SAM HUFF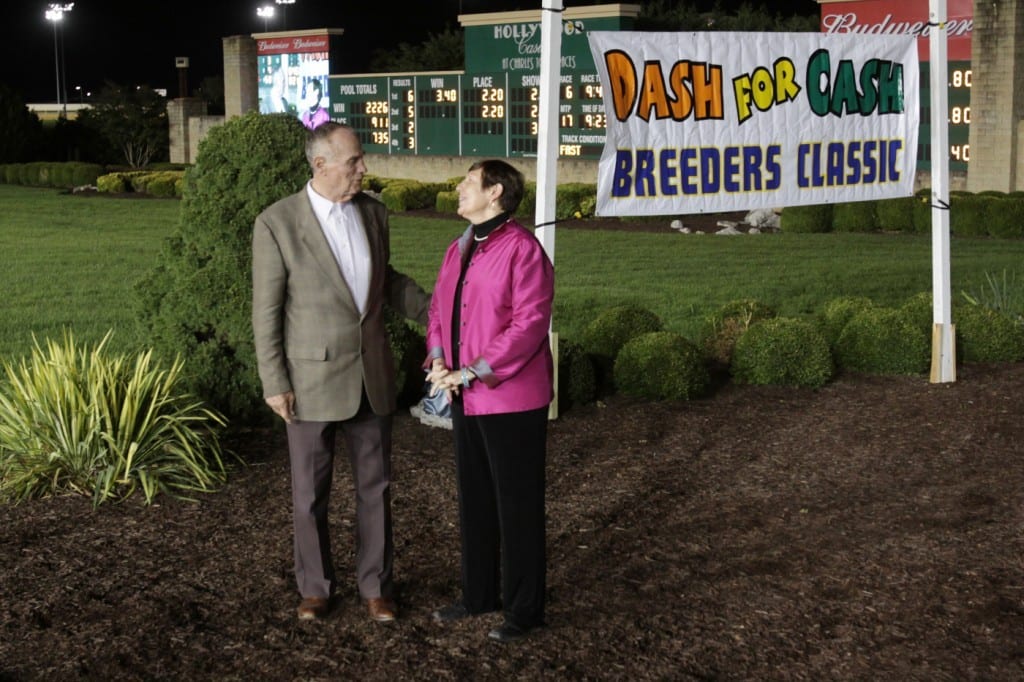 A West Virginia native, Huff played college football at West Virginia University and went on to a Hall of Fame career with the New York Giants and the then-Washington Redskins of the National Football League. Later, to generations of fans, he and Sonny Jurgensen were the avuncular analysts for Washington games.
Huff later became a breeder and owner of Thoroughbreds and the driving force behind the creation of the West Virginia Breeders' Classics. This past running marked the 35th edition of the WVBC.
LISTEN TO CAROL HOLDEN DISCUSSING SAM HUFF AND THE CREATION OF THE WVBC
Holden segment begins at 5:00.
The creation of the WVBC, Huff's longtime partner and WVBC cofounder Carol Holden said, was spurred by their attendance at the inaugural Maryland Million.
"On the way home," she recalled on Off to the Races October 9, "he said, 'Why can't we do this in West Virginia?'"
There were, at the time, many reasons: not enough horses, for one, and not enough money, for another. And there were plenty of people to pooh-pooh the idea.
No matter.
Huff convinced Charles Town Races to participate. He found a pool of available money in the uncashed parimutuel tickets.
And, Holden said, "Sam went out and sold a lot of sponsorships."
That was no mean feat. Charles Town had never previously held such a day of racing or hosted a $100,000 race. And, to avoid causing an internecine food fight over the use of the uncashed parimutuel money, they couldn't advertise the big day until it was a done deal — which required the sponsorships.
"Sam was selling these races that had never happened and couldn't be advertised," Holden remembered. "He got it done like he always does."
Well enough that over time Breeders' Classics would evolve into one of the top days on the Charles Town calendar, second only to Charles Town Classics day, and the late-season races local horsemen would point to.
Huff also worked to ensure that the Breeders' Classics would be an asset to the community as a whole. In its three-plus decades, WVBC has supported numerous charities in the Eastern Panhandle of West Virginia.
As an owner, Huff won 15 races between 2001 and 2015, according to Equibase. His top earners during that period were a pair of homebreds, four-time winner Cats Tower and Jet Set Citi. Jet Set Citi, a daughter of Unbridled Jet, took four of seven career starts and won the 2005 Smart Halo Stakes at Laurel Park.
But in racing terms, it will be Huff's contributions to the Breeders' Classics that stand the test of time. Quite a journey for the son of a coal miner for whom football became the ticket to a different, and better, life.
"Anybody who knows Sam and his history knows he doesn't know something can't be done," Holden said of the WVBC's founding. "And nobody's going to tell him no. I don't think anybody else could have gotten it done."
LATEST NEWS