Jockey Rosario Montanez makes Sunday return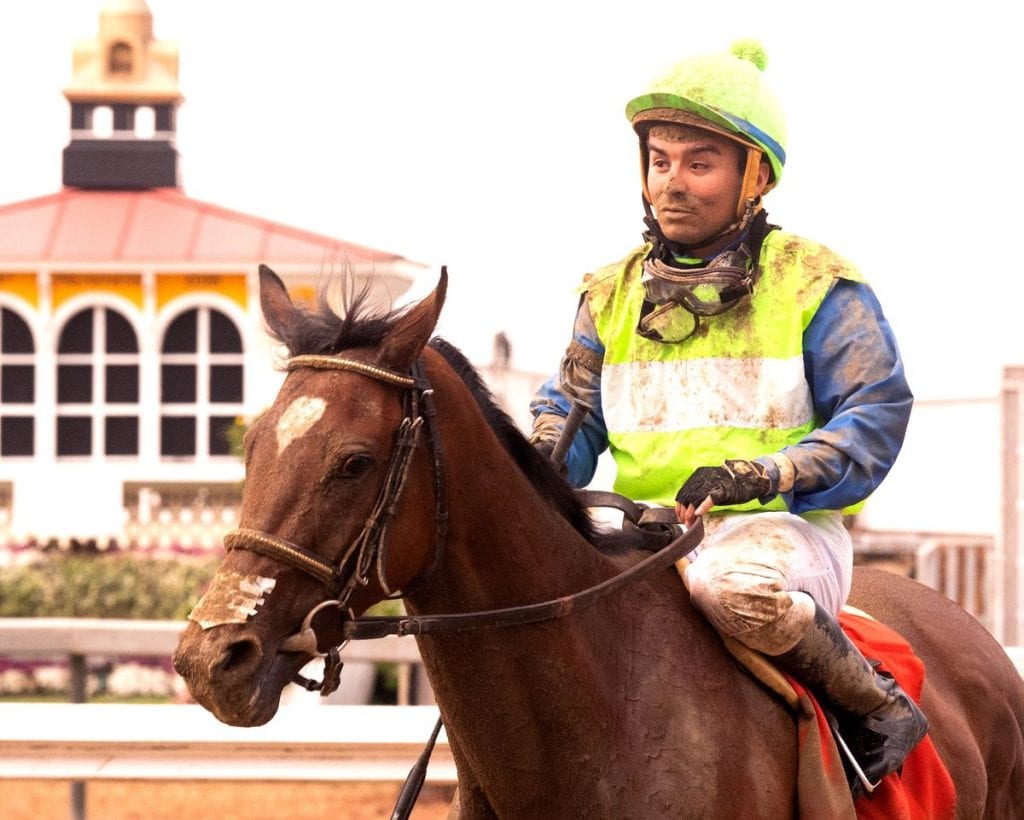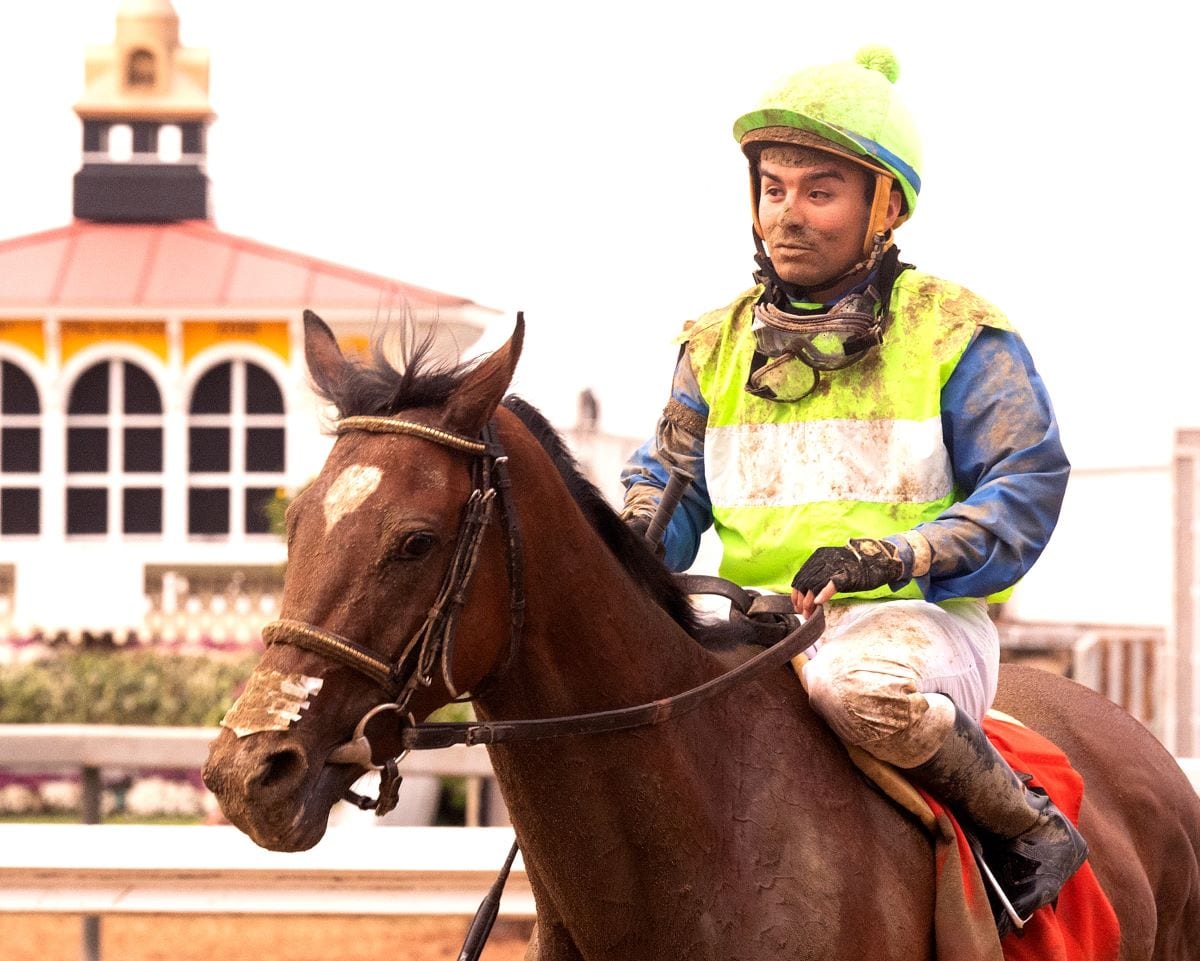 Ted Black

January 30, 2022
Roughly 18 months after he suffered a serious back injury in a spill at Laurel Park, one which his doctors and trainers expected would force him to retire before he turned 30, veteran jockey Rosario Montanez will make his return to the races on Sunday afternoon aboard a first-time starter named Holy Synchronicity that could propel the rider back toward another busy campaign.
Montanez, 31, has not ridden in a race since July 17, 2020, when his mount, Hendaya, clipped heels with a rival, stumbled and fell and tossed his rider to the ground. Following successful surgery and a prolonged rehab, Montanez was eager to climb back aboard horses in the mornings, although his doctors and even trainers concerned about his health attempted to convince him that the time had come to focus more on his long-term health than his passion for riding.
He said his spirits were aided greatly by a GoFundMe page started by trainer Brittany Russell, which eventually raised over $40,000.
"Physically, I always knew that I could come back," Montanez said of resuming his riding career. "But emotionally, the last 18 months have really been a roller coaster ride. I have always felt that I could get back up and ride again. But a lot of doctors and even some trainers doubted that I could do it. I think a lot of them wanted me to put my health first, but I wasn't ready to retire. My heart is still in it, and now I feel like I have even more energy than I did when I first started riding."
But Montanez, who sports 609 career victories and lifetime earnings of nearly $19 million from just over 4,700 mounts, was not about to accept that the end of his riding career was imminent. With the support of his wife, exercise rider Chloe Labarre, his agent John Santagata, and various trainers who gave him a leg up on horses in the mornings, Martinez realized that his passion for riding had not diminished. Soon it would be up to him to convince owners and trainers that his skills have not diminished, either.
"This was the second time that I had been away from riding for almost two years," said Montanez, an Eclipse Award finalist as champion apprentice jockey in 2011 when he booted home 165 winners with over $4.8 million in purse earnings from 1,069 mounts. "In 2014 I suffered a facial injury [as the result of a spill at Saratoga Race Course] and I was out for two years. When I injured my back in that spill at Laurel in 2020, most people thought I would never ride again. But after a month when I was going to rehab, I was already getting around without a wheelchair."
Montanez won 90 races and over $2.7 million in 2012 then steered home 93 winners and earned $2.9 million in 2013. But after his 2014 injury, he missed all of 2015 and then in mid-2016 to record 21 wins and earn over $800,000. His business gradually picked up again over the next two years as he won 39 races and $1.6 million in 2017 and then booted home 75 winners with earnings of $2.1 million the following year.
One of his highlights in 2018 was steering Happy Lantern to a 16-1 upset in a 5 1/2-furlong turf sprint to provide Hall of Fame trainer King T. Leatherbury with the 6,500th victory of his career.
Montanez guided home 44 winners and earned over $1.2 million in 2019, but concluded a shortened 2020 season with only seven winners from 77 mounts and perhaps the growing belief that his riding career was basically over.
But as his business in the mornings began to increase, often getting aboard 10-12 horses, so did his desire to resume his riding career in the afternoons. Along the way his agent and his wife both provided their unwavering support. On Sunday afternoon, months after he had turned down possible mounts at Parx, Montanez is set to officially return.
"My agent and my wife have been so supportive that I would not have this opportunity without them," Montanez said. "So many trainers who allowed me to gallop horses in the mornings have promised to give me a chance. But I know I will have to prove to them that I can ride with confidence. I know that I believe in myself and I have the confidence to ride races again, so now it's up to the owners and trainers to see me do that in the afternoons and believe in me. I know I'm not young, but I also know that I have more energy than I did after my first injury."
Montanez will make his 2022 debut in Sunday's fifth race aboard Holy Synchronicity, a sophomore son of Holy Boss trained by Rudy Sanchez-Salomon. Holy Synchronicity will make his career debut off a series of solid workouts. Montanez has been aboard Holy Synchronicity for his recent morning works, including a bullet half-mile drill of 47.60 on December 31 and two more useful four- and five-furlong breezes on Jan. 14 and Jan. 19.
Montanez already has two mounts on the Thursday, Feb. 3 card aboard Ellie Be Dancing for trainer Saul Ramirez and Family Fortune for trainer Mario Serey, Jr.
"Ever since I started coming back, Rudy has been one of my biggest supporters." Montanez said. "He started putting me on this horse because [Holy Synchronicity] didn't get along with [other] riders. But when I got on him, we seemed to have an instant chemistry. When I worked him those last three or four times, he's been really good. We're both making a new start [on Sunday]. It's his first race and my first race back in 18 months. I don't know if he's going to win first time out, but I know he's going to be good and I'm eager to get on him and see what we can do. I can't wait."
LATEST NEWS