DELAWARE: DREAM MARIE DQ UPHELD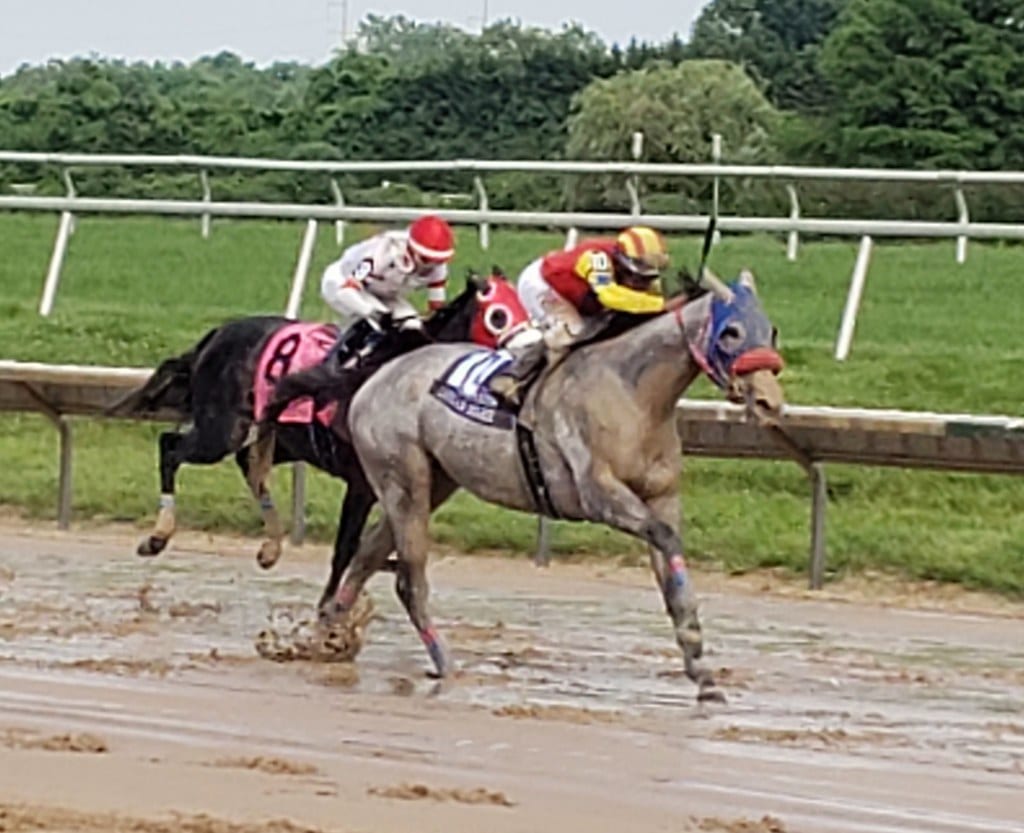 Frank Vespe

November 18, 2021
After a lengthy and at times meandering hearing Nov. 17, the Delaware Thoroughbred Racing Commission voted to uphold a stewards' ruling disqualifying Dream Marie from her victory in the June 9 Obeah Stakes at Delaware Park.
The vote came by a 3-2 margin.
Trained by Matthew Williams, Dream Marie scored an 8-1 upset in the $100,000 Obeah, rallying from last to win by nearly two lengths under jockey Joe Bravo. It would have been the first stakes win for both Dream Marie, who had previously placed in two graded events, including the 2020 Grade 2 Black-Eyed Susan at Pimlico, and for her trainer.
However, a routine post-race test conducted by the state's official testing lab, Industrial Laboratories, found the presence of Aminocaproic acid in the horse's blood. Aminocaproic acid, commonly known as Amicar, is a medication used to combat exercise-induced pulmonary hemorrhage (EIPH) — bleeding in the lungs — in horses. Amicar is commonly used in conjunction with Lasix.
Though often used during workouts, Amicar and other adjunct bleeder medications are prohibited on race day, and any detectable level is considered a violation. A split sample test conducted by Texas A & M Veterinary Medical Diagnostic Laboratory confirmed the presence of Amicar.
Delaware has adopted the Association of Racing Commissioners International standards, which call for a $1,000 fine and disqualification and loss of purse for a first Amicar positive "absent mitigating circumstances."
The stewards did not impose the fine on Williams but did disqualify Dream Marie. The positive test was the first Williams has had in a 136-start training career that began in 2018, according to thoroughbredrulings.com.
Williams' legal team, including former Delaware Park general counsel Michael Vild, argued — a contention generally accepted by the Commission — that he had administered the medication a week out prior to a work and that it was present at such a low level that it could not have had pharmacological effect on the race.
The disqualification and loss of purse, costing Williams $60,000, was excessive, they argued, for a trainer, who as Commission Richard Levine put it, "didn't do anything wrong."
Moreover, Williams' team argued that recent developments — including a spate of Amicar positives in Maryland that that state's Commission decided not to penalize and what they said was an ongoing review of the drug and associated standards being conducted by the Racing Medication and Testing Consortium — suggested at the very least that the Commission should continue the case pending the RMTC review.
But Commission chairman Duncan Patterson argued that "a positive is a positive is a positive" and that the penalty meted out by the stewards was fair. What's more, he and others said, there had been very few Amicar positives during the Delaware meet, in contrast to the Maryland situation.
Commissioner Henry Decker said he thought it was "a perfect case for the Commission to test what it can do with penalties." He proposed a hybrid solution: allowing the horse to remain the winner by redistributing part of the purse it had won to the other horses.
In the end, the Commission rejected Decker's proposal and voted narrowly to uphold the stewards' original ruling. Dream Marie will be disqualified from all purse moneys, and Williams will not be fined.
LATEST NEWS