Laurel Park picks and ponderings November 18, 2021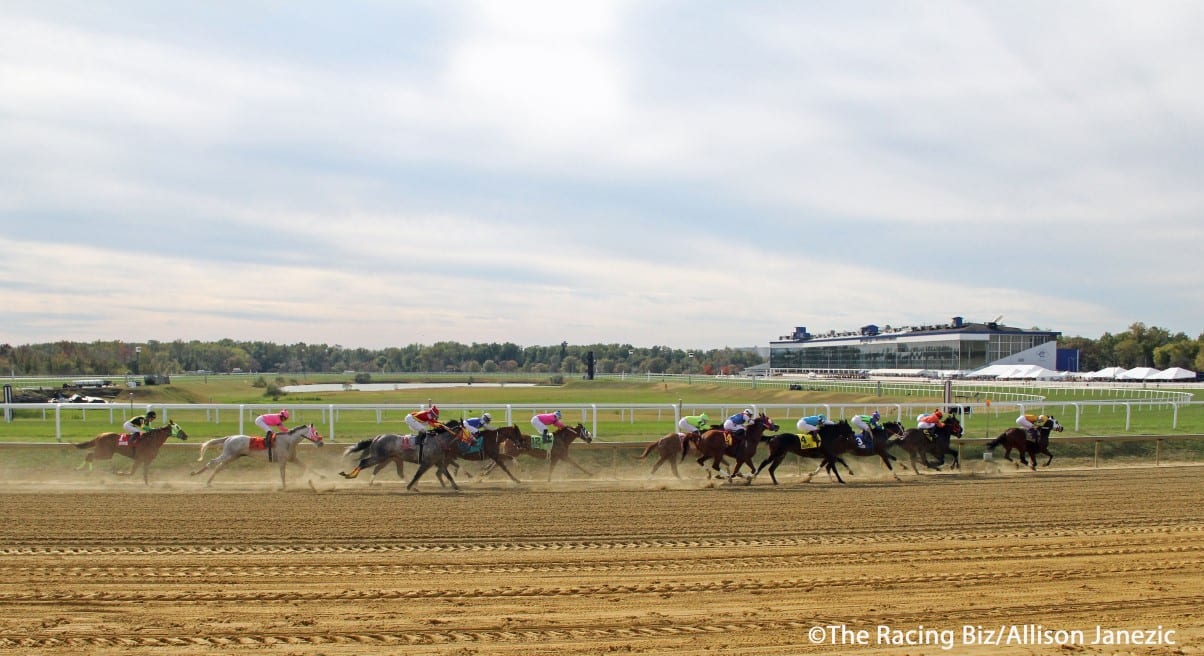 Horses round the turn at Laurel Park. Photo: Allison Janezic.
In which we pick the races from Laurel Park each day…
Post time: 12:25 p.m.
Carryovers: Rainbow Jackpot Pick 6 — $5,527 Super High 5 — $0 Late Pick 5 — $0
ANALYSIS
RACE 1: STARTER OPTIONAL CLAIMING $25,000, 3-YEAR-OLDS AND UP, FILLIES AND MARES, 6 FURLONGS
3-1-2-5
#3 Decoupage (2/1) dropped to this type of race last out after several tries against n/w2x company. She closed well to get second, finishing behind Shesalittle Edgy, a six-time winner this year. This group should be a bit easier to handle. #1 Gifted Heart (9/5) has speed on the inside and drops from the n/w2x level. She's won five races from eleven starts on this track. #2 Sick Pack Sara (4/1) is the other early speed threat in the race and is fast enough to cross over to the lead in front of Gifted Heart. The only question is how long she can hold on to the lead. She held on to win last out but backed up badly in her prior four races.
RACE 2: STARTER OPTIONAL CLAIMING $25,000, 3-YEAR-OLDS AND UP, FILLIES AND MARES, 1 MILE
7-2-11-5
#7 Long Distance Love (3/1) has rapidly climbed up the class ladder, with two consecutive victories. She sat just off the pace and drew away both times. She's never raced at a mile on dirt before; the only time she tried, she stumbled at the start and lost the jockey. Based on the way she won at seven furlongs, I don't think she'll have many problems going a mile. #2 A Girl Named Jac (9/2) has hit the board in her last three races, but hasn't quite shown the winning punch needed to win. On the other hand, this is a softer field than what she's been seeing lately. #11 Tayler's Chrome (5/1) chased the pace and held on for fourth against better last out. She's shown some early speed in the past and would be well-advised to use it here.
RACE 3: CLAIMING $16,000 (CONDITIONED), 3-YEAR-OLDS AND UP, FILLIES AND MARES, 6 FURLONGS
8-1-7-3
#8 R Averie Lynn (9/2) has won two of her last three at Delaware Park, and is a bad trip away from a three-race winning streak. She ran back-to-back brisnet figures of 82 in her two victories, but declined to a 70 when second after a premature rush to the lead following a check. Will be tough if she can bounce back. She was the odds-on choice in her last three starts; I figure she'll be a much better price here. #1 Devilish Affair (5/1) consistently runs in the 70s and makes her second start at this level. She made a wide move and flattened out last out, but might be able to come through on the rail here. #7 Awfully Foxy (6/1) outfinished Devilish Affair last out with a fast-closing third. This'll be her third start off a seven-month layoff. She'll do her best running towards the end.
ANALYSIS
RACE 4: MAIDEN CLAIMING $16,000, 2-YEAR-OLDS, FILLIES, 7 FURLONGS
3-2-4-1
#3 Kobe's Girl (7/2) showed speed for the first time last out, and led most of the way before tiring. Cuts back from a mile and will be a threat if she can ration out her speed a bit better. #2 Dial Me Maybe (9/2) makes her mid-Atlantic debut after some midwestern tries. She tends to show speed and back up, but has had some time off since her last start and has had a pair of workouts in anticipation of this race. We'll see if Hugh McMahon can get her to improve first time in his barn. #4 Skylar's Lady (4/1) drops to this level for the first time and has improved in each of her three starts. She was rolling in the stretch last out. 
RACE 5 – ALLOWANCE (N/W1X), 3-YEAR-OLDS AND UP, 1 MILE
9-10-6-8
#9 Prime Time Player (5/1) makes his first start since July 24 at Saratoga. He was wide all the way in that race, and although he was not visually impressive, he ran a career-top figure of 89. This'll be just his second start against winners, and his first start off the claim for Dimitrios Synnefias. #10 Big Venezuela (3/1) has run no worse than an 85 in his last four starts, but hasn't shown his customary early speed in either of his last two races. He had a bad break two starts back; if he breaks cleanly here, he might be able to assume his usual position again. #6 Tapping the Glass (9/2) just missed at this level last out at Delaware and will likely rate right off the lead. 
RACE 6: STARTER OPTIONAL CLAIMING $25,000, 3-YEAR-OLDS AND UP, 6 FURLONGS
10-11-1-4
#10 Crownedcountcristo (6/1) goes first off the claim for Dale Bennett, off a sharp second-place finish at Delaware last out. He has some of the best late pace figures in the race and will likely rate in the middle of the pack. The key will be to not lose too much ground from his outside post position. #11 Trustyourinstinct (4/1) finally broke through for his first career victory in his eighth try last out. He was previously a runner-up five times. He has great figures and tactical speed, but I'm still a bit suspicious. Maybe that last race, where he was pressed throughout and held on, will wake him up. #1 Absolved (3/1) makes his first start since February 12 and drops in class from the n/w1x level. He's another type who isn't too big on winning, but maybe facing a friendlier field will help him out a bit.
ANALYSIS
RACE 7: ALLOWANCE (N/W1X), 3-YEAR-OLDS AND UP, 1 MILE
6-10-8-9
This is the second division of this condition; the first one was in race 5. Some of the horses in race 6 wouldn't have been out of place here, either. #6 Friendly Fella (5/1) ran in the 90s consistently earlier in the year, but had trouble in each of his last two starts and declined. Cuts back around one turn, which should be a bit more to his liking. #10 Benandjoe (3/1) has finished second in his last two races at this level, showing speed and getting caught both times. He was pressed on the lead in those races; the key here will be to establish firm control of the front end. #8 Event Party (7/2) sat the trip and got by to break his maiden at fourth asking last out. If Benandjoe gets pressed on the lead and tires, Event Party will be there to take advantage.
RACE 8: ALLOWANCE OPTIONAL CLAIMING (N/W3X), 3-YEAR-OLDS AND UP, FILLIES AND MARES, 6 FURLONGS
1-2-5-4
#1 Malibu Beauty (3/1) won the Miss Disco Stakes impressively in August, and has assumed the title of top Maryland-bred female sprinter not named Hello Beautiful. She was second behind that rival in the Maryland Million Distaff, winning a photo with accomplished 3-year-old filly Street Lute. #2 Don't Call Me Mary (1/1) won impressively against fellow Pennsylvania-breds at Parx in the Dr. Teresa Garafalo Memorial Stakes two races back, and flattened out after a wide trip in the Gallant Bloom Handicap at Belmont Park last out. She has the backclass to win this one, but outside of a giant figure in her stakes win at Parx, she hasn't run exceptionally faster than Malibu Beauty. #5 Fille d'Esprit (5/1) won four in a row last fall here and races second off a long layoff. Could slide through the cracks in the betting. 
RACE 9: MAIDEN CLAIMING $25,000, 3, 4, AND 5-YEAR-OLDS, FILLIES AND MARES, 5 1/2 FURLONGS
7-6-1-5
#7 Birthday Wish (5/2) was a strong-closing second in her lone try at this level. Showed little when stretching out and stepping up in class last out; this should suit her much better. #6 Mountain Lilly (2/1) drops for a tag on dirt for the first time and has had some good workouts since her last start on September 20. #1 I Love Magel (3/1) has shown blazing speed in her last two tries on grass and will try to translate that form to dirt.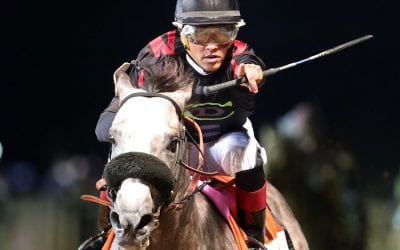 We've got Charles Town picks and preview today as the track presents its Friday card!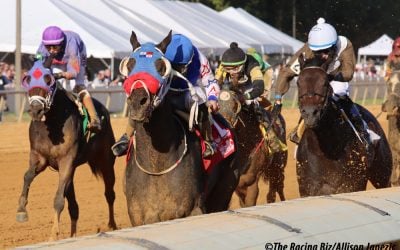 We provide full-card picks and analysis for this afternoon's races at Laurel Park.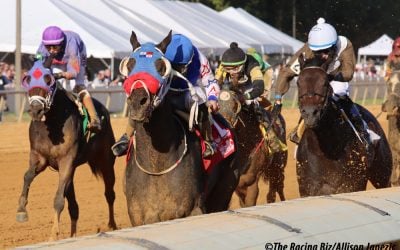 We provide full-card picks and analysis for this afternoon's races at Laurel Park.