Laurel Park picks and ponderings October 24, 2021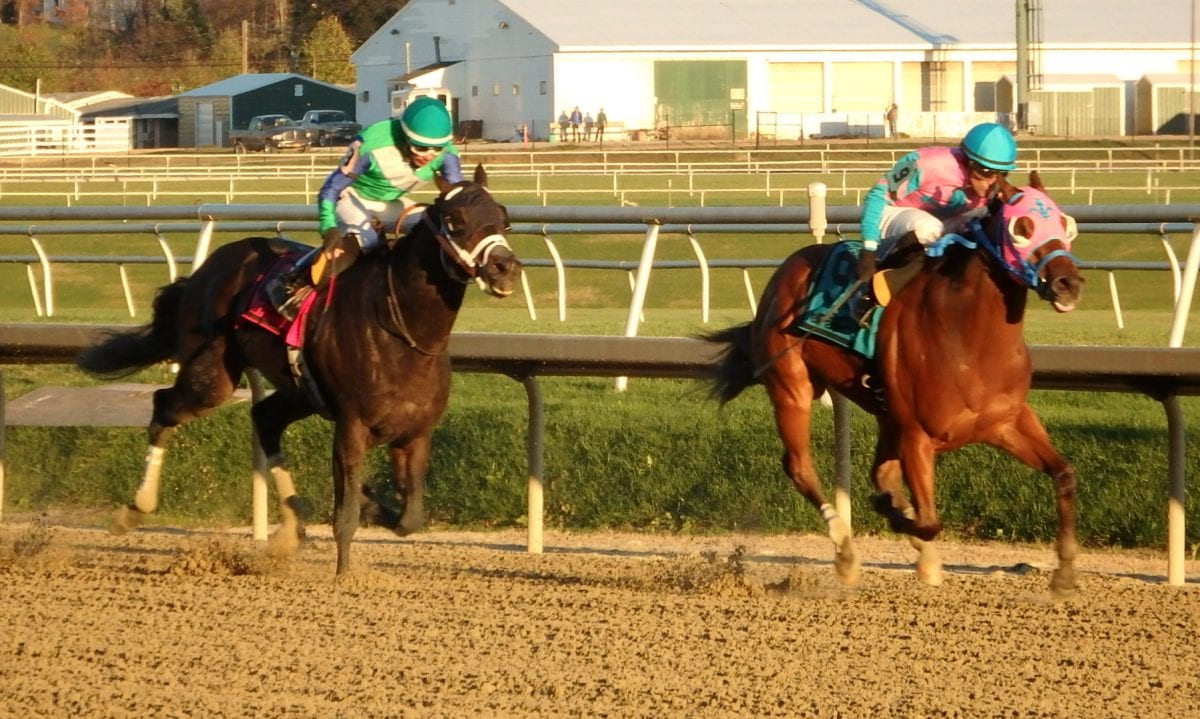 Horses race down the stretch at Laurel Park. Photo: The Racing Biz.
In which we pick the races from Laurel Park each day…
Post time: 12:40 p.m.
Carryovers: Rainbow Jackpot Pick 6 — $7,723 Super High 5 — $1,719 Late Pick 5 — $32,726
ANALYSIS
RACE 1: CLAIMING $16,000 (N/W2L), 3-YEAR-OLDS AND UP, 5 1/2 FURLONGS (GRASS)
7-6-1-10

No Maryland Million hangover here: there's a great 9-race card on the docket today, including a big late pick 5 carryover! We'll get to that in a bit; in the meantime, let's talk about the opener. #7 Billingsgate (6/1) broke his maiden in a game front-running performance in his last grass effort, with a very solid brisnet figure of 75. He faced better on dirt in his last two races and was visually unimpressive. Should improve here with the return to what looks like his preferred surface. #6 Bardolino (3/1) ships down from New York for George Weaver. His figure declined in his last start, but it wasn't a bad effort. He got caught on a very fast pace, with fractions he almost certainly won't see here, and backed up as a result. He has recent marks in the 80s; if he runs like that, he'll be tough. #1 Bloodprof (6/1) just missed at this level last out and is sure to pack a strong closing punch. 
RACE 2: CLAIMING $5,000 (CONDITIONED), 3-YEAR-OLDS AND UP, 1 MILE
5-1-2-3
Lots of ways to go in this very wide-open group. #5 Percher (9/2) recently cleared his n/w2L condition at Delaware Park. He's competed twice against similar, and ran a 78 last out at Penn National with a solid-closing third-place effort. He's technically cutting back around one turn, but this isn't much of a distance reduction. #1 Blue Sky Painter (3/1) made what looked like a winning move last out, but flattened out after his jockey lost the whip. He's finished second twice against these types four times. Another runner-up finish is perhaps the most likely outcome. #2 Clever and Great (5/1) has a terrible trip last out, but under more normal circumstances, is a dangerous frontrunner who might run away and hide.
RACE 3: MAIDEN SPECIAL WEIGHT, 2-YEAR-OLDS, 5 1/2 FURLONGS (GRASS)
5-3-10-12
#5 He Gone (12/1) was sent off at 71/1 in his grass debut last out, but certainly outran his odds. He set the pace and was in contention until late, holding on for fourth. It was also his first start in almost four months, and he should improve second time out. #3 Radical Right (2/1) went off as the favorite in his first two grass starts, under very similar circumstances as this race. He sat the trip both times but couldn't quite connect either time. He's a good candidate to hit the board, at least, but he'll have to take another step forward to win this, or hope this field isn't much. #10 Board Certified (4/1) goes first time out for Jorge Duarte, who is 20% with his debuters. He's had some solid drills, consistent with those of other Duarte trainees, including some on grass. 
ANALYSIS
RACE 4: STARTER OPTIONAL CLAIMING $25,000, 3-YEAR-OLDS AND UP, FILLIES AND MARES, 1 1/16 MILES (GRASS)
9-11-7-10
#9 Treasure Tails (5/1) has run in the 80s in three of her last four starts and was a game second against similar at Colonial Downs last out. This'll be her first start since August 11; might need a start first off the bench but is nonetheless a contender. #11 Empty Net (9/2) crushed the field at fourth asking, and second time on grass, to break her maiden last out with a figure of 79. She also went gate-to-wire on a track where frontrunners were not doing very well. Looks like a threat on the lead once again. #7 Perfume River (8/1) takes a slight drop in class and made a strong bid for fourth off a slow pace last out. Can shake up the exotics at a price. 
RACE 5-  CLAIMING $12,500, 3-YEAR-OLDS AND UP, 1 MILE
5-7-2-1
The big pick 5 begins here. The pool is likely to exceed $100,000. #5 Swing West (10/1) came up from Florida last out, and just missed with a game rally against conditioned claimers. He was claimed out of that race by Jonathan Maldonado, who immediately hikes him in class. His figures are right up there with those of the other contenders, and he's likely to offer a better price. #7 Bahama Channel (9/2) also jumps in price off the claim for Kieron Magee, who is 23% first off the claim. He was third at this level two starts back, and will be up on the early pace. #2 Silent Malice (4/1) drops in class and gets back to a one-turn mile, which may be his preferred distance. His closing kick plays well with the long stretch run. 
RACE 6-  CLAIMING $16,000 (CONDITIONED), 3-YEAR-OLDS AND UP, 1 1/16 MILES (GRASS)
6-13-3-7
#6 Maryland Pride (5/1) goes third off a year-plus layoff. He may well have won last time if he didn't get caught in traffic; as it was he lost by just two lengths with an eight-point improvement in his figure. #13 Coral Legacy (4/1) lost a photo finish in each of his last two starts at this level. He hasn't won in a while but always puts in strong rallies. #3 Justinthenickoftime (4/1) made what looked like a big bid last out, but flattened out. He ran in the 80s pretty steadily around this time last year, and will try to recapture that form here.
ANALYSIS
RACE 7– MAIDEN SPECIAL WEIGHT, 2-YEAR-OLDS, FILLIES, 1 1/8 MILES (GRASS)
1-3-9-11
#1 She's Like Thunder (5/2) ran far and away a career-best race last out, finishing second in the Selima Stakes at 81/1 with a bold move on the final turn. She's raced five times without success, but it looks like she's on the verge of a breakthrough. #3 Wasser (12/1) got stuck behind a very slow pace on debut, and had no chance as a result. Arnaud Delacour is much sharper with second-timers than debuters; he hits at 21% second time out. He also takes the blinkers off. #9 Princess Teruko (9/2) closed well in the last eighth to get third in her grass debut, should enjoy the stretchout from 1 1/16 miles.
RACE 8 — ALLOWANCE OPTIONAL CLAIMING (N/W2X), 3-YEAR-OLDS AND UP, FILLIES AND MARES, 7 FURLONGS
1-4-6-2
#1 Misty Taste (5/2) has hit the board in two tries at this level, now cuts back around one turn for the first time in a while. She should get a more honest pace to run into. #4 Hybrid Eclipse (7/5) will likely be the consensus pick 5 single, having won three of her last five for Linda Rice. However, she hasn't raced since a fourth-place finish in the Delaware Oaks, back on July 10. She might be worth a shot against if she goes off as a heavy favorite. #6 Journeytothemoon (7/2) is also coming off a long layoff, having not raced since May 14. She ran figures in the 80s earlier in the year, and has been working well for two months in preparation for her comeback. If she can improve off those races right off the bench, she has a big chance. 
RACE 9 — MAIDEN CLAIMING $16,000, 3, 4, AND 5-YEAR-OLDS, FILLIES AND MARES, 1 1/8 MILES (GRASS)
7-3-8-10
#7 My Girl Blue (3/1) just missed in her last two starts against these types at Colonial Downs. Goes first off a brief layoff and gets Johan Rosado up for the first time. #3 Love My Cat (7/2) has a great closing kick, but doesn't have any early speed at all. She's likely to get a piece of the exotics at least, and has been improving steadily in her last few races. #8 Laugh It Off (4/1) dropped tot his level for the first time last out, and got third, right behind Love My Cat, after a five-wide move. She struggled against better earlier in the year, but may have finally found the level she fits at.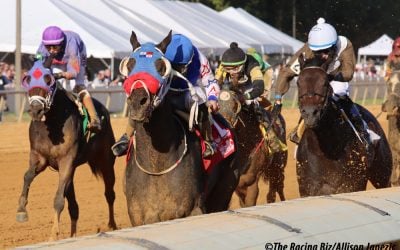 We provide full-card picks and analysis for this afternoon's races at Laurel Park.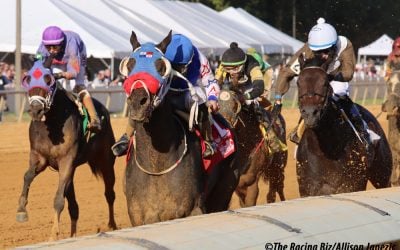 We provide full-card picks and analysis for this afternoon's races at Laurel Park.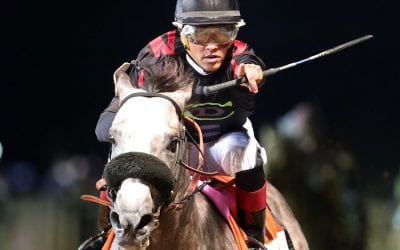 We've got Charles Town picks and preview today as the track presents its Friday card!