MD MILLION: PRENDIMI SCORES UPSET IN CLASSIC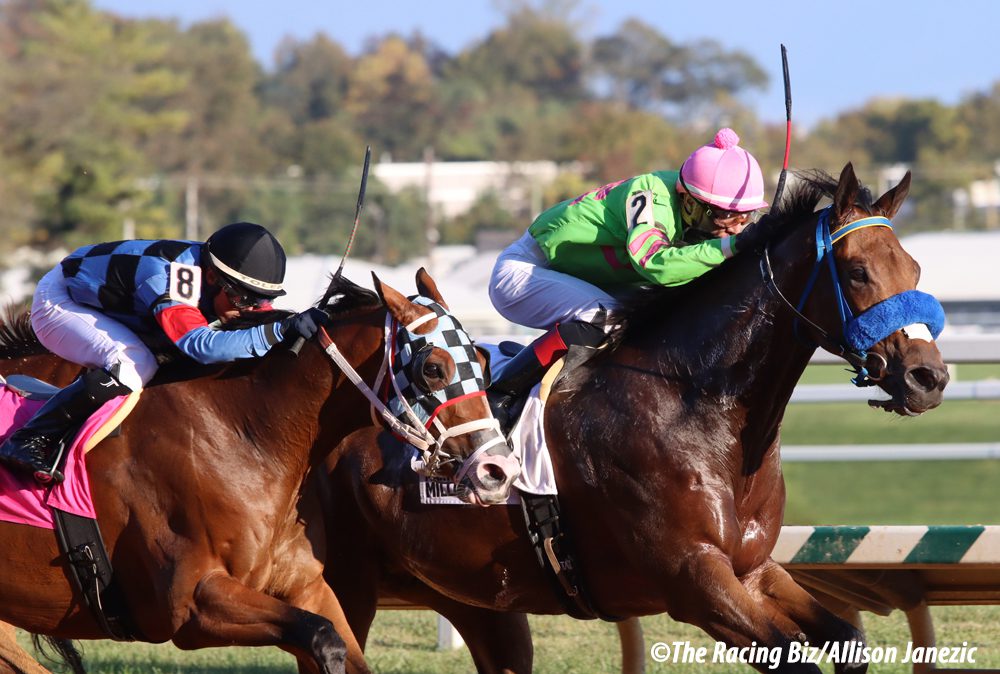 But Saturday he found the fountain of youth, displayed the kind of early speed that had characterized his best races, and lodged a 12-1 upset in the featured $150,000 Maryland Million Classic.
"It seemed that he was happy today, like the body language of the horse," said winning trainer Luis Carvajal, Jr. "When I saw him getting a little sweat, that's what I wanted to see."
Prendimi had run twice previously in the Classic, and while last year had been a mess — he finished seventh — two years back he was a tough-luck second after leading much of the way.
"The first time we ran [in the Classic], he went to the lead and he was sweaty, and he almost won," Carvajal said. "So I said, 'Well, that's a good sign. I guess he's really warmed up now.'"
Clearly he was.
Jockey Mychel Sanchez sent Prendimi to the lead early, and the New Jersey-bred veteran simply refused to be dislodged. Longshot Ain't Da Beer Cold pushed him through the opening half-mile in 46.84 seconds.
Ain't Da Beer Cold faded after the early exertions, but favored Tappin Cat, with Jevian Toledo in the irons, took up the chase. Three-quarters went by in 1:11.16 with Prendimi holding a 1 ½-length advantage.
Tappin Cat, off at 3-5, entered with three consecutive victories, including a game score last out in the Governor's Day at Delaware Park. He gradually whittled the advantage down, but he never could get by. At the wire, he was still a neck behind the winner.
"We tried hard, and we're fighting the whole way," Sanchez said. "Every time he saw the other horse and felt him coming, he gave me another gear."
The top pair was three parts of a length ahead of show horse The Poser, with Torch of Truth not far behind in fourth. Running time for the nine furlongs over a fast main track was 1:50.46.
Prendimi paid $26.20 to win and topped an exacta, with the favorite underneath, that returned $37.50 for one dollar.
Prendimi now has six wins from 30 career starts and earnings of $472,005.
"It's very hard to understand this horse because when he trains and he works in the morning, he just works really slow," Carvajal said. "But once you see him on the track and he's happy, then you know that you've got something."
And after a season in which Prendimi had lost twice against allowance foes and three additional times in New Jersey-bred stakes company, Carvajal certainly had something Saturday afternoon.
Owner Joe Coles of G J Stable was unable to attend, feeling, Carvajal said, under the weather. But he expected the stakes win to bolster the spirits of the owner-breeder.
"I'm very proud," the trainer said. "I mean, I expected him to run a good race, but this is very surprising."
LATEST NEWS