Laurel Park picks and ponderings October 23, 2021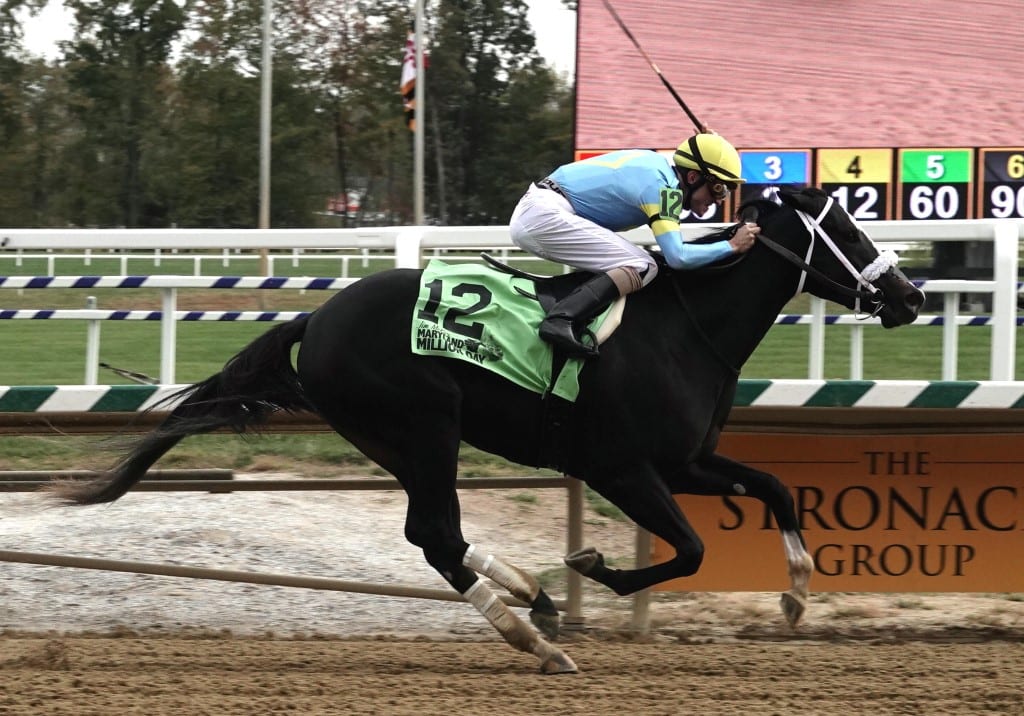 Hello Beautiful wins on Maryland Million day 2019. Photo: Laurie Asseo
In which we pick the races from Laurel Park each day…
Post time: 11:30 a.m.
Carryovers: Rainbow Jackpot Pick 6 — $0 Super High 5 — $0 Late Pick 5 — $0
CHECK OUT OUR PODCAST HANDICAPPING MARYLAND MILLION!
ANALYSIS
RACE 1: MARYLAND MILLON TURF STARTER HANDICAP, 3-YEAR-OLDS AND UP, 1 1/8 MILES (GRASS)
7-9-1-5

Happy Maryland Million day! We're looking at great weather, full fields, and some excellent racing today. Note the early first post time of 11:30 AM. It's no fun to start a day like this with chalk, but #7 B Determined (8/5) has won twice against similar horses this year, once at Delaware Park and once at Pimlico. He surged and just missed two races back, with a brisnet figure of 84. If you're willing to overlook his last race, he has a great shot. Will do his best running towards the end. #9 Threethehardway (8/1) was third in this race last year, but hasn't been back on grass since then. He doesn't seem to like winning much, but should hang around and get a slice. This'll be his fourth start off a 6 ½-month break. #1 Elementary (9/2) closed strongly to win three races back, and rebounded from a bad effort with a decent rally against better last out. He's another one who's probably better served in underneath spots.  
RACE 2: MARYLAND MILLION DISTAFF STARTER HANDICAP, 3-YEAR-OLDS AND UP, FILLIES AND MARES, 7 FURLONGS
8-4-3-1
#8 Leaky Cauldron (5/2)

has standout speed figures, with a seven-point edge in his last-out numbers compared to the others. She's run at least an 84 in each of her last three starts; the rest of these struggle to achieve that mark at all.

#4 Lady Fox (5/1)

broke awkwardly last out but closed well behind the very impressive Moquist. She usually does her best running around two turns, but she's shown a decent kick around one turn this year. Claudio Gonzalez and Angel Cruz are always a dangerous trainer/jockey combination.

#3 Littlebitalilly (4/1)

won three in a row against similar earlier in the year and will be the controlling speed.
RACE 3: MARYLAND MILLION LASSIE, 2-YEAR-OLDS, FILLIES, 6 FURLONGS
6-5-1-2

The first of eight stakes races on today's card features nine 2-year-old fillies in the main body of the field. As a reminder, those on the also-eligible list are Maryland-bred, but not Maryland-sired. They can draw in if the amount of Maryland-sired horses drops below eight. In this case, that would mean two scratches out of the main body.

#6 Waterworks (3/1)

crushed the field second out at Monmouth Park, going gate-to-wire to win by 9 ¼ lengths with a figure of 82. Six furlongs might be a bit too short for her, but she's still got plenty of early speed and might wire them anyway. Steve Asmussen has hit with two of his Maryland shippers so far this meet, and won with several of them earlier in the year, including Jaxon Traveler and Yaupon.

#5 Buff My Boots (7/2)

also has tons of early speed and looks tailor-made for sprints. She'll try to take them as far as she can, as fast as she can.

#1 Dowser (9/2)

sat just off the pace and drew off to win impressively on debut at Penn National, with a very respectable figure of 76. If either of the other two tire on the lead, she'll be there to take advantage.
ANALYSIS
RACE 4: MARYLAND MILLION LADIES, 3-YEAR-OLDS AND UP, FILLIES AND MARES, 1 1/8 MILES (GRASS)
4-8-12-9
#4 Epic Idea (8/1)

crossed the wire first in this race last year, but was disqualified and placed second. She's done most of her running in sprints this year, but has proven herself in routes and enters this race in ascending form. Narrowly missed against a tough field last out. Should be a great value play.

#8 I Love You (5/2)

came from way downtown last out to win going away. She's 3-for-5 over the Laurel grass. Will sit the trip on the outside and try not to fall too far behind a slow pace.

#12 Judi Blue Eyes (5/1)

has disappointed at low odds several times this year, but will likely go off at a better price here. She's run in the high 70s pretty consistently this year and has good tactical speed for Claudio Gonzalez.
RACE 5 – MARYLAND MILLION STARTER HANDICAP, 3-YEAR-OLDS AND UP, 7 FURLONGS
10-4-6-12
#10 A Penn Legacy (6/1)

has been a new horse since coming to the mid-Atlantic from Ohio. He was a perfect 2-for-2 at the Delaware Park meet, with back-to-back figures in the 80s. He's getting a big class test here, having competed against weaker conditioned claimers in his prior two. However, he has great tactical speed and is rapidly improving form. Hugh McMahon has three entries in here, all of them have a serious chance. He claimed

#4 Crush It (3/1)

out of his last start at Penn National; that one earned a 91 with an impressive four-length win last out. He's run in the 80s very consistently lately, and even though he's done well in routes, his running style suggests he'll do better in sprints. Stablemate

#6 Laddie Liam (5/1)

has won his last two starts at Penn National by a combined 12 lengths. He's also cutting back around one turn and can go to the front or rate.
RACE 6: MARYLAND MILLION TURF SPRINT, 3-YEAR-OLDS AND UP, 5 1/2 FURLONGS (GRASS)
8-9-6-5

I'll try another lightly-raced, improving horse here. #8 Rock the Boat (8/1) ran a career-best mark of 87 last out at third asking, closing strongly down the stretch to get up in a Maryland-bred allowance race. He's shown a powerful middle punch and will be the value play of the field. #9 Grateful Bred (7/5) has great figures and has been keeping superficially better company, but that Laurel Dash was not a significantly tougher spot than this one. He had some traffic there and just missed. While he's a serious contender in here, he's likely to get overbet, and I feel there's better value elsewhere. #6 So Street (3/1) has run in the 80s pretty consistently all year long, and races for the dangerous Jamie Ness/Jaime Rodriguez combo.
ANALYSIS
RACE 7 – MARYLAND MILLION DISTAFF, 3-YEAR-OLDS AND UP, FILLIES AND MARES, 7 FURLONGS
2-6-1-4
Although it's an interesting field overall, it would take something totally unforeseen for #2 Hello Beautiful (2/5) to lose this race. She's 8-for-9 over the Laurel main track, including a dominant ten-length win in the Weather Vane Stakes last out. Should run away and hide as the overwhelming favorite. The key to making money in this race lies in figuring out who will finish behind her. #6 Malibu Beauty (8/1) won the Miss Disco Stakes in impressive style last out, and just missed behind #1 Street Lute (6/1), who is an eight-time stakes winner with good tactical speed. Either one would be a good option behind the overwhelming choice. 
RACE 8: MARYLAND MILLION NURSERY, 2-YEAR-OLDS, 6 FURLONGS
1-10-6-4
Fourteen 2-year-olds will do battle here, and just about all of them have a chance to win. I'll give #1 Buff Hello (6/1) a pass on his last start, as it was around two turns, and he looks much better suited to one turn. He broke his maiden impressively at 5 1/2 furlongs at Pimlico two races back. #10 Mr. Mox (9/2) gets the call as the very slight morning line choice, off an impressive gate-to-wire win around two turns at Delaware last out. Ness and Rodriguez team up with this one. The only risk is that he might get hung wide off the pace. The kings of Charles Town, Arnaldo Bocachica and Jeff Runco, team up with #6 Coastal Mission (8/1), who broke his maiden impressively in West Virginia on debut, with a figure of 75. Has every right to take a step forward second time out at a price. 
RACE 9 – MARYLAND MILLION TURF, 3-YEAR-OLDS AND UP, 1 1/8 MILES (GRASS)
5-8-7-4
#5 Somekindofmagician (9/2) won three in a row earlier in the year with ascending figures every time, including a victory against similar in the Find Stakes. He couldn't get there last time, but that was at 7 1/2 furlongs, a distance that's probably too short for him. He should thrive at 1 1/8 miles. #8 Nick Papagiorgio (5/1) hasn't missed the board in four starts on the Laurel grass in his career, including a third-place finish in this race last year. He tends to hang a bit in the stretch, so he may be better used underneath. #7 Street Copper (5/1) broke through to impressively win a n/w2x allowance optional claiming race at Colonial Downs two back, but flattened out after a wide trip last out. He's had some time off since that race, and should fire fresh for Mike Trombetta. 
RACE 10 – MARYLAND MILLION SPRINT, 3-YEAR-OLDS AND UP, 6 FURLONGS
3-8-10-1
This race would certainly get shaken up if the first two also eligibles, #9 Jaxon Traveler (7/5) or #10 Whereshetoldmetogo (8/5), drew in. I think Jaxon Traveler is going to get overbet, but Whereshetoldmetogo is a three-time stakes winner this year against similar types, and is 5-for-7 over the track. #3 Fortheluvofbourbon (2/1) has run exactly a 92 three times in a row, including a stakes win against Pennsyvlania-breds two starts back. Mychel Sanchez, who rode him to victory twice last year, gets the mount back. #8 Band on Tour (4/1) went gate-to-wire to win last out with a 91, albeit against only three others. Recent workouts in reparation for this spot have been sharp. 
RACE 11: MARYLAND MILLION CLASSIC, 3-YEAR-OLDS AND UP, 1 1/8 MILES
8-9-6-10
This is another race that would be dramatically shaken up if the also eligibles get in. If they don't, #8 Tappin Cat (6/5) would be almost impossible to beat. He's won three in a row, including the DTHA Governors Day Handicap, and is the only one in the field with much early speed. He should get the front easily and draw off from here. #9 Cordmaker (1/1) will be a threat if he gets in. He's a two-time stakes winner against open horses this year, and consistently runs figures in the upper 90s. He can also press Tappin Cat on the lead. #6 Dream Big Dreams (4/1) is a fast-improving 3-year-old for Brittany Russell who grinded his way to a n/w1x allowance win last out. Stretches out to 1 1/8 miles for the first time and should close for an exotics spot. 
RACE 12: MARYLAND MILLION TURF DISTAFF STARTER HANDICAP, 3-YEAR-OLDS AND UP, FILLIES AND MARES, 1 1/8 MILES (GRASS)
8-5-7-3
#8 Dixie's Fascinator (8/1) has been steadily improving all summer long, and got up to win a n/w2L claiming race with an impressive rally last out. This isn't as big a class jump as it might seem, and she's been running figures recently good enough to win this. #5 Better Yet (4/1) goes first off the claim for Carl O'Callaghan and adds the red-hot Jevian Toledo. Closed well in each of her last two starts, now goes back to grass. #7 Rapidashqueen (6/1) has been closing well at big odds in several recent races, now stretches back out around two turns. Can sneak into the exotics at a price.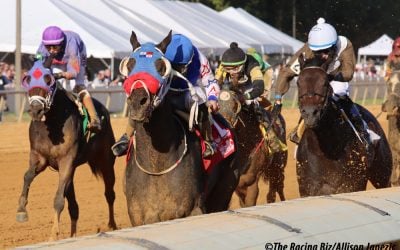 We provide full-card picks and analysis for this afternoon's races at Laurel Park.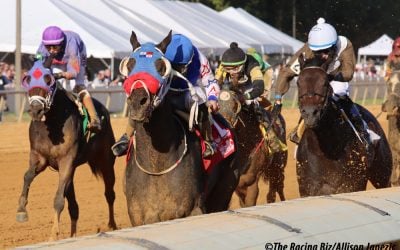 We provide full-card picks and analysis for this afternoon's races at Laurel Park.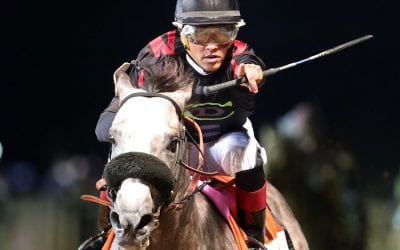 We've got Charles Town picks and preview today as the track presents its Friday card!