CHARLES TOWN PICKS AND ANALYSIS: October 23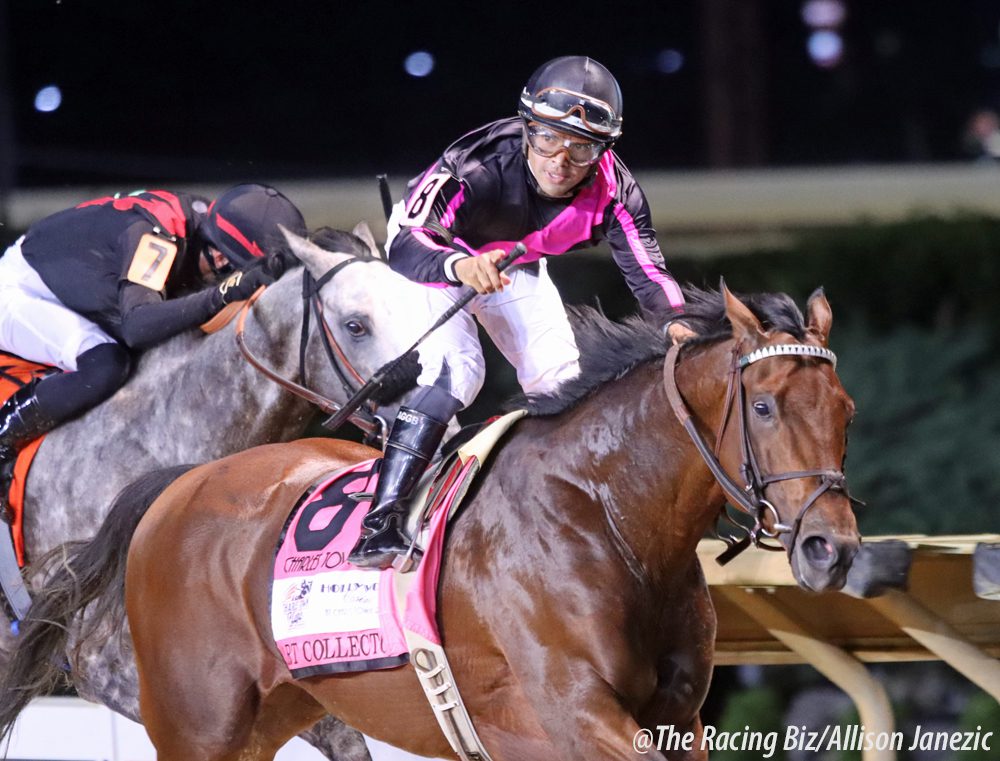 RACE 1
6-5-4-1
In the Saturday night opener, a one-turn event for claiming fillies and mares, #6 Sondeoff (7-5) gets favorable outside draw for trainer Keith Brown and looks poised for mild upset. #5 Trueno Fuerte (15-1) looks to be live longshot here for trainer Joseph Stehr and could split chalky exacta. #4 Fight Like Cersei (1-1) has been in good from recently for trainer Ronney Brown and figures prominently here. #1 Tatums Sweetie Pie (8-1) could foil chalk players in several gimmicks here.
RACE 2
1-3-6-5
In this two-turn allowance for older runners, #1 Westbury Estates (5-2) gets favorable inside draw here for trainer Michael Sterling and looks poised for mild upset. #3 Allen Can Do It (2-1) looms the tepid choice here for owner-breeder-trainer John A, Casey and would not be a surprise here. #6 River Warrior RVF (3-1) has never been out of the money in four starts for Runco. #5 Missionsninetynine (5-1) could be a generous price in this field.
RACE 3
7-6-5-4
In this one-turn allowance/optional $15,000 claiming event for older runners, #7 Storm Boarder (7-5) has won three straight for trainer Kevin Patterson and looms a likely odds-on choice to extend win streak here. #6 Inspiring Justice (7-2) was sharp second last out and already boasts five wine from 12 starts during busy campaign for trainer Anthony Farrior. #5 Bull Shark (4-1) won two starts back in belated season debut for trainer Hugh McMahon and could atone for latest Laurel outing. #4 Moss Boss (15-1) won two back over the strip and could complete several gimmicks at a generous price.
RACE 4
6-7-4-5
In this one-turn allowance dash for fillies and mares, #6 Got Your Number (8-5) won two back for trainer Crystal Pickett and can make amends for latest outing here. #7 Uncanny (8-1) returns to the level after two tries against claimers for trainer Stacey Viands of Parisian Diva fame and could forge mild upset in his spot. #4 Bella Gianna (9-2) has been consistent sort all year for Farrior and could end five-month drought here. #5 Dimitri's Romance (12-1) ended skid in latest effort and seeks rare repeat score..
RACE 5
2-3-8-9
In this two-turn event for $5,000 claimers, #2 Hard Being Me (6-1) was good second in latest after scoring in belated seasonal debut and could forge mild upset here. #3 J J Wedgit Man (9-5) seeks first win in seven months for trainer Tim Collins but may inherit favorite's role in this spot. #8 Grecian Admiral (4-1) was solid second last out for trainer Vernon Greaves and looks to maintain consistent form here. #9 Brilliant Ideas (9-2) ended prolonged drought last out and seeks second straight score for Jack Hurley.
RACE 6
4-5-6-2
In this two-turn allowance for older runners, #4 Substantial (3-1) won two starts back in local debut and looks poised for another tally here. #5 Rush to the Castle (5-1) exits Onion Juice and won two starts back for trainer Mike Jones, Jr. and could forge mild upset in this spot. #6 Another Victory (8-5) still seeks first win of the campaign for Runco and looks a shaky proposition as tepid favorite here. #2 Fu Man Sue (9-5) was good third last for for trainer Flint Stites after being humbled in Russell Road Stakes.
RACE 7
5-6-7-4
In this two-turn allowance for state-bred fillies and mares, #5 See Ya Manana (4-1) exits three straight stakes for Runco and may have found winnable spot here. #6 She Figures (6-1) also exits WVBC stakes and looks to regain winning ways here for Brown. #7 Boundtobebad (7-2) also exits same race as top two choices for Casey and looms a factor in wide open affair. #4 The Better One (8-1) was sharp third in WVBC stakes finale last out for owner-breeder-trainer and former jockey Kristy Petty.
RACE 8
1-2-7-5
In the Saturday night finale, a two-turn claiming event for fillies and mares, #1 Jessica (9-2) was good third in local debut last out for Farrior after start at Saratoga and gets the nod to cap the card at a modest price. #2 Hoss Kitten (8-1) returns from several starts in Maryland and could post surprise in this spot for Ronney Brown. #7 Awesome Alana (2-1) makes local debut for trainer Kieron Magee but looks a susceptible favorite here. #5 Jimmysextragirl (12-1) could round out the Saturday superfecta at a generous price for Viands.
LATEST NEWS