Laurel Park picks and ponderings October 10, 2021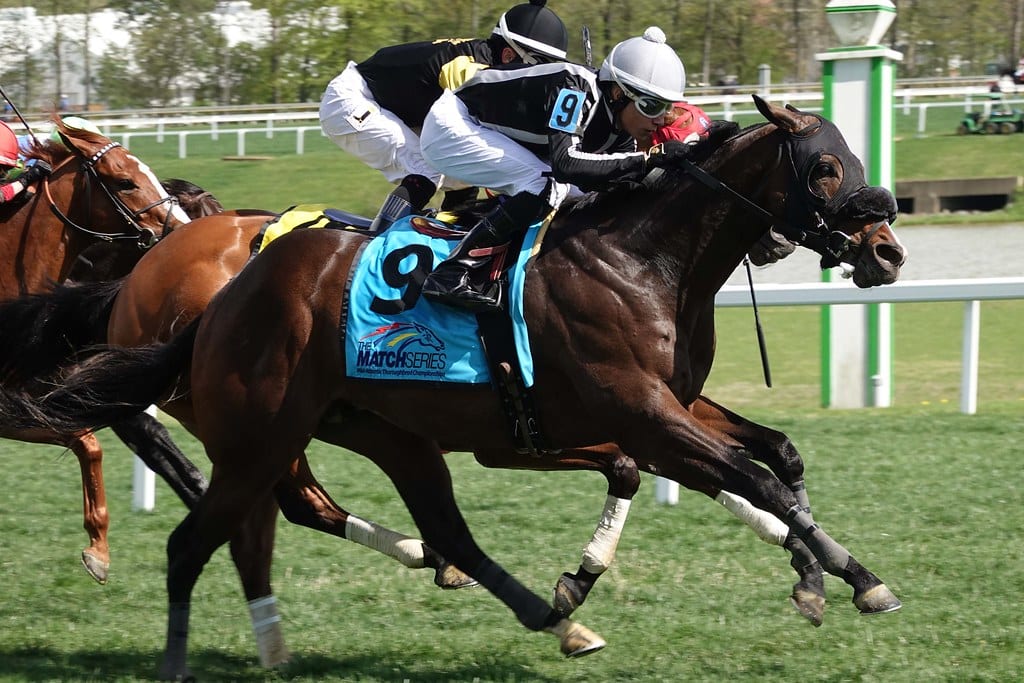 Dirty. Photo by Allison Janezic.
In which we pick the races from Laurel Park each day…
Post time: 12:40 p.m.
Carryovers: Rainbow Jackpot Pick 6 — $6,711.95 Super High 5 –$0 Late Pick 5 — $0
ANALYSIS
RACE 1: MAIDEN SPECIAL WEIGHT, 3, 4, AND 5-YEAR-OLDS, FILLIES AND MARES, 1 1/16 MILES (GRASS)
7-8-3-4
A field of eight maidens will line up for the first of eight races on today's card, which is Claiming Crown Preview day. #7 Bipartisanship (8/5) made her American debut last out at Belmont Park, and made decent ground while finishing third and earning a brisnet figure of 82. This track plays to her style very well. #8 Cajole (8/1) has raced well in both her recent grass starts, including a near-miss at Parx last out. She has a similar style as Bipartisanship, and will be a much better price. She's a good underneath horse. #3 Self Assured (9/2) yielded grudgingly in her last two starts after setting the pace, and will likely set it again here. Even though it's not a good speed track right now, she can still hang in there and get a piece of the exotics. 
RACE 2: STARTER ALLOWANCE $8,000, 3-YEAR-OLDS AND UP, 6 FURLONGS
3-4-7-6
This is the first Claiming Crown preview race of the day. The winner of this race gets a berth to the Claiming Crown Iron Horse. All eyes will be on #3 Sevier (1/2), who has been tearing up Parx this year. He's won six of seven there this meet, never running worse than a 93 in his victories. Frankie Pennington has been riding him at Parx, and he comes in for this mount. Shouldn't have much trouble taking them gate-to-wire. #4 Aequor (8/1) battled gamely in the stretch and just got up to win at Monmouth Park last out. That was his first start in a sprint after a string of unsuccessful route tries. It looks as if he's better suited for shorter distances. #7 Getoffmyback (7/2) was claimed out of his last start, an impressive 4 1/4-length win at Monmouth, by Claudio Gonzalez. He raced without much success at this level over the summer; will try to build on that last race, which was his best within his last few.
RACE 3: STARTER ALLOWANCE $25,000, 3-YEAR-OLDS AND UP, 5 1/2 FURLONGS (GRASS)
1-6-2-4
The winner of this race earns a spot in the Claiming Crown Canterbury. #1 Noble Commander (5/2) ran a big race first off the claim for Jamie Ness last out, battling in the stretch and losing to favored Matta, who came back to finish fourth in the Laurel Dash. He'll be tough on the lead once again. #6 Belgrano (7/5) was a perfect 2-for-2 at the Monmouth meet this year, including a win in the Rainbow Heir Stakes against Jersey-breds last out. He's run in the 90s three times within his last four starts. #2 Gins and Tins (12/1) closed powerfully to get second last out behind XY Speed, who won the Laurel Dash next out. This one ran a career-best 89 in that spot, after running mostly in the upper 70s and low 80s. Will be rolling from behind here. 
ANALYSIS
RACE 4: ALLOWANCE (N/W1X), 3-YEAR-OLDS AND UP, 1 1/8 MILES
4-6-8-1
#4 Brutus (5/2) went gate-to-wire when he broke smoothly at Timonium two back. Last out, he broke a bit awkwardly, was rushed up to the lead, and ended up flattening out. If he gets away well, here's a serious threat to take them gate-to-wire. #6 Plamen (8/5) has won three in a row between Parx and Delaware Park, running between an 87 and a 94 every time. He'll press Brutus from the outside. #8 Big Venezuela (8/1) will also be a factor on the pace, having won three of his last seven in front-running style. If J.D. Acosta is aggressive enough, he could challenge Brutus for the lead. He was able to rate last time and get second, albeit against weaker, so not getting the lead is not necessarily a deal-breaker. 
RACE 5: STARTER ALLOWANCE $25,000, 3-YEAR-OLDS AND UP, FILLIES AND MARES, 5 1/2 FURLONGS (GRASS)
8-1-10-2
The winner gets a spot in the Claiming Crown Distaff Dash. #8 Whispurring Kitten (8/1) has shown plenty of promise over this track, including a career-best race in victory last out. She collared a loose leader and grinded on for the win, earning a figure of 87. #1 Beantown Baby (9/5) ships back to the mid-Atlantic from Kentucky Downs. She was impressive in victory twice in the area earlier in the year, then just missed against stakes company at Colonial Downs. Will likely sit the trip on the inside. #10 Olive Kat (5/1) has hit the board in her last eight races and has good tactical speed. She's come close and just missed against n/w2x allowance company in her last few, with excuses in some of those races. This is a bit tougher than the starter and claiming races she won earlier this year, but she should still give herself every chance. 
RACE 6: STARTER ALLOWANCE $16,000, 3-YEAR-OLDS AND UP, 7 FURLONGS
8-1A-6-5
This race offers the winner a spot in the Claiming Crown Rapid Transit. #8 Lookin at Roses (5/2) cuts back from the 1 1/2-mile Greenwood Cup, where he made a middle move against some very good marathon horses and flattened out. He's done his best running at longer distances, but he did run a 95 when finishing third in the Rapid Transit at seven furlongs last year. #1A Seanow (2/1) looks like the stronger half of the Ness entry, having won four of his last six with improving figures. He has the opposite problem of Lookin at Roses: he's unproven going this long. He'll likely rate right off the early leaders. #6 Money Ride (9/2) was claimed by Gonzalez out of a non-effort at Monmouth last out, but ran in the 90s earlier in the year and won two back after sitting a stalking trip. 
ANALYSIS
RACE 7: STARTER ALLOWANCE $25,000, 3-YEAR-OLDS AND UP, 1 1/16 MILES (GRASS)
4-10-3-9
This field is vying for a spot in the Claiming Crown Emerald. #4 You Must Chill (2/1) is another Ness/Pennington charge who won the Alphabet Soup Handicap last out at Parx, as well as the start before that. He ran a career-best 91 last out and dependably earns figures in the 80s. #10 English Tavern (3/1) has great closing speed and has consistently run in the 80s and low 90s in recent races. #3 Mohkeef (5/1) is completely devoid of early speed, which will doom him in the win department, but his closing kick is enough to be worthy of an exotics spot. 
RACE 8: CLAIMING $10,000 (CONDITIONED), 3-YEAR-OLDS AND UP, 6 FURLONGS
 6-2-3-1
#6 Decorated (2/1) took a giant leap forward second off the layoff last out, dueling down the stretch to just miss. The winner and the third-place finisher both came back to win at a similar level to this one. Because #2 Tappin for Glory (7/2) is a 3-year-old, he remains eligible for this race despite having won at this level at Delaware last out. However, he has to carry three additional pounds. Goes first off the claim for Emanuel Geris and will be coming on late. #3 Portal One (5/2) was vanned off in his last start, but has a good workout since then and should be back in good shape for Kelly Breen. He consistently runs in the upper 70s and has finished in the top two four times out of five on this track.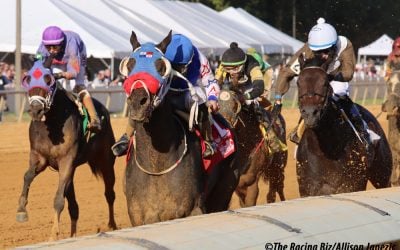 We provide full-card picks and analysis for this afternoon's races at Laurel Park.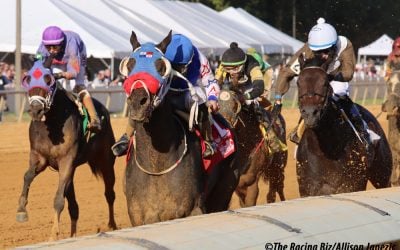 We provide full-card picks and analysis for this afternoon's races at Laurel Park.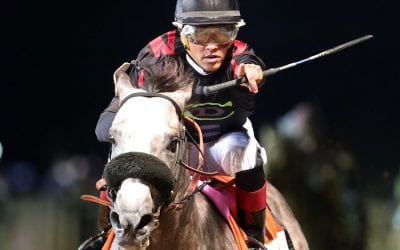 We've got Charles Town picks and preview today as the track presents its Friday card!