Laurel Park picks and ponderings October 8, 2021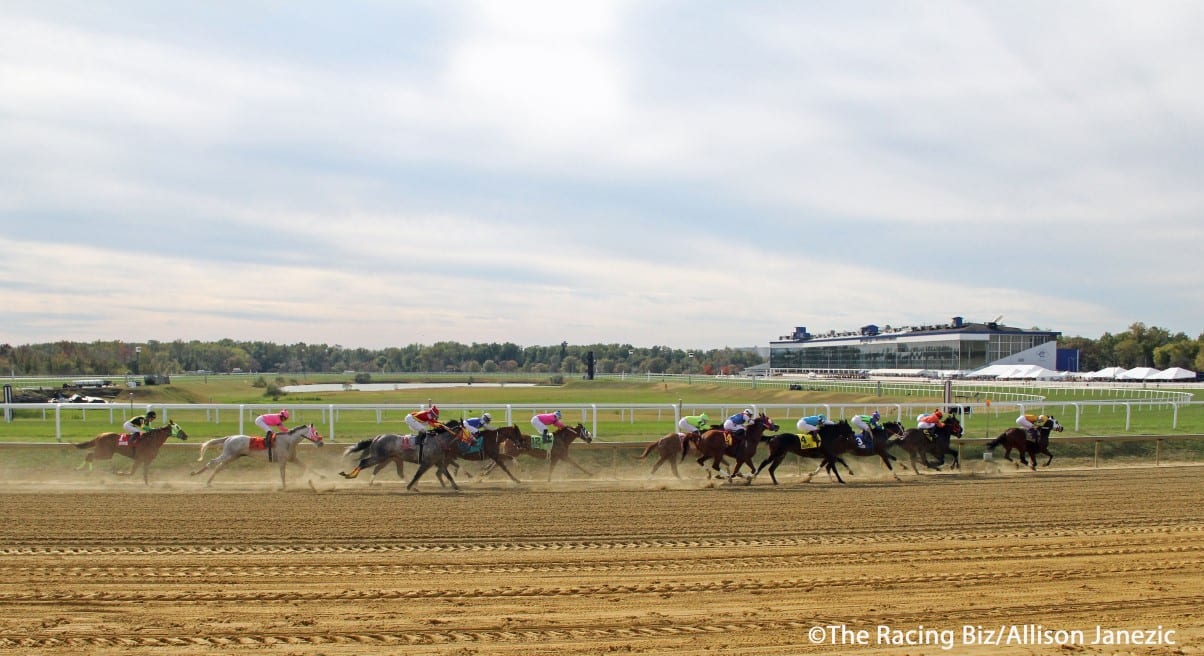 Horses round the turn at Laurel Park. Photo: Allison Janezic.
In which we pick the races from Laurel Park each day…
Post time: 12:40 p.m.
Carryovers: Rainbow Jackpot Pick 6 — $4,194 Super High 5 — $2,575 Late Pick 5 — $6,352
ANALYSIS
RACE 1: CLAIMING $5,000 (N/W2L), 3-YEAR-OLDS AND UP, 6 FURLONGS
3-6-4-5
#3 Alpha Queue (3/1) got caught up in a hot duel last out, in his first race in almost eight months, and backed up badly. He now drops to a career-low level and ran brisnet figures in the low 70s consistently over the winter. #6 Street Prayer (7/5) has better recent figures than Alpha Queue, with a string of numbers in the upper-70s. However, he's had plenty of chances against winners and has never been able to put it all together. He has a big chance, but I'm a bit wary of playing him to win at low odds. #4 Tyreek (6/1) gets back to dirt after trying grass a few times, without much success. He's run as high as an 81 in his career, and has shown some decent closing speed. 
RACE 2: MAIDEN CLAIMING $16,000, 3, 4, AND 5-YEAR-OLDS, 5 1/2 FURLONGS (GRASS)
12-11-5-6
 #12 Gleaming Sword (5/1) has raced twice on grass, and has lost in a photo finish both times. He got washed off the grass in each of his last two starts, and didn't do much in either performance. It looks as if his stalking speed carries better on grass. #11 Street Mojo (6/1) made a mild move in the stretch in his debut, and earned a respectable figure of 66. Should move forward second time out. #5 Vlajko (20/1) has shown steady improvement in recent races, even though none of his starts have been that visually impressive. He cuts back around one turn for the first time, and has shown both early speed and late speed, albeit in different occasions. It wouldn't surprise me if he ran a big race at long odds.
RACE 3: STARTER ALLOWANCE $5,000, 3-YEAR-OLDS AND UP, 5 1/2 FURLONGS
1-2-6-4
You have to love a horse like #1 Super Gamer (8/5). He's won eight races in a row between Charles Town, Finger Lakes, and Fort Erie. Not only that, he hasn't trailed in any of those eight races. This is the toughest field he's faced during that streak, but he'll have the opportunity to get to the front and run them off their feet. #2 Amen Corner (7/2) made his first start at this level last out, and made a good five-wide rally to narrowly miss. He's hit the board in his last six races and is likely to sit the trip. #6 Kingston Pike (9/5) has already raced three times at the fall meet. He had a tough trip last out to rally for second, and now takes a slight drop in class from the n/w1x level. 
ANALYSIS
RACE 4: CLAIMING $5,000, 3-YEAR-OLDS AND UP, 1 1/16 MILES
3-2-4-6
#2 Candy Carlos (7/5) and #3 Lectric Choke (7/2) exit the same race at Delaware Park on September 18. Candy Carlos, who went off as the 1/5 favorite, was racing first off the claim for Jamie Ness, and set a dawdling pace. Lectric Choke closed off that very slow pace, and lost by just half a length. Both ran great races, and Lectric Choke is almost certain to get a more honest pace scenario here, yet will likely be a much better price than Candy Carlos. I'll bet the race accordingly. #4 Greek Prince (6/1) cut back around one turn last out, and got hung wide and flattened out. He's at his best when he gets two turns, like he does here. 
RACE 5- STARTER OPTIONAL CLAIMING $25,000, 3-YEAR-OLDS AND UP, 5 1/2 FURLONGS (GRASS)
1-11-12-2
There's a carryover of just over $6,000 in today's late pick 5, adding some spice to the sequence. #1 Mr. Edgar (9/2) raced well at Monmouth Park over the summer. He rallied and just got up to win twice, then just missed in a third try. He was in a bit over his head in the Rainbow Heir Stakes last out, but now finds a friendly field and gets to race over the long stretch run on this course. #11 Dubini (7/2) also drops in class after showing little against n/w2x foes last out at Colonial Downs. He soundly defeated a field like this one two races back, with a very respectable figure of 87. He's a must-use in any pick 5 ticket. #12 Backwoods Boogie (10/1) hasn't turned in a bad performance in any of his recent starts, often making grinding rallies after sitting in mid-pack. He can shake up the exotics at a decent price.
RACE 6: ALLOWANCE (N/W1X), 3-YEAR-OLDS AND UP, MD-BRED, 5 1/2 FURLONGS (GRASS)
11-8-1-6
#11 After Five (9/5) ships down here for Wesley Ward, who previously campaigned him in New York and had him based in Kentucky recently. There's a spot at Keeneland on October 20 that he would fit, but Ward has elected to ship him here instead. He's never run worse than an 81 in seven tries on grass, and while he wasn't a serious contender at the n/w1x level in New York, he should fit in this field well. #8 Benny Havens (8/1) has slowly improved since returning from a long layoff in late June. He grinded down the stretch last out going 1 1/16 miles and just missed. Interested to see how he does in a sprint. #1 Rock the Boat (5/1) got action at this level last out, in his first try against winners, and held third after a wide journey. He'll sit the trip here off the pace on the inside.
ANALYSIS
RACE 7: STARTER OPTIONAL CLAIMING $25,000, 3-YEAR-OLDS AND UP, 6 FURLONGS
6-4-1-5
#6 Clear Humor (3/1) broke his maiden with a figure of 84 two back at Saratoga, in his first start off the claim for Brittany Russell. He got hung wide last out at Belmont Park and backed up badly. He's once again drawn to the outside, but at least he's taking a drop in class. #4 Southside Swig (9/5) ran a big race on the lead last out, in his first start off the claim for Jamie Ness. It was also his first race since June 5. He's a serious threat to take them gate-to-wire. #1 Billingsgate (5/1) closed for third behind Southside Swig last out, and ran a career-best figure of 78. He'll look to rate just off the leaders from the inside. 
RACE 8: ALLOWANCE OPTIONAL CLAIMING (N/W2X), 3-YEAR-OLDS AND UP, 5 1/2 FURLONGS (GRASS)
2-9-10-11
This race begins the Stronach 5. #2 Miss Majorette (4/1) won her first two starts on grass, then went off as the favorite at this level last out and lost by just half a length. It was still a gutsy effort, as she rolled down the stretch but couldn't catch the winner. She was the favorite in that race, but you might get a better price here. #9 Roselba (7/2) was very game in victory in each of her last two starts at Monmouth Park, including a win in the Pinot Grigio Handicap last out. She'll be a tough customer on the lead. Ferrin Peterson, who has not yet made an appearance this meet, comes down for the mount. #10 Ellanation (5/1) rather uncharacteristically went out to the lead last out and tired after setting fast early fractions. Usually she stalks and pounces. Her figures fit in with these and her recent works have been strong.
RACE 9: MAIDEN SPECIAL WEIGHT, 2-YEAR-OLDS, `1 1/16 MILES (GRASS)
4-9-11-5
#4 The Man to See (6/1) has the best last-out grass figure in the field, having earned a 72 on debut. He stretches out around two turns for the first time and adds blinkers. #9 Amarillo (10/1) made decent ground to get third after a bad break on debut last out. He wasn't too far behind The Man to See, earning a 71. Michael Matz is 16% second time out. #11 Candy Cool (6/1) didn't do much in his first two races on dirt, and hopes to take up on grass for Shug McGaughey. He hits at 21% going dirt to grass.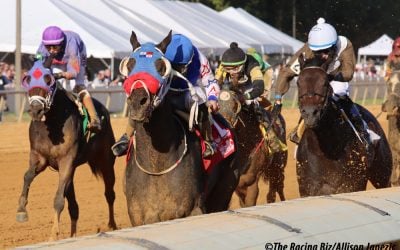 We provide full-card picks and analysis for this afternoon's races at Laurel Park.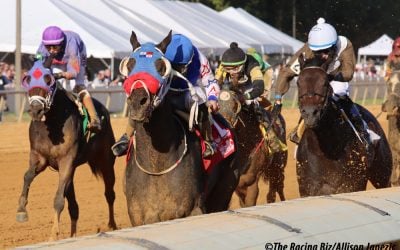 We provide full-card picks and analysis for this afternoon's races at Laurel Park.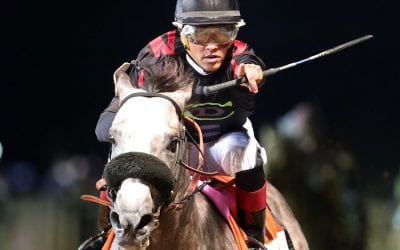 We've got Charles Town picks and preview today as the track presents its Friday card!