Laurel Park picks and ponderings September 23, 2021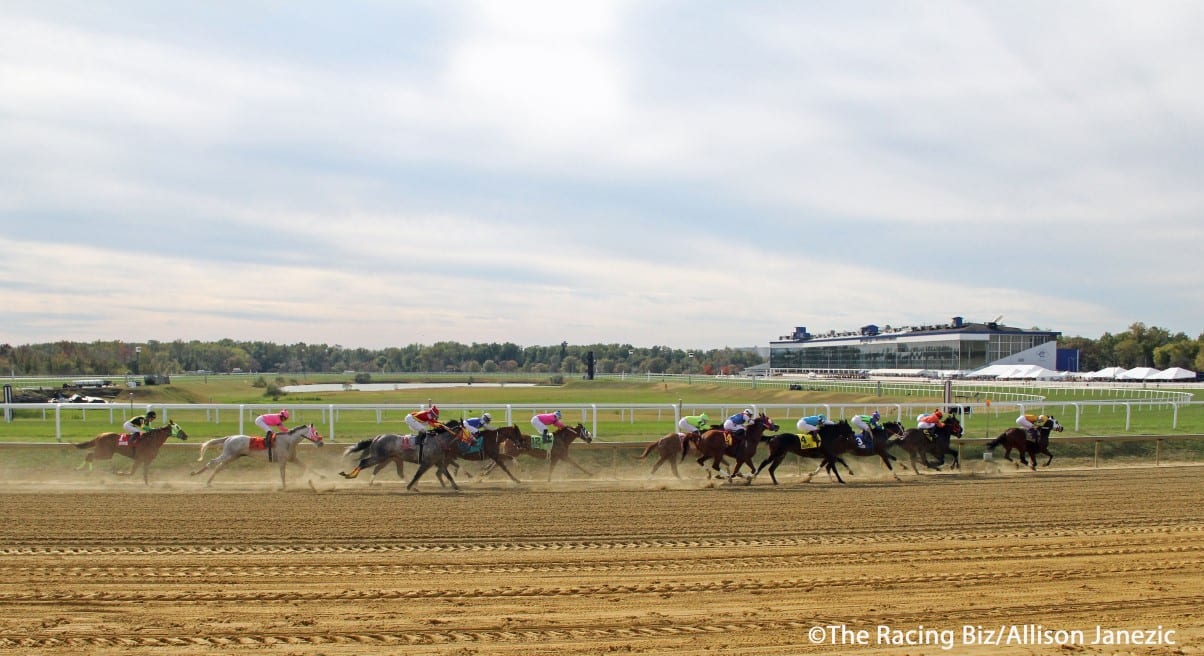 Horses round the turn at Laurel Park. Photo: Allison Janezic.
In which we pick the races from Laurel Park each day…
Post time: 12:40 p.m.
Carryovers: Rainbow Jackpot Pick 6 — $482 Super High 5 — $0 Late Pick 5 — $0
ANALYSIS
RACE 1: STARTER OPTIONAL CLAIMING $25,000, 3-YEAR-OLDS AND UP, 5 1/2 FURLONGS 
8-10-2-6
The first card of the new racing week is forecasted to be a very wet one. As such, I'll handicap all scheduled grass races, including this one, assuming they'll be taken off. #8 Southside Swig (12/1) races first off the claim for Jamie Ness, who took him out of a n/w2L claiming race at Churchill Downs in June. He's going to try to run away and hide from this field. #10 Flank Speed (9/2) matched his lifetime-top dirt brisnet figure of 76 in his most recent try on this surface. He sat off the pace and faded in that race, but that was against a tougher group than he'll see here. Should relish the class relief. #2 Hartel (5/1) ships here for the king of Charles Town, Jeff Runco, and races for the first time since June 5. In his local debut at Charles Town, he chased the very fast Golden Key and faded. He'll challenge for the lead from the inside. 
RACE 2: CLAIMING $8,000, 3-YEAR-OLDS AND UP, 1 MILE
1-4-2-6
 After a string of two-turn tries where he rated and faded, #1 Bahama Channel (3/1) drops in class and tries a one-turn mile. He raced at six furlongs last out, which might have been too short for him. Now he'll get to be the controlling speed at a distance he should relish. #4 Rough Sea (9/5) drops from the n/w2x level as he looks for his first win of the year. He's run in the upper 80s twice in his last four starts; a number like that would handily beat this field. #2 Glengar (6/1) has the most speed in the race and looks for improvement after a series of speed-and-fade tries. Will likely press Bahama Channel on the early pace. He won at this level in late May. 
RACE 3: MAIDEN CLAIMING $16,000, 3, 4, AND 5-YEAR-OLDS, 6 FURLONGS
1-4-5-6
#1 Let Us Make Gold (4/1) ran at least a 68 in three starts in a row earlier this year; now races at this level for just the second time. Last out, he faced $25,000 types at Timonium, but backed up badly going a mile. Now he cuts back to six furlongs. #4 Rippolino (5/2) has raced at this level just once, and made a strong closing bid to get second after some traffic trouble. Switches back to dirt after a grass try and will be rolling late. #5 Doc Elm (8/1) races for the third time in his career, and goes first off the claim for Anthony Farrior. He puts Arnaldo Bocachica in the saddle; those two team up at a 27% rate, mostly at Charles Town. Cuts back after a dull try around two turns; he had a tough trip on debut in a sprint.
ANALYSIS
RACE 4: CLAIMING $5,000 (N/W2L), 3-YEAR-OLDS AND UP, FILLIES AND MARES, 5 1/2 FURLONGS
2-3-5-1
#2 Adabel (7/2) has an unsightly 1-for-30 record, but is coming in here in top form. She wove her way through trouble last out at Timonium and lost by less than a length, earning a career-best figure of 71. #3 Fudge Cake (3/1) is a perfect 1-for-1 on dirt, having won at Timonium on debut after stalking the pace. Will try to set a similar trip again. #5 Notion Interruptus (3/1) got hung won the pace wide last out, but still came on strong and drew away to break his maiden with an impressive figure of 73. He doesn't always show speed, but when he does, he's a serious threat. 
RACE 5 – MAIDEN CLAIMING $40,000, 3, 4, AND 5-YEAR-OLDS, FILLIES AND MARES, 1 MILE
9-10-11-15
This race was originally scheduled for the grass. #9 Ghost Maiden (4/1) races for a tag on dirt for the first time. She couldn't quite seal the deal last out going short at Timonium, but has closed well in her prior route affairs. #10 Incontrovertible (10/1) improved to a 79 second time out in her most recent dirt race, sitting off the pace and making mild ground. Races for the first time since August 7 and has been working well since then. #11 Nicolar (6/1) has improved in three straight dirt starts, peaking at a 67 in her most recent start on this surface. Races on dirt for the first time since January 15 after a string of unsuccessful grass tries. She'll look to stalk the pace and make her move on the turn.
RACE 6: MAIDEN CLAIMING $40,000, 2-YEAR-OLDS, FILLIES, 6 FURLONGS
8-3-1-9
A full field of maidens begins the late pick 5. 11 of the 12 horses in here have experience. #8 Redwhiteandtacos (12/1) got action against straight maidens at Pimlico on debut, but faded after a wide trip. Goes second out for the Damon Dilodovico-Horacio Karamanos duo, and will try to save more ground here. Could fall through the cracks in the betting. #3 Spicy Margarita (6/1) races for the Claudio Gonzalez-Angel Cruz combo, which is usually pretty good. However, both have gotten off to slow starts this meet. This filly was a solid fourth at Timonium in her debut, with a very good figure of 67, but will need to show more late punch. #1 Derby Julep (15/1) rolled from behind to get fifth after a slow break on debut, and will be a threat at a price if she can break cleanly.
ANALYSIS
RACE 7: STARTER OPTIONAL CLAIMING $32,000, 3-YEAR-OLDS AND UP, 7 FURLONGS
8-3-4-9
#8 The Right Path (5/2) goes third off a brief layoff and has great closing speed. He got hung wide in his last few tries in routes, but the race dynamic at these distances might benefit a horse like him. #3 Spotted Bull (9/2) has won three of his last four for Ness and Ruben Silvera. The only time he didn't run between an 86 and an 87 in his last four was when he got hung extremely wide and faded. That shouldn't happen here. #4 Alpha Chi Ro (5/1) raced third off a long layoff and has shown a lot of heart on the lead in his two recent starts. He's a threat to take them gate-to-wire. 
RACE 8: STARTER OPTIONAL CLAIMING $32,000, 3-YEAR-OLDS AND UP, 7 FURLONGS
3-9-6-1
#3 Inspector Frost (5/2) almost wired them in his last two starts at Delaware, but got caught in the last few strides both times. Cuts back from two turns here, which should help his speed. #9 Dreaming of Carats (8/1) goes first off the claim for Bruno Tessore, who is 27% with that angle. The draw isn't ideal, but he has blazing speed and should be fast enough to outgun them all. The 1-for-17 record isn't great, but that mark has been compiled primarily in routes. Cutting back should help. #6 Ice Rain (8/1) makes his first start since April 22 and has some of the best late pace figures in the field. Ran in the 80s earlier in the year and looks for a bounce-back race. 
RACE 9: ALLOWANCE OPTIONAL CLAIMING (N/W3X), 3-YEAR-OLDS AND UP, 6 FURLONGS
8-1-3-4
#8 Band on Tour (5/2) has moved through his conditions quickly, having taken three of his last four races. He won a n/w2x race last out in a game performance, with a superb figure of 88. Faces a washed-off field that he should have little trouble with. #1 Factor It In (8/1) has great late speed and crushed a similar field at Delaware two races back. He's a boom-or-bust type; either he wins going away or is a non-factor. #3 Arthur's Hope (6/1) excels on off-tracks, having hit the top two eleven times from sixteen starts on them. Goes third off the layoff and has a recent bullet workouts. 
RACE 10: MAIDEN CLAIMING $25,000, 2-YEAR-OLDS, 6 FURLONGS
5-3-2-7
#5 Heavenly Trip (7/5) switches back to dirt and races for a a career-low tag for trainer Brittany Russell. He's finished second in each of his three starts on this surface, and may have finally found a field he can beat. #3 Summer Ash (7/2) has improved with every start, and was a sharp third against similar Timonium last out. He's had a lot of issues breaking from the gate, but if he can solve those, he's got a big chance. His stablemate, #2 Sloe Gin Biz (5/1) showed speed for the first time last out, and although he faded late, it was still a big upgrade from his prior two races. J.D. Acosta gets the call, perhaps a positive sign from Claudio Gonzalez. He put Yomar Ortiz on the other one.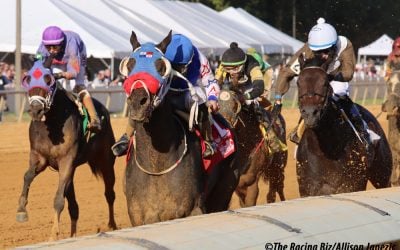 We provide full-card picks and analysis for this afternoon's races at Laurel Park.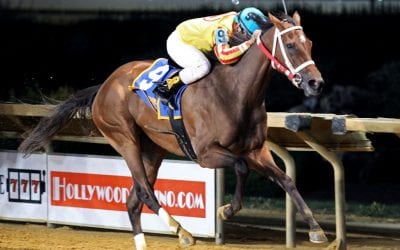 We provide picks and analysis for this evening's card at Charles Town Races.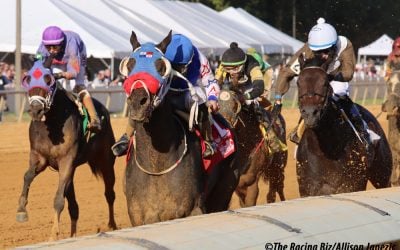 We provide full-card picks and analysis for this afternoon's races at Laurel Park.