TIMONIUM WRAP: EVENTFUL STAND AT THE BIG T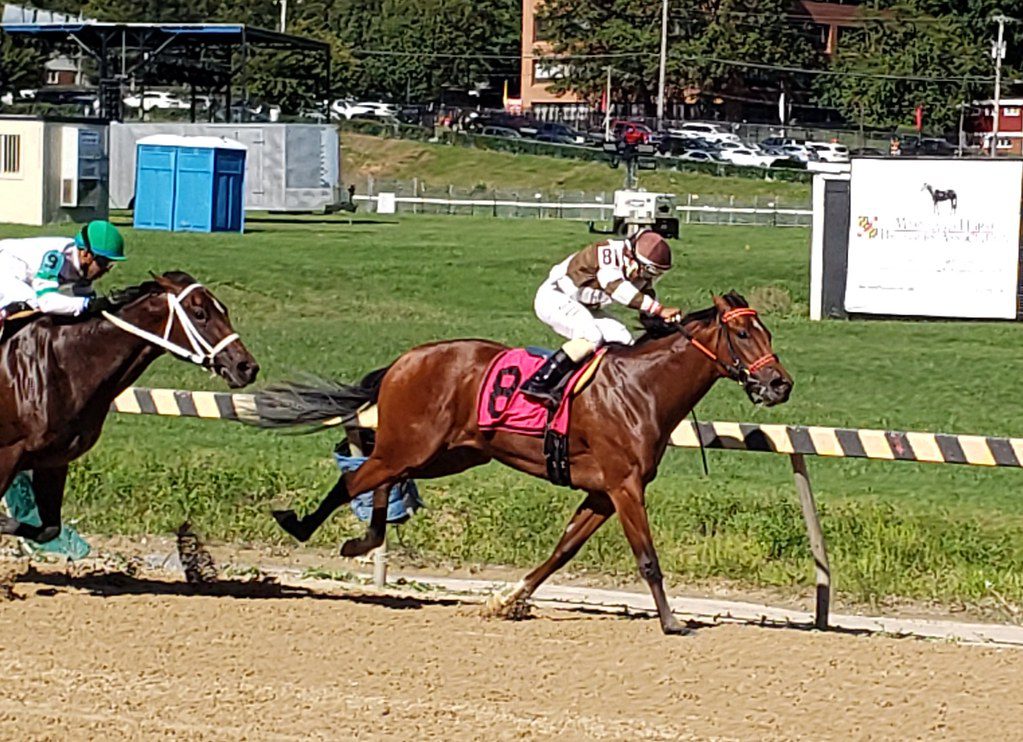 Frank Vespe

September 8, 2021
Claudio Gonzalez led all trainers at Timonium with six wins. Charlie L. Frock, the father, and Charlie A. Frock, the son, finished first and tied-for-second – with Valrie Smith – among small-barn trainers in the track's point system.
But perhaps no trainer had a more eventful Maryland State Fair sojourn than did John Salzman, Jr.
Salzman won with three of eight starters during the stand, and seven of the eight he sent out finished in the money. Two of those runners in particular – including the one that did not finish in the money — made his Big T summer one to remember. Fortunately, all's well that ends well.
Over closing weekend, Salzman sent out Buff My Boots to a good-looking score in an allowance for two-year-old fillies. The Buffum filly shot straight to the front under jockey J. D. Acosta, and she went on to fend off hard-trying Lanfrankophile by three parts of a length while well clear of the rest.

"As soon as she broke really fast, I took the lead," Acosta said afterwards. "I just tried to slow it down from the first quarter."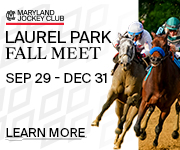 "We had talked about taking a little hold of her," Salzman recounted. "I wasn't happy with that idea. I thought she was the fastest of the fast."
And she had the right rider on her. Acosta, with copious bullring experience from years at Charles Town, was pressing all the right buttons this meet.
He won eight races over the meet's final four days – including riding triples Saturday and Monday – to secure the riding title with 10 victories, four more than any other rider. Angel Cruz checked in second with six wins.
Buff My Boots, owned by Bird Mobberley LLC, had debuted with a flashy 10-length score in maiden claiming company in July. But a subsequent trip to Colonial Downs to run on the grass in the Keswick Stakes ended with a well-beaten fifth-place finish.
"She didn't really like the turf at Colonial, but she showed herself today," Salzman said.
A Maryland Million start may be in Buff My Boots's future. The same is true for Local Motive, though on the first Sunday of the meet, that appeared very much in doubt.
Also trained Salzman, Local Motive went off the 4-5 favorite in that day's $113,500 Timonium Juvenile Stakes following a two-for-two start to his career, including a win in the Hickory Tree Stakes at Colonial Downs.
But the Divining Rod gelding looked uncomfortable from the first jump, dropping back to last during the run by the stands for the first time, while throwing his head around. By the midpoint of the backstretch run, Acosta was pulling Local Motive up and out of the race, and moments later, he was taken off the course in an ambulance.
It looked bad – but fortunately was not.
"When he left the gate here, he got hit in the eye [with a clump of dirt]," Salzman explained. "He's never had any dirt in his face, [and] he just panicked."
By meet's end, Local Motive was back on the work tab, breezing a half-mile in 48 seconds September 4 at Laurel Park, third fastest of 37 at the distance.
"He worked this morning, and all's good," Salzman said. "He'll be fine."
If he does post in the Maryland Million Nursery, one of the rivals he can expect to face will be Cynergy's Star. The Kenny Cox trainee surged to a win in the Timonium Juvenile and looked good doing it.
Three of Acosta's wins at the meet came for Salzman or his father, John Sr. Three others came for another father-and-son duo, the Frocks. That included back-to-back winners in races six and seven on closing day.
Both race six winner Shak's Hidden Gem and race seven winner Dialing Dixie were making their second starts in the seven-day stand. They were among 21 horses to make two starts at the meet, but none of those could find a second win.
Taken together, the Frocks father-and-son made 21 starts at Timonium, winning three times. And no wonder they seemed to be everywhere during the meet: only leading trainer Gonzalez (24 starts, six wins) and Anthony Farrior (21 starts, two wins) made as many.
Charlie L. Frock summed it up on closing day.
"We love it here at Timonium," he said.
---
LEADING TRAINERS (wins)
Claudio Gonzales – 6 wins
Kieron Magee – 4
Dale Capuano – 3
Rodolfo Sanchez-Salomon – 3
John Salzman, Jr. – 3
Mario Serey, Jr. – 3
LEADING TRAINERS (points)
Barns>=11 stalls
Claudio Gonzalez
Anthony Farrior
Hugh McMahon
Barns<10 stalls
Charles L. Frock
Valrie Smith
Charles A. Frock
LEADING JOCKEYS
J. D. Acosta – 10 wins
Angel Cruz – 6
Xavier Perez – 5
Carlos Lopez – 5
Leonardo Corujo – 5
LATEST NEWS