DELAWARE PARK HANDICAPPERS' NOTEBOOK 2021 VOL. 14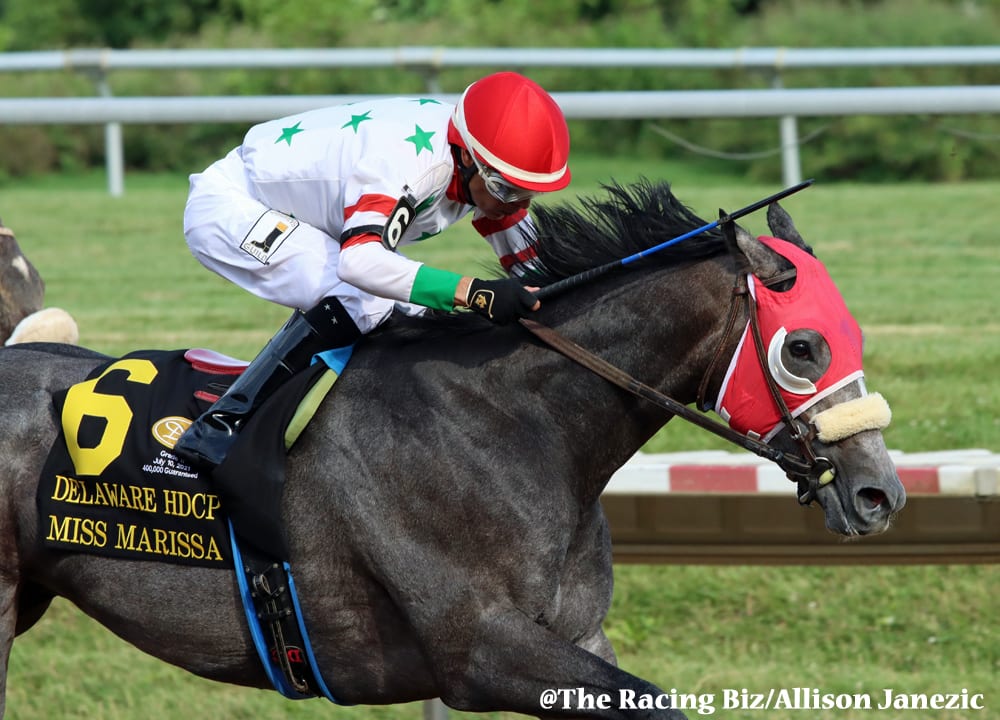 Notable races and trips
SEPTEMBER 1 – 6
Two cards were canceled during this timeframe and the turf continued to be unavailable, so short fields were the norm. There were 43 horses that went to post in eight races on September 4 and 42 two on September 6 When you handicap, always take note of the number of entries in each of the past performance lines, Obviously victories in fields of small size are not as impressive, and favorable pace scenarios can lead to outcomes that are not a true indication of a horse's ability. Don't get fooled when seeing a first place finish by a large margin in a short field and place too much value in that running line.
SEPTEMBER 4
Race 1: A perfect example of a race with a short field in which I would put no stock in the final outcome, In this $5,000 maiden claiming race with five runners, the winner Cross the Mersey won by over 18 lengths as the favorite, with a 37-1 longshot in second. More than 60 lengths separated first to last in the race.
SEPTEMBER 6
Race 8: The most visually impressive race of the week was the victory by Red Hot Mess in a MSW 5 1/2 furlong event for two-year-old fillies. Going off as the second longest shot in the field at 9.70-1, the first timer trained by Chelsey Moysey won with ease. She's a daughter of Shackleford.
Jockey and Trainer of the Week
Given the fact that they are running away with the jockey and trainer races, one could make an argument that you could just pencil in Jaime Rodriguez and Jamie Ness every week and over the two racing days they both won with half their starters.
That being said there are a number of jockeys and trainers that are having a solid meet and should not be ignored. Here are the jockeys that have a greater than 20% win percentage and at least 10 mounts for the meet: Daniel Centeno, Mychel Sanchez, John Hiraldo, Xavier Perez, Isaac Castillo, Inoel Beato and Julio Correa. Among trainers Anthony Pecoraro, Jane Cibelli and Jonathan Thomas all have win percentages exceeding 30% and at least 10 starters.
Handicappers' Toolbox
I have never been a proponent of saying a jockey "is hot" lately and thereby changing my overall opinion in a race based on that observation. When it comes to trainers, however, a streak of underperforming mounts from a trainer that normally wins at a high rate could be indicative issues; perhaps his or her best stock is not at the meet, or the horses under his/her watch may not fit the conditions being carded, or perhaps he or she is holding some back waiting for another event or meet. Or it could just be bad racing luck. Whatever the reason, it should be noted that one of the best trainers in the country, Michael Stidham, is 3-for-38 at the meet. I would never throw out a Michael Stidham horse based on this stat alone, but it can't be ignored when you are handicapping one of his mounts. Now that I have pointed this out, I hope that the reverse curse kicks in and he gets a number of wins. If that happens I will be glad to give him my Venmo info so he can thank me for changing the karma.
LATEST NEWS