CYNERGY'S STAR SWEEPS TO TIMONIUM JUVENILE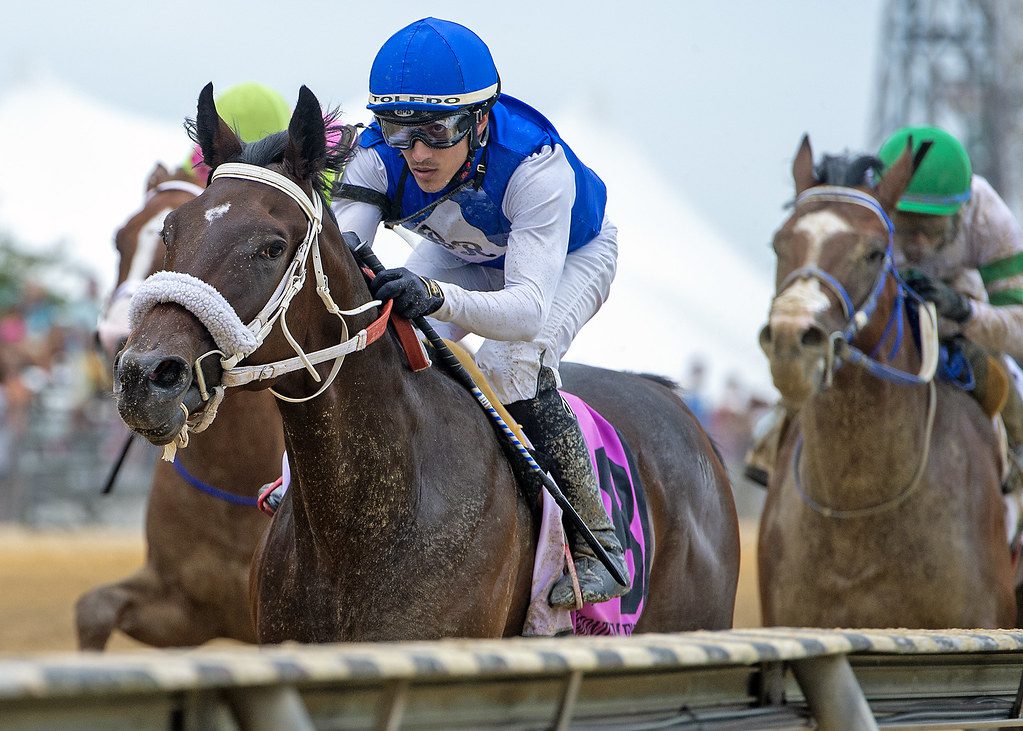 On the same day that a trio of past state-bred stars and past Eclipse winners — Conniver, J.O. Tobin and Devil's Bag — were inducted into the Maryland Thoroughbred Hall of Fame, a half-dozen juveniles were looking to take their first small steps toward joining that select group when they contested the Timonium Juvenile, the first and only stake of the seven-day Timonium race meet.
Cynergy's Star (Jevian Toledo) was dismissed as a 6-1 shot in the Timonium Juvenile while Local Motive (J.D. Acosta) was made the 4-5 favorite in the compact field of six. While Cynergy's Star had already earned slightly more than his original purchase price courtesy of a win at Pimlico two weeks earlier, his victory in the Timonium Juvenile would be the equivalent of three pay days.
Bandfromthebar (Denis Araujo up) and Up for the Chance (John Hiraldo) provided the early splits of 24.07 flat and 48.98. Reserved just off the early tempo and kept very wide past the grandstands and through the clubhouse turn, Cynergy's Star bided his time before launching his bid midway down the backside.
When Toledo began to ask Cynergy's Star for run leaving the quarter pole, the Great Notion gelding swept to command, angled over to the fence and held sway late for a two-length score while stopping the timer in 1:21.57 for the about 6 1/2-furlong distance.
"When I started to ask him he responded right away," said Toledo, whose win here came aboard his only mount of the day. "I wanted to stay clear of those other horses. When I moved down to the inside he started to wait on those other horses a little bit. But he raced good."
The base purse for the Timonium Juvenile was $75,000, a number enhanced by $25,000 bonus money for Maryland-breds and another $25,000 for Maryland-sired horses. Cynergy's Star was able to dip into both pots.
A juvenile son of prominent Maryland sire Great Notion and bred in Maryland by Dr. Tom Bowman and wife Chris Bowman and Skeedattle Associates, Cynergy's Star thus earned $75,000 for his day's work, a healthy sum that pushed his lifetime earnings past the $100,000 plateau with two wins from just three starts.
"We had another two-year-old and we weren't sure at first which one was better," said trainer Kenneth Cox, who enjoyed ample success decades earlier with a durable runner named Flaming Emperor. "But we soon figured out he was the better of the two. He's always trained well [at Delaware Park]."
Cox indicated what he thought of Cynergy's Star when he opted to debut the runner against stakes company, in the grassy HIckory Tree Stakes at Colonial Downs. He ran seventh that day with a challenging trip and then bounced back to graduate at Pimlico in his first main-track effort.
"We tried him on the turf first time out at Colonial, but he won pretty gamely at Pimlico in the mud," Cox said. "[Jockey] Sheldon [Russell] said the same thing after that race, that he was waiting on horses."
Bonuccelli celebrated his first stakes win as an owner on Sunday and thought it was only fitting, since he had purchased Cynergy's Star at the yearling sale the previous fall at Timonium.
"I'm so happy, I don;t know that to say," Bonuccelli said. "This was my first stakes winner. Kenny has liked him right from the start. We came here to run for the bonus, but I was really just hoping for second or third. I'm so happy that he won today, but I would really love for him to win the Maryland Million."
LATEST NEWS