Timonium picks and ponderings August 29, 2021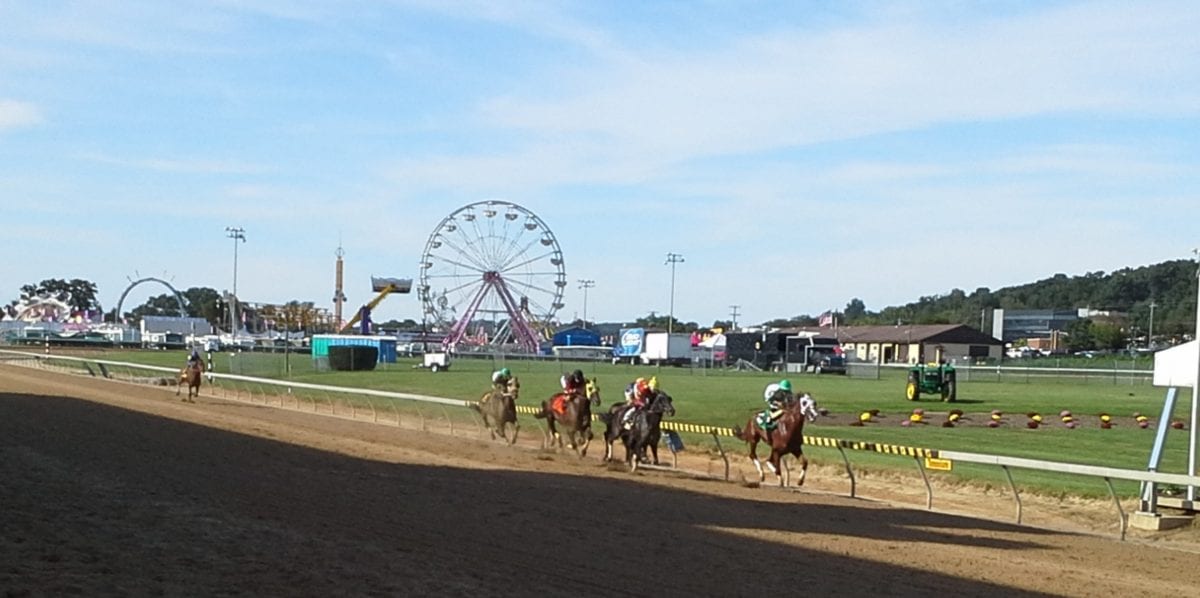 Horses race at Timonium. Photo: The Racing Biz
In which we pick the races from Pimlico each day…
Post time: 12:40 p.m.
Carryovers: Rainbow Jackpot Pick 6 — $0 Super High 5 — $0 Late Pick 5 — $0
ANALYSIS
RACE 1: CLAIMING $5,000 (N/W2L), 3-YEAR-OLDS AND UP, FILLIES AND MARES, 1 1/16 MILES
6-5-2-1
Superfically, #6 Moonlight Miss's (3/1) last two races look dismal. She lost them by a combined 51 lengths. However, she had excuses both times. Two back, she got a bit excitable and opened up a longer lead than she probably should have. Last out, she stumbled at the start and lost all chance. If she can be restrained and set a moderate tempo, she has a big chance. #5 Meet Michelle (1/1) has made decent rallies in her last few, but looks like a horse doomed to constant underneath finishes without a win. #2 Miss Moreno (4/1) switches back to dirt and goes second time out for Claudio Gonzalez. She was wide throughout last out, and will look to save some ground here under Kevin Gomez.
RACE 2: MAIDEN CLAIMING $16,000, 2-YEAR-OLDS, 4 FURLONGS
7-1-4-6
 #7 Golden Aviator (3/1) set a very fast pace on debut at Delaware Park, but gave way and was well-beaten. The draw isn't ideal, but he has the race under his belt and cuts back to a distance that's about as short as it gets. #1 Quanah (4/1) ships from Charles Town for Anthony Farrior, who puts the leading jockey there, Arnaldo Bocachica, aboard. Watching the board with him. #4 Cash Flowing (7/2) goes third time out for John Salzman Jr and J.D. Acosta. He showed speed before fading last out, which represents some improvement from his debut. 
RACE 3: CLAIMING $5,000 (CONDITIONED), 3-YEAR-OLDS AND UP, 4 FURLONGS
6-5-4-3
#6 Bi Bi Carpe (2/1) goes third off the layoff and ships from West Virginia for Kevin Patterson. He scratched the one he had in yesterday; we'll see what he does with this one. He's got blazing speed and has won three of his last six races. #5 More Thunder (6/1) gets back to dirt and races at a sprint on this surface for the first time in a while. He tried to route for a while without much success; interested to see how he does here. #4 Gator Fifty Two (5/1) broke through for a runner-up finish at this level at big odds last out and may close for a piece. 
ANALYSIS
RACE 4: CLAIMING $16,000 (N/W2L), 3-YEAR-OLDS AND UP, 6 1/2 FURLONGS
3-4-1-5
Remember that, with a 10-race card, the middle pick 4 begins here. #3 Souper Emperor (5/2) was impressive in his maiden-breaking win at Delaware Park last out, rating off the pace and drawing away to win and earn a brisnet figure of 79. He's earned a figure in the 70s in three of his five dirt races. #4 Subject to Change (3/1) goes second off the layoff for Jerry Robb and Xavier Perez and has never run worse than a 69 in three career starts. #1 Native Courage (6/1) has speed from the inside and Arnaldo Bocachica in the saddle. The "lightbulb" angle will have to apply to him, as he broke his maiden in his 17th career start last out.
RACE 5 – CLAIMING $5,000 (CONDITIONED), 3-YEAR-OLDS AND UP, 6 1/2 FURLONGS
3-1-6-4
#3 Enano Astray (7/2) was running in the 80s pretty consistently at Gulfstream Park over the winter, but was pulled up in his last start back in April. He's now at a similar condition, but in for a lower tag than previously. If he can find his form from earlier in the year, he'll be tough to beat. #1 Self Awareness (8/5) is a locally-based horse also dropping in class for Kieron Magee. He has very up-and-down form; sometimes he hangs on and wins, other times, he doesn't. He's got a better shot if he can get a clear lead, naturally. #6 Peruvian Dancer (6/1) has improved his figure in his last four races, and won a n/w2L contest at Charles Town last out after being on the pace. 
RACE 6: ALLOWANCE (OPEN), 3-YEAR-OLDS AND UP, FILLIES AND MARES, 4 FURLONGS
5-6-3-2
#5 Madam Meena (1/2) consistently ran figures in the 90s over the winter, while most of her rivals struggle to crack the mid-80s. She hasn't raced since mid-February, but Jamie Ness has had her working up a storm. Will be very tough. #6 Justalittleviolent (6/1) has won her last two starts on the lead in gutsy fashion. She'll need those guts against Madam Meena, but even if she can't hold on for the win, she can at least round out the exacta. #3 Paisley Singing (4/1) was third behind Chub Wagon and Hello Beautiful in the Shine Again Stakes in June, and has good middle pace figures which may suit her well in here. 
ANALYSIS
RACE 7: CLAIMING $16,000 (N/W2L), 3-YEAR-OLDS AND UP, 1 1/16 MILES
4-6-5-2
#4 Tales of Saratoga (8/1) broke his maiden impressively on dirt two back, rating off the lead and drawing away to earn a figure of 79. Ships back after a start against fellow New York-breds at Saratoga; this spot should be a lot easier. #6 Social Equality (5/2) has also been earning figures in the 70s and has some of the best late pace figures in the race. #5 Prince of Caps (2/1) gets back to dirt for Claudio Gonzalez and will likely be sent for the lead. 
RACE 8: ALLOWANCE OPTIONAL CLAIMING (N/W1X), 3-YEAR-OLDS AND UP, FILLIES AND MARES, 1 MILE
3-5-6-8
#3 Mit Mazel (3/1) set a fast pace at Monmouth Park last out and backed up. However, two back, she dueled through a fast tempo at Pimlico and won. She has the edge because she has early speed, but which version of her will show up? #5 Evil Woman (9/2) is another pacesetting type who got hung wide at Delaware last out and backed up. Still, she matched her career-best of 86 in that race. #6 Tayler's Chrome (7/2) won her last start against weaker at Monmouth by sixteen lengths, and now goes first out for the Charles Frock barn. 
RACE 9: TIMONIUM JUVENILE STAKES, 2-YEAR-OLDS, 6 1/2 FURLONGS
7-8-4-2
The inaugural Timonium Juvenile has attracted a field of eight, most of whom are Maryland-breds. #7 Bandfromthebar (6/1) and #8 Cynergy's Star (7/2) both broke their maidens in impressive gate-to-wire style last out. Bandfromthebar earned a slightly higher speed figure and is drawn a bit closer to the inside, giving him the edge in my book. Jevian Toledo, named on Cynergy's Star, will have to be aggressive early. #4 Addy's Laddy T (9/2) chased Cynergy's Star last out and ended up second. He'll look to move forward second time out. 
RACE 10: MAIDEN CLAIMING $10,000, 3, 4, AND 5-YEAR-OLDS, 6 1/2 FURLONGS
6-5-3-8
#6 Francis X (3/1) ran figures in the 70s earlier in his career, but declined a bit before going on the shelf over the winter. He'll try to step up second off the layoff. #5 Ferocious Storm (9/2) also goes second off the layoff, has speed, and adds blinkers. #3 Malibu Circle (4/1) is one of the few in here who can consistently run in the 60s, and has some bullring experience through his starts at Charles Town.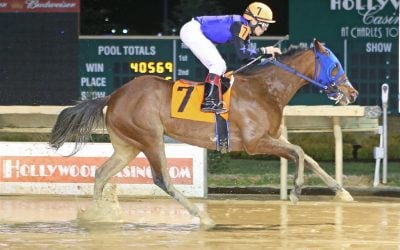 Which Charles Town trainers are off to hot starts? Asking for a friend; no, wait, actually asking for the betting public. Answers within…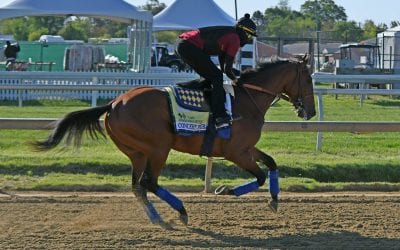 The fourth Kentucky Derby future wagering pool will kick off Friday, and 2yo champ Forte is the top individual choice on the morning line.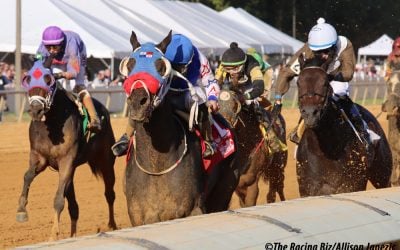 We provide full-card picks and analysis for this afternoon's races at Laurel Park.