Pimlico picks and ponderings August 21, 2021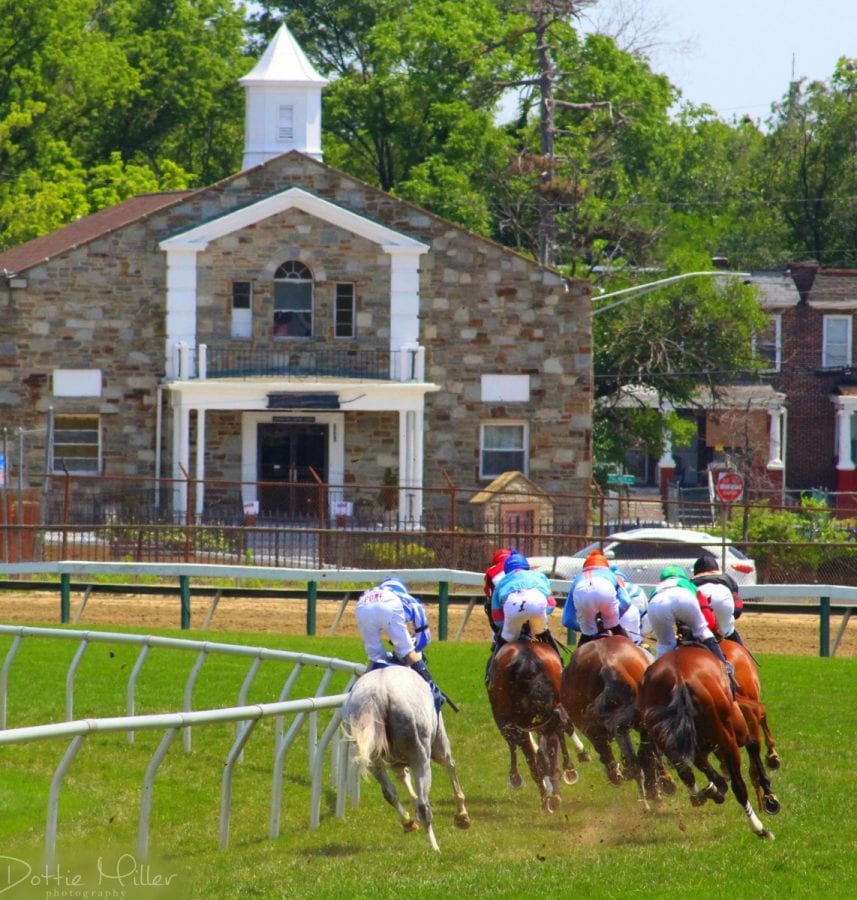 Horses round the first turn at Pimlico. Photo: Dottie Miller
In which we pick the races from Pimlico each day…
Post time: 12:40 p.m.
Carryovers: Rainbow Jackpot Pick 6 — $1,910 Super High 5 — $0 Late Pick 5 — $0
ANALYSIS
RACE 1: CLAIMING $16,000 (N/W2L), 3-YEAR-OLDS AND UP, FILLIES AND MARES, 1 MILE (GRASS)
10-4-6-3 (DIRT: 8-7-12-2)
It's the first of ten on the Saturday stakes-packed card. #10 English Charmer (6/1) has run a brisnet figure of at least 78 in her last two races. She broke her maiden at ninth asking last out, surging in the stretch to get up at Monmouth Park. She's one of three in here who has not lost against winners, and has the best figures of anyone in that group. #4 Double Happiness (3/1) was a fast-closing fifth in her first start off an 18-month layoff last out at Belmont Park, just missing her lifetime-top mark with a 75. She moves from the Bill Mott barn to Mary Eppler's. She doesn't have any early speed, but will be roaring late. #6 Mayfield of Dreams (6/1) finished in a dead heat with Ciarrai Abu last out, who also returns here. This one has dangerous early speed, and could find herself on a long, lonesome lead. 
RACE 2: MAIDEN SPECIAL WEIGHT, 2-YEAR-OLDS, 6 FURLONGS
3-8-1/1A-6
 #3 H P Moon (2/1) made some waves in his attempted debut at Saratoga, when he was scratched because he could not be properly identified. Lacey Gaudet must have thought a lot of him to send him up there from his base at Delaware Park, and he was getting some wagering action before the scratch. Since coming back here, he's been working like a monster, and will have a chance to make his debut in a more local setting. I'm expecting big things. #8 Radical Right (9/2) has also been working strongly for Dale Capuano, who is 28% with his first-time starters. He had been working at four furlongs for most of the spring and summer, before ramping up to five furlongs. That's encouraging. Both of Mike Trombetta's first-time starters, #1 Conclusive (4/1) and #1A Bold Leader (4/1) have literally identical worktabs, which I cross-checked on brisnet and Equibase. They recently worked four furlongs in a sharp 49 seconds at Fair Hill, ramping down from the five furlongs they had been going. Whichever half runs will be tough. 
RACE 3: ALLOWANCE (N/W1X), 3-YEAR-OLDS AND UP, MD-BRED, 5 FURLONGS (GRASS)
1-10-9-3 (DIRT: 7-5-4-10)
#1 Railmaster (5/2) ships in from Penn National, where he's won his last two races after rating on the pace. Two races back, he was on a blazingly fast pace, but held on for the victory after breaking from the inside post. #10 Ima Ima Starboy (6/1) won his grass debut last out in a gate-to-wire effort, with an impressive figure of 83. He's not a need-the-lead type, so he'll likely rate just off Railmaster from his outside. #9 Gale Winds (6/1) will also be on the pace for the Jerry Robb/Xavier Perez duo. He got caught after setting the pace last out at Colonial Downs.
ANALYSIS
RACE 4: ALLOWANCE (N/W1X), 3-YEAR-OLDS AND UP, MD-BRED, 1 1/16 MILES
7-2-1-5
We've got more Maryland-breds in action here. This race also begins the middle pick 4, which is offered today, as there's ten races on the card. #7 Dream Big Dreams (5/2) comes back to Maryland after a try on grass at Saratoga. He ran a 90 and an 89 in his last two dirt races, finishing second both times. In his last try against Maryland-breds, he just missed against Doubleoseven, who was fourth in the Kent Stakes next out and is entered in the Smarty Jones stakes at Parx. #2 Prodigious Bay (9/5) went gate-to-wire to beat open n/w1x company on Black-Eyed Susan day. He has not been to the races since, although he's been working steadily at his home base of Ellis Park. Ron Moquett has elected to send him back here in search of Maryland-bred money, rather than wait for a more local spot. I don't think he'd ship here if he didn't think he had a big chance. #1 Welling (6/1) won in game fashion last out at Charles Town, getting up late despite a very wide trip. 
RACE 5 – MAIDEN CLAIMING $25,000, 3, 4, AND 5-YEAR-OLDS, 1 1/16 MILES (GRASS)
9-2-6-12 (DIRT: 2-8-14-12)
#9 War Light (6/1) made a bold rally to get second in his grass debut despite not changing leads, in his first start off a long layoff. His figure of 80 is the best last-out mark in the field by five points. #2 Tipyourhattothat (3/1) ran a 75 in his first start on grass, just missing after a wide trip. Should save more ground here. #6 Rip It (7/2) takes a drop in class after a near-miss at the $40,000 level last out. He'll have a good trip just off the leaders. 
RACE 6: MISS DISCO STAKES, 3-YEAR-OLDS, FILLIES, MD-BREDS, 6 FURLONGS
2-3-4-5
The first of four stakes races on the card is named after the Sagamore broodmare best known as the mother of Bold Ruler. #2 Malibu Beauty (7/5) had a very easy trip in victory last out at Delaware Park, setting moderate fractions and drawing away to victory. She ran an 87 in that race, right in the range of what she needs to win, and has run in the 90s in the past. While she had a good setup last out, she's raced well on honest paces in the past, including a runner-up finish in the Stormy Blues Stakes behind #3 Street Lute (1/1) who gets back to her preferred surface after a brief grass try. She's been dominant against Maryland-breds in her career, and as noted above, held off Malibu Beauty to win her most recent dirt start. She won that race in spite of an awkward break, which took her out of her front-running element. #4 Hitch a Ride (8/1) battled on the pace last out and was surpassed only by My My Girl, who sat a perfect trip off the leaders. This one can round out the exotics at a good number. 
ANALYSIS
RACE 7, ALL BRANDY STAKES, 3-YEAR-OLDS AND UP, FILLIES AND MARES, MD-BRED, 1 1/16 MILES (GRASS)
10-4-1-9 (DIRT: 10-6-4-8)
All Brandy was a Maryland-bred mare who won several stakes races in the early 1960s. The top three finishers of a n/w2x allowance optional claiming race on July 23 are all back in action here. I'll take the horse who was the favorite in that race, #10 Judi Blue Eyes (3/1). She won two in a row on the Pimlico grass earlier in the meet, with figures of 92 and 86. She declined a bit in her last race, with a 79, but I'm inclined to believe that's an outlier race, and I'm willing to give her another chance. #4 Quiet Company (7/2) won that race, in a much-improved effort when stretching out from five furlongs and racing second off the layoff. She'll be a serious factor on the early pace. #1 Good Life Cider (6/1) has run steadily good figures in the mid-70s to mid-80s, and has solid late pace figures. Has a big chance to round out the exotics at good odds. 
RACE 8, STAR DE NASKRA STAKES, 3-YEAR-OLDS, MD-BRED, 6 FURLONGS
5-2-4-1
Star de Naskra was a Maryland-bred best known for winning the 1979 Whitney Stakes. His race drew only five horses, but all five have great credentials and should make for an exciting contest. #5 Exculpatory (3/1) has run in the 90s three times in a row, including a career-best mark of 93 when he smashed the field at Colonial Downs last out. He's run plenty of great races over this track, including a near-miss against his Maryland-bred elders two races back and a dominant score against 3-year-olds on Memorial Day weekend. He looks poised to run another career-best race. He's going to get the trip on the outside, and if the leaders falter, he could win by a lot. #2 Cry No More (9/2) will be the dominant speed in the race, and whenever he's left alone on the front, he turns in an explosive performance. Charlie Marquez will have to be aggressive with him early to gain that advantage, but if he can get the lead by himself, he could run away from them late. Showed a lot of heart against older allowance horses last out when pressed. #4 Jaxon Traveler (6/5) has the most name value in the field, with two stakes wins and two recent graded stakes placings under his belt. However, his figures have not been up to par as of late, and he's likely to get overbet. 
RACE 9: FIND STAKES, 3-YEAR-OLDS AND UP, MD-BRED, 1 1/16 MILES (GRASS)
2-3-6-10 (DIRT: 1-8-7-3)
The final stakes race of the day is named for the top Maryland-bred grass horse of the 1950s. He won 22 times, with earnings of more than $800,000, making him one of the highest-earning horses in history at the time of his retirement. #2 Street Copper (7/2) finally broke a losing streak last out with an allowance optional claiming win at Colonial Downs, where he rated off the lead and drew away late. He's run at least an 86 four times within his last five starts. #3 Alwaysmining (10/1) has raced on grass in his last two starts, and hasn't run worse than an 89 in either of them. Two races back, he set the pace in the Prince George's County Stakes and backed up. Last out, he battled in the stretch and just missed in a tough allowance optional claiming race at Delaware Park. Very encouraging. #6 Somekindofmaigican (8/1) steps up in class after winning his last two at Delaware. It looks as if he's starting to find his best self again as a 7-year-old. 
RACE 10: MAIDEN CLAIMING $40,000, 3, 4, AND 5-YEAR-OLDS, 5 1/2 FURLONGS
4-3-2-6
Despite being listed as a maiden claiming race, no one in this race is in for the tag, as they're all Maryland-breds. #4 Pederson's Courage (6/5) sat the trip last out and drew clear in the lane, only to get caught by heavily favored Everett's Song. That one came back to win by three lengths on Sunday. #3 Rock the Boat (7/2) has had some strong bullet workouts between here and Timonium. Trainer Robert Bailes is a respectable 13% with first-timers. His stablemate, #2 Badger Tooth (6/1) made up steady ground in his debut on grass last out, now switches to dirt and gets a rider change to Marquez.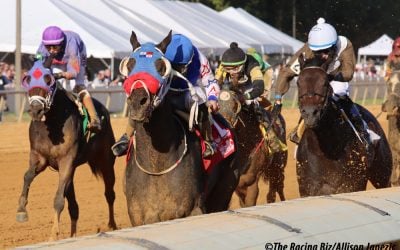 We provide full-card picks and analysis for this afternoon's races at Laurel Park.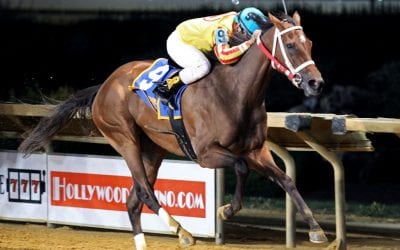 We provide picks and analysis for this evening's card at Charles Town Races.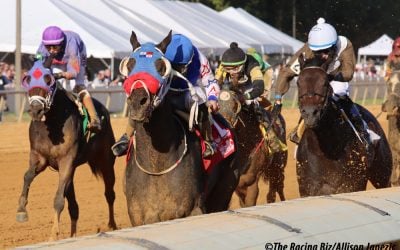 We provide full-card picks and analysis for this afternoon's races at Laurel Park.