Pimlico picks and ponderings May 13, 2021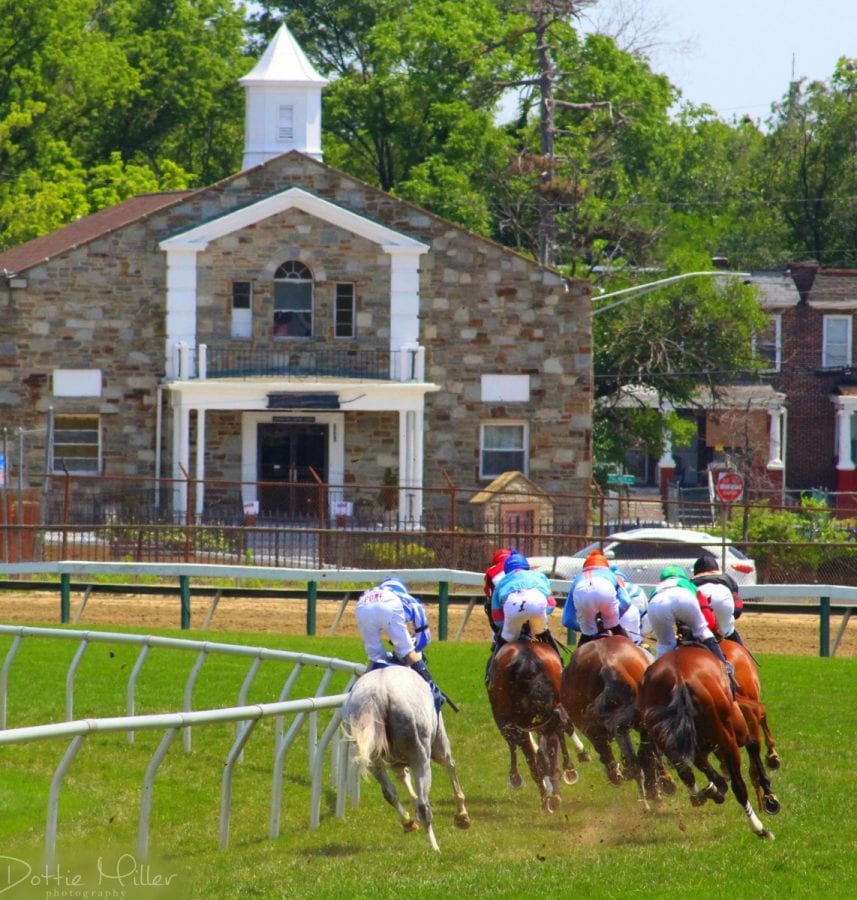 Horses round the first turn at Pimlico. Photo: Dottie Miller
In which we pick the races from Pimlico each day…
Post time: 12:40 p.m.
Carryovers: Rainbow Jackpot Pick 6 — $3,955  Super High 5 — $0 Late Pick 5 — $0
ANALYSIS
RACE 1: CLAIMING $16,000 (CONDITIONED), 3-YEAR-OLDS AND UP, 5 FURLONGS (GRASS)
8-4-6-14 (DIRT: 7-10-1-8)
There's four grass races on today's card, featuring a lot of horses who haven't raced on grass lately, or, in some cases, anywhere at all as of late. As a result, horses with any kind of recency have the edge. #8 Backwoods Boogie (2/1) is a half-length away from being a perfect 3-for-3 on grass. He earned a huge brisnet figure of 89 in his most recent grass start, which came on October 22 against tougher. He's coming off a bit of a layoff, having not raced since January 2, but at least he has a race this year, and Jerry Robb is a sharp 19% with horses coming off a 90+ day break. #4 Xmasinthecity (10/1) got caught up in a speed duel on dirt last out and faded. The only good thing is that was a recent race, having taken place on April 25. That'll give him the edge over some of these. He's taking a drop in class, has some good grass lines, including a win in October 2019 on the surface, and has some of the best early pace figures in the race. #6 Gins and Tins (5/2) steadily ran in the mid-80s on the Gulfstream Park grass last year; now makes his first start since October 15. Mary Eppler is a solid 20% first off the layoff; the horse adds Alexander Crispin in the saddle. Looking for him to sit mid-pack and move on the turn.
RACE 2: MAIDEN CLAIMING $16,000, 3, 4, AND 5 YEAR-OLDS, FILLIES AND MARES, 1 1/16 MILES
3-4-1-2
#3 Sheriff's Kid (7/5) ran a big race on the lead last out. She was hung three-wide on the pace, then left her two dueling partners behind and pulled clear late, only to get chased down by a closer. Comes into this race with the best last-out figure in the race by six points. I'm expecting a gate-to-wire performance here. #4 She's All Courage (5/2) drops to a career-low tag and comes off a career-best performance, where she closed well in the stretch to finish third, beaten about two lengths for second. I don't know if she can catch Sheriff's Kid, but she's a good candidate to round out the exacta. #1 Irish Brandi (5/1) also exits off a career-best figure, where she showed speed for the first time. Even though she gave way late, it's still an encouraging sign.
RACE 3: MAIDEN CLAIMING $25,000, 3, 4, AND 5-YEAR-OLDS, 1 MILE (GRASS)
2-6-8-1
#2 Stare Decisis (3/1) runs for the first time since September 7 at Saratoga, where he backed up after being ranked on the lead. He's run figures as high as 86 in a very scattered career that has seen him make four starts in a year and a half. Gets class relief and adds blinkers for his first start of the year. It's an open question if #6 Buzzhound (6/1) can transfer his form to grass, but he will be tough if he can. In his three career starts, all of which have come on dirt, he's run figures in the upper 60s and low 70s consistently, making some decent rallies each time. He's also raced recently, having made all of those starts in 2021. The most recent one came on April 25. #8 Mr Shades of Gray (6/1) has a similar profile, having competed recently, and exclusively on dirt. He chased a loose leader last out in his first time stretching out and faded. He will look to build on that effort here.
ANALYSIS
RACE 4: CLAIMING $12,500, 3-YEAR-OLDS AND UP, FILLIES AND MARES, 1 1/16 MILES
3-6-5-4
#3 Hidenseek Sally (9/2) ships from Parx for trainer Jamie Ness, after almost wiring a similar field last out. She's raced four times since returning from almost a year layoff in early February, and has been steadily improving each time. Will try to get to the lead on the rail and set the pace. #6 Yesterdaysplan (3/1) closed sharply to finish third last out on grass, in her first race following a three-month freshening. She's had to close off some slow paces lately, but always turns in a good account of herself. Will hope for an honest tempo. #5 Bring Me Answers (8/1) has won her last two, going gate-to-wire each time. It won't be as easy to get the lead here, but her early speed has to be respected.
RACE 5 – MAIDEN CLAIMING $25,000, 3, 4, AND 5-YEAR-OLDS, 1 MILE (GRASS)
10-16-15-7 (DIRT: 1-7-10-5)
#10 Jestful (2/1) races on grass for the first time since September 17, and makes his first start of any kind since December 11. In that last grass race, he made a solid bid for the lead, but couldn't change leads and faded. Makes his return in a race without much experience or demonstrated ability on grass. Adding Sheldon Russell for the first time helps. #16 Ouch Ouch Ouch (3/1) goes third off the layoff and ships down from New York, where he showed speed while stretching out against better last out. Might slip through the cracks if he draws in, due to being on the also-eligible list. #15 Ready Reward (4/1) held his own at Parx last fall, steadily running figures in the upper 60s. Cuts back from a two-mile affair at Middleburg, which may have been designed as a prep for a spot like this.
RACE 6: MAIDEN CLAIMING $10,000, 3, 4, AND 5-YEAR-OLDS, FILLIES AND MARES, 6 FURLONGS
5-4-2-1
#5 Irish Saga (3/5) deserves every bit of her odds-on morning line. She's run at least a 56 in each of her three starts, peaking at a 65 last out. No one else in the field has run a 56 on dirt at any point in their career. The only question is how much she'll win by. #4 Erica Jane (4/1) got some wagering action in her debut, going off at 10.10-1. She had a rough break, was rushed up to the lead, and backed up badly. Looks for improvement here. #2 Bobbini (15/1) got hung wide chasing the pace last out and stopped. Will be able to save more ground here and has room for improvement fourth time out.
ANALYSIS
RACE 7 – STARTER OPTIONAL CLAIMING $32,000, 3-YEAR-OLDS AND UP, 1 1/16 MILES (GRASS)
9-2-6-7 (DIRT: 7-13-8-11)
#9 Dreaming of Carats (8/1) spent the winter racing on the grass at Fair Grounds. Last out, he got a bit too excited and opened up a long lead, only to stop badly late. He's had some time off since then, and now adds Sheldon Russell while looking like the main speed of this field. If he can moderate his speed a bit, he could prove tough to catch. #2 Trouble Coffee (5/2) also has recent grass experience, having raced at Gulfstream over the winter, and has shown plenty of speed of his own. He ran a big race two back, when he rated off a hot pace and made a big move before getting outkicked. #6 Frosted Indian (9/2) tries winners and grass for the first time for Claudio Gonzalez and Angel Cruz. His tactical speed might come in handy here.
RACE 8: CLAIMING $8,000, 3-YEAR-OLDS AND UP, FILLIES AND MARES, 6 FURLONGS
4-2-3-1
#4 Swirrlie Shirlie (4/5) has won four of her last five, including a victory for $12,500 last out. Has dominant figures, great tactical speed, and Crispin in the saddle. #2 Cougar Vision (6/1) goes first off the claim for Saul Ramirez, who is 15% with such horses. She's won two in a row, albeit against softer, and should do her best running towards the end. #3 Grace Isabella (7/2) chased the pace in her first start off a brief break, but faded to fourth behind Swirrlie Shirlie. Looks to rate off the leaders, and should pack more of a punch second off the bench.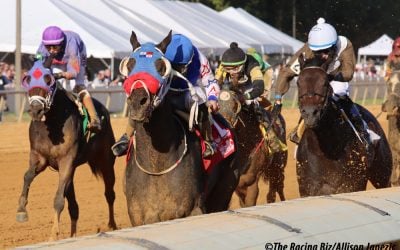 We provide full-card picks and analysis for this afternoon's races at Laurel Park.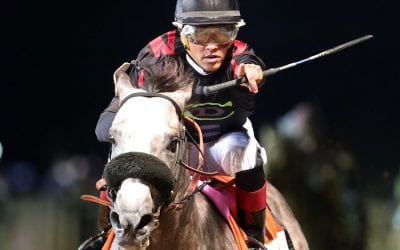 We've got Charles Town picks and preview today as the track presents its Friday card!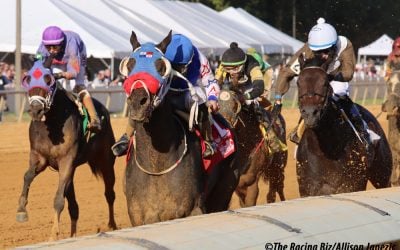 We provide full-card picks and analysis for this afternoon's races at Laurel Park.