PREAKNESS 2021 HORSE-BY-HORSE ANALYSIS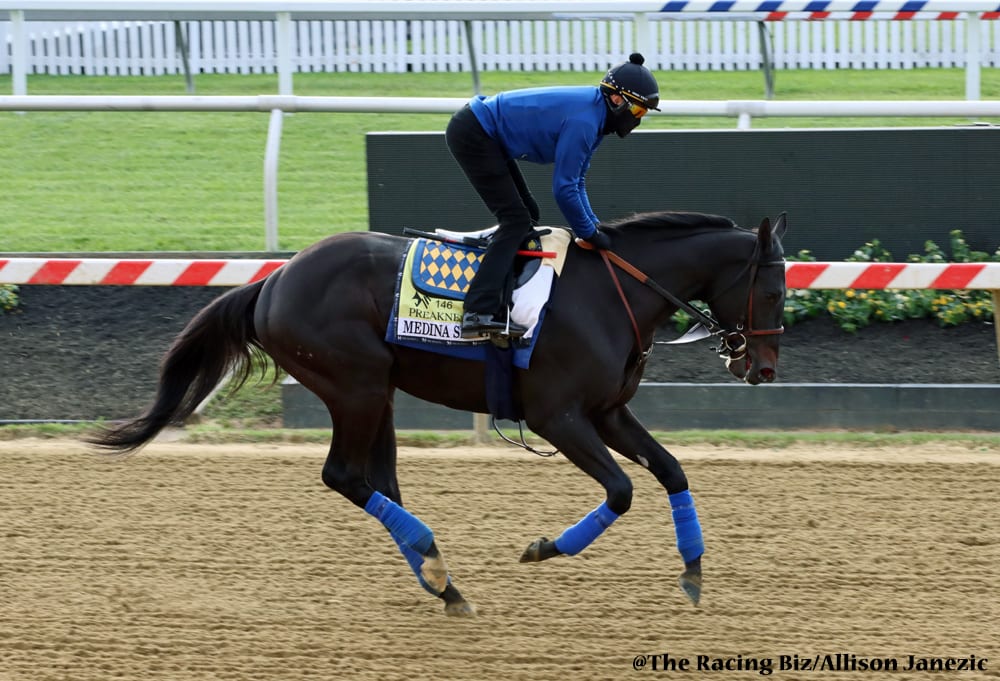 Joseph Aiello

May 13, 2021
A "spirited" effort in the Derby led to Bob Baffert picking up his seventh Run for the Roses victory, as longshot Medina Spirit held off a slew of challengers in the late stretch in a visually impressive effort. This time around, a field of mostly new shooters travels to Pimlico to try to prevent Baffert from picking up what would be a record-breaking eight Preakness wins. One of Medina Spirit's biggest threats, however, is Baffert's own Concert Tour, who bypassed the Derby after a sub-par effort in the Arkansas Derby. Concert Tour will pick up Hall of Fame jockey Mike Smith and may challenge for the lead, which could set up a murky pace scenario and allow for some unproven closers to finish well. Midnight Bourbon also looks to bounce-back after a tough Derby, and could add even more pace to the front-runners, potentially setting this one up for another strong longshot performance.
Before last year's thrilling stretch duel between Swiss Skydiver and Authentic, Baffert's Derby winners had never lost the second jewel of the Triple Crown, making this spot pressure-filled for Medina Spirit, and, amidst controversy, an important race for the horse and trainer to prove the Derby was no fluke. While this field isn't nearly as strong as at Churchill, one of the fresh entries will need to prove that they can compete with Baffert's duo and the Derby runners. That appears to be a tall ask for most here, but some with upside such as Risk Taking and France Go de Ina may get the right trip to move up into the money. Still, the three coming from Louisville and Concert Tour have a bit more class than the rest here, and seem to be the likeliest contenders. Post time for the 146th Preakness is 6:50 P.M. EDT and is race thirteen on Saturday's Pimlico card.
THE PICKS
#2 Keepmeinmind
#10 Concert Tour
#3 Medina Spirit
#5 Midnight Bourbon
(The PP running line includes race date, finish position, race name, and track, and you can click on it to open the video of the race).
1. RAM (30-1)
TRAINER: D. WAYNE LUKAS
JOCKEY: RICARDO SANTANA JR.
LIFETIME RECORD: 9-2-1-0
MOST RECENT RACE: 1ST, ALLOWANCE
Ran on Derby day at Churchill, but in an allowance race at the start of the card which ended up being his second career win. Visually, it was a strong effort and one where he finished well, able to pull away from the field with some left. Still a major step up in class and struggling to break his maiden in seven tries only to win after dropping into claiming company isn't a great sign. This colt by American Pharoah is likely to be the longest shot on the board and one that would need to run the race of his life to finish in the money.
2. KEEPMEINMIND (15-1)
TRAINER: ROBERTINO DIODORO
JOCKEY: DAVID COHEN
LIFETIME RECORD: 7-1-2-1
MOST RECENT RACE: 7TH, GRADE I KENTUCKY DERBY
Most knew he would be closing in the Derby, but entering the first turn dead last by nineteen lengths isn't ideal, and swinging extremely wide before entering the stretch made his trip very difficult. Despite a suboptimal trip, he still managed to get up for seventh, picking off a couple horses in the stretch still with a little left in the tank and was the only one closing. Of the deep closers who can end up being good exotics plays or have upset potential if the three leaders run each other into the ground, this one seems to have the most upside. Early position will be key here, and he will probably run best if David Cohen places him around ten lengths behind the leaders entering the first turn. Avoiding a wide closing trip will also be key to conserve energy and guarantee a strong finish.
3. MEDINA SPIRIT (9-5)
TRAINER: BOB BAFFERT
JOCKEY: JOHN VELAZQUEZ
LIFETIME RECORD: 6-3-3-0
MOST RECENT RACE: 1ST, GRADE I KENTUCKY DERBY
Controlled the early lead in the Derby after Rock Your World got bumped and others like Midnight Bourbon sat off, but was still able to have enough left in the tank late despite solid fractions. This time around may be more difficult, especially if Midnight Bourbon and Concert Tour decide to apply more pressure at the start. Could still have plenty of doubters, especially with the recent post-race drug test, and is likely to take a step back here after a Herculean stretch run in Kentucky. Still an important contender purely based on the fact that he could again dictate the pace in a race which has been biased towards front-end speed in the past, but seems like a spot where he could finally get passed for the first time in his racing career.
4. CROWDED TRADE (10-1)
TRAINER: CHAD BROWN
JOCKEY: JAVIER CASTELLANO
LIFETIME RECORD: 3-1-1-1
MOST RECENT RACE: 3RD, GRADE II WOOD MEMORIAL
Getting Javier Castellano is always a good thing, but based purely on this colt's past performances, a try here may be a bit too much to ask. He ran well two back in the Grade III Gotham, but didn't come home particularly fast and couldn't hold on to his lead at a mile. Last time out in the Wood Memorial, Crowded Trade broke dead last and was closing nicely around the far turn, appearing as if he would walk by the leaders and win despite a lack of pace. Instead, he flattened in the stretch and saw Bourbonic run by, settling for third. Considering Bourbonic and Dynamic One both didn't show much in the Derby, this is probably one to take a pass on, especially if he misses the break. There appear to be other closers here that are better, and his best chance to hit the board would probably be a trip sitting off the top three leaders. Still, a torrid pace scenario may be enough for this colt to run a good, closing effort.
5. MIDNIGHT BOURBON (5-1)
TRAINER: STEVE ASMUSSEN
JOCKEY: IRAD ORTIZ JR.
LIFETIME RECORD: 8-2-2-3
MOST RECENT RACE: 6TH, GRADE I KENTUCKY DERBY
Loses Mike Smith, but adds an aggressive Irad Ortiz who could be exactly what this Asmussen trainee needs. Didn't get the easiest of trips at Churchill, but that experience could be invaluable as this colt by Tiznow finished solidly into sixth in his first real closing effort in his career. While that style might not suit him best, Irad and Asmussen could have him sitting in third or fourth early, or opt for his preferred trip directly amongst the leaders. This seems like one that should take a good step forward, but probably still needs a perfect trip from Irad Ortiz to end up in the money or with a chance to win.
6. ROMBAUER (12-1)
TRAINER: MICHAEL MCCARTHY
JOCKEY: FLAVIEN PRAT
LIFETIME RECORD: 6-2-1-1
MOST RECENT RACE: 3RD, GRADE II BLUE GRASS STAKES
Finished a distant third last time out behind Essential Quality and Highly Motivated in the Blue Grass, but will probably revert to a closing style here after being up on the pace in that try. Another that needs a strong pace to be a factor here, but clearly seems to be improving and has made some big moves in the past. A bit concerning that his best win came on an artificial surface and does seem to be a step below some others here, but one that could possibly find a way into the top four with the right trip and setup.
7. FRANCE GO DE INA (20-1)
TRAINER: HIDEYUKI MORI
JOCKEY: JOEL ROSARIO
LIFETIME RECORD: 4-2-0-0
MOST RECENT RACE: 6TH, GRADE II UAE DERBY
Won two in Japan before a middling effort in the UAE Derby in Dubai, but keeps Rosario after Mike Smith takes over on Concert Tour. A bit of a wild card here and long distance travel is usually not conducive to great performances for these horses, but getting a top-flight jockey who likes to come from the back of the pack could be worth a play here. Distance also probably isn't a problem, since both of his wins have come at a mile and an eighth. With some recent triple crown success for Japanese based horses, maybe this one is next in line to put forth a strong effort and be a good play in exotics.
8. UNBRIDLED HONOR (15-1)
TRAINER: TODD PLETCHER
JOCKEY: LUIS SAEZ
LIFETIME RECORD: 5-1-1-0
MOST RECENT RACE: 2ND, GRADE III LEXINGTON STAKES
Made a huge move in the Lexington last time out, finishing a clear second after breaking twelve lengths behind the leader. Maybe this was one that took well to the sloppy track that day in Keeneland, but the distance here should definitely not be an issue. Yet another one that needs a pace duel, and even still would need to build off of last race. Probably one to pass on here, with others more likely to make good closing moves, but could maybe find himself in the top four if things go to plan.
9. RISK TAKING (15-1)
TRAINER: CHAD BROWN
JOCKEY: JOSE ORTIZ
LIFETIME RECORD: 5-2-0-0
MOST RECENT RACE: 7TH, GRADE II WOOD MEMORIAL
Ran well in the Withers as the post-time favorite, but really didn't move at all in the Wood Memorial and is probably slightly overmatched here. Similar to the other Brown trainee coming from Aqueduct, there would need to be noticeable improvement to be a real contender, but in this overall weak field, it is possible for him to contend if there is a hot pace. Gets Jose Ortiz and should be fine with the distance here, plus being bet to favorite in his last two is a good sign. May have a bit more upside in this spot than Crowded Trade if the Wood Memorial is disregarded, but could also be one to flame out if the break doesn't go as planned.
10. CONCERT TOUR (5-2)
TRAINER: BOB BAFFERT
JOCKEY: MIKE SMITH
LIFETIME RECORD: 4-3-0-1
MOST RECENT RACE: 3RD, GRADE I ARKANSAS DERBY
Appeared to be distance limited in his Arkansas Derby, so a front-running style with Medina Spirit here could be trouble, especially if the fractions are similar to that try. Doesn't have experience with ground-saving trips, and probably needs to be running a stalking style here, but his best chance to win would probably be a wire to wire effort that is unlikely if Midnight Bourbon and Medina Spirit make things quick in the early goings. Can definitely finish in the money, but needs a couple things to go his way to be able to find the winner's circle here.
LATEST NEWS