MEDINA SPIRIT TO BE PERMITTED TO ENTER PREAKNESS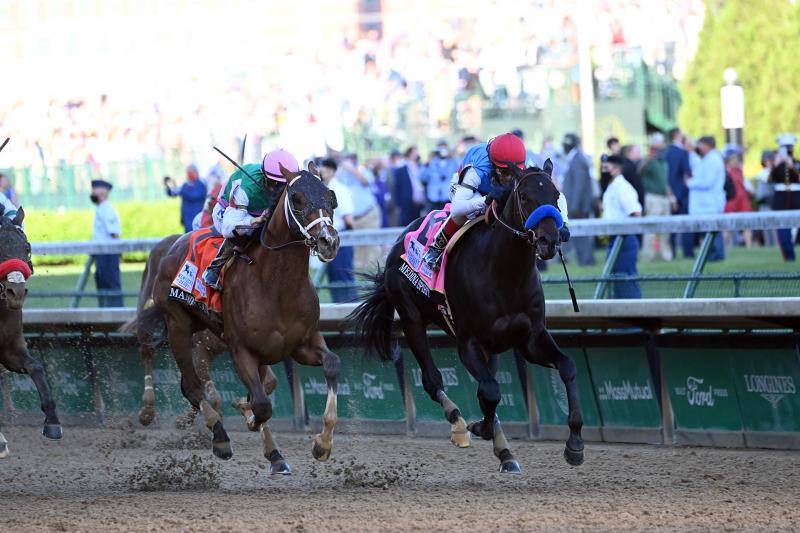 Frank Vespe

May 11, 2021
Medina Spirit, the upset winner of the May 1 Kentucky Derby whose victory was immediately cast into question when he tested for an overage of betamethasone, will be permitted to enter the Preakness.
The Maryland Jockey Club, which had delayed Preakness entries by 28 hours to consider its options, announced the decision Tuesday afternoon.
The company is imposing several conditions on the entry. Among those is what the company called "a binding commitment from Bob Baffert to full transparency of medical and testing results that will allow for all results to be released to the public."
According to the company, Baffert agreed to permit the MJC to undertake "rigorous testing and monitoring in addition to that conducted by the Maryland Racing Commission."
Those tests, the company said, "are to ensure the fairness and integrity" of the weekend's top races, and they apply to Medina Spirit and Concert Tour, both Baffert runners to contest the Preakness, and Beautiful Gift, the morning line favorite in the Grade 2 George E. Mitchell Black-Eyed Susan Stakes, the Friday feature.
Baffert also agreed that if any of the three horses test positive for a banned substance, or at a level above that which is allowed, he will scratch that horse.
The situation arose when Medina Spirit, a 12-1 surprise in the Kentucky Derby, was found to have 21 picograms of the corticosteroid betamethasone in his system. Baffert at first denied ever having administered betamethasone to Medina Spirit, but on Tuesday, in a statement released by his lawyer, he acknowledged that in fact his team had treated the horse with a topical anti-fungal ointment called Otomax, which contains betamethasone.
"Integrity, accountability and safety in our sport are principles that 1/ST Racing [the company which owns the MJC] puts above all else," Craig Fravel, CEO of 1/ST Racing, said in a statement. He continued, "We are well aware of the public outcry and calls for action that have been the natural outcome of a medication positive in one of the most iconic races in our sport and we share the disappointment and concern."
In a letter to MJC counsel Alan Rifkin, Baffert's attorney, W. Craig Robertson, said his client would consent to the conditions.
"Mr. Bafffert has given these consents to further the interests of horse racing and the public," he wrote, adding, "The integrity of the sport is of the upmost [sic] importance to Mr. Baffert and by consenting to this testing regiment and monitoring he reaffirms his commitment and dedication to the sport."
LATEST NEWS