BAFFERT: ANTI-FUNGAL POSSIBLE CAUSE OF POSITIVE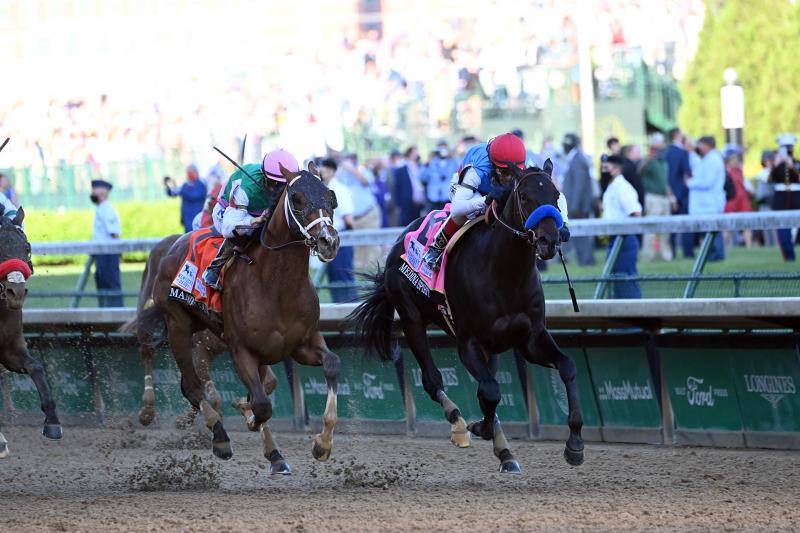 Frank Vespe

May 11, 2021
In a development that could fairly be described as stunning, trainer Bob Baffert issued, through attorney Craig Robertson, a statement Tuesday morning acknowledging that his team had likely exposed Medina Spirit to the betamethasone that triggered a positive test after the Kentucky Derby.
Medina Spirit's post-Derby test came back with a reading of 21 picograms of the corticosteroid – double the allowed limit of 10 in Kentucky. If the split sample confirms the initial finding – and expected appeals do not overturn the test results – Kentucky's rules call for Medina Spirit to be disqualified and to forfeit the winner's share of the purse.
Were that to happen, he would be the second Derby winner to lose the Kentucky Derby via drug-related disqualification. In 1968 Dancer's Image was DQed after traces of phenylbutazone were found in his urine post-race.
According to Baffert's statement, the possible source of the betamethasone in Medina Spirit's system is an anti-fungal ointment called Otomax, one of the ingredients of which is betamethasone.
After running second in the Santa Anita Derby, Baffert's statement said, Medina Spirit developed dermatitis on his hind end. A veterinarian recommended daily application of Otomax to help heal the dermatitis and to keep it from spreading.
"My barn followed this recommendation and Medina Spirit was treated with Otomax once a day up until the day before the Kentucky Derby," Baffert said.
While saying it was not certain that the Otomax was the cause of the betamethasone positive, Baffert added, "I have been told by equine pharmacology experts that this could explain the test results."
Betamethasone is a corticosteroid that often is used as an anti-inflammatory for horses, helping to combat joint and other pain. It also is used, as, allegedly, in this case, to combat skin diseases.
Baffert first announced the positive in a hastily assembled Sunday morning press conference on the Churchill Downs backstretch. At the time, he said he had no idea how the horse might have been exposed to betamethasone but said his team had never administered it to him.
Much discussion in recent days has centered around whether Baffert may have been using the drug to gain an unethical edge over his competitors or to mask pain the horse might be feeling. It is the third time in just about one year that a horse he trains tested for a medication overage following a strong effort in a top-level, Grade 1 race.
Following last year's Arkansas Derby, winner Charlatan was found to have a lidocaine positive. On appeal, the state Racing Commission reduced the penalty from disqualification to a $5,000 fine. And Gamine – who also had a lidocaine positive that day – subsequently had a betamethasone positive after running third in the Kentucky Oaks. She was disqualified for the overage.
In the statement, however, Baffert denied any attempt at wrongdoing.
"[T]his has never been a case of attempting to game the system or get an unfair advantage," he wrote.
Medina Spirit is tentatively scheduled to seek the second jewel in the Triple Crown in the May 15 Preakness Stakes. Post position draw for the Preakness is Tueday at 4:00 p.m.
LATEST NEWS