LAUREL PARK TO MODIFY SCHEDULE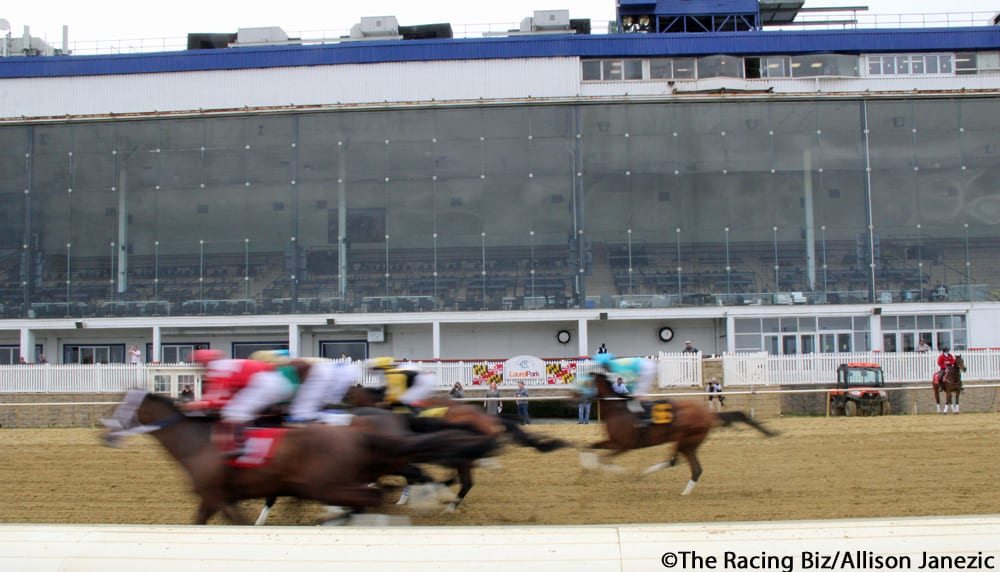 Frank Vespe

April 8, 2021
Laurel Park, slated to exit quarantine April 18, has made changes to its racing schedule for that weekend. The track will not run April 15 or April 16, as originally scheduled, but will have a live card on Monday, April 19.
As a result, its schedule for that week will include Saturday, April 17; Sunday, April 18; and Monday, April 19.
The track announced the changes in a text message to horsemen.
The Maryland Jockey Club had previously announced it would move the stakes it originally had scheduled for April 17 to April 24.
Races in the book for April 15 will now be offered as extras for the Saturday, April 17 card. The races in the book as the April 16 card will be brought back, in their entirety, to be offered as the April 19 card.
The track will also offer its first turf races of the year April 17. Two grass races originally in the book for the 15th are among those that will appear as extras for the Saturday card.
Maryland racing has been buffeted by an outbreak of equine herpesvirus (EHV-1) that has seen, according to the Equine Disease Communication Center, 36 confirmed cases at Laurel Park and Pimlico and necessitated the reactivation of the Bowie Training Center as a secure location for horses affected by the highly contagious disease.
Equine herpesvirus (EHV-1) is a DNA virus that can cause neurological problems in horses, as well as respiratory disease and other issues. While it is spread from horse to horse, it can also be spread indirectly by humans and by contaminated equipment and tack.
Track officials originally treated Laurel and Pimlico as, effectively, one site, allowing horses to move back and forth between the two facilities. However, when positives arose at Pimlico, the Maryland Jockey Club, working with state regulators, placed each of the three facilities – Laurel, Pimlico, and Bowie – under separate quarantines.
Pimlico is slated to emerge from quarantine, which would permit free movement of its horse population, on April 12. Bowie will exit quarantine status on April 17, and Laurel will follow suit April 18. The schedule is contingent on having no further positive tests.
LATEST NEWS