LAUREL PARK PICKS AND PONDERINGS APR. 9, 2021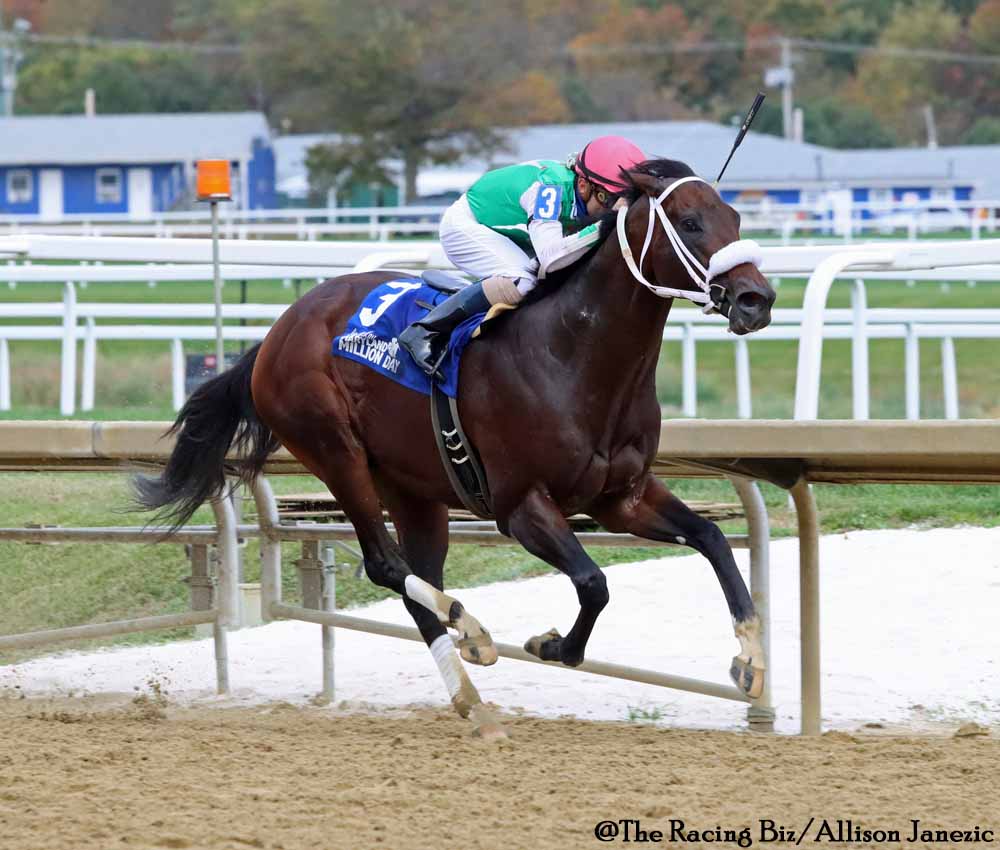 RACE 1: CLAIMING $16,000 (CONDITIONED), 3-YEAR-OLDS AND UP, 6 FURLONGS
6-2-1-3
The betting public will likely see this as a two-horse race, with one horse at 8/5 on the morning line and another at 9/5. I'll take a shot with the higher-priced one of the two, that being #6 Fugitive (9/5). He won against better two races back, with a strong brisnet figure of 85, and has gotten some time off since a dull last race. Looks to sit a great trip right off the leaders. #2 Commanding General (5/1) went gate-to-wire against n/w2L company last out, now takes a step up in class but has an advantageous post position. Sheldon Russell will likely use him aggressively to try and get after the lead. #1 No Fooling Dude (10/1) also has early speed and will seek to avoid a duel. If the two get involved with each other early, that bdoes well for Fugitive.
RACE 2: STARTER ALLOWANCE $5,000, 3-YEAR-OLDS AND UP, FILLIES AND MARES, 1 MILE
7-4-3-5
Michael Gorham claimed #7 Sammie Sunshine (5/1) out of her last race, which was a career-best performance and a massive step up in her second start on the local circuit. She crushed a conditioned claiming field by four lengths at seven furlongs, improving her figure almost 30 points from her race two back at Charles Town. There's speed in this field, but no one with her early pace figures. If she's as fast early on as she was last out, she may prove tough to catch. #4 Wicked Solution (2/1) gets back to one turn after two flat tries at Penn National. She earned good figures in both, but given the trips she had in those races, it's disappointing that she didn't win both. This is her first try around one turn in a while. #3 Ragtime Suzy (5/1) looks for a rebound third off the layoff after a poor effort last out. She had rattled off three figures in a row of at least 78 before going on the sidelines in early January, and she hasn't been the same since her return. Out for redemtpion here.
RACE 3: MAIDEN SPECIAL WEIGHT, 3, 4, AND 5-YEAR-OLDS, FILLIES AND MARES, 7 FURLONGS
1-5-6-4
#1 Memphis Mafia (7/5) went off as the favorite last out, despite being the only first-time starter in the field. She ran a big one, too, drawing clear in the stretch before getting chased down late. On paper, it's a step up in class, but this isn't really a tougher field than the one she saw last time when in for a $40,000 tag. Brittany and Sheldon Russell are always dangerous when they team up. A likely pick 5 single for many. #5 Self Assured (3/1) comes out of the same race, and it was a decent one for a horse making their first start in almost nine months. She rated off the pace before fading, with a career-best figure of 67. Rodney Jenkins is 32% second off the layoff, with a sample size of eighteen runners in recent times. #6 Why Not Tonight (9/2) goes first out since September and adds blinkers for Mike Trombetta. Should round out the trifecta if she shows up at all first off the bench.
RACE 4: ALLOWANCE (N/W1X), 3-YEAR-OLDS AND UP, MD-BRED, 7 FURLONGS
5-8-6-2
#5 Benandjoe (7/2) hasn't won since November 5, but his figures have improved rather dramatically since then. He's run in the 90s twice in his last three starts, including his last race where he rallied well in the stretch to be beaten by 2 1/4 lengths. He's had some time off since that February 5 race, and had had two solid workouts since then for Hugh McMahon.#8 Valued Notion (4/1) is a perfect 2-for-2 in 2021. Last out, he ran huge, as he went gate-to-wire while running the test of the leaders into the ground. Very dangerous despite the outside draw. #6 Baptize the Boy (5/2) has been knocking on the door lately, but can't quite get the job done despite great trips. Last out, he rated off the pace in a similar field, but he got outkicked by the early leaders. Interesting to note that neither Alex Crispin nor Victor Carrasco, who have been riding him lately, are both named on other horses. Still, his figures make him a contender, just be leery at low odds.
RACE 5: MAIDEN SPECIAL WEIGHT, 3-YEAR-OLDS, 7 FURLONGS
3-1-2-8
Brittany and Sheldon Russell are in good position to sweep both 3-year-old maiden races on the card. They'll send out firster #3 Plissken (2/1), who has a good string of four-furlong and five-furlong drills. The betting will tell the story on him. If he gets a lot of money in the win pool, he's probably the goods. Some nice race placement here, as this one begins the late pick 5, and having it there makes things easier for those playing the wager. Bettors playing it can tell if they should single Plissken or not based on the win pool action. #1 Pharoah's Fury (8/1) improved his figure 21 points from his debut last out, setting the pace going a mile and fading in the last eighth. His early speed should play better at this shorter distance. It's certainly possible he goes out to the lead and no one else can catch him. #2 Souper Emperor (7/2) made some good ground last out to finish fourth on debut, but never seriously threatened the winner. Wil need to step up a bit second time out, but looks capable of doing so.
RACE 6: CLAIMING $5,000 (CONDITIONED), 3-YEAR-OLDS AND UP, 1 1/16 MILES
8-1-4-2
#8 Bozzini (3/1) has steady figures in the mid-70s to low-80s, and drops from a starter optional claiming field that was tougher than the one he'll see here. Looks to rate near the pace while not losing too much ground. Gets the nod in a wide-open race. #1 Monkey's Medal (4/1) hasn't shown a lick of early speed in his last six, but has enough of a closing kick to rally late and get a piece of the exotics. #4 Earned It (5/1) has run at least a 75 in each of his last three but was visually unimpressive after getting wide trips. Cuts back in distance slightly and should be able to save more ground than usual.
RACE 7: MAIDEN CLAIMING $40,000, 3, 4, AND 5-YEAR-OLDS, 1 MILE
4-2-1-5
#4 Replicant (7/2) made his first start in more than a year last out, finishing second with a career-best figure of 79 in a similar field. Will be tough if he can improve second off the bench. #2 Shanghaied Astoria (15/1) ran well first out. Even though he didn't show any early speed, he wove his way through traffic and made up solid ground in the last quarter of a mile. Looms as a very live longshot. #1 Ratify (7/5) has finished second five times in a row, twice as the favorite. He can win this race, but I would tread lightly on a horse like that as the prospective favorite.
RACE 8: STARTER OPTIONAL CLAIMING $25,000, 3-YEAR-OLDS AND UP, 7 FURLONGS
4-1-6-7
The Stronach 5 begins here. Going to try to start the sequence with a price, in the aptly-named #4 Flat Out Flying (8/1). He's closed lots of ground in each of his last two races. Last out, he gobbled up ground in the last quarter after falling behind a slow pace, but still lost by half a length. He might like the one-turn mile more than today's seven furlong distance, but he's been in good from and should go off at very bettable odds. Jamie Ness, who won a race on opening day, send out a coupled entry here. Giving the slight edge to #1 Shanghai Superfly (5/2), as he won at this level two back and takes a drop in class. #6 Even Thunder (6/1) goes first off the claim for Michael Gorham off two consecutive victories. Can go right to the front or rate. His recent successes have come going two turns; interested to see how he does on the cutback.
RACE 9: MAIDEN CLAIMING $40,000, 3-YEAR-OLDS, 6 FURLONGS
7-1-2-3
The card concludes with the third leg of the Stronach 5. #7 Ladneedshandler (6/1) gets a jockey upgrade to Charlie Marquez, and has raced very well in his three starts this year. His last race was probably his best one yet, as he made ground up the inside and just missed. #1 Buzzhound (8/1) also closed ground in his debut, rallying from fifth to lose by 1 3/4 lengths. Workouts since then have been sharp. #2 Portal One (8/5) has finished second three times in a row against similar, and is the clear-cut early speed. Anyone who bets him at low odds is hoping he goes to the lead and forgets how to stop. He cuts back from seven furlongs last time. If that last race was six furlongs, he likely would've held on.
LATEST NEWS