THE WEEK IN SOCIAL MEDIA: MARCH 12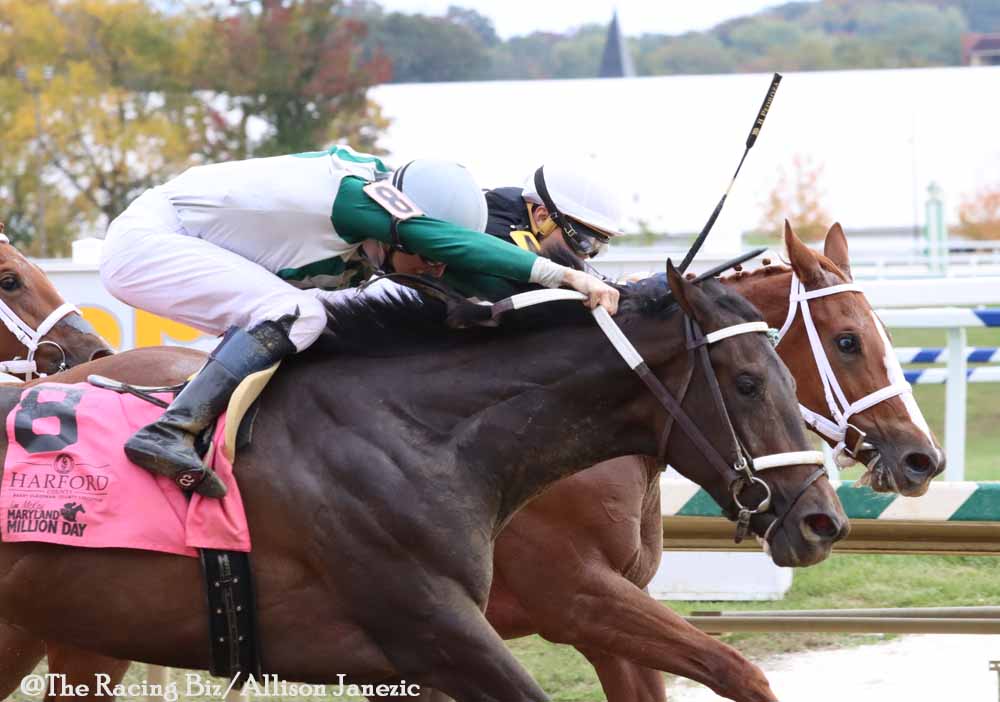 Maryland Million date announced
Jim McKay Maryland Million Day will take place on Saturday, October 23 at Laurel Park.
The Jim McKay Maryland Million Day features a race card highlighting the offspring of stallions who stand in Maryland. In 2020, Maryland Million Day attendance was limited because of Covid-19 restrictions. Leading up to this year's renewal of the event, Maryland Million Ltd. will be monitoring the situation surrounding the pandemic with both track management and county officials in order to determine the acceptance of fan attendance for the 2021 event.
"After a very challenging year in 2020 we are looking forward to October 23 at Laurel Park to be a great day of racing and with fans in the stands again," Cricket Goodall, the executive director of Maryland Million Ltd. stated. "With several stallions having their two-year-old crops debuting this year, the breeding and racing industry in Maryland is ready to shine again on Maryland's Day at the Races."
Milestone for Boca
Charles Town-based jockey Arnaldo Bocachica reached a milestone in his career this past weekend when he rode to victory in the seventh race on March 6 to record his 2,000th victory.
Bocachica achieved his 2,000th career victory aboard the 4-year-old Graydar gelding Never Compromise. Trained by Jeff Runco, the gelding was sent off in the 1 1/16th mile allowance race for West Virginia-breds as the favorite. Never Compromise did not let his connections down, and after seizing the lead by the three-sixteenths pole, the gelding left his competition in the dust as he pulled away to a comfortable 1 ¾-length victory. The final time for the race came in 1:50.92 on the main track that was listed as fast.
In his career through March 6, Bocachica had collected purse earnings of $34,295,866 with his 2,000 wins coming in 9,589 starts. For the last three years in a row, the rider has been atop the track's jockey standings for both wins and purse earnings.
EHV-1 puts Laurel barns on lockdown
An outbreak of equine herpesvirus has been confirmed in the state of Maryland, forcing travel restrictions to be put into place for all horses stabled at Laurel Park and Pimlico Racecourse.
A post made on the Maryland Jockey Club's Twitter page on Tuesday afternoon read "EFFECTIVE IMMEDIATELY: No horses are allowed to ship out of Laurel or Pimlico, with the exception of Pimlico horses entered to run at Laurel." Officials of the Maryland Jockey Club plan to meet with the veterinarian of the Maryland Department of Agriculture to review the ongoing investigation of the alleged EHV-1 outbreak that is taking place at Laurel Park. There has currently been one confirmed positive case of EHV-1 at Laurel Park this week.
As of March 9, four barns at Laurel Park have been placed under quarantine (barns 1, 4, 10, and 11) after the confirmed case of a horse with EHV-1 "wild type" was confirmed. The afflicted horse is currently being treated at Marion duPont Scott Equine Medical Center in Leesburg, Va. The horse is reportedly responding well to treatment.
The quarantine period at the track is expected to last for 14 days. However, any new positive case will reset the 14-day quarantine until the area is cleared of the virus. During this period of quarantine, horsemen and horsewomen at the track are instructed to record temperatures of their horses twice a day and are to remain vigilant of any respiratory or neurological symptoms presented by any of the horses.
The equine herpesvirus is a highly contagious disease that can lead to respiratory infection, neurological issues, and loss of pregnancy in equines.
LATEST NEWS