BACKTRACKS: BLUE SPARKLER SHINES BRIGHT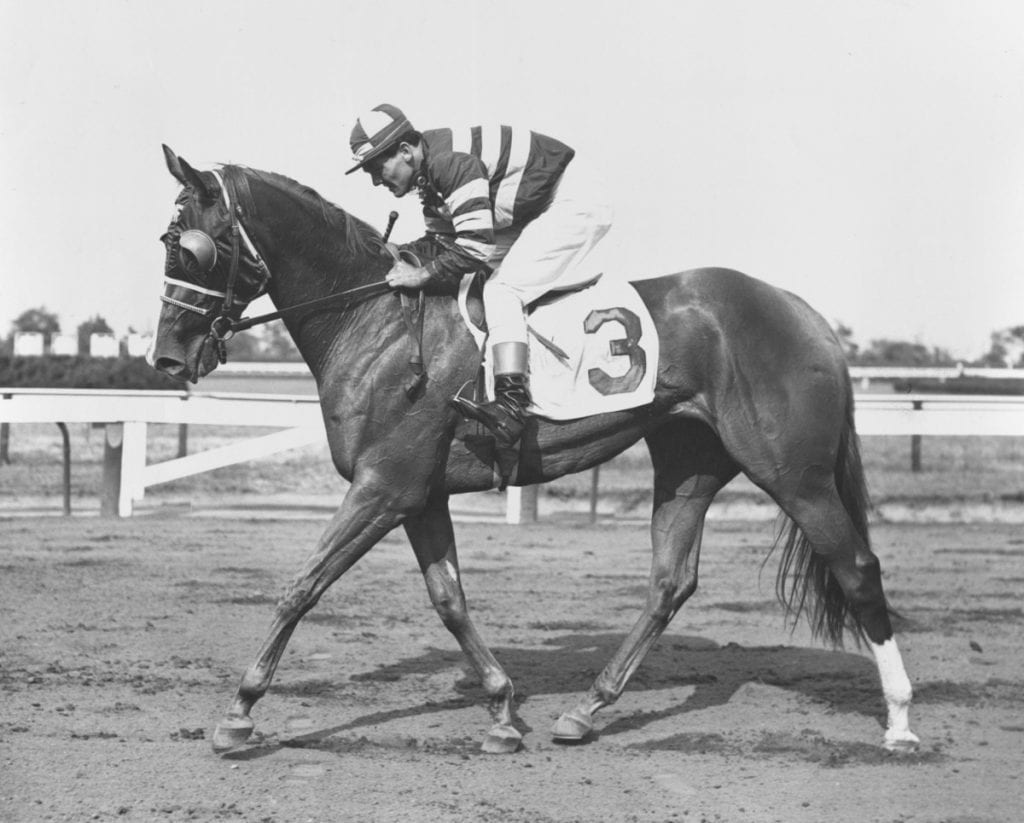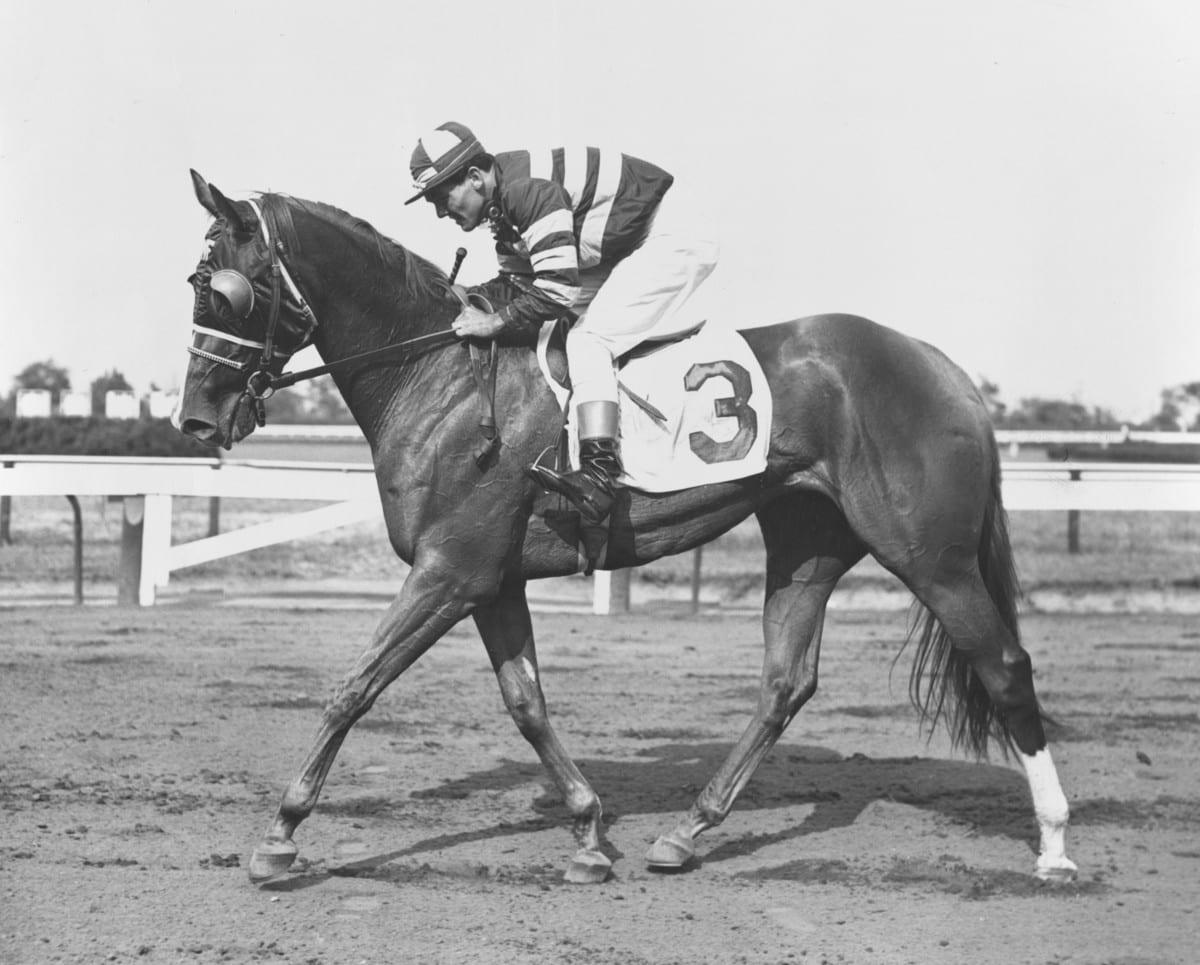 Beginnings, human and equine
The son of Jonathan Amory Haskell, who served as a vice-president of both General Motors and duPont, Amory L. Haskell's early life was spent in the company of horses; by the age of seven, he was jumping over hurdles and nursing an interest in hunters. After serving in World War I, Haskell returned home to serve as vice-president and general manager of General Motors and then later started his own company, Triplex Safety Glass Company.
His family's wealth plus his own business acumen gave Haskell the means to purchase his own farm, Woodland Farm in Red Bank, New Jersey. There, he was able to host an annual hunt, where up to 300 guests would enjoy champagne and elegant dining while watching fox hunting and horse races. Woodland also was home to Haskell's own Thoroughbred operations, where he bred horses to race at many mid-Atlantic tracks.
In 1951, Haskell paired his homebred sire Knave High with another homebred, Blue Tiara, and produced a lovely chestnut filly he named Blue Sparkler. Neither her sire nor dam had made much of a mark on the racetrack – between them they had eight starts and zero wins – but her grandsire Jack High had won the Metropolitan Handicap as well as the Hopeful, Tremont, and Flash Stakes. She also boasted horses like John P. Grier, Upset, Mad Hatter, and Celt in her pedigree, giving Blue Sparkler a stellar pool of genes to run on in her days on the racetrack. And run she did.
At two, she won four of her five starts, winning the Wanda Stakes after the winner was disqualified and then losing in the New Jersey Breeders' Stakes in the same manner when she impeded another horse in the stretch.
She started her three-year-old season off on a high note in the Jim Thorpe Purse, a six-furlong test where she beat both males and females. She then started in the Black-Eyed Susan and the Betsy Ross Stakes, but she did not factor in either. Blue Sparkler won two of her next three starts, including the Miss Woodford Stakes at Monmouth, before losing a stretch duel to Misty Morn in the Monmouth Oaks. After her close defeat in the Monmouth Oaks, the filly was not seen in the Haskell maroon and yellow again until the following spring.
A banner year, indeed
For Blue Sparkler, 1956 "should be a banner year for this game, four-year-old stake contender," according to trainer Harry Wells as he prepared her for the campaign ahead. By this point in her career, the daughter of Knave High and Blue Tiara had more than outrun her pedigree to some extent, winning in her division as well as in open company and logging almost as many wins as her parents had had starts.
But even Wells probably didn't realize just how banner a year she would have. Ahead in the new year were more chances to wow mid-Atlantic crowds, with races like the Regret and Atlantic City Handicaps ahead of her.
After winning her first start of the year, an allowance race at Garden State, she returned to her owner's Monmouth Park to compete in the six-furlong Regret Handicap, named for the famed New Jersey-bred filly who became the first distaffer to win the Kentucky Derby, in 1915. The race also featured High Voltage, the Black-Eyed Susan Stakes and Coaching Club American Oaks winner of the previous year, and Gandharva, who had beaten Blue Sparkler in the Betsy Ross Stakes.
Despite the salty opposition, Blue Sparkler won the Regret in record time, sprinting the six furlongs in 1:09 1/5. After the race, her jockey Orvie Scurlock expressed his enthusiasm for his Haskell filly: "I have been very high on this filly right along. She got the job done and did it quickly."
At a mile and a quarter, the Delaware Handicap was a question mark for the filly who had had most of her success at sprinting distances to that point. Could Blue Sparkler extend her speed out to ten furlongs? She did her best, leading for the first seven furlongs, but could not hold on for another three, finishing seventh.
After the DelCap, she returned to Monmouth for the Molly Pitcher Handicap, blowing away eight other fillies and mares to win by eight lengths. In her next two starts, she was second in the Bellerose and then was disqualified and placed second after interfering with Gandharva in the Champlain Handicap before a mid-August date with the boys in the Atlantic City Handicap.
In 1956, the name Nashua carried weight – literally. Anytime he was entered in a race, he was sure to carry a sizable amount of weight, owing to his status as both a dual classic winner and Horse of the Year in 1955. His name appeared at the top of the list for the Atlantic City Handicap, giving away ten pounds to Find and sixteen pounds to Blue Sparkler. As one of two fillies in the field, Blue Sparkler got a break in the weights in this open company race anyway, but would that be enough to mount a serious challenge to a horse like Nashua?
A crowd of 33,232 turned out at Atlantic City Race Course to see Nashua but were greeted with bad news just two hours before post time: a suspected case of colic meant that the champion would not be seen that August day. Instead, the Atlantic City Handicap became the Blue Sparkler Show: she took the lead from the start and remained in front for the entire nine furlongs. Finishing a half-length in front of Skipper Bill, she surprised the Atlantic City crowd with her upset victory, her fifth of the season. It would also be her last.
She missed the winner's circle in the rest of her races in 1956, and, after a fourth-place finish in the Beldame, Blue Sparkler came up lame in her preparation for the Maskette. Harry Wells saw that she was on the verge of bowing a tendon and decided to take her out of training to save her for racing at age five.
She was voted Best Handicap Mare for 1956 by turf writers in recognition of her wins in the Regret, the Molly Pitcher, and the Atlantic City Handicaps.
But a return to racing in 1957 was not in the card for the Sparkler. Harry Wells announced her retirement when he found that she would not stand up to training for another season. Amory Haskell retired his champion mare to Woodland Farm for her next career as a broodmare.
Legacies
As a broodmare, Blue Sparkler would go on to produce six foals, including Mac's Sparkler, who won the Beldame Stakes in 1967. After her retirement, Delaware Park would inaugurate a stakes race named for Blue Sparkler, which then moved to Garden State Park and later Monmouth Park, where it is now a five-and-a-half furlong dirt stake. Twenty years after he helped revive Monmouth Park, Amory Haskell died from a heart attack, but his daughters Isabelle de Tomaso and Hope Haskell Jones have carried on his legacy, breeding and racing horses like Irish War Cry, winner of the 2017 Wood Memorial.
Haskell's Blue Sparkler remains the best horse to race in his maroon and yellow colors, her championship career earning her a spot in the Thoroughbred Breeders of New Jersey's Hall of Fame, where she joined other Garden State greats like Kentucky Derby winners Regret and Cavalcade and Triple Tiara champion Open Mind.
Sources
LATEST NEWS