LAUREL PARK PICKS AND PONDERINGS JAN. 18, 2021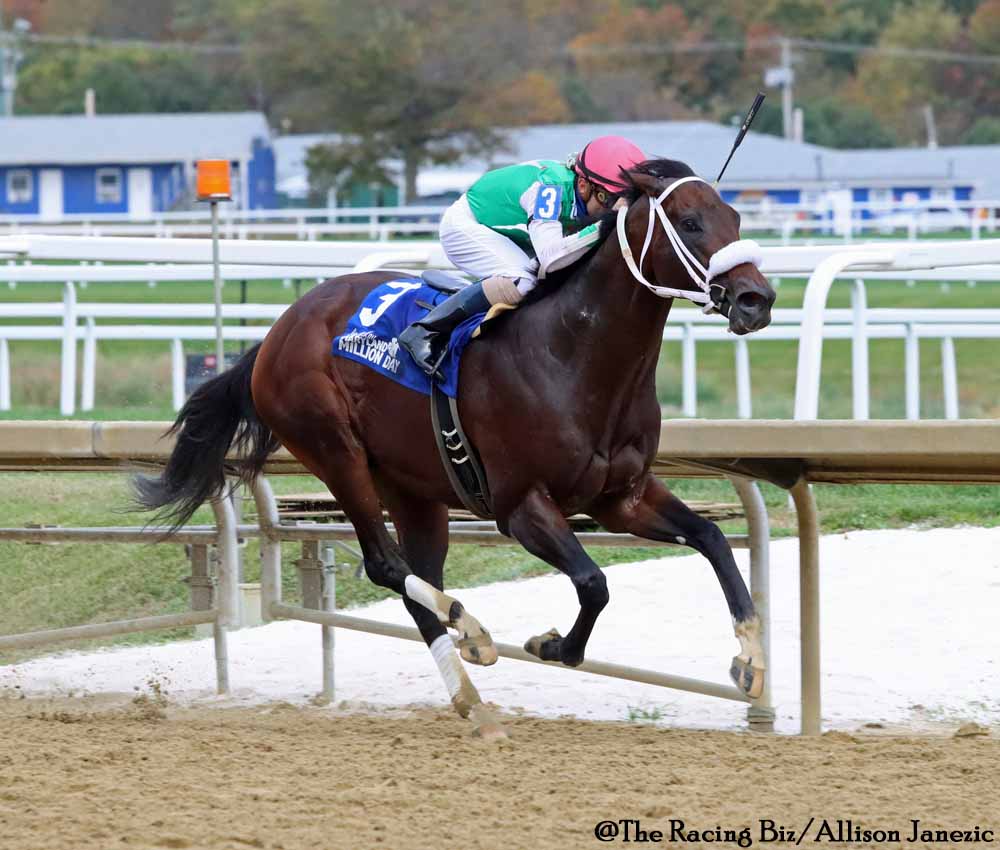 RACE 1: CLAIMING $5,000 (CONDITIONED), 4-YEAR-OLDS AND UP, FILLIES AND MARES, 1 1/16 MILES
5-1-6-3
#5 Simmardshenanigan (9/5): An uber-consistent sort, she beat similar three back, then closed well to finish third when stretching back out in her most recent try. Should be forwardly placed in a race without much speed, and will have plenty of time to pack a punch.
#1 Tuxedo Lemon (9/2): This Penn National invader would be the biggest victim of a paceless race. She has great closing speed, which propelled her to an easy win last out. However, she has almost no early speed to speak of. A good candidate for underneath spots, but the race flow may work against her winning.
#6 Ridgemont High (7/2): Finished fourth in her last start, improving sharply from her last few races. She showed more early speed in that start than in prior races, which might come in handy here.
RACE 2: MAIDEN CLAIMING $25,000, 3-YEAR-OLDS, FILLIES, 7 FURLONGS
7-5-2-3
#7 Lady Clau (9/2): She's shown blazing early speed in each of her last two races. Has had time to mature since her race two back, when she opened up and tired in the last eighth. Last out, she was pressed and tired against better horses. Should have an easier time on the front end here.
#5 Egg Nog (6/1): Looking for some second-out improvement with this one. She got a great setup chasing a fast pace last out, but got blown away by a better rival who came from further off the lead. In spite of that, this filly held on well and finished second.
#2 Keepyourskateson (2/1): Drops back to this level, after some tries for $40,000. She's been knocking on the door, with in-the-money finishes in her last three races. The last time she raced in this class, she might've won if not for a bad start. As it were, she rallied for second, losing only to Miss Leslie. That rival went on to win the Anne Arundel County Stakes.
RACE 3: CLAIMING $10,000 (N/W3L), 4-YEAR-OLDS AND UP, 6 1/2 FURLONGS
7-1-2-4
#7 Extra Medium (5/2): Has far and away the best late pace figures in the field, but not much early speed to complement it. Finished a solid-closing fourth last out; two of the horses who finished ahead of him came back to win. He'll definitely be heard from late. The only question is if it'll be enough.
#1 To the Front (3/1): In contrast, this one does his best running on the front end. Rather remarkably, he's finished second in six of his last seven starts, after setting the pace every time. I think he'd have a better shot at a shorter distance, but he's fast enough to escape pace pressure and get his own way up top.
#2 The Walk (6/1): This will be his second start since August. He sat a bit further off the pace than he might've liked last out, after a bad break, but rallied well and lost a photo to To the Front for second. Looking for a stronger rally here, with a fairly recent race under his belt.
RACE 4: MAIDEN CLAIMING $10,000, 4-YEAR-OLDS AND 5-YEAR-OLDS, 1 MILE
2-5-4-1
#2 Roof Top Bar (9/2): Both of his races at this level have been strong efforts. Three races back, he closed strongly with a three-wide move to lose by half a length. Last out, he began slowly going shorter, and simply didn't have time to make up ground despite another good bid. This longer distance should help him out big-time.
#5 Tale of Dixie (8/1): Exits the same race as Roof Top Bar. That was this one's first start in more than a year, but he didn't show many signs of rust. He ran a career-best brisnet figure of 65, closing well in the stretch after a rough break. This'll be his first time going long, but he didn't have much trouble stretching to 6 1/2 furlongs in his last race. He's lightly-raced, as well, making his third career start here.
#4 Hinting (6/1): Another one stretching out after closing well in a sprint. That was the first time he's really run on in a race. In his other starts, he simply flattened out in the stretch. Hopefully for him, that last race is a harbinger of good things.
RACE 5: CLAIMING $5,000 (CONDITIONED), 4-YEAR-OLDS AND UP, 7 FURLONGS
13-14-6-1
#13 Whirlin Curlin (5/1): He's raced well since coming off the layoff, with two second-place finishes in his two recent starts. Last out, he chased Itgot Grandma, who came back to win at Charles Town next out, while finishing clear of his rivals. The only big concern is the distance. While he won stakes going short way back then, he might prefer routes in his older age.
#14 Blue Danube (12/1): He's got the best last-out figure in the race, earned when winning at 44/1 in his first race off the layoff. The post draw isn't ideal for a speedy horse like him, but if you believe, you'll get the right price.
#6 Smart Step (10/1): Ran figures in the 80s pretty steadily over the summer, but has lost a step in his last two. Looks to improve second off the layoff, getting a jockey upgrade to Charlie Marquez.
RACE 6: CLAIMING $5,000 (N/W3L), 4-YEAR-OLDS AND UP, FILLIES AND MARES, 6 FURLONGS
5-1-7-8
#5 Congress Hall (3/1): She showed speed and faded in her last race. That's a contrast from her prior races, where she rated and pounced, earning strong figures in the process. Victor Rosales might want to be a bit less aggressive early on.
#1 Win Then Grin (5/1): Has shown some signs of life since cutting back two races ago. Her figures are consistently in the low-60s, which probably won't be good enough if the contenders run their best races. However, this is a pretty inconsistent bunch.
#7 Don'tbaggagecheck (7/2): Got hung wide on the pace last out, and flattened out. While she's drawn towards the outside again, she's also the fastest horse early on this time.
RACE 7: ALLOWANCE (N/W1X), 4-YEAR-OLDS AND UP, MD-BRED, 6 FURLONGS
2-1-8-9
#2 Stone Courageous (4/1): Drops after a few tries at the open n/w2x allowance level. You can toss his last race against these; he stumbled badly at the start and wasn't persevered with. Take out that race, and he's run at least an 88 in his last three races, including a gate-to-wire win against open company three back. Looms very large here.
#1 Whiskey and You (8/1): He's been hitting the board at this level, often at big prices. His only somewhat dull performance came two back, when he was hung wide after drawing the far outside post. Now, he's drawn to the rail, and has amply opportunity to save ground and make his move.
#8 Bernie's on Fire (9/2): Runs for the first time since February 15, when he disappointed in the Miracle Wood Stakes. Ran some promising races earlier in his career, and faces a fairly soft field for his comeback. Going to take a wait-and-see approach with him.
RACE 8: STARTER OPTIONAL CLAIMING $25,000, 4-YEAR-OLDS AND UP, FILLIES AND MARES, 1 1/16 MILES
5-2-6-3
#5 The Circle Game (5/2): Went gate-to-wire to win going a mile last out. She's likely to get the same kind of trip here, will her speed sustain for an extra sixteenth of a mile? She held steady last out, so I have confidence.
#2 Witty Banter (9/2): Closed well against better fields in each of her last two, with career-top figures in both those starts. Will take advantage if the race falls apart.
#6 Annika Gold (7/2): She has tactical speed, but tends to get left behind when there's a loose leader. She chased The Circle Gale last out, but drew off three back when closer to the pace. Will look to work out a good trip stalking the leaders on the outside.
RACE 9: STARTER OPTIONAL CLAIMING $8,000, 4-YEAR-OLDS AND UP, FILLIES AND MARES, 1 1/16 MILES
5-7-4-1
#5 Wicked Awesome (5/2): Comes back here after a dominant win at Penn National. Without a ton of speed in here, it wouldn't be surprising to see her go gate-to-wire.
#7 Nana's Shoes (9/5): She's gone off as the favorite in her last six races, while competing at this level or similar, so don't expect too big a return on your investment. Still she's consistently running competitive figures, while showing tactical speed.
#4 Rag Top (8/1): Another Penn National invader, she grinded away to a win last out, her fourth win of the 2020 season. Has decent closing speed and can upset the exotics.
LATEST NEWS