CAPO KANE SPURS DERBY DREAMS FOR WYNER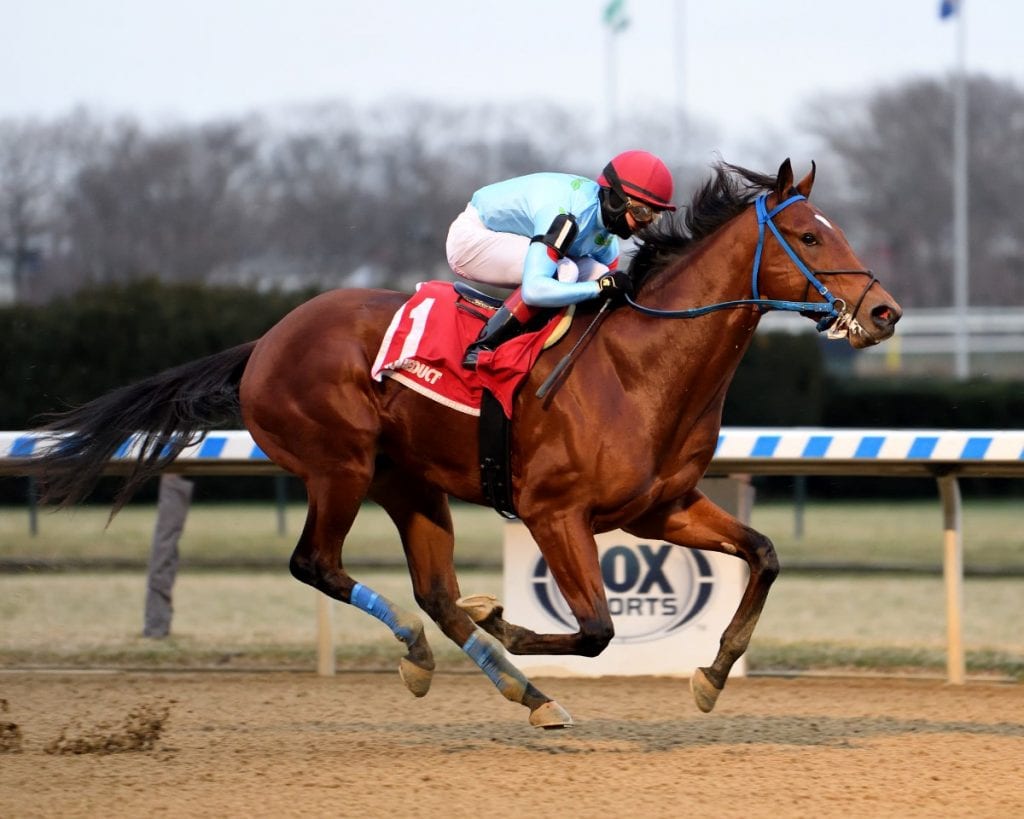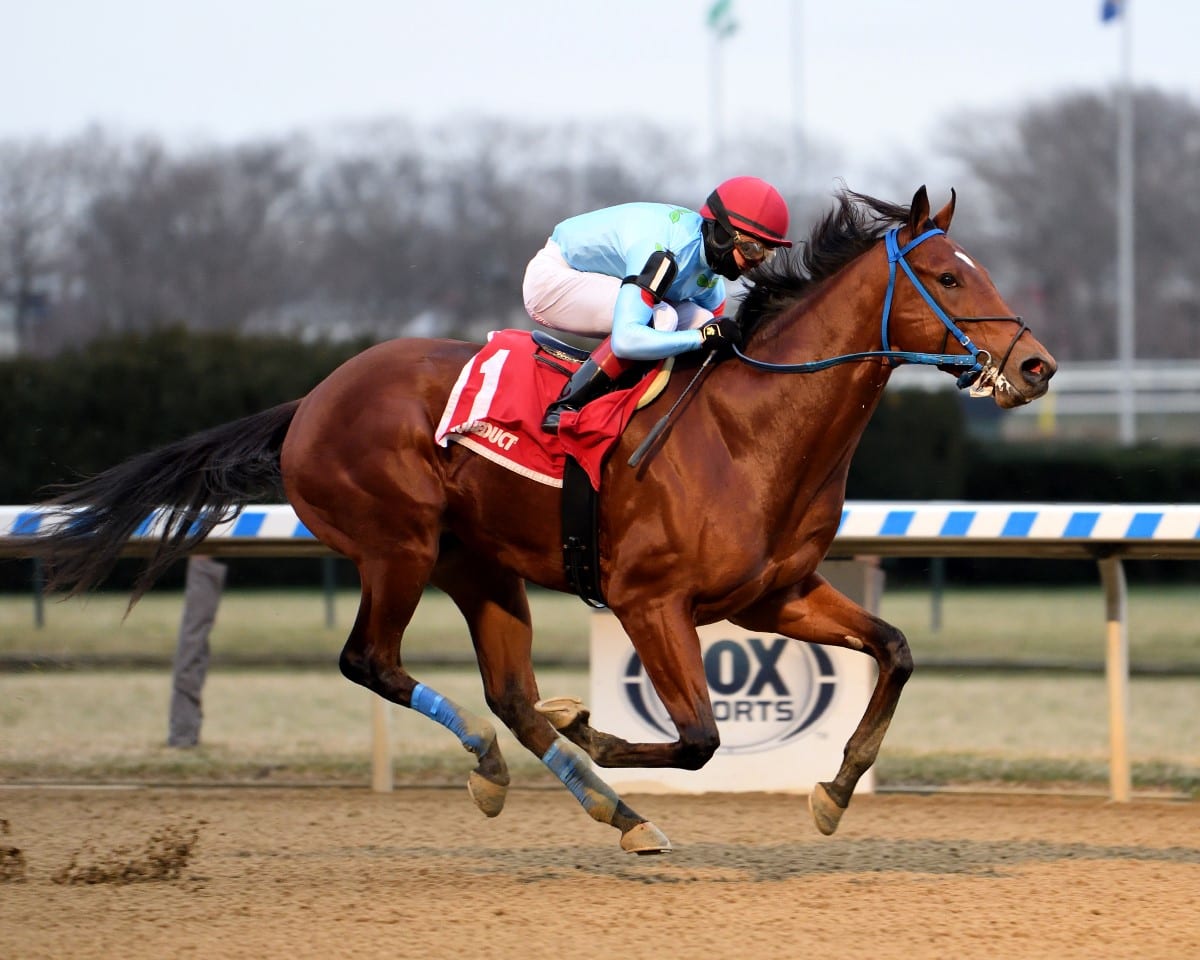 Press Release

January 2, 2021
Bing Cherry Racing and Leonard Liberto's Capo Kane registered a career-best 84 Beyer Speed Figure with a frontrunning score under Dylan Davis in Friday's $150,000 Jerome at the Big A, which earned the Street Sense colt 10 Kentucky Derby qualifying points.
The victory also marked the first stakes score for Capo Kane and his Manchester, England-born conditioner Harold Wyner.
"I was happy with how he ran," said Wyner. "Dylan rode an excellent race and he followed to what I told him in the paddock. I told him to break sharp and if you find yourself on the lead to just ride his race. This horse will dictate where he wants to be."
Wyner noted following the Jerome win that Capo Kane drifted out a bit in his November 25 maiden score at Parx Racing, where Wyner is based, when traveling a two-turn mile and seventy yards. On Friday, Capo Kane drew off to a 6 1/4-length score in the one-turn mile Jerome, while again using the center of the track down the lane.
"We'll work on it. I asked Dylan if he was drifting out and he said, 'No. I put him out there in the middle of the track,'" said Wyner. "But when I watched the head-on and Dylan switched to his left-hand stick and showed it to him, that's when he shied away. When he hit him right-handed, he straightened up again. So, we'll have to work on that with him. It's just green stuff. He's just learning and I don't think we've seen the full potential of this horse yet."
Wyner, who gallops many of his own horses in the morning, said he will continue to work with the lightly raced Capo Kane, who has a record of 3-2-1-0.
"I try and get on all of my horses two or three times a week, but I get on him about four times a week," said Wyner. "When he was a 2-year-old he was very playful and laid back to gallop. When he came off his maiden victory he got to be very tough to gallop and he wanted to find his own speed to gallop in the morning. When a horse came up alongside him, it was game on for him. He just wanted to be in front of that horse.
"He has a high rate of speed when he gallops and a big, long stride," continued Wyner. "I usually take a long hold and let him dictate to me how he wants to do it. In the morning, the further we gallop the stronger he gets. He just doesn't know when to stop. He wants to run."
Wyner was previously a steeplechase rider for trainer Michael Dickinson in England. When Dickinson moved his base to America in 1987, Wyner decided to make the journey as well, working as a groom and exercise rider.
"I won a couple races over jumps and then moved over here with Michael and worked for him at Fair Hill," said Wyner. "I got my weight down to become a flat jockey and I rode on the flats."
Equibase statistics report that Wyner posted a record of 14-24-27 through 462 mounts from 1990-92.
"I rode at Delaware and I actually rode in a couple races at Belmont against Angel Cordero, Jr., that's my claim to fame. He beat me obviously, but I did get to ride against him," said Wyner.
Wyner eventually became an assistant trainer for Mark Hennig in New York and also worked with conditioner Jimmy Bond before hanging his shingle at Parx.
The veteran conditioner, who oversees a stable of 24 horses at his Parx Racing base in Pennsylvania, said Capo Kane will look to make his next start in the nine-furlong Grade 3, $250,000 Withers on February 6 at the Big A, which offers 10-4-2-1 Kentucky Derby qualifying points to the top-four finishers.
"I was talking with the owners this morning and that's the step we're going to push him to," said Wyner. "I ran him two turns at Parx going a mile and seventy in his maiden win and he did it so easy. The further he goes the better."
Wyner has demonstrated a good eye for selecting potential Derby prospects having picked out Capo Kane for $26,000 at the Fasig-Tipton Midlantic 2-Year-Olds in Training Sale.
"I liked the size of him. He was a big boned horse," said Wyner. "He had size and substance to him and that's what I look for in a 2-year-old. He was very well built."
From 2016: Harry Wyner: "Always looking, always hoping"
He was also the initial conditioner of Ny Traffic, who finished eighth in last year's Kentucky Derby for trainer Saffie Joseph, Jr.
Ny Traffic made his first for four starts for Wyner in 2019, including a second-out maiden score at Parx ahead of a fourth in the Parx Juvenile and a fifth in the Notebook at the Big A.
Wyner said he spotted Ny Traffic at the 2019 Fasig-Tipton Midlantic 2-Year-Olds in Training Sale where the horse didn't meet his reserve and arranged a private purchase for $22,000. Ny Traffic, who shipped to Joseph Jr.'s care in Florida on the cusp of the COVID-19 pandemic, has now banked $565,470.
"After the sale when he RNA'd, we negotiated and they took $22,000 for him. He was a little lighter framed than this horse," said Wyner. "Capo Kane is a lot bigger boned and heavier than what Ny Traffic was, but he was still a nice horse. I got lucky. You need a little bit of luck in this game."
A day removed from his first stakes win, Wyner said he is appreciative of the opportunity to train Capo Kane and is looking forward to a run on the Kentucky Derby trail.
"I knew Capo would run real well, but I didn't expect him to win by the margin he did. It was a very impressive win for him," said Wyner. "Things are going great, let's hope they keep up. It's a long road to the Derby and anything can happen. Hopefully, we keep moving forward."
LATEST NEWS