Laurel Park picks and ponderings January 3, 2021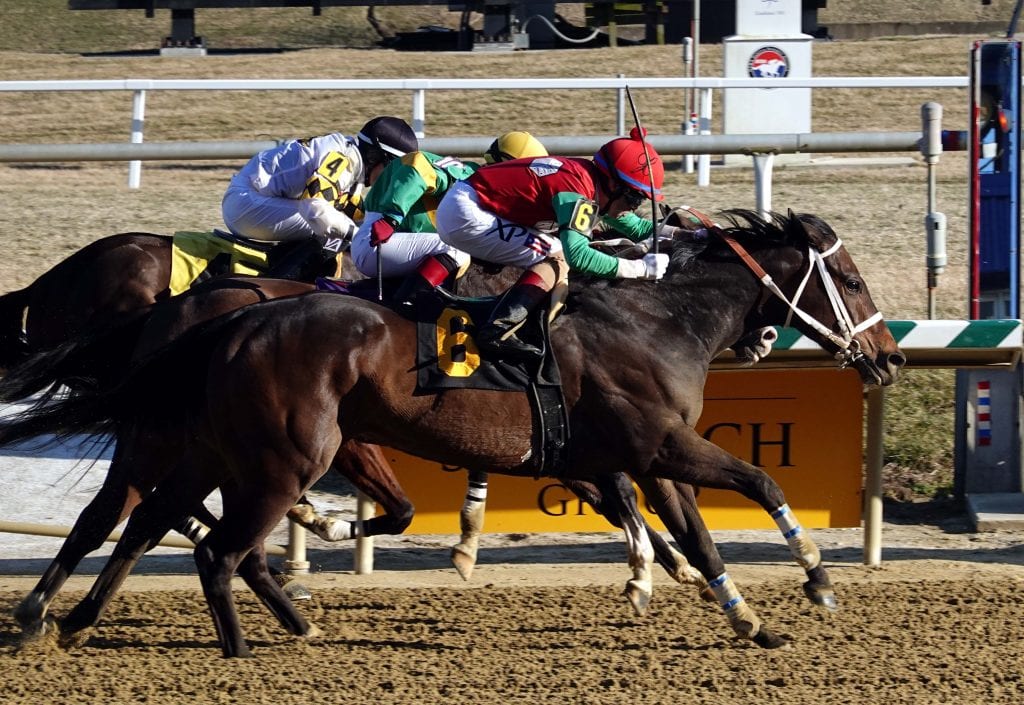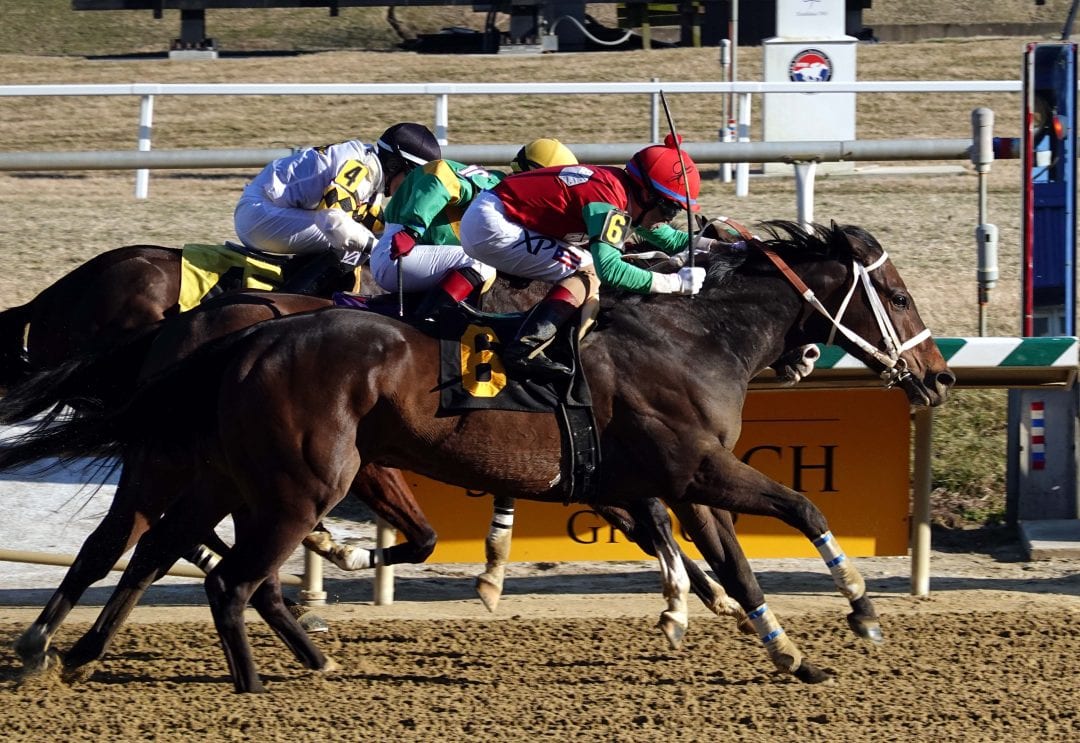 Anna's Bandit. Photo: Laurie Asseo
In which we pick the races from Laurel Park each day…
Post time: 12:25 p.m.
Carryovers: Rainbow Jackpot Pick 6 — $1,700 Super High 5 –$537 Late Pick 5 — $0
 ANALYSIS
RACE 1: CLAIMING $5,000 (N/W3L), 4-YEAR-OLDS AND UP, FILLIES AND MARES, 1 MILE
1-3-2-5
#1 In Class (5/1): She broke awkwardly in her last start, but still managed to close well for second. Usually, however, she's setting the pace. She's the only one with speed in the field, so she could end up on a long, lonely lead.
#3 Strella's War (4/5): Everyone likes midwestern shippers and recent Anthony Farrior claims. The problem is, she's coming off a loss where she couldn't get by a rival who set a leisurely pace. Usually, I wouldn't be concerned; that race was at Churchill Downs, where it's hard to pass horses. However, as noted above, she's going to have to close against a rival who just might get that kind of trip. She's worthy of respect, but at a price near her 4/5 morning line, I wouldn't bite.
#2 Thunderturtle (3/1): Dale Capuano claimed her out of her last race, he's 22% first off the claim. This filly managed to close and win three back at Charles Town, which isn't easy to do, then just missed twice in a row at this level. While the pace may not work in her favor, she can definitely churn on and get a piece.
RACE 2: CLAIMING $16,000, 3-YEAR-OLDS, FILLIES, 6 FURLONGS
5-6-3-4
#5 Gary Doing Biz (9/2): Sat a great trip off a duel last out, then drew off and won going away. There's lots of speed signed on here, as well, and if they tire themselves out, she'll be right there to take full advantage.
#6 My Way or Else (3/1): Another one coming off an impressive maiden score. She got caught in a duel with a longshot rival, battled her into oblivion, then held off the closers to win in a courageous stretch battle. The runner-up in that race, Italian Dressing,came back to win a $25,000 maiden claiming race on Friday in easy style.
#3 Double Fireball (7/2): One of three in here exiting the December 4 race under the same conditions. She ran the best of anyone in that spot, holding second after setting a brisk pace early on. While it was an admirable effort, there's plenty of speed in here, as well, and she'll have to improve by a few points if Gary Doing Biz or My Way or Else run their best.
RACE 3: CLAIMING $5,000 (N/W2L), 4-YEAR-OLDS AND UP, 5 1/2 FURLONGS
3-9-1-5
#3 Whats the Chances (5/2): The only horse in the field who has never lost a n/w2L claiming race. He's run two big brisnet figures in a row, jumping up to an 81 when breaking his maiden last out. He earned a 77 in a game front-running effort two races back. Should be tough on the front end once again.
#9 Xmasinthecity (2/1): Although he has lost a n/w2L claiming race before, it was on grass, and now he's back on dirt. He's flashed signs of promise in his career, showing speed on grass and earning a figure of 82 in a n/w1x allowance on dirt last fall. Goes second off the bench for the Mike Trombetta barn in this spot. Interestingly, Alex Crispin rode Whats the Chances to victory in his last start, but he jumped off to ride this one.
#1 Twinstinct (8/1): You can toss his last race; he stumbled badly at the break, and wasn't really persevered with after that. Two back, he made his first start in more than a year, and recovered nicely after a bad break to earn a figure of 68. It would be nice if he could break cleanly, but he's got lots of room for improvement, being so lightly-raced.
ANALYSIS
RACE 4: MAIDEN CLAIMING $40,000, 3-YEAR-OLDS, FILLIES, 6 1/2 FURLONGS
1-6-4-7
#1 My My Girl (3/5): She ran huge on debut, chasing heavy favorite Lambeau Lady around the track to finish second, well clear of the rest. It was such a huge effort, in fact, that it begs the question of why she's in for a tag after such a good race against straight maidens. Still, that race was so much better than those of the others, she can decline quite a bit and still win handily.
#6 Keepyourskateson (5/1): Ran well at this level last out, closing six-wide to get up for third, behind two rivals who ran away with it. She actually crossed the wire first in her debut, but was disqualified and placed third. Although everyone is adding lasix, it's interesting to note that Dale Capuano is 6-for-13 when doing so for the first time.
#4 Curiosity Kills (12/1): Earned a solid figure of 64 in her debut, although it was a visually unimpressive effort. She was wide throughout in that race, and will look to save more ground here.
RACE 5 – STARTER OPTIONAL CLAIMING $25,000, 4-YEAR-OLDS AND UP, FILLIES AND MARES, 1 MILE
6-1A-4-9
#6 Yesterdaysplan (3/1): She's won three in a row, with all of her wins coming against similar company. She has a stalk-and-pounce style that makes her very difficult to beat. The distance also favors her; she's hit the board in five of her six tries over Laurel's one-turn mile.
#1A Take Me Home (8/1): Set the pace in her last start, then got overwhelmed by Yesterdaysplan in the stretch. Rattled off three in a row against slightly weaker at Penn National and Charles Town before that race. Could end up as the primary early speed in this one. 
#4 It's a Journey (7/2): Cuts back from 1 1/16 miles, after a win at this level, in which she defeated some of the rivals she'll see here. She ran figures in the 90s last spring and summer, but she's declined by about ten points since then. This looks like a spot where she can still win, however.
RACE 6: ALLOWANCE (N/W1X), 4-YEAR-OLDS AND UP, 1 MILE
5-9-10-7
#5 McElmore Avenue (2/1): He finally gets the class test he's been waiting for. He's reeled off three wins in a row, all of them after sitting on or near the pace, while never earning a figure lower than 88. All of those wins have been against softer fields than this one, though. Still, if he can run his usual figure, even these will have trouble beating him.
#9 Benandjoe (5/1): Chased McElmore Avenue around the track last out, but held on for second in a game performance. He edged out Youngest of Five in that spot, who came back to win a Maryland-bred allowance on Friday. He could chase his biggest rival again here, and round out the exacta.
#10 Admire (6/1): Got some time off after a dull effort first off the claim for Anthony Farrior. He's had one recent workout since that last race: four furlongs in a snappy 47 2/5 seconds. Ran some figures in the upper 80s/low 90s over the summer in Kentucky, and will look to return to that form here.
ANALYSIS
RACE 7 – CLAIMING $16,000 (N/W2L), 4-YEAR-OLDS AND UP, 6 FURLONGS
10-7-1-8
#10 Fugitive (4/1): He hasn't run below a 76 in his last four races, and has lost at this level only once. Got lots of action in his first try against winners last out, but was outkicked and finished third. He has tactical speed, and it may be well-served in this spot.
#7 Commissioner Biggs (7/2): He was much the best on paper last out, and raced like it, crushing the field while earning a figure of 79. This is just his fourth start lifetime, and his second off a long break. Lots of upside here.
#1 I'd Like to Know (8/1): Races for the first time since October 23, when he tried to wire a field like this one, and flattened in the last eighth. He has blazing early speed and the inside post, so he'll be able to control the pace. He might need a race off the break, but his speed will make things tough for the others.
RACE 8: ALLOWANCE OPTIONAL CLAIMING (N/W2X), 3-YEAR-OLDS AND UP, 1 1/16 MILES
3-1-4-6
#3 Dixie Drawl (7/2): Comes in off an upset win at this level, where he stalked the pace, powered to the front, and held off his challengers. He took a big step up to earn a 99 in that race; his ceiling prior to that race appeared to be around a 90. You won't get the 10/1 he went off at last time, but if you believe, you should get the right price.
#1 Zabracadabra (3/1): He probably should've won his last race easier than he did, but he got the job done in a n/w1x contest nonetheless. He's had to grind his way along in most of his races, after falling behind dangerous leaders. Ideally, Alex Crispin will have him a bit closer to the pace than usual.
#4 Paradise Pride (6/1): After declining a bit in the fall, he bounced back nicely in his last race, with a game stretch battle. He was second by a neck, but was put up via disqualification. He's hit the board in eight of nine over this track; the only time he missed was in his first start back from the shutdown.
RACE 9: MAIDEN CLAIMING $16,000, 3-YEAR-OLDS, FILLIES, 6 FURLONGS
8-1-2-4
#8 Aprilness (9/5): Runs for a career-low tag, after showing speed and fading against better. Her figure has improved in each of her three races, peaking at a 63 last out.
#1 Lazy Michelle (9/2): Has a similar profile as Aprilness, but, so far, with a slightly lower ceiling. Her race two back was perhaps her best. She recovered nicely after a bad break, dueled on the lead throughout, and gave way only in the last eighth. In that race, she outfinished her dueling partner by almost three lengths.
#2 Hello Gracie (8/1): Made a solid middle move after a bad break last out, only to flatten out. It was more encouraging than her debut, where she was completely flat. Can she keep moving forward third time out?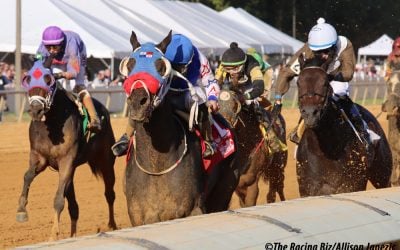 We provide full-card picks and analysis for this afternoon's races at Laurel Park.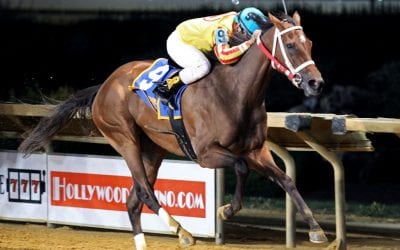 We provide picks and analysis for this evening's card at Charles Town Races.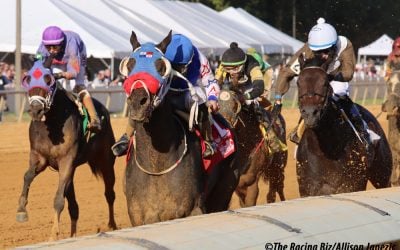 We provide full-card picks and analysis for this afternoon's races at Laurel Park.