Harry Wyner: "Always looking, always hoping"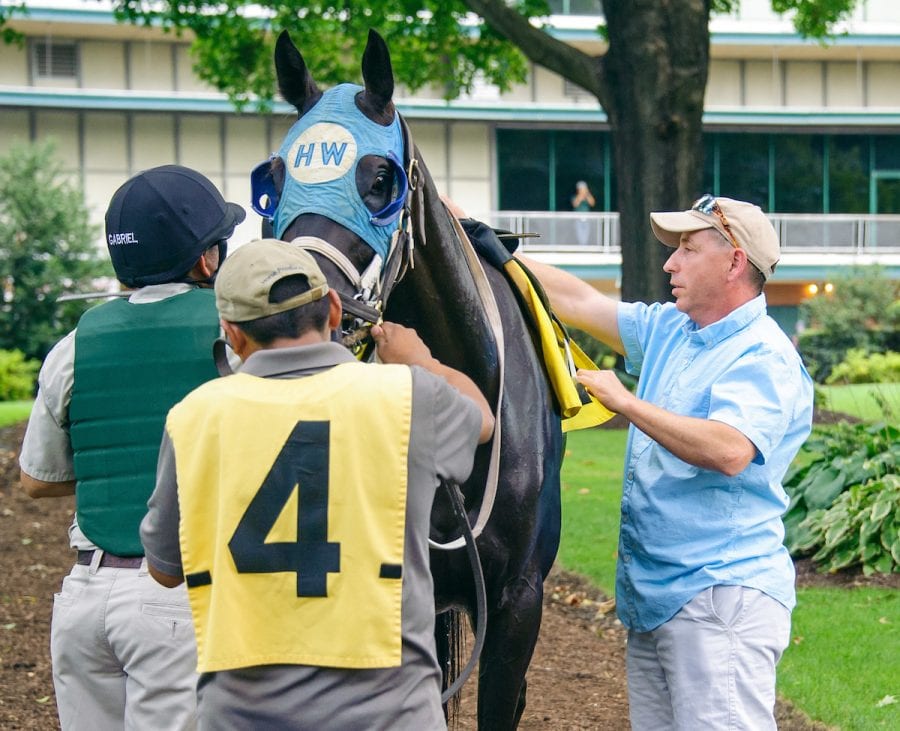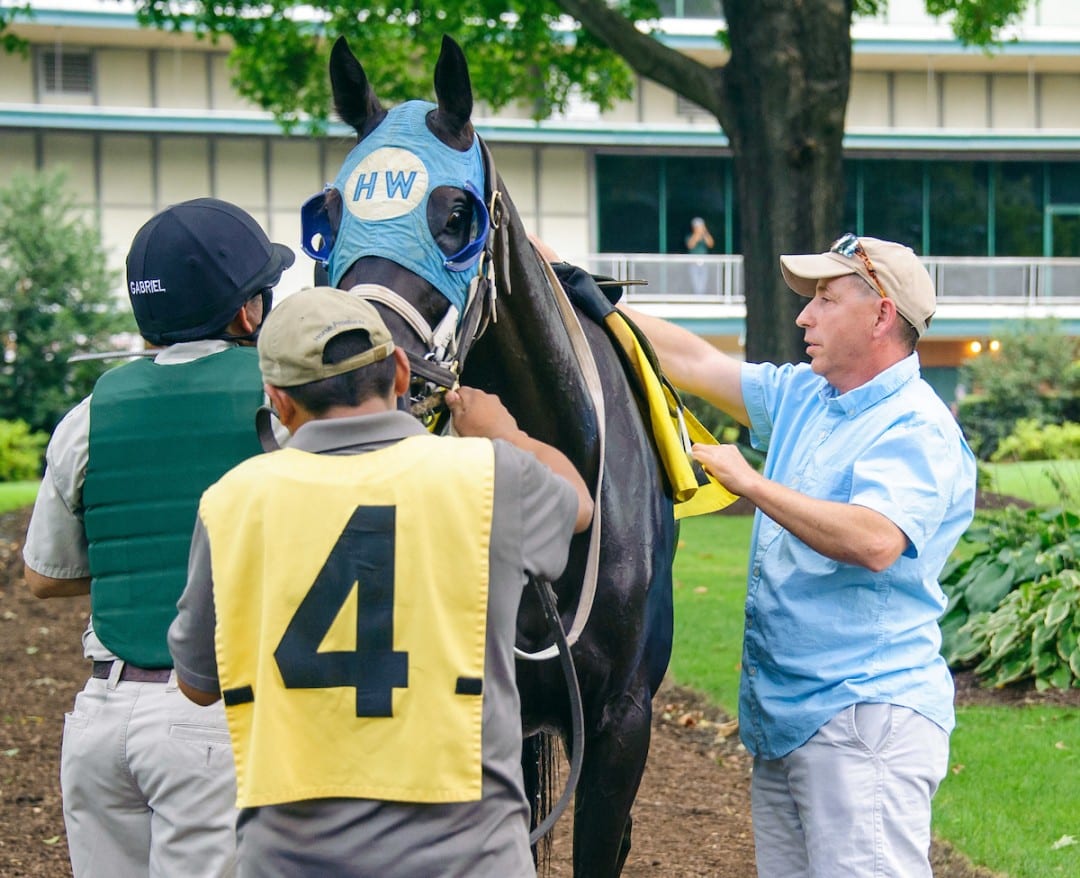 Trainer Harry Wyner (right) saddles a runner. Photo by HoofprintsInc.com.
by Doug McCoy
While racing headlines typically center around high profile trainers and their star runners, that's not where the backbone of the American racing game lies. Indeed, the majority of races run every year don't involve high-priced thoroughbreds trained by well-known training personalities, they involve claiming races, claiming horses — and claiming trainers.  
One good example of the latter is trainer Harold "Harry" Wyner.
At Delaware Park on September 14, seven of the eight Thoroughbred races were claiming events — not unusual at most tracks in America — with Wyner-trained runners in three of them.  He also had a runner in the day's feature, a $50,000 stake.
Born and raised in England, Wyner came to the U.S. with the irrepressible Michael Dickinson in 1989. After an undistinguished career as a jockey — he won 14 of 462 starts —  he went to work for Mark Hennig and was part of the Hennig team in 2002 when that stable's Gygistar ranked as one of the top 3-year-olds in training, winning all five of his races that season. Gygistar, a pre race favorite for the Breeders' Cup Sprint that year, had to be withdrawn from the race after suffering a gash to his right foreleg days before the race.
Wyner also worked for a number of years for Delaware Park mainstay Sam Cronk, as well as Terry Huiet, and was the assistant to trainer John Scanlon. Scanlon, who was a perennial leader in the standings at what is now known as Parx Racing, was best known as the trainer of Toccet, who won the Champagne and Hollywood Futurity and was one of the top juveniles of 2002. Eventually, Wyner struck out on his own in 2011.
For the past five years he has slowly but surely improved his outfit and last season, in 2015, the Wyner stable had its best season to date, winning 24 races from 184 starts, and his starters earned over $430,000 in purses. It's not easy knocking out a living in racing with a stable comprised mostly of claiming types, but Wyner says with some good support from his owners and some well thought out claims, the stable is on the march.
"We're making progress, slowly but surely." Wyner said Wednesday after running three horses at Delaware Park. "One of our better runners, Ritzy Lass, finished third today in the stake (the $50,000 Winter Melody Stakes). She won three straight against optional claiming allowance types prior to today's race, and we thought she deserved a chance at a higher level. She's got black type now, and has won five of eight this year so I guess you could say she's our star. Scott Fairlie owns her."
Wyner is also proud of Winter Ride, purchased for $10,000.
"He just ran the other day in the Grade 3 Greenwood Stakes at Parx and finished fifth," the horseman pointed out.  "Winter Ride has won six races for us.
"Ed Moore, who runs under Gavin-Ty Racing LLC, owns Winter Ride. Ed's been one of my biggest boosters," Wyner said.  "I've got eight head for him."
Marion H. Van Berg, Frank "Pancho" Martin, and more recently King Leatherbury all are horsemen who earned spots in racing's Hall Of Fame not through the accomplishments of a single superstar but rather by excelling over the years as trainers of claiming horses.
The blue blazer set may get most of the exposure in thoroughbred racing, but it's the blue collar set that racing couldn't do without.
"The odds are certainly stacked against finding a stakes-level horse from the claiming ranks, but I'm no different than any other little guy in the game," Wyner observed.  "I'm always looking and always hoping."