Laurel Park picks and ponderings January 1, 2021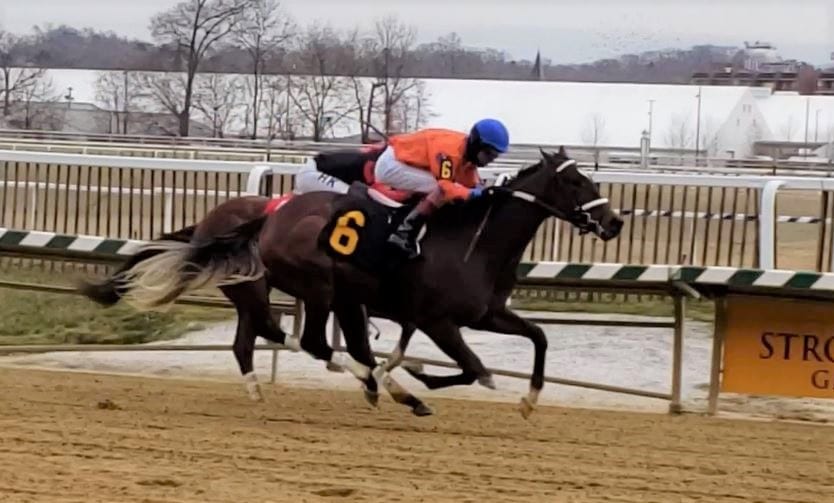 Virginia Beach. Photo: the Racing Biz
In which we pick the races from Laurel Park each day…
Post time: 12:25 p.m.
Carryovers: Rainbow Jackpot Pick 6 — $0 Super High 5 –$0 Late Pick 5 — $0
 ANALYSIS
RACE 1: CLAIMING $16,000, 3-YEAR-OLDS, 6 FURLONGS
3-2-7-1
#3 Warm Sunny Breeze (9/5): Comes off a win at this level last out, stalking the pace and drawing away to a handy win. He's run a brisnet figure of at least 75 in each of his last three starts; only one horse in this race has eclipsed that mark in any of his last three. This one's got the most early speed, to boot. He'll be very tough; anything around his morning line is a gift. 
#2 Natty Beau (9/2): Broke his maiden in promising style two races back, and went off as the favorite for a $25,000 tag last out. However, after prompting the pace, he stopped badly. It wasn't as if the pace was particularly destructive, either; the horse on the lead finished second and was put up via disqualification. Since he's a three-year-old, he gets to add lasix, and will run with it for the first time. With a bit of time off since that last race, and a good workout in between, he figures to be very tough.
#7 Gaming Jack (9/2): Tries winners for the first time, after running a career-best figure of 74 for his first victory last out. He stalked the pace and drew clear, but flattened out in the last eighth and just held on. That race was going seven furlongs, this race is at six furlongs. With a well-timed move, he might be able to sustain his momentum here.
RACE 2: MAIDEN CLAIMING $25,000, 3-YEAR-OLDS, FILLIES, 5 1/2 FURLONGS
7-4-1-5
#7 Claire's Darling (7/2): She hasn't raced since her September 3 debut, so it's possible that she injured herself when she hit the gate. If she did, it was quite the effort. She came from off the pace in a five-furlong affair, and lost a battle in the stretch. She's rattled off two bullet workouts since returning to the worktab, and figures to fire a big one first off the bench.
#4 Italian Dressing (5/1): Ran easily her best race in her last start, losing a photo after a prolonged stretch battle. Her figure of 70 in that race is her best mark by ten points. Now we know that she can make big moves, the question is now: can she sustain them?
#1 Egg Nog (6/1): One of a few intriguing first-time starters in here, she goes out for the sharp trainer/jockey tea of Damon Dilodovico and Horacio Karamanos. She's been working steadily for the past three months getting ready for this race, and doesn't have a bad drill on her tab. Worth a shot at a possible price.
RACE 3: STARTER OPTIONAL CLAIMING $25,000, 4-YEAR-OLDS AND UP, 1 MILE
4-1-3-7
#4 Maximus Midani (6/1): Gets his class test here, off a strong win against n/w2L claimers last out. He stalked the pace and drew away in that race, in just his sixth start. He should get a similar trip here. This race is full of lumbering closers, who don't have a ton of early speed. This guy has some of both, which is a big asset.
#1 Silent Malice (7/2): He cut back to a mile in his last start, which was at this level. It proved to be a good move, as he came from way out of it and won handily. He likes the one-turn mile; he's finished in the top two in five of his six starts at a mile, while never running a figure lower than 77. 
#3 Jammin Still (8/1): His local debut was over almost before it began, as he stumbled badly and was unable to get his usual forward spot. In spite of that, he ran on well in the stretch to earn a solid figure of 81. Usually, he shows early speed, and has run good races in the past when able to show speed. His form had been declining earlier in the year, but that last race gives me reason to believe. Alex Crispin, who has been riding very well as of late, and may win an Eclipse Award in a few weeks, keeps the mount.
ANALYSIS
RACE 4: ALLOWANCE (N/W1X), 4-YEAR-OLDS AND UP, MD-BRED, 1 1/16 MILES
3-2-4-1
#3 Mr Thrifty (8/5): He's been in excellent form at Parx, running figures in the 90s three straight times. Last out, he stalked the pace and drew away to win against open company. He has dangerous early speed, and has shown numerous times that he relishes two turns. He'll be tough if he can translate his form to Laurel.
#2 Toy (5/1): Showed promise last winter and spring, before going on the shelf. He showed little in his first start off the bench, but his figure of 85 is still the second-best number of his career. It's likely that he just needed a screw-tightener, and now he's ready to go second off the layoff.
#4 Youngest of Five (4/1): Matched his career-best mark of 91 in his last race, when finishing third at this level going a mile. Has a win against open company at this track under his belt, and goes third off the layoff. He was third in his lone race at two turns, but that was against better at Gulfstream Park last April. Things should be a bit easier here.
RACE 5 – ALLOWANCE OPTIONAL CLAIMING (N/W1X), 3-YEAR-OLDS, FILLIES, 6 1/2 FURLONGS
1-8-2-7
#1 Trip to Freedom (9/2): She's faced some tough horses in her four starts, including Street Lute, Juror Number Four, and Whiskey and Rye. Broke her maiden in front-running style against softer on debut, then almost wired the field in the Maryland Million Lassie. Looks to shake off some disappointing efforts in her last two; has the advantage of having speed on the inside.
#8 Breeze off the Bay (9/2): Encountered some traffic trouble in her last race, but it didn't affect the result too much; no one was going to beat heavy favorite Miss Leslie. Even so, Breeze off the Bay closed well for second, drawing clear of the others. She has a win against winners under her belt already, and Kieron Magee is a sharp 22% second off the claim. 
#2 Mischiefs Model (5/2): Her last race was a now-or-never moment. She was 3/5 against a weak field she was supposed to bear, and she did, while earning a career-top figure. She has good tactical speed that she can use to pour pressure on the leaders. Claudio Gonzalez and Angel Cruz are always a dangerous trainer/jockey combo; they picked up a win together yesterday.
RACE 6: STARTER OPTIONAL CLAIMING $8,000, 4-YEAR-OLDS AND UP, FILLIES AND MARES, 1 MILE
2-1-8-4
#2 Nana's Shoes (2/1): She won at this level going long last out, and has finished in the top two in six of her last seven against similar. Has easily the best average late pace figures in the race, and does better at distances shorter than the 1 1/8 miles that she had to cover in that last win.
#1 Wowwhatabrat (3/1): Wired the field two back going a mile at Penn National, then tried to stretch out and was caught by Nana's Shoes last out. This is a race without much early speed, and she's back at a distance she prefers. Could get very smooth sailing on the front end.
#8 Makin' Out (9/2): A winner of three in a row, she was claimed out of her last start by Henry Walters. Won handily against slightly weaker last out, and has a little bit of early speed. If nothing else, she could keep Wowwhatabrat honest in the early stages.
ANALYSIS
RACE 7 – ALLOWANCE OPTIONAL CLAIMING (N/W3X), 3-YEAR-OLDS AND UP, 7 FURLONGS
2-6-3-5
#2 Speightsford (5/1): He almost wired a similar field last out at big odds, but got caught late. That was his first start in ten weeks; he's coming in here off about six weeks' rest. You won't get the 30/1 you got last time, but he's going to be tough on the front end regardless.
#6 My Friends Beer (4/1): He's won his last two, at Charles Town and Penn National, in dominant fashion. He stalked the pace both times, and drew off to big wins with rapidly ascending figures. Tries this level for the first time, and cuts back around one turn for the first time since August 6. I'm not sure if he's a pure sprinter, but he is a horse improving quickly, and looks very dangerous.
#3 Still Having Fun (5/1): That Woody Stephens Stakes win is getting further and further in the rearview mirror, as the stakes losses pile up. He didn't show much in the Frank Whiteley Stakes last out, now gets some much-needed class relief. Turned in a bullet workout last Thursday, for his second race off a long layoff. One of the few pure sprinters in a field of horses cutting back in distance. Will this be a stepping stone for a renaissance campaign?
RACE 8: STARTER OPTIONAL CLAIMING $25,000, 4-YEAR-OLDS AND UP, 5 1/2 FURLONGS
3-7-2-9
#3 Belle Tapisserie (7/2): Despite his abundant early speed, he wasn't used aggressively last out. That may have been a mistake, as horses struggled to close ground in that race. He was claimed out of that race by Kieron Magee, and gets a jockey switch to Carol Cedeno. He ran some great races against better, both locally and Florida, when hustled from the gate.
#7 Inside Risk (4/1): Has good closing speed, and a win at this level in his recent lines. Made a strong six-wide rally to just miss in his last start. Look for him to make a similar move here. 
#2 Jovis (5/1): While he did get a great trip in that last race, he ran a great middle pace figure, something that he also did in his last race. He tends to make his good circumstances: he sits right off a fast pace, then pounces and leaves enough to hold off his rivals.
RACE 9: MAIDEN CLAIMING $10,000, 4-YEAR-OLDS AND UP, FILLIES AND MARES, 1 1/16 MILES
5-7-8-10
#5 Lady Fox (3/1): She got action in her first start at this level last out, but encountered some traffic trouble. Once she got clear, she closed strongly in the stretch. Alex Crispin gets the mount for the first time. She looks like she'll enjoy the stretchout in distance.
#7 Zola B (9/2): Almost wired a $16,000 field three back, then stopped badly when she tried better horses in her last two races. She's at a much more realistic level here, and is the most prominent speed horse in the group.
#8 Rye Street (3/1): Made a bit of a premature move in her last start, but held on for third with a career-best figure of 63. Anthony Farrior claimed her out of that spot; he's 26% first off the claim.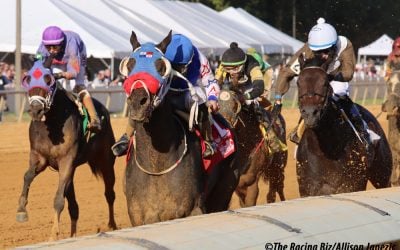 We provide full-card picks and analysis for this afternoon's races at Laurel Park.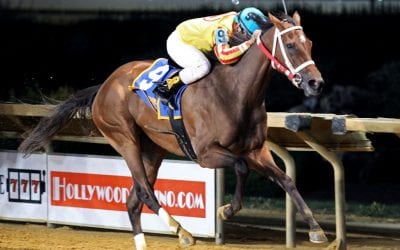 We provide picks and analysis for this evening's card at Charles Town Races.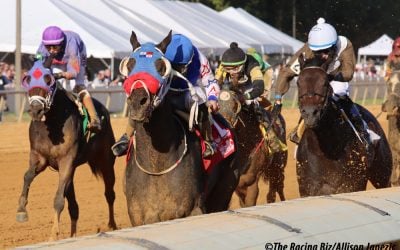 We provide full-card picks and analysis for this afternoon's races at Laurel Park.