LAUREL: SHELDON RUSSELL SECURES MEET RIDING TITLE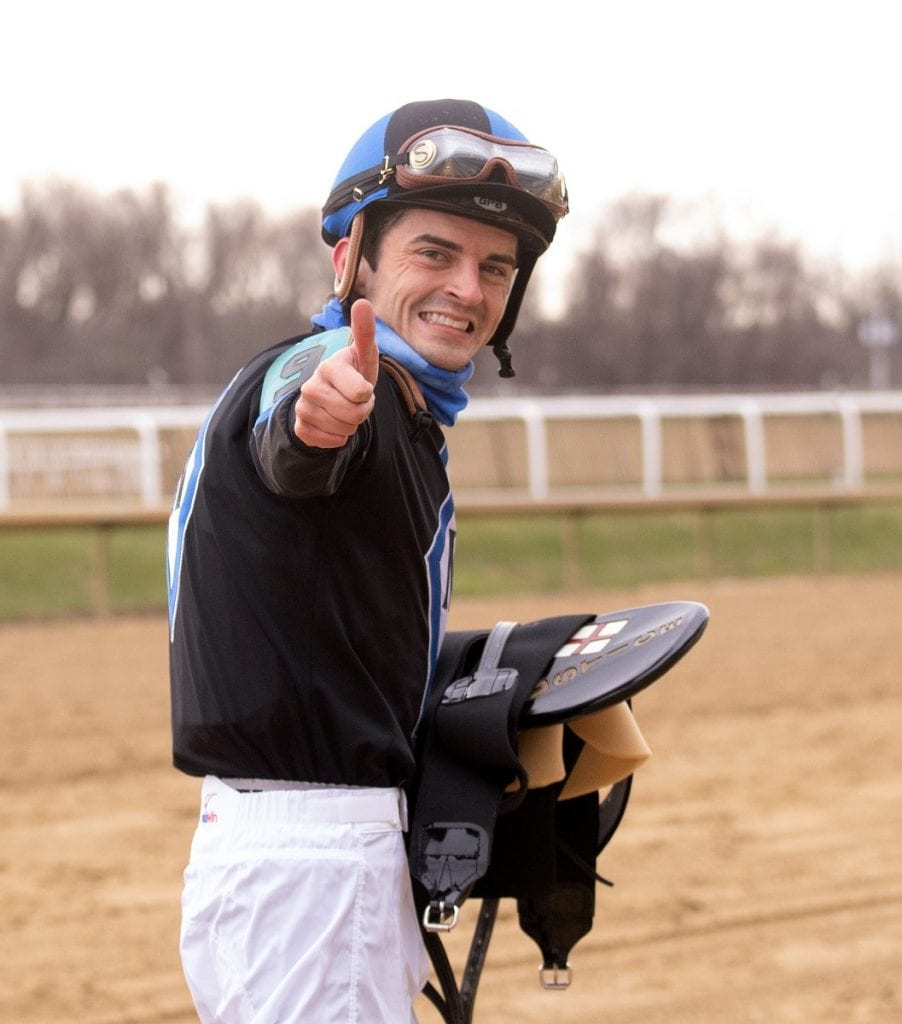 Press Release

December 31, 2020
Jockey Sheldon Russell, returning from a four-day absence, won with two of his first three mounts on Thursday's New Year's Eve program at Laurel Park to clinch the 2020 fall meet riding title.
Russell, 33, entered the day leading Jevian Toledo, 42-39, before winning with Dr. Ferber ($9.20) in Race 2 and Fast Cash ($6.40) in Race 4 to seal his eighth career riding title in Maryland and first since Laurel's 2015 winter stand.
C Z Rocket tops General George noms

C Z Rocket, a multiple graded stakes winner who was second in the Breeders' Cup Sprint, tops 36 nominations to the G3 General George at Laurel.
Both Russell and Toledo are represented by agent Marty Leonard. Toledo had won with 10 of his previous 23 mounts (43 percent) to close the gap and make it a tight race. He wound up winless in five races Thursday.
"It's been a while since I won a title, but I'm just very happy. It's nice to look back and come back from all the injuries and have the support that I do from some of the top trainers here," Russell said. "To win a meet title means a lot.
"Thanks to my agent, who does a fantastic job, and thanks to my competitors in the room because it keeps you going. I ride with some good guys in the room and we're all friendly in there," he added. "Unfortunately I had to have a few days off and I was a bit worried there because [Toledo] was on a roll but luckily we had a good enough cushion to keep it going."
Maryland's leading rider of 2011, Russell also won Laurel's fall meet in 2008 and 2011 as well as Laurel's 2011, 2012 and 2015 winter stands. He topped the spring meet standings at Pimlico Race Course in 2011 and 2013.
Russell registered 11 multi-win days during the fall meet including three-win days Dec. 6 and 11 and a four-win afternoon on Maryland Million Day Oct. 24 led by Monday Morning Qb in the Classic, Hello Beautiful in the Distaff and Pretty Good Year in the Turf.
On Nov. 28 Russell won stakes with Hello Beautiful in the Safely Kept and Whereshetoldmetogo in the Frank Y. Whiteley, both horses trained by his wife, Brittany. Together the Russells won with 18 of 35 starters at the meet (51 percent) and finished in the money 30 times (86 percent).
"She keeps me busy in the mornings. There isn't really a day where she doesn't have workers because she's got so many horses so it's a big advantage that I have," Sheldon Russell said. "I get to get on them as soon as they come in and I do a lot of work with them and sort of get an idea of what their good and bad traits are. It's a big plus."
Russell was leading Laurel's 2020 summer meet standings when he suffered a broken wrist in a starting gate mishap July 16 at Delaware Park. He returned on Sept. 24, opening day of the short Preakness Meet at Pimlico, and earned the mount on sixth-place finisher Excession in the Preakness (G1).
"I'm just happy that we're back racing. It's been a rough year for everybody so to win a meet, I'm very happy. I came back the first weekend at Pimlico, so to jump out of the Pimlico meet and come straight to Laurel and win this, it means a lot especially coming off the shelf," Russell said. "I'm just very blessed and very happy."
Claudio Gonzalez won with two of his five starters Thursday, Pitching Ari ($4) in Race 1 and Dance and Dance ($16.60) in Race 8, to finish with a four-win edge, 28-24, over runner-up Brittany Russell, who had no horses entered. Gonzalez formally clinched the title Dec. 27, his 12th in the last 13 meets in Maryland dating back to Laurel's 2017 spring stand.
It was also the 100th and 101st wins in Maryland for Gonzalez, who topped the state's overall standings for a fourth straight year. Jockey Trevor McCarthy, who moved his tack to New York in mid-December, had 99 wins to lead all Maryland riders for the second straight year and fifth time overall (2013, 2014, 2016, 2019, 2020). Toledo finished second with 95 wins.
LATEST NEWS