Laurel Park picks and ponderings December 31, 2020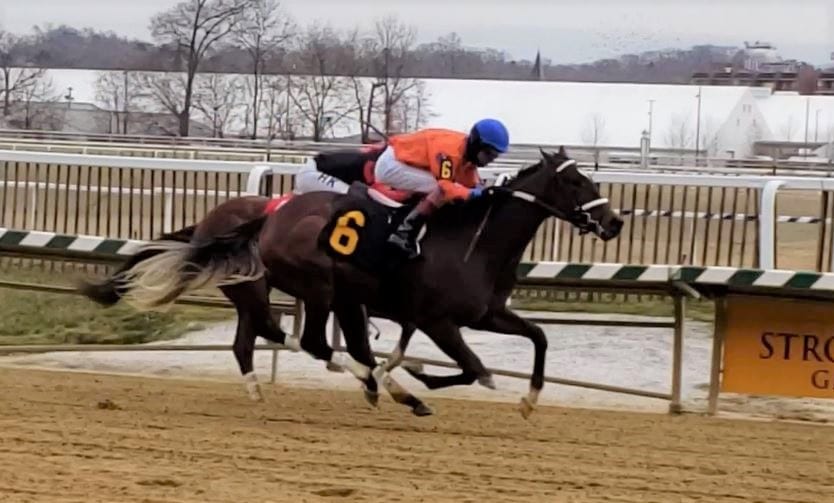 Virginia Beach. Photo: the Racing Biz
In which we pick the races from Laurel Park each day…
Post time: 12:25 p.m.
Carryovers: Rainbow Jackpot Pick 6 — $17,539 Super High 5 –$332 Late Pick 5 — $0
 ANALYSIS
RACE 1: CLAIMING $16,000 (N/W3L), 3-YEAR-OLDS AND UP, 5 1/2 FURLONGS
6-1-7-2
#6 Decorated (3/1): Lightly-raced gelding drops in class after getting claimed out of his last race by Jamie Ness. He ran a huge brisnet figure of 87 in his last race, which was his second start off the layoff, after sitting a perfect trip off the pace. With the speed in this race, he could get a similar trip here.
#1 Pitching Ari (5/2): He hasn't been able to get it done in his last few against better, but has been running figures that would be competitive in this spot. Ran his best race when he showed speed going long at Parx two back. He has the option to show speed from the inside, but will most likely sit just off the pace and save ground.
#7 Bourbon Street (8/1): Got a brief freshening after a dull try at Parx last out. He had won two of his prior four while on or near the lead. It's clear that his worst races come when he's off the pace and wide. Considering he's drawn an outside post here, aggressive use early is a must, to avoid losing ground. If he can get in the two-path or so by the opening quarter, he's got a shot.
RACE 2: MAIDEN CLAIMING $40,000, 2-YEAR-OLDS, 1 MILE
1-9-7-3
#1 Ga Ga Gizmo (5/1): Woodbine invader goes first out for Damon Dilodovico, and makes his dirt debut. He steadily ran figures in the upper 60s earlier in the year, before struggling against much better last out. Takes a drop in class, and has already run well going beyond a mile. The long stretch should play into his stalking style. 
#9 Dr. Ferber (5/2): He got action at this level last out, but was flat in the stretch. He's never run worse than a 68 in his three races, and those kind of figures would likely be enough to win this race. Will stretching out help?
#7 Iron Pearl (9/2): Showed some pep in his step on grass in New York. His only two dirt races have been under bizarre circumstances. In his debut, he ran against Jaxon Traveler, and didn't have much of a chance. He got action in his first start at this level, but unseated his jockey at the start. If his form translates to dirt, he's got a big shot.
RACE 3: CLAIMING $5,000 (CONDITIONED), 3-YEAR-OLDS AND UP, FILLIES AND MARES, 5 1/2 FURLONGS
7-9-4-6
#7 Tweet Away Robin (5/2): Drops in class first off the claim for Anthony Farrior, who took her for $16,000 in her last race. That last start was her first poor effort after a string of uber-consistent figures in the mid-70s. She stalked the pace while wide and flattened out. It would've been nice to see a workout since that race, but Farrior is a good man to put confidence in, and this isn't a strong field. Even if she can't get back to her peak form, she's going to be tough.
#9 Don'tbaggagecheck (4/1): Wired the field after setting the pace two back, then held off all but one rival last out after setting slower fractions. She'll once again be a factor on the early pace. 
#4 Fed Policy (7/2): Just missed against Tweet Away Robin two races back, closing late to lose by just half a length. Raced wide against better last out and was flat. Looks for a rebound for Claudio Gonzalez, who is exceptionally sharp when dropping horses in class.
ANALYSIS
RACE 4: STARTER OPTIONAL CLAIMING $25,000, 3-YEAR-OLDS AND UP, 7 FURLONGS
6-3-8-2
#6 Fast Cash (5/2): Chased a loose leader last out, and just missed in a photo for second. He tends to get stuck behind slow paces, then run on willingly and get a piece. There's enough early speed in here that he should get a pace to run at. If he can finally get it, he'll be tough to hold off.
#3 Zen Pi (3/1): Tries winners for the second time, after a solid second at this level last out. Comes in here in career-best form; by far his two best figures have come in his last two races. 
#8 Point Driven (5/1): He has a very similar profile as Zen Pi. He's running against winners for the second time, after a dominant maiden score last out. He had been more forwardly placed in recent starts, but in that last race, he broke slowly and was not able to recover. Add a premature move to the mix, and he didn't have much of a shot. Looks for smoother sailing here.
RACE 5 – MAIDEN CLAIMING $25,000, 3-YEAR-OLDS AND UP, 6 1/2 FURLONGS
5-7-9-10
#5 Mr. Shades of Grey (5/2): He was the only one in his last race who made up serious ground. It was an affair where the top two raced in a merry-go-round, and this one fell eleven lengths off the pace at the opening quarter. Despite the deficit, he rallied on and got third. It was his first start off a brief freshening, his first race at the level, and arguably his best effort. Looks to build on that race here.
#7 Come and Get Mine (10/1): Closed well against tougher in his first start, a race where he was one of two first-time starters in a field of ten. Tries this level for the first time in this spot, and can definitely rally for a piece, at least.
#9 Start the Parade (9/2): Turned in perhaps an even more impressive closing rally in his debut, which was against these types. That was the same race as Mr. Shades of Grey's comeback effort. Start the Parade, the only firster in the field, followed his rival's lead, and kicked on strongly to finish fourth. Any improvement off that race makes him a very strong contender. 
RACE 6: CLAIMING $5,000, 3-YEAR-OLDS AND UP, 5 1/2 FURLONGS
3-10-7-5
#3 Tale of E Dubai (7/2): Once upon a time, he was very, very fast, and a popular horse to claim. Earlier this year, he was claimed five times in a row at Parx, while steadily running figures in the 80s. He was unable to get to the lead last out, against tough horses in his first race off a long break. Drops to a friendly field where he shouldn't have much trouble getting the lead.
#10 Proud Enough (6/1): Just missed in his last two races at this level, losing with a dramatic surge last out. He's run at least a 79 in four of his last five starts; that number will likely be enough to win this one. 
#7 Mystic Times (10/1): Won at the conditioned level two back, then took a big jump in class for his most recent start. He ran into a beast, in Phantom Ro, and wasn't much of a factor. Should find things a bit easier here.
ANALYSIS
RACE 7 – ALLOWANCE OPTIONAL CLAIMING (N/W2X), 3-YEAR-OLDS AND UP, FILLIES AND MARES, 7 FURLONGS
5-4-1-7
#5 Coconut Cake (7/2): She stepped up to this level for the first time last out, in her first start in more than two months. She closed well, but couldn't get to Little Miss Raelyn, and finished second. Earlier in the meet, this one rattled off three straight wins, grinding out a win each time after a stretch battle. Should improve with a recent race under her belt. Forest Boyce, who rode her in her maiden win, gets back aboard.
#4 Bobby's Goldengirl (4/1): Cleared her n/w1x condition in dominant style two back, which inspired her people to take a shot in the Safely Kept Stakes. That shot proved a misfire, as she was well-beaten. Drops to easier waters for her third race off the layoff, and should show abundant early speed.
#1 Baby Boss (3/1): The better half of a tough Ness entry, she set the pace last out, and was run down by her stablemate, Decoupage, who is also in this race. She drew post position four, and will have to clear from Bobby's Goldengirl to get the front-running trip she wants. If she gets it, she'll be tough.
RACE 8: ALLOWANCE (N/W1X), 3-YEAR-OLDS AND UP, FILLIES AND MARES, 7 FURLONGS
5-4-8-6
#5 Escape Fund (4/1): Adds blinkers for the first time, after a disappointing effort where she got run off her feet by the promising Fille d'Esprit. Easily her best recent race came two back, when she lost a three-horse photo after a strong stretch run. She should get a good stalking trip off what figures to be a fast pace.
#4 Indy Takes Charge (2/1): She's been second in each of her last three tries at this level, but through no fault of her own. She's lost to Hello Beautiful, Breviary, and Dontletsweetfoolya, all very good fillies. This is, clearly, a much easier group. The only thing that might slow her down is a lack of a recent race. This will be her first start since September 5.
#8 Patriotic Punch (9/2): Exits the same race as Escape Fund. This one got hung wide in that race, and didn't fire her best. Moved nicely up the class ladder earlier in the year, with three straight wins. Looks to regain that form here. Gets a jockey upgrade to Sheldon Russell.
RACE 9: STARTER OPTIONAL CLAIMING $8,000, 3-YEAR-OLDS AND UP, 1 MILE
7-8-4-2
#7 Invest (2/1): He's won his last two races by a combined twelve lengths, drawing off impressively both times. Got an easy front-running trip going 1 1/16 miles last time, now will look to work out a similar setup while cutting back.
#8 In Him With Him (6/1): This uber-consistent gelding fell behind the slow pace set by Invest last time, and flattened out in the stretch for third. He seems to do his best running at the one-turn mile, and he'll get that here.
#4 Unequivocal (10/1): Makes his third start off the layoff, and takes a drop from the n/w1x allowance level. He's shown good late pace in both his recent races, and should enjoy stretchout to the one-turn mile.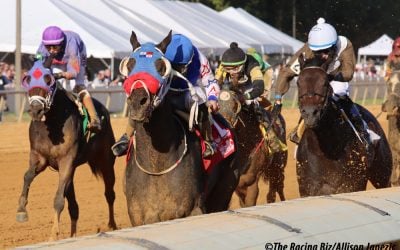 We provide full-card picks and analysis for this afternoon's races at Laurel Park.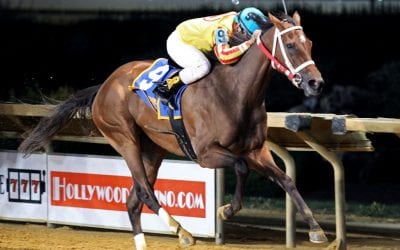 We provide picks and analysis for this evening's card at Charles Town Races.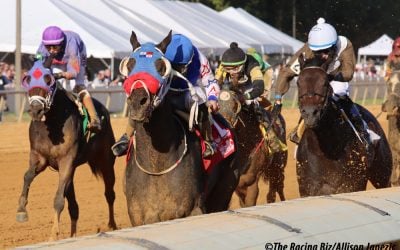 We provide full-card picks and analysis for this afternoon's races at Laurel Park.