Laurel Park picks and ponderings December 11, 2020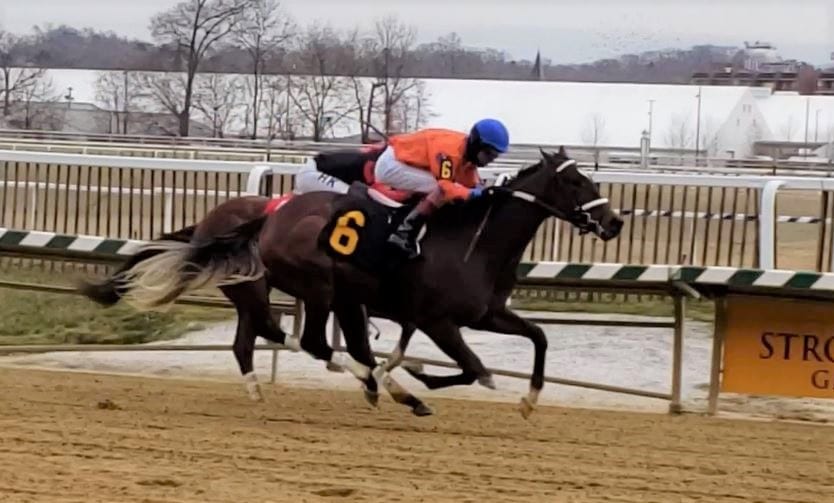 Virginia Beach. Photo: the Racing Biz
In which we pick the races from Laurel Park each day…
Post time: 12:25 p.m.
Carryovers: Rainbow Jackpot Pick 6 — $0 Super High 5 –$0 Late Pick 5 — $0
 ANALYSIS
RACE 1: MAIDEN SPECIAL WEIGHT, 2-YEAR-OLDS, FILLIES, 1 MILE
5-3-6-7
#5 Chloe Rose (6/5): Like many Brittany Russell-trained 2-year-olds, she was well-backed in her debut. She held in well to finish third, with a very strong brisnet figure of 75. Stretches out from 5 1/2 furlongs, but that first race, her works, and her pedigree all indicate that the distance shouldn't be an issue.
#3 Our Bella Nicole (2/1): One of two in here for the Mike Trombetta barn. She ran into a buzzsaw last out, in the very impressive Gherardini, but closed well over the others to get second. She's got the most experience of anyone in the field; this'll be her sixth career start. 
#6 Shootinforthemoon (5/1): The "other" Trombetta in the field, she chased the speed in her debut before fading. Her workouts since then have been sharp, including a bullet drill back on November 21. The 71 she earned in her debut is a strong number, and if she can run back to it, she's a player.
RACE 2: STARTER OPTIONAL CLAIMING $8,000, 3-YEAR-OLDS AND UP, FILLIES AND MARES, 1 1/8 MILES
4-5-1-6
#4 Nana's Shoes (8/5): She's finished in the top two against similar in five of her last six races, stalking the pace and battling on each time. Last out, she just missed against Yesterdaysplan, who came back to win her next two races. The distance is an unknown, but she's had no problem with two turns in the past. Her career-high figure came going a route of ground two races back.
#5 Wowwhatabrat (2/1): The controlling speed in a race that looks exceptionally paceless. She went gate-to-wire going a mile last out at Penn National. The only serious knock is that she might not want to go this far. However, if she sets a slow enough pace, she could pull it off.
#1 Beyond Forever (8/1): The way her last race set up, she had absolutely no chance to win. She fell well behind a dawdlingly slow pace, and it was a heroic effort just to finish second. The only problem is, as previously noted, the same thing could happen again. Her best hope is that the pace is at least somewhat contested.
RACE 3: ALLOWANCE OPTIONAL CLAIMING (N/W1X), 2-YEAR-OLDS, 6 FURLONGS
3-2-4-5
#3 Nobody Knew (4/1): Won two in a row on the front end, before running into Jaxon Traveler in his last start. Goes second off the claim for Claudio Gonzalez, and faces a much easier bunch. Should be tough on the lead.
#2 Heart Rhythm (8/1): Got a great trip last out at Keeneland, and drew off to a giant win. He earned a figure of 89, far and away the best last-out number in the field. There's some horses in the field who can go with Nobody Know early, so if they burn him out, this one will be right there in waiting.
#4 Maythehorsebwithu (9/5): Recovered nicely after a bad start to finish second last out at Parx. In the race prior, he finished second in the First State Dash. The horse who beat him that day, Singlino, gave Jaxon Traveler a scare last Saturday in the Maryland Juvenile Futurity.
ANALYSIS
RACE 4: MAIDEN SPECIAL WEIGHT, 2-YEAR-OLDS, 7 FURLONGS
7-4-6-5
#7 Golden Gulley (3/1): May have won his last start, or at least come closer, if he didn't have to steady in the midst of a stretch move. As it were, he lost by less than three lengths, while earning his best figure since his debut race. He has easily the best late pace figures in the race, and should close strongly late.
#4 Extrasexybigdaddee (9/2): Trombetta firster has been throwing down some gems in the morning at Fair Hill. His last two drills have been bullets, including a three-furlong work in 36 4/5 seconds last week. His older half-brother, Extrasexyhippzster, won the 2014 Miracle Wood Stakes and was briefly on the Kentucky Derby trail.
#6 Escapability (7/5): This guy's fast early. Very, very fast. Maybe too fast for his own good. In both his starts, he's zoomed out early and set very fast paces, only to flatten out late. What's more, he's going to get pace pressure from his inside, from The Big K. His figure improved sharply in his last race, so it's possible he's matured enough that he can maintain his speed and outkick the others. I wouldn't want to bet on that at low odds, though.
RACE 5 – CLAIMING $5,000 (CONDITIONED), 3-YEAR-OLDS AND UP, 5 1/2 FURLONGS
2-3-6-4
#2 Proud Enough (7/2): He didn't have a chance to win his last start, with the way the race unfolded. The big favorite ran the rest off their feet on the front end, but this one outkicked the others to finish second. He's had trouble putting it all together this year, but his form is slowly trending in the right direction, and he's been caught in a lot of bad race shapes. This may finally be his day.
#3 Top Me Off (9/2): If anyone's going to blow away Proud Enough and the rest of them, it's going to be this one. He's making his second start off the layoff, after getting hung wide and fading last out. Usually, he's a speedball, and he ran a big one to win in his last race before the break. Hugh McMahon is 18% first off the claim. 
#6 Fort Royal (4/1): Comes out of the same race as Proud Enough, and was similarly pace-compromised after the bad break. Earned figures in the mid-70s in his three races prior, while sitting close to the pace in all of them.
RACE 6: ALLOWANCE (N/W1X), 3-YEAR-OLDS AND UP, FILLIES AND MARES, 6 1/2 FURLONGS
1-5-3-7
#1 Uno Tigress (4/1): Ran well first off a brief break last out. She stalked the pace and lost a stretch battle to Positive Force, a tough Ness trainee who came back to win her next start. This one has improved in all three of her races, and should get a good trip on the inside.
#5 Bluefield (3/1): The fastest member of the field early on according to the pace figures. She sat just off a very fast tempo in her last start, and beat a similar group in the last few jumps. Has gone gate-to-wire in the past, and is fast enough to do it again here.
#3 Excess Capacity (7/2): Got a brief freshening after a dull try at Parx a few back. Since returning to the races, she's run two solid figures, losing her last start at the level by 1 1/2 lengths after some traffic trouble. Gets blinkers on for the first time as well.
ANALYSIS
RACE 7- ALLOWANCE OPTIONAL CLAIMING (N/W2X), 3-YEAR-OLDS AND UP, 7 FURLONGS
8-3-6-5
#8 Fortunate Friends (3/1): Seeks a rebound after a few disappointing tries in a row. He stopped when going a mile last out, but now cuts back to his preferred distance. He's won three races in a row at seven furlongs, all of them against similar opposition as today.
#3 Nomo Ron (7/2): A winner of two in a row, including a win at this level last out. After declining a bit over the summer, he's gotten back into top form since joining the Anthony Farrior barn. He should get a pace to run at, which will play right into his closing kick. 
#6 Let's Play Nine (6/1): His form has been a bit obscured lately, but he still looks pretty promising. After winning three of four to begin his career, he went on the sidelines for several months. When he returned in the Maryland Million Sprint, he wasn't ready and flattened out. He surfaced next in a 1 1/16 mile race that was too far for him. Now, he's got some races under his belt, and he's back sprinting. Ran figures as high as 94 early in his career, and has early speed.
RACE 8: ALLOWANCE (N/W1X), 3-YEAR-OLDS AND UP, MD-BRED, 1 MILE
8-1-3-2
#8 Toy (7/2): Makes his much-anticipated return to the races here. He earned a career-high figure of 92 last out, defeating Plot the Dots, who has gone on to be a solid allowance horse. He was then entered in the Easy Goer Stakes at Belmont Park, but was scratched, and hasn't been seen since. Gets to face a Maryland-bred field in his comeback, and he's shown plenty of promise. He might need a race to get back to peak form, but as long as he's even a little bit ready, and Trombetta is solid with bringing horses back off long breaks, he should be in good shape.
#1 Stone Courageous (3/1): Ran well against much tougher last out, finishing a clear-cut third behind Galerio and Tattooed. Went gate-to-wire against slightly weaker two back. Looks like the controlling speed in this spot, so expect him to pull off another front-running stunt here. 
#3 Youngest of Five (4/1): He's improved in each of his last three, earning an 88 when finishing fourth after a tough trip last out. Usually, he takes his time between races, but here, he's coming back off twelve days' rest. The last time he came in off this short a break, he broke his maiden with a career-high figure of 91.
RACE 9: CLAIMING $16,000 (CONDITIONED), 3-YEAR-OLDS AND UP, FILLIES AND MARES, 6 FURLONGS
7-3-6-9
#7 Halfinthewrapper (2/1): Outdueled her rival on the front end last out, then got outfinished by two rivals who sat perfect trips. She had finished the job on the lead in three of her previous five races. John Robb claimed her out of her last race; he's 19% with that angle.
#3 Tiz Michelle's Way (5/1): Drops in class from the starter optional claiming level. She's earned an 80 in three of her last four races, with her only bad figure coming when she had a bad break two races ago. Those numbers aren't good enough to win at the higher levels, but she fits right in with these.
#6 Saratoga Beauty (9/2): Drew off to win a n/w2L claimer impressively last out, after stalking the pace. Looks to have taken a major step forward as a 3-year-old, running her two best figures in her two dirt races this year.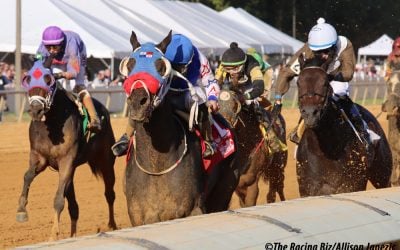 We provide full-card picks and analysis for this afternoon's races at Laurel Park.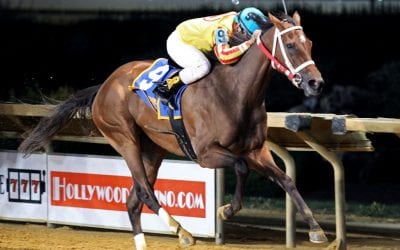 We provide picks and analysis for this evening's card at Charles Town Races.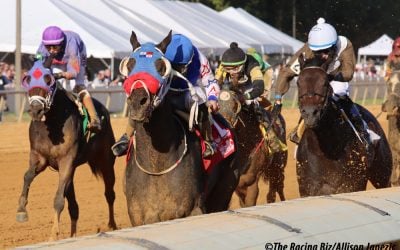 We provide full-card picks and analysis for this afternoon's races at Laurel Park.