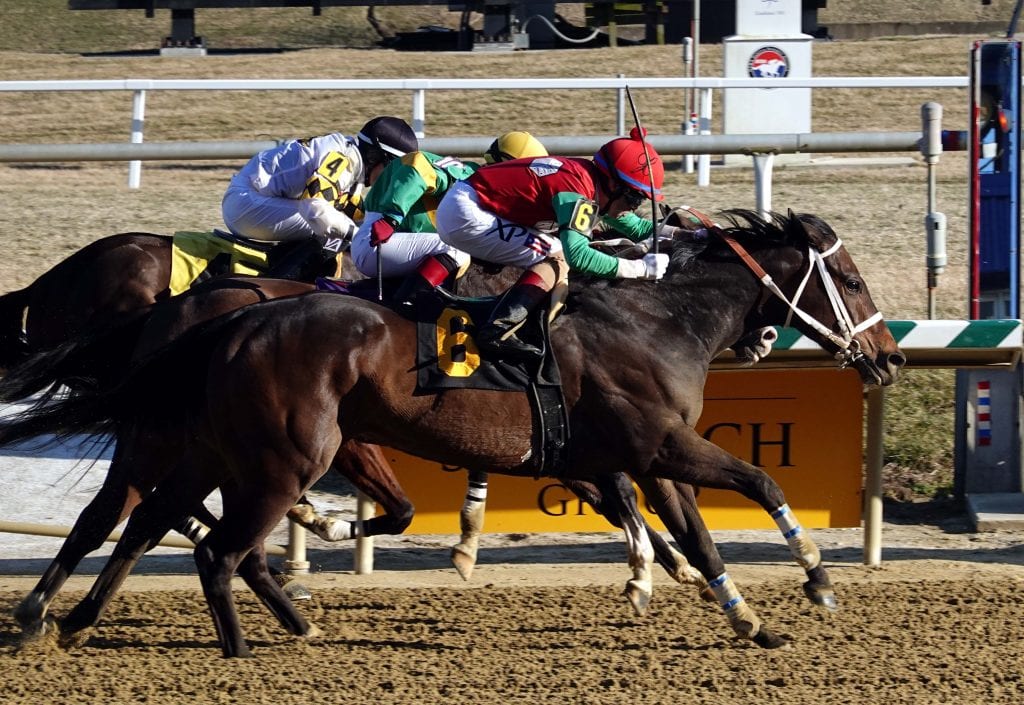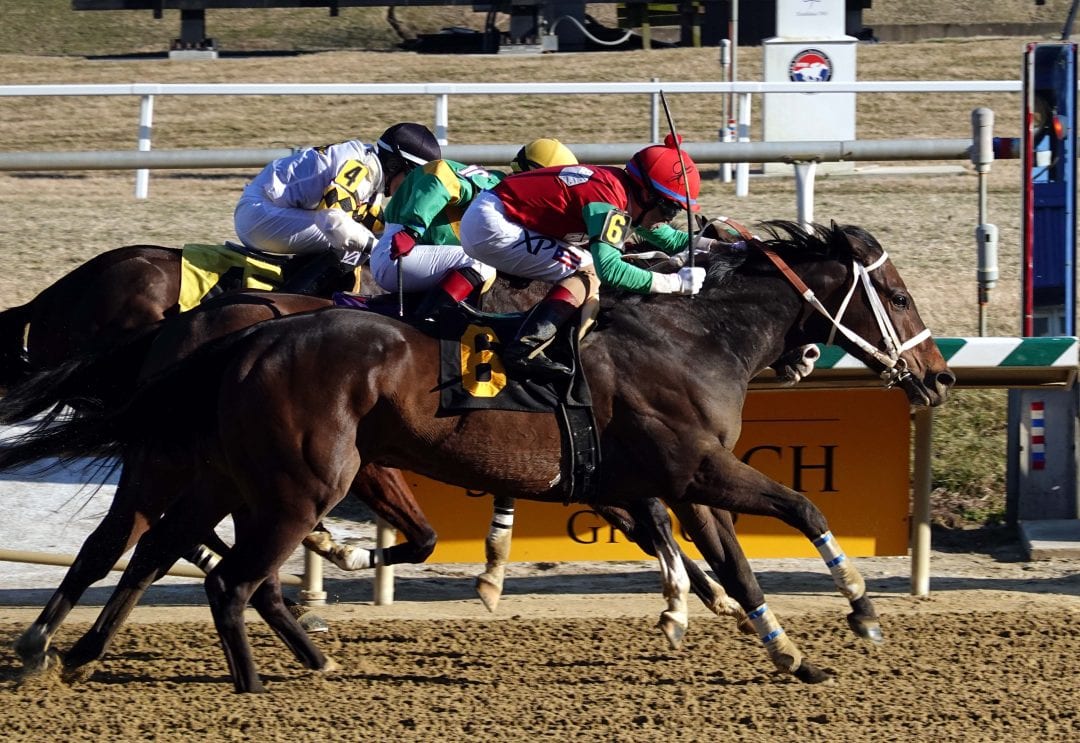 Anna's Bandit. Photo by Laurie Asseo.
In which we pick the races from Laurel Park each day…
Post time: 12:25 p.m.
Carryovers: Rainbow Jackpot Pick 6 — $0  Super High 5 — $1,449 Late Pick 5 — $0
ANALYSIS
RACE 1: STARTER OPTIONAL CLAIMING $16,000, 3-YEAR-OLDS AND UP, FILLIES AND MARES, 1 MILE
1-5-6-3
#1 Take Me Home (9/5): She's crossed the wire first in her last three starts, including a dominant win last out at Penn National. That race was a good distance test for her, and she passed it with flying colors. Should be tough on the front end.
#5 Hetty G (9/2): Midwestern invader lost all chance at the start last out. She broke very awkwardly, and she's a speed horse, so she had no chance after that. Won two in a row prior to that when going gate-to-wire at shorter distances. This is her first start for the Anthony Farrior barn, which is 25% first off the claim.
#6 Yesterdaysplan (5/2): The barn buddy of Hetty G is more experienced at this distance. She's coming off a big win against gems of a slightly lesser water last out, stalking the pace and drawing off by 7 1/2 lengths. Sports an impressive 6-for-15 record over this track. Usually, she comes from far out of it, but last out, she was close to the lead, and it paid dividends. Will she sit close to the lead again and risk burning her stablemate out?
RACE 2: MAIDEN CLAIMING $10,000, 3-YEAR-OLDS AND UP, 1 MILE
7-4-6-5
#7 Lifespan (8/5): Usually, I'm not too big on horses who have finished second against similar three times in a row, especially when they were all close losses. However, he's earned brisnet figures in the 70s every time. The only other horses to approach those numbers in this field are even bigger losers than he is. This is his eighth start, and his first for Kelly Rubley, so he's not necessarily an established maiden yet. He's going to have a hard time losing this one.
#4 Boss Life (5/1): Showed some life against better earlier in the year. He was well-bet in his local debut last out, but flattened out despite a good trip. Goes second off the layoff here. I'm willing to give him another chance.
#6 Two Doors Down (6/1): He was showing improvement before going on the bench this winter, including a near-miss at this level in January. Flattened out after racing wide last out. Should keep moving forward second out.
RACE 3: CLAIMING $16,000 (N/W2L), 3-YEAR-OLDS AND UP, FILLIES AND MARES, 6 FURLONGS
8-7-1-6
#8 Bourbon Gal (3/1): Lightly-raced filly tries dirt and this level for the first time. Ran a gutsy race on the lead two starts back to break her maiden. Should be tough on the front end here.
#7 Worstbestideaever (9/2): She ran figures in the mid-70s pretty steadily while sprinting earlier this year, which would be good enough to win this race. When she tried to stretch out last out, it didn't go so well. Cutting back to six furlongs should be beneficial.
#1 Had the Notion (6/1): She's shown flashes of ability this year, including some sharp late pace figures and two figures in the upper-70s/low-80s within her last three races. However, they've been obscured by the fact that she's been racing against much tougher allowance company. She should be able to outkick these.
ANALYSIS
RACE 4: CLAIMING $5,000 (CONDITIONED), 3-YEAR-OLDS AND UP, FILLIES AND MARES, 1 MILE
1-8-6-7
#1 Calypso Ghost (7/5): For a brief moment, it looked like she was going to upset Odd Gal in the Maryland Million Distaff Starter. That rival proved too classy, and Calypso Ghost had to settle for second. Now, she plunges in class. She's run at least a 76 in three of her last four races; that's a mark none of her rivals have hit in any of their last four. 
#8 Thunderturtle (7/2): Impressively closed from well out of it to win by a neck at Charles Town two starts back. Got a pace to run into last time, but could do no better than second. Should still turn in a solid effort, but whether her closing rally will be enough is an open question. 
#6 In Class (9/2): Ran away and hid from a suspect n/w2L field last out. There's little chance that she'll be able to sneak away to a loose lead and get away with it against these, but early speed is always an asset. She should at least hang on for a piece.
RACE 5 – MAIDEN CLAIMING $40,000, 2-YEAR-OLDS, 5 1/2 FURLONGS
7-4-5-3
#7 All Threes (8/5): Ran into a buzzsaw in his debut, in Hello Hot Rod, so any chance he had of winning was dead on arrival. He still ran pretty well, drawing close to the big favorite in the stretch before getting tossed aside and ending up a clear-cut second. This field projects to be a lot easier. 
#4 Escapability (4/1): Got caught up in a speed duel last time, but drew clear on the turn, and ended up about eight lengths clear of his sparring partner. Should improve with some experience under his belt.
#5 The Wolfman (6/1): Phil Schoenthal isn't great with first-timers, hitting at just 8% with them. Still, this guy's been throwing down bullets in the morning, and outside of the two mentioned above, there's not much in here. Even a marginal effort first out would be enough to get a good-sized check.
RACE 6: CLAIMING $5,000 (N/W2L), 3-YEAR-OLDS AND UP, FILLIES AND MARES, 7 FURLONGS
4-2-6-5
#4 Thea's Theme (2/1): Jeremiah Englehart looks desperate to get a win with this filly. She was in for $30,000 at the same condition two races back, now, you can have her for $5,000. Fortunately for him, this looks like a race this filly can win. She's making her fourth start off the layoff, and is the only one in the field with fewer than ten starts. Might be able to scratch out a win here.
#2 Introspection (5/2): Steadily ran figures in the mid-70s over the summer in Kentucky. She was disappointing in her Maryland debut, slogging on in the stretch and getting second. Willing to give her another chance here, as it's a weaker field than she saw last time, and she can improve second off the brief break.
#6 Melisande (6/1): Closed well to lose by less than three lengths last out. She remains a question mark at this distance, but she's got decent closing speed, and is in improving form.
ANALYSIS
RACE 7 – CLAIMING $5,000 (CONDITIONED), 1 1/16 MILES
6-2-9-1
#6 Moonlight Shadow (8/5): Drops from the $12,500 open level to these conditioned horses. Claudio Gonzalez is 40% when pulling such a maneuver in recent times, so such a sudden drop is not necessarily a bad thing. He's gotten stuck behind slow paces in his last few, and has run rather heroically just to get close. There's not a lot of speed in here, either, but he's a better horse than anyone else. Unless it's glacial up front, and he's way back, the pace shouldn't be too troublesome.
#2 Itgot Grandma (5/1): On the other hand of the spectrum, this guy's got the most early speed in the field, and the advantageous inside post. He's battled well in his last two, when he's had to fight for the lead. In this spot, he may not have to worry about that.
#9 Approvethismessage (9/2): I keep waiting for this guy to put it all together, but it hasn't happened yet. He boxed on well in the stretch to finish fourth last out, but never looked like a serious threat to win. I'm expecting him to loom large, then flatten out and get second or third.
RACE 8: ALLOWANCE (N/W1X), 3-YEAR-OLDS AND UP, MD-BRED, 7 FURLONGS
10-11-5-3
#10 Redeem Eddie (9/2): Encountered some traffic trouble in his last start, getting shuffled back and losing crucial early position. When he's allowed to be near the pace, he's scored some impressive wins with big figures. This is also an easier field than he saw at this level last time.
#11 Seven on the Rocks (8/1): Has a patient stalking style that has seen him win three of his last five. His only bad race in that stretch came at Pimlico, where he fell behind early over a speed-favoring track against tougher. 
#5 Sir Black in Black (5/1): Parx shipper has raced well there, including a solid-closing third against tougher last out. Parx form doesn't always translate here, but his late pace figures are strong, there'll be speed in front of him, and he's getting class relief. Sheldon Russell also gets aboard for the first time
RACE 9: MAIDEN CLAIMING $10,000, 3-YEAR-OLDS AND UP, 1 MILE
6-2-3-5
#6 Roof Top Bar (8/5): Closed strongly to finish third, beaten less than two lengths, in his last start at a mile. This is the first time he's in for this low a tag.
#2 Pardon the Pun (9/5): His last two races proved that he can't get 1 1/16 miles without assistance from a golf cart. His attempts at a mile have gone better. In fact, he crushed a better maiden claiming field going a mile a few starts back, only to be disqualified after the fact.
#3 Hinting (12/1): Another one who might wake up with a shorter distance. Last out, when stalking at 1 1/16 miles, it looked like he was in a prime pouncing spot. However, he ended up flattening out. He's packed more of a punch at one turn.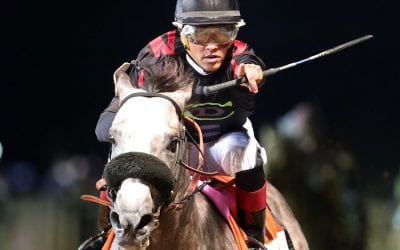 We've got Charles Town picks and preview today as the track presents its Friday card!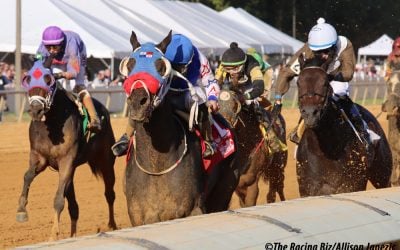 We provide full-card picks and analysis for this afternoon's races at Laurel Park.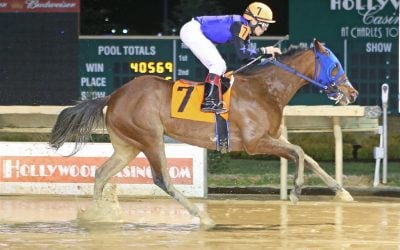 Which Charles Town jockeys are off to hot starts? Asking for a friend; no, wait, actually asking for the betting public. Answers within…