Laurel Park picks and ponderings November 28, 2020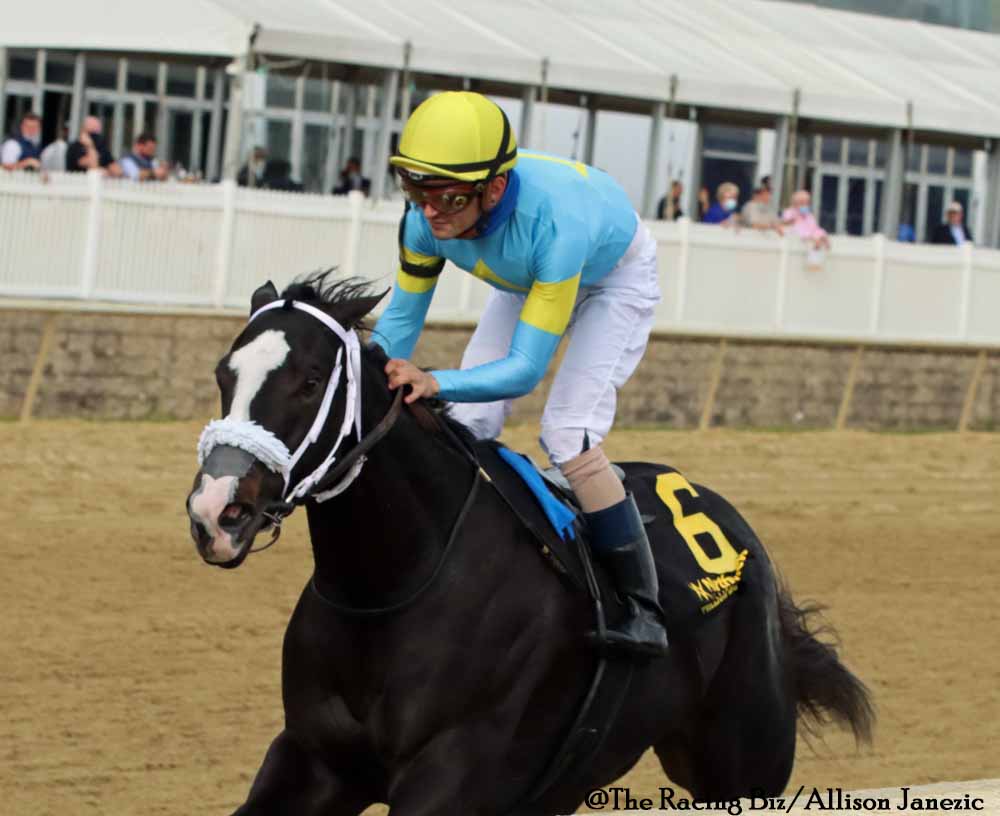 Hello Beautiful. Photo: Allison Janezic
In which we pick the races from Laurel Park each day…
Post time: 12:25 p.m.
Carryovers: Rainbow Jackpot Pick 6 — $15,054 Super High 5 — $8,819 Late Pick 5 — $3,910
ANALYSIS
RACE 1: CLAIMING $16,000 (N/W2L), 3-YEAR-OLDS AND UP, 1 MILE
8-1-7-6
#8 I Am It (9/2): Tries winners for the first time off an impressive maiden-breaking score at Delaware Park. He's also going first out for the Brittany Russell barn. That last race was the first time he showed speed. In his previous starts, he came from well behind and fell flat. He'll likely be forwardly placed here as well.
#1 Hard Sting (5/2): Impressively broke his maiden in his last start going a mile, drawing off to win by eleven lengths with a brisnet figure of 86. While it's true he was far off the pace in his last start, other horses made up ground in that race, but he didn't close as strongly as they did. Perhaps he'll get back to his top form when cutting back from 1 1/16 miles.
#7 Daper's Drink (5/1): Got a little too excited in his first try at this level, opening up a clear lead and then backing up. He still ran a career-high figure of 78 in that spot. If he can relax a bit on the lead, he can set a slower tempo and try to steal it.
RACE 2: MAIDEN CLAIMING $40,000, 2-YEAR-OLDS, FILLIES, 5 1/2 FURLONGS
6-1-12-5
#6 Keepyourskateson (5/1): Overcame a rough start and an extreme outside post to finish second against slightly weaker last out. She actually crossed the wire first in her debut, but was disqualification after bumping a rival. If she can avoid bearing out at the gate again, she's going to be in a good stalking spot.
#1 One Glamourous Gal (9/2): They once had high hopes for this filly, as they bought her for $250,000 at Keeneland last September. She's had a few workouts in New York for trainer George Weaver, but now ships down here and is for a tag. Lots of mixed signals there. She doesn't have to run like a $250,000 filly to win this race. It's possible that George Weaver, who will send out Majestic Dunhill later in the day, just wanted to bring someone else to further justify the trip south. The board will tell the story.
#12 Mischiefs Model (5/2): Keeps getting bet at this level, keeps getting the trip, and keeps losing. She got outdueled by her rival last out, and just barely held on for second. She's consistent, with figures in the 70s in each of her three starts, but they haven't translated to victory. Worthy of respect, but I'm a bit leery of her as a win betting prospect.
RACE 3: PRIMONETTA STAKES, 3-YEAR-OLDS AND UP, FILLIES AND MARES, 6 FURLONGS
8-1-10-2
#8 Timely Tradition (9/2): Tough New York-bred mare won three in a row earlier in the year, then ran a game race after getting the trip last out in the Iroquois. With lots of speed in here, she can sit off them and move when they begin to tire. The only big question is class: she's been facing mostly allowance company this year, and while her form has been steadily good, this is a different ballgame. 
#1 Never Enough Time (9/2): With all the speed in here, this race may come down whoever's the fastest early. This filly's got the best early pace figures in the race, and the advantageous inside post. She won a the Alma North Stakes over this track in September. In that race, she dueled on the rail against the classy Amy's Challenge, then brushed that rival and held on to win. The same thing may well happen here.
#10 Alisio (2/1): The wild card of the field. Her last race, where she squashed a tough allowance field at Aqueduct, would be good enough to win this going away. In the race before that, she handily won a fairly tough n/w1x allowance. She ran figures of 105 and 99, respectively, in those two races. The catch? Those were last year. This'll be her first start of 2020, and her first outing for the Bill Mott barn. She can absolutely win this race, and it's encouraging to see Trevor McCarthy take the mount. I just have to be skeptical, almost by default.
ANALYSIS
RACE 4: CONCERN STAKES, 3-YEAR-OLDS, 7 FURLONGS
10-4-3-9
#10 Dreams Untold (5/2): Has two impressive recent wins at seven furlongs under his belt, including a dominant win against his elders at Parx last out. He looked like a potential Derby prospect earlier this year, but his people, the same connections as his sire, Smarty Jones, have elected to keep him at shorter distances. He's shown tons of potential in his career, and this looks like a prime opportunity for him to finally get a stakes win.
#4 Francatelli (7/5): This guy is the chief opposition to Dreams Untold. He was very impressive in victory last out, running a bunch of very good older horses off their feet. In his prior race over this track, he blew away a n/w1x allowance field. He gets Trevor McCarthy aboard for the first time. He's going to be very dangerous on the front end.
#3 Carey Times (15/1): He's been improving at the right time, with two sharp allowance wins earlier in the meet. He dipped a bit last out, finishing second in a tough n/w2x allowance race. Still, he earned a 98 against a tough field when winning two races back. The potential is there, and the price should be right.
RACE 5 – SAFELY KEPT STAKES, 3-YEAR-OLDS, FILLIES, 7 FURLONGS
8-4-3-5
#8 Hello Beautiful (5/2): After two disappointing races outside of Maryland, she returned to her home track and absolutely curb-stomped the field in the Maryland Million Distaff. All of her best races have come over this track, she's a perfect 5-for-5 at Laurel. Has dangerous speed, and should be in a prime spot on or near the pace. From there, she can win her first stakes against non-Maryland-sired horses.
#4 Lady Rocket (7/2): Brad Cox already beat Hello Beautiful at Ellis Park, he'll try to do it again on her home ground. This filly is a perfect 2-for-2 in her short career, having grinded out wins at Saratoga and Keeneland. Cox must think well of her if he's willing to ship her out of state for a stakes race, rather than finding an allowance spot back home. She should enjoy a good trip just off the pace.
#3 Madam Meena (12/1): An impressive winner of the Tax Free Shopping Distaff two starts back. She finished third in the Malvern Rose Stakes at Presque Isle Downs last out, losing to a rival who set a slow opening quarter and put the others to sleep. She won't have to worry about getting an honest pace here, at least. 
RACE 6: FRANK WHITELEY STAKES, 3-YEAR-OLDS AND UP, 6 FURLONGS
11-10-14-4
#11 Laki (6/1): This lovable gelding won one for the home team in the DeFrancis Dash, closing late to get p in the last jump. The third-place finisher Nitrous, came back to win the Thanksgiving Stakes at Fair Grounds. He's hit the board in seventeen of eighteen at Laurel, and has been close in all his tries here this year. He should get his trip and give an honest effort.
#10 Majestic Dunhill (7/2): Ran a big race to get and win the Bold Ruler Handicap at Belmont Park, getting up over Share the Ride. That rival came back to win a stakes-quality allowance next out at Parx. He's begun to show more early speed in his recent starts, always a positive sign.  
#14 Eastern Bay (5/1): Looks to turn the tables on Laki, after losing the DeFrancis Dash to him by a nose. He beat that rival in the Polynesian Stakes wo back, drawing off after sitting behind a fast pace. He's pretty salty, too, and likes Laurel almost as much as Laki. The post is a drawback, but he doesn't need the lead, so he can take back and try to save as much ground as he can. Interesting to note that Angel Cruz is named on the other Gonzalez entrant, Completed Pass. Alex Cintron has the mount here.
ANALYSIS
RACE 7 – THIRTY EIGHT GO GO STAKES, 3-YEAR-OLDS AND UP, FILLIES AND MARES, 1 1/16 MILES
8-1-5-6
#8 Wicked Awesome (7/2): A winner of three in a row, she ran huge last out to get up and win at Parx. She had struggled to break through earlier in the year, bit a win in the Twixt Stakes over this track seemed to snap her back into good form. This is a pretty soft field, so as long as she shows up, she should be good. 
#1 Lucky Stride (7/2): She's a multiple graded stakes winner in Puerto Rico, and was a solid fifth in the Shuvee Stakes, her first start in the mainland United States. Gets back to dirt after trying grass twice. Hasn't shown much earlier speed in her mainland races, but it looked like she employed some tactical speed in Puetro Rico. That would come in handy here. She left herself with too much to do in the Shuvee, and she wouldn't want to get stuck too far out of it again.
#5 Eres Tu (5/1): Ran big in her first start in a year and a half, drawing off in an allowance race at Keeneland. She matched her career-top brisnet figure of 87 in that race. Very eligible to take a big step forward second off the layoff. Trevor McCarthy gets the mount, always an encouraging sign.
RACE 8- RICHARD SMALL STAKES, 3-YEAR-OLDS AND UP, 1 1/16 MILES
5-1-3-7
#5 Harpers First Ride (9/5): When he was aggressively used in the Pimlico Special, he won. When he was taken well off the pace in the Maryland Million Classic, it didn't turn out so well. That should be a lesson for Angel Cruz. The big question: if he wins, will grade 1 company be next?
#1 Bal Harbour (9/2): He hasn't run a bad figure on dirt this year, with two figures in the 100s earlier in the year. In the Monmouth Cup, which was his first start off a long layoff, he had the lead late, only to get chased down by Global Campaign. That one came back to win the Woodward Stakes. It's a bit disconcerting that he keeps getting these good setups and he can't close the deal. Will today be any different?
#3 Wait for It (10/1): A three-time stakes winner on the year, he drew off handily to win the Hard Spun at Presque Isle last out. He combines good stalking speed with some great late pace figures. Worth a look at a price.
RACE 9 – CLAIMING $5,000 (CONDITIONED), 3-YEAR-OLDS AND UP, 1 MILE
11-3-7-4
#11 Chuck's Dream (6/1): He's raced very well in both tries at this level, battling on after setting the pace. His figure has improved in four straight races, peaking at an 82 last out. The horse he lost to, Five Card Draw, came back to win at this level next out.
#3 Seattle Ric (6/1): Comes out of the same race as Chuck's Dream, where he set the pace and ended up in a dead heat with Chuck. Ric will once again try to se the pace, and he looks fast enough to get there early. Can he hold it?
#7 Cool Man Cletus (10/1): Stretches out to a mile after some solid efforts going shorter. Held on well to lose by 1 1/2 lengths last out. He has tactical speed and should hang around for a piece at a price.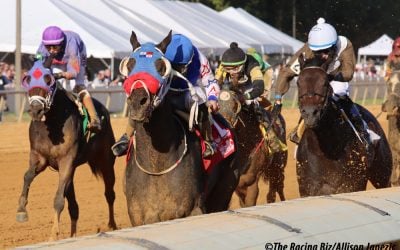 We provide full-card picks and analysis for this afternoon's races at Laurel Park.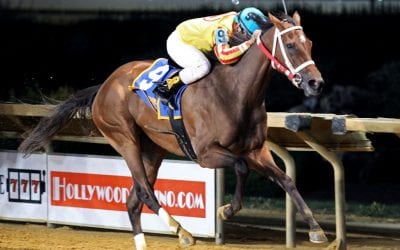 We provide picks and analysis for this evening's card at Charles Town Races.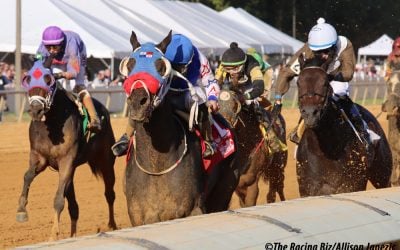 We provide full-card picks and analysis for this afternoon's races at Laurel Park.