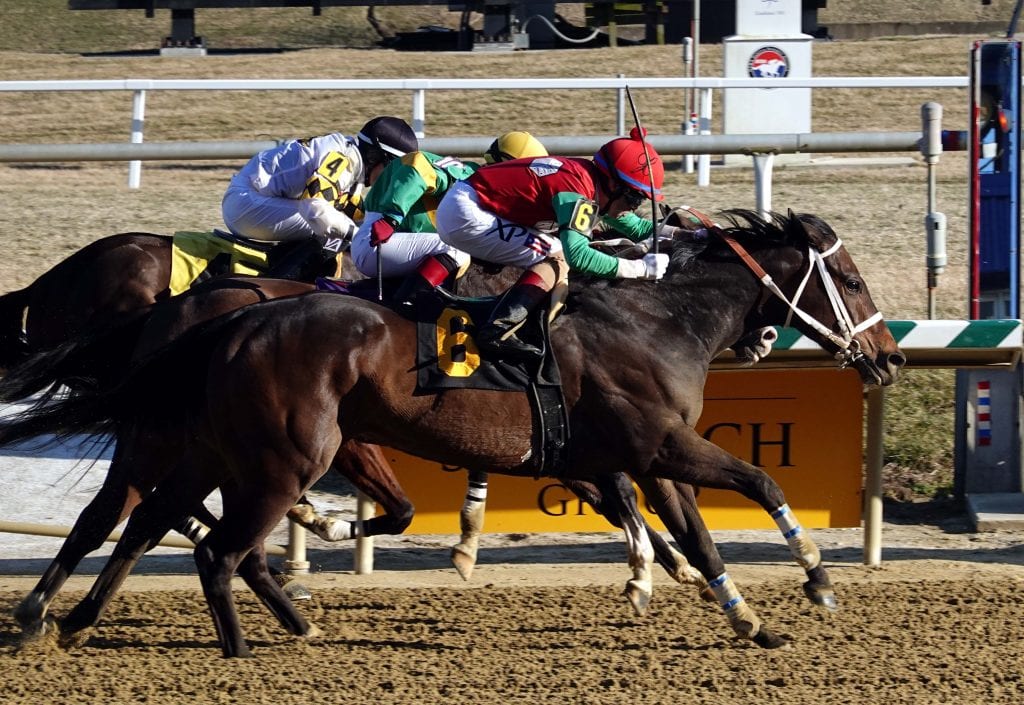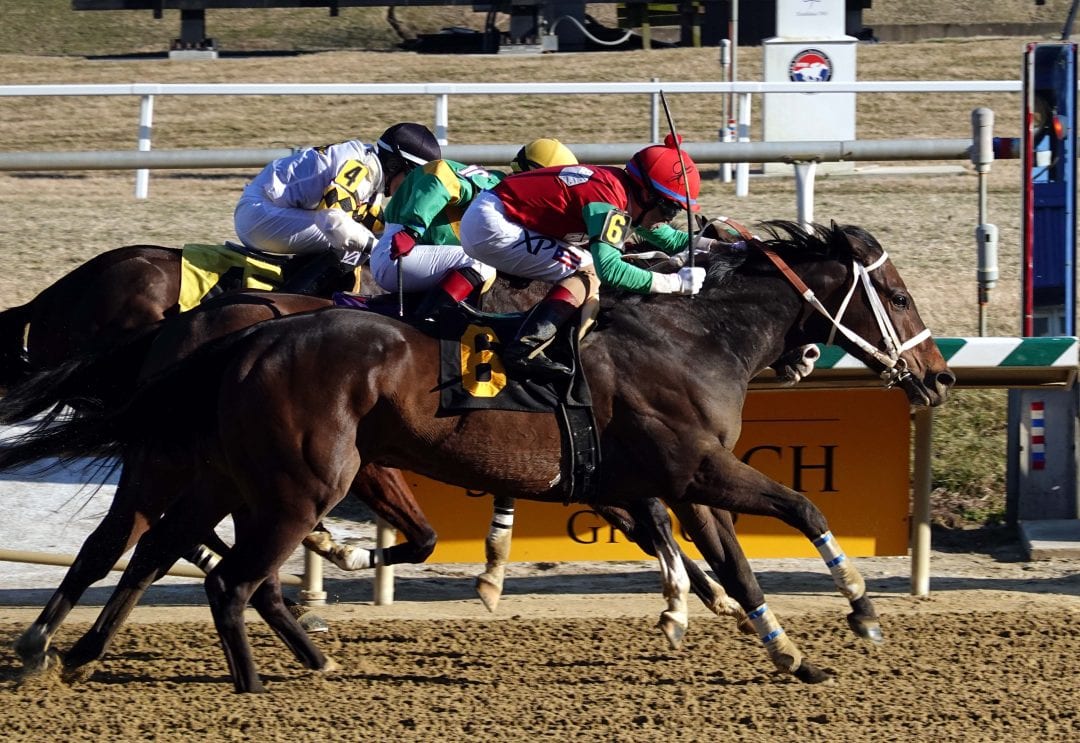 ANALYSIS
RACE 1: STARTER OPTIONAL CLAIMING $25,000, 3-YEAR-OLDS AND UP, 1 1/16 MILES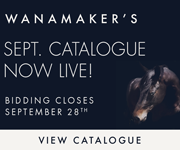 3-1-5-2
#3 Paradise Pride (9/5): Returns to his preferred surface after turning in a complete dud in the James Murphy Stakes on grass. He smoked the competition in two dirt races in a row, stalking the pace in both and winning by a combined 15 1/2 lengths. Next out, at Charles Town, he broke awkwardly in a stakes, and lost his customary forward position. Here, he should break on or near the pace, and roll late.
#1 Jamminwithbrandon (3/1): His only recent dirt race as a strong effort. He pressed a hot pace at Parx, but hung on well to finish third, while running his highest brisnet figure in more than a year. The winner of that race, Lookin at Roses, is a four-time winner on the year who came back to win his next start. Runner-up Celtic Treasure beat a conditioned claiming field at Parx yesterday. Jamie Rodriguez, who was first call for trainer Jamie Ness at Delaware Park this summer, gets the nod.
#5 Backwoods Boogie (6/1): Lightly-raced gelding improved when stretching out on grass, wiring the field two back, and running on well in 

the stretch to lose by half a length last out. If he can translate his form back to the dirt, he'll be tough at a price.
RACE 2: CLAIMING $5,000 (CONDITIONED), 3-YEAR-OLDS AND UP, 6 FURLONGS
7-5-4-6
#7 Five Card Draw (5/2): He's found his best self in his last few, matching or besting his career-top figure in his past three races. Bettors might have had concern about a bounce last out, as he went off at 3/1, but he stalked the pace and got up for the win. Even if he regresses a bit off that race, he can still win this one. 
#5 Mr. Chesapeakecity (9/5): Takes a drop in class off his last race, where he raced wide and closed well for third. He's run some figures in the low 80s earlier in the year, with just two bad races in his recent form. In one, he had a terrible break, in another, it was his first start off the break. Willmakeyouhappy, the winner of that last race, came back to win his next two at Charles Town, and would be a stone-cold lock in this field. 
#4 G Man (5/1): Cuts back in distance from a mile, something he probably needs. Yes, he won at 1 1/16 miles two back, but he got a ridiculously favorable pace scenario in that race. His maiden-breaking score at six furlongs, where he set the pace and held clear, bodes better for this effort. He looks like the primary speed in the field.
RACE 3: MAIDEN SPECIAL WEIGHT, 2-YEAR-OLDS, FILLIES, 1 MILE
8-4-2-3
#8 Speed Line (7/2): Showed promise in her debut at 5 1/2 furlongs, running on well in the stretch to get third. She's been working well since then, including a five-furlong drill a few days back in a sharp 1:01. It's not the strongest maiden field in the world, so as long as she can get the distance, she'll be tough. 
#4 Guns Blazing (9/2): She took a big step forward second out at Delaware, making a solid middle move to finish a clear-cut second. That's a stark contrast from her debut, where she got a similar trip, but fell flat. 
#2 Met in Miami (2/1): Closed strongly on debut going seven furlongs, to miss by a nose. Should relish the longer distance here.
ANALYSIS
RACE 4: ALLOWANCE (N/W1X), 3-YEAR-OLDS AND UP, FILLIES AND MARES, MD-BRED, 1 MILE (GRASS)
8-10-2-9 (DIRT: 7-6-4-13)
#8 Gale (5/2): Coasted to a very impressive maiden win last out. She set a sharp opening quarter, then drew off from there as much the best. She improved seven points from her debut, earning a figure of 88. Looks fast enough to outrun the others early, and draw off from there. 
#10 Little Lion Girl (12/1): She ran a big race second off a long layoff, closing off a slow pace to lose by 3 1/4 lengths in the Maryland Million Ladies. Before going on the sidelines last year, she broke her maiden on grass going away, earning a figure of 84. Anything near her morning line would be tremendous value.
#2 Mosalah (9/2): Looks like she's starting to round back into form, after a dip over the summer. She ran a lifetime top figure of 81 two back against open company, then finished a solid third in the Ladies. She'll do her best running towards the end.
RACE 5 – MAIDEN CLAIMING $10,000, 3-YEAR-OLDS AND UP, FILLIES AND MARES, 6 FURLONGS
5-11-12-1
#5 All About Audrey (12/1): Fell too far behind a loose leader who ran away and hid, and faded after being on a fast pace. Still ran a relatively strong figure of 64, and now drops to the $10,000 level for the first time. Jonathan Joyce is seeking his first riding win since 2014.
#11 Esther's Fortune (7/2): Rushed up after a slow break last out, which did her in. A clean start here, and this lightly-raced filly should be tough.
#12 Orbette (3/1): Cuts back after several tries going longer. The last time she raced at this short a distance, it was last December, and she almost wired a field going seven furlongs. She'll look to go to the lead and wire them.
RACE 6: CLAIMING $10,000 (CONDITIONED), 3-YEAR-OLDS AND UP, 1 1/16 MILES
1-2-3-4
#1 Lectric Choke (3/1): One of the few in here with good experiences going long, he's coming off a sharp third-place finish going a mile against similar. He's one of two in here with a win at 1 1/16 miles this year, having easily beaten a n/w2L field a few starts back. Sheldon Russell, who rode him to a nose defeat over the winter, gets back aboard.
#2 Benandjoe (5/2): The other member of the field to have won at this distance on the year. He did that on the lead against better back in February. He'll look to steal away on the lead, and appears to be fast enough early to pull it off. 
#3 Rumson Rally (5/1): He's still seeking that happy medium running style, between the impossible comebacks from way out of it, and last out, when he was too close tot eh pace. He ran his best figure of recent times two back, when he sat in mid-pack and just missed. That might be the way to go here.
ANALYSIS
RACE 7 – ALLOWANCE (N/W1X), 3-YEAR-OLDS AND UP, FILLIES AND MARES, 7 FURLONGS
1-6-7-3
#1 Bobby's Goldengirl (5/2): Broke her maiden impressively three back at Delaware, stalking the pace and powering off to a 3 3/4 length score. Her figure of 91 from that race would easily beat this bunch. She'll go at a sprint for the first time since then. 
#6 Mary's Jewel (5/1): Had a tough loss two back, when she just missed chasing down a loose leader. Faded after racing wide at this level last out, after being on a fairly snappy pace. Should sit just off the leaders here, and could grab a piece at a decent price.
#7 Miss Charisma (3/1): Closed sharply last out at Finger Lakes, recovering from a bad break to miss by a head. She ran a lifetime top figure of 85 in that race, in just her third career start. Looks primed for a big one here. 
RACE 8: CLAIMING $5,000 (CONDITIONED), 3-YEAR-OLDS AND UP, FILLIES AND MARES, 5 1/2 FURLONGS
2-7-3-1
#2 Mrs. Chapman (9/2): Mountaineer shipper will look to control the pace from the inside. On grass last time, she set fast fractions and almost wired the field. Goes for trainer Dale Capuano for the first time.
#7 Greasedlightning (3/1): Keeps on knocking on the door, but can't quite break through to the winner's circle. She's hit the board in her last four races, with virtually identical trips, but hasn't won a race this year. Look for her to get a piece once again. Must-use in exactas and trifectas.
#3 Midnight Crossing (5/2): A winner of three in a row to cap her campaign last year, this will be her first race since December. She caught a pretty soft field for her return, but she still might need a race. I would use her in multi-race bets, but I'm not sure if she's worth a win wager.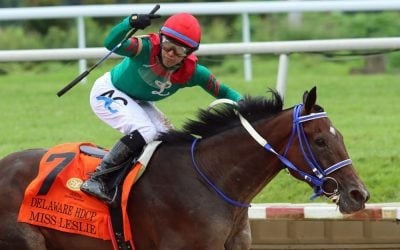 Racing returns to Delaware Park May 24, and we return with Delaware Park picks and analysis for the track's 86th racing season.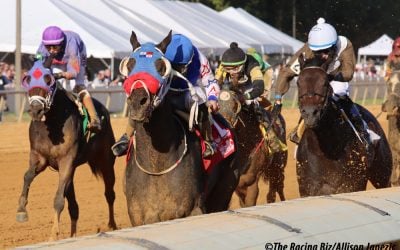 We provide full-card picks and analysis for this afternoon's races at Laurel Park.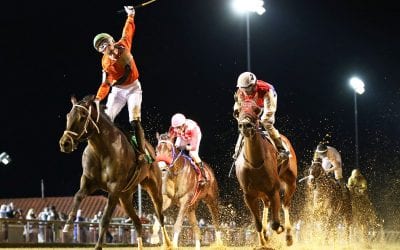 Full-card picks and analysis for this evening's live racing card from Charles Town Races!